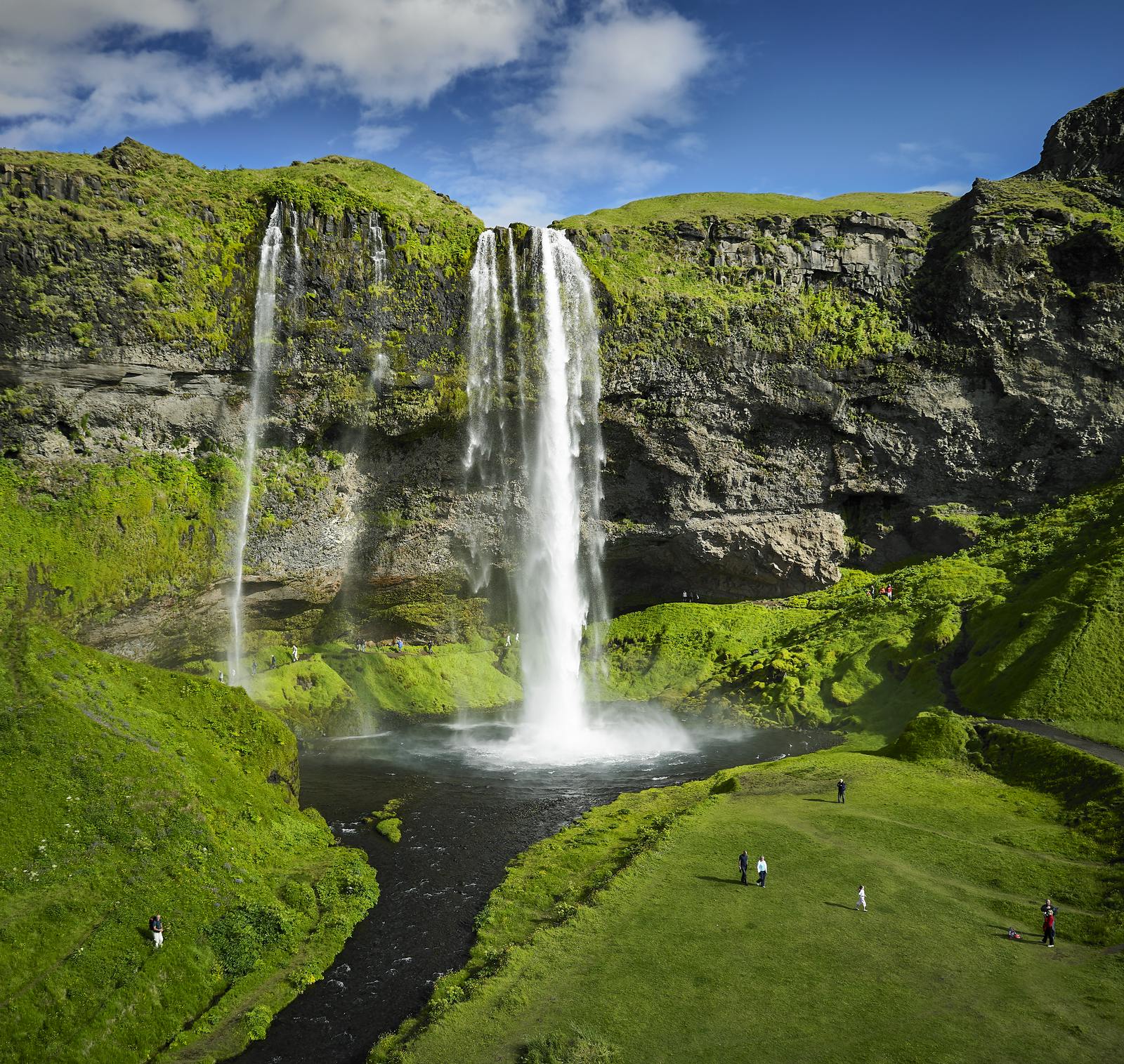 Top 10 Most Beautiful Waterfalls in Iceland
Iceland, an island of unparalleled natural beauty, boasts a fascinating landscape that can be explored at Perlan, an interactive museum and exhibition space dedicated to educating visitors on the various geological phenomena that have shaped this breathtaking country. Among the many wonders Iceland has to offer, waterfalls are prominent in creating its spectacular scenery.
These majestic waterfalls are formed primarily by the abundant rainfall and glacial meltwater flowing through the country's rivers and streams. As the water courses through the land, it carves valleys and canyons into the bedrock, altering the terrain over time. Geological processes, such as erosion and tectonic movements, have produced cliffs that act as platforms for these cascades, transforming the flowing water into plummeting falls.
Hundreds of waterfalls are scattered throughout Iceland, each with unique characteristics but all equally captivating. They differ in size, shape, and surrounding landscapes, but together they create an unforgettable experience for anyone who encounters them. Embarking on a road trip around the island presents the perfect opportunity to explore these natural wonders. With sturdy hiking boots and a waterproof jacket, visitors can experience the top 10 beautiful waterfalls Iceland offers firsthand.
Skógafoss
Skógafoss, a crown jewel of Iceland's South Coast, has become an irresistible destination for travellers from all over the globe. Visible from the Ring Road, this stunning waterfall is even more captivating when experienced up close. 
Once upon a time, the cliffs from where the water plunges would have met the ocean directly, but the forces of erosion have pushed the coastline further back, leaving Skógafoss nestled inland.
The sheer beauty of the water cascading down a 60-meter (197 feet) high cliff face is a sight to behold, but Skógafoss offers an additional visual treat: a rainbow frequently graces the falls, adding a touch of magic to the scene. 
Visitors can appreciate the waterfall from below and ascend the adjacent metal staircase for a bird's-eye view.
For those seeking further exploration, a trail alongside the Skógá River leads inland, revealing a series of smaller waterfalls. This journey offers a deeper immersion into the beauty of Iceland's natural landscape.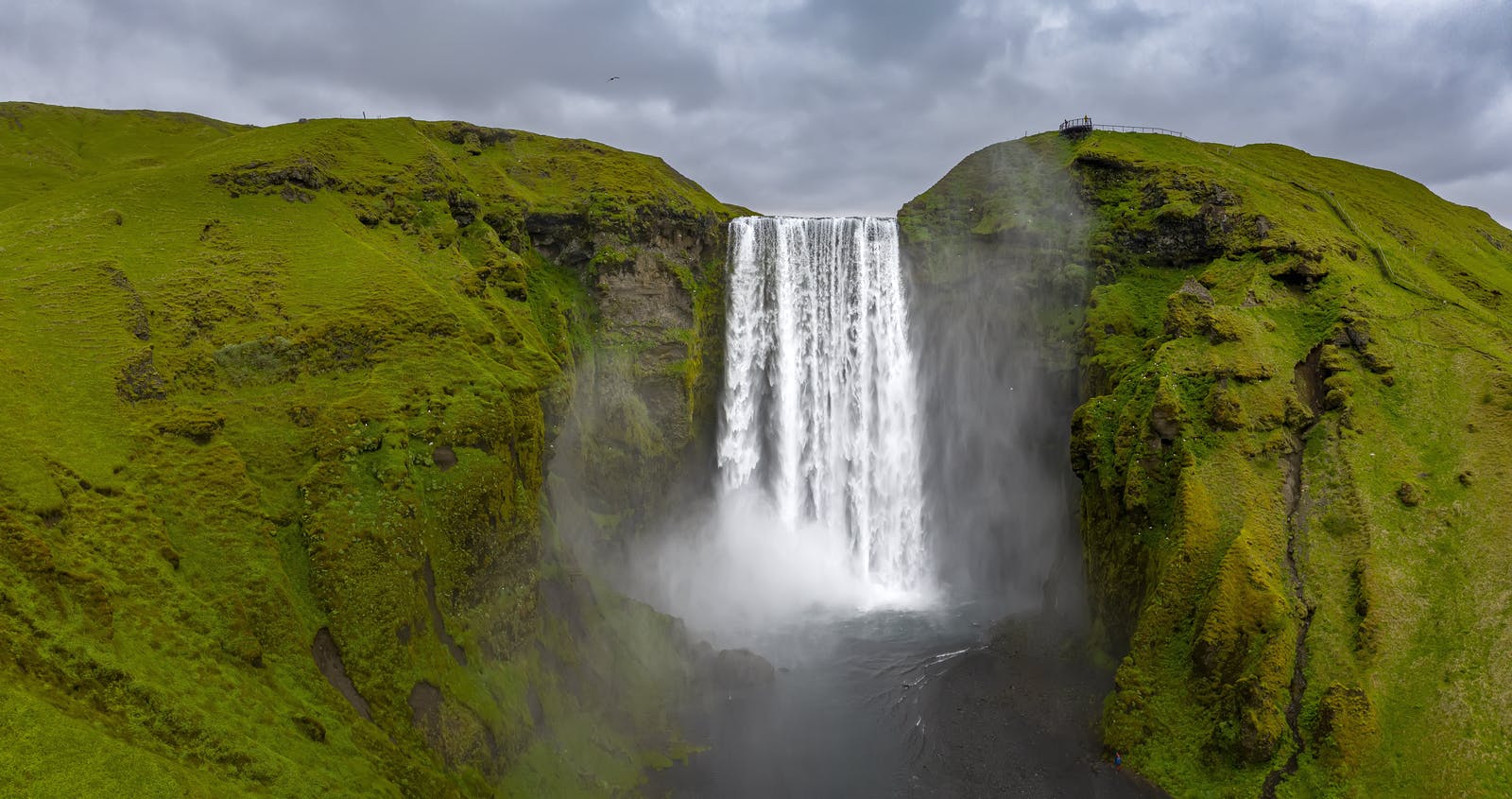 Seljalandsfoss
Just a 20-minute drive west of Skógafoss lies Seljalandsfoss, another of Iceland's most stunning waterfalls. The beauty of Seljalandsfoss is genuinely breathtaking for a variety of reasons. First and foremost, the waterfall boasts an impressive 60-meter (197 feet) drop as the water cascades over the towering cliffs above.
A trail invites visitors to approach the waterfall, offering an unobstructed view from a small bridge in front of the falls. As the path winds clockwise, it loops behind the cascading water, presenting a unique opportunity to stand behind the mesmerising curtain of water. This vantage point provides a distinct perspective of the surrounding landscape, a rare experience that should not be missed.
The easy yet unforgettable hike to Seljalandsfoss is a must for any waterfall enthusiast. And for those craving more, a brief walk along the trail reveals Gljúfurárfoss, another enchanting waterfall tucked away within a narrow slot canyon. The combination of these two magnificent waterfalls offers an immersive and unforgettable journey through Iceland's captivating natural wonders.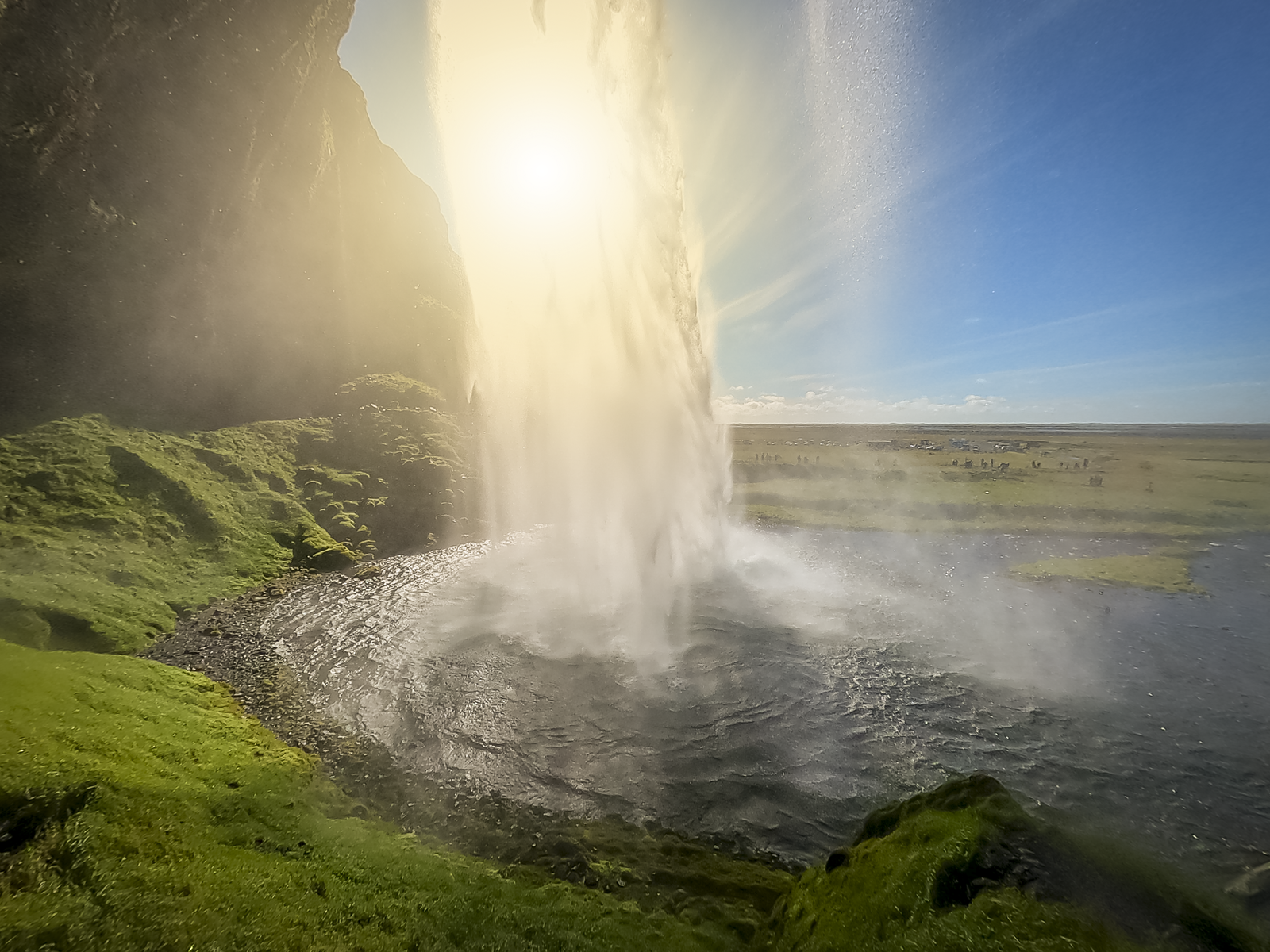 Svartifoss
At times, the allure of a waterfall lies not only in the cascading water but also in the unique geological features that surround it. Svartifoss is a prime example of this combination. This striking waterfall is framed by dark charcoal grey basalt columns, which are emphasised by the constant spray of water. The dramatic effect is enhanced by the rugged overhang, formed as boulders have fallen from the cliff face, leaving an uneven top layer in their wake.
Nestled within the Skaftafell Nature Reserve, reaching Svartifoss requires a bit of a hike, but the journey is well worth it. Upon arriving at the viewing platform at the trail's end, visitors are rewarded with a breathtaking sight of this remarkable geological masterpiece. The interplay between the water and the basalt columns creates an unforgettable visual experience showcasing Iceland's natural landscape's unique beauty
and power.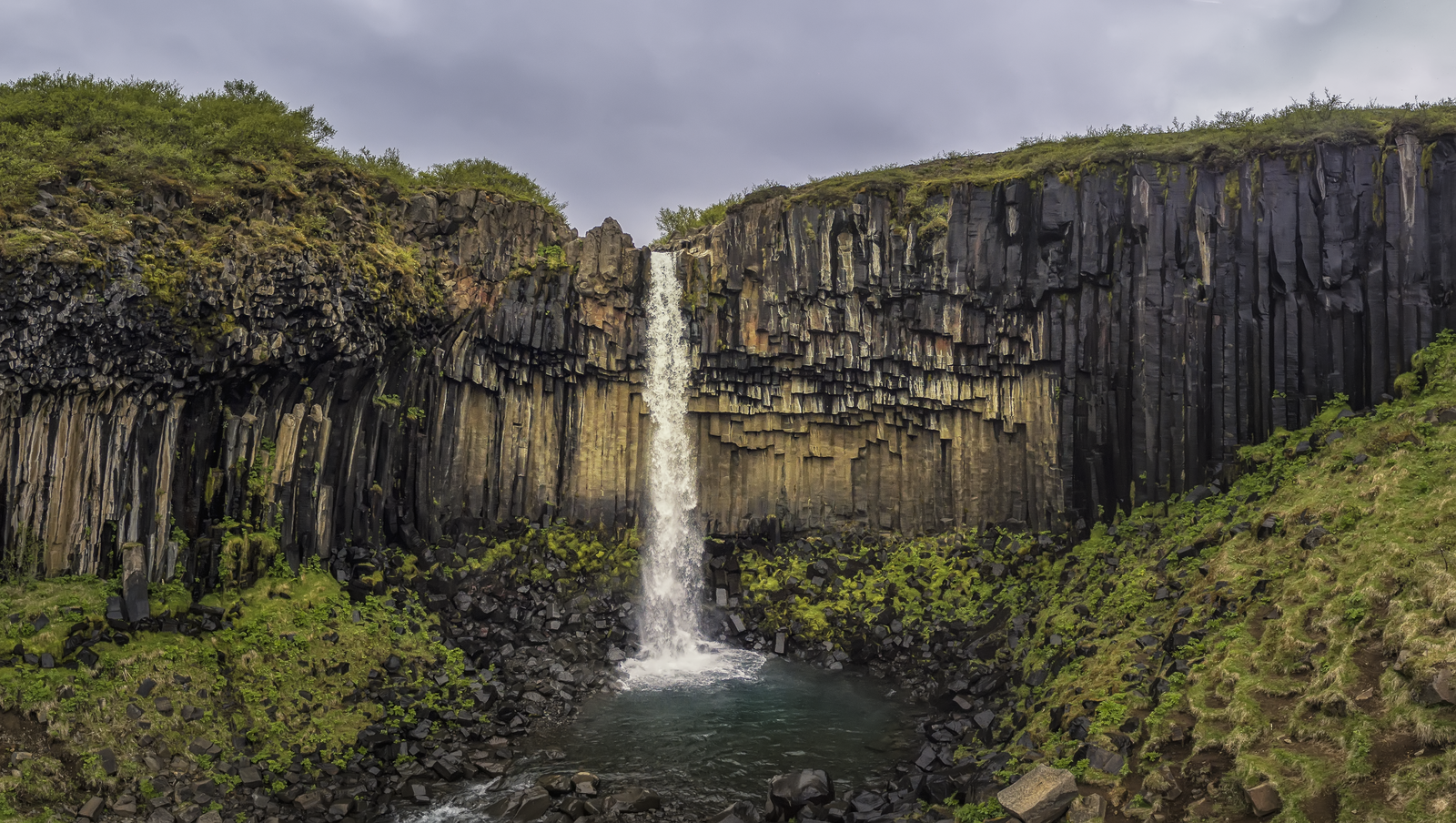 Kirkjufellsfoss
In the Snæfellsnes Peninsula, Kirkjufellsfoss is a captivating waterfall near the iconic Kirkjufell, also known as Church Mountain. This natural wonder is one of the most photographed landmarks in Iceland, showcasing its beauty throughout the changing seasons.
During winter, Kirkjufellsfoss takes on a magical appearance. As temperatures drop, the cascading water freezes, creating a stunning icy spectacle against the snowy backdrop. Owing to its north-facing location, this spot is an ideal vantage point to witness the Northern Lights.
During summer, Kirkjufellsfoss transforms into a green paradise, with cloudless blue skies emphasising the lush surroundings. This breathtaking scene is best experienced by avoiding peak visiting hours, especially for those staying nearby. Visiting early in the morning or late in the day provides the opportunity to enjoy this magnificent waterfall in relative solitude, away from the day-trippers who venture from Reykjavik.
Kirkjufellsfoss, with its ever-changing beauty, is a must-visit destination in Iceland, providing visitors with unforgettable memories and incredible photographic opportunities throughout the year.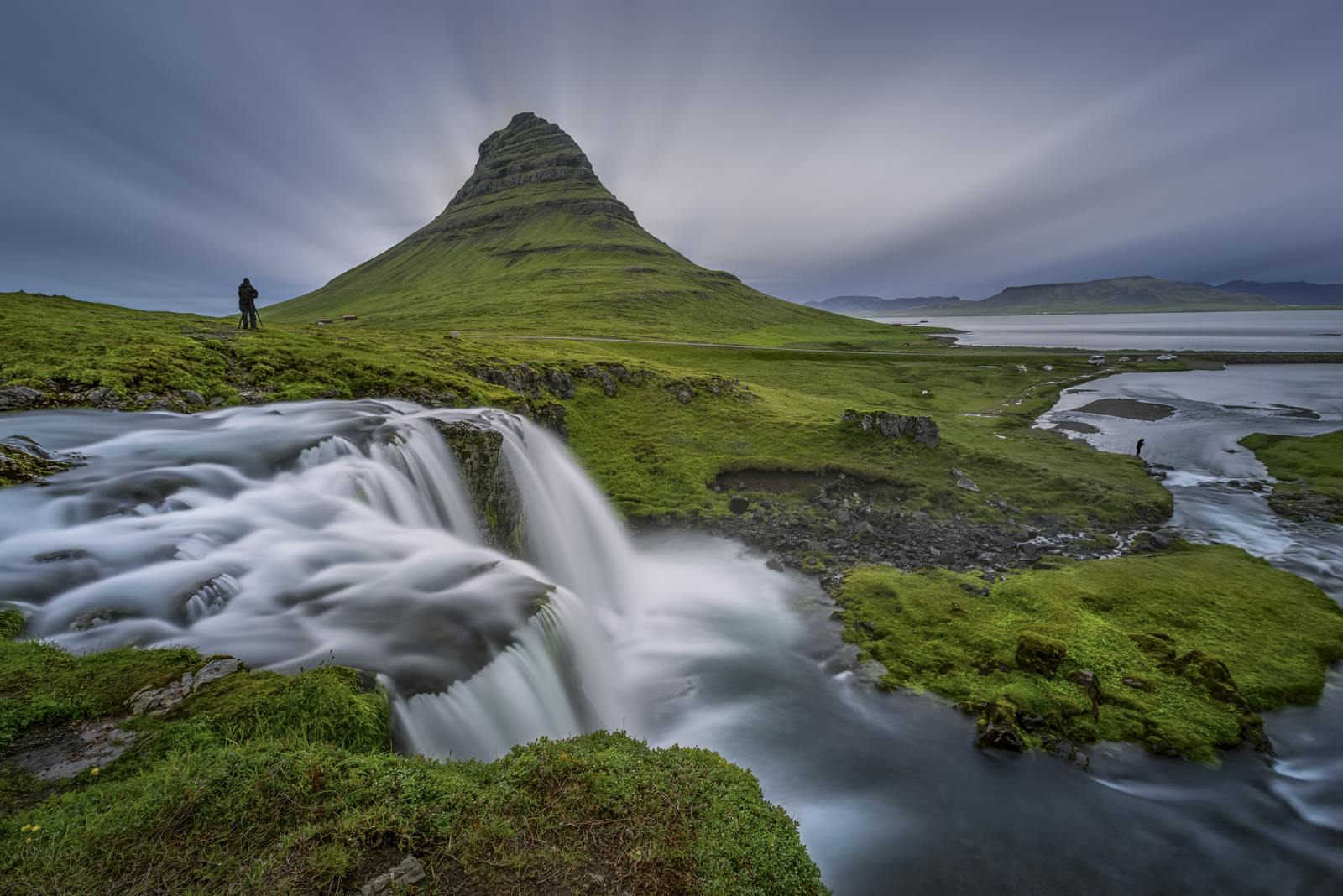 Goðafoss
Any list of Iceland's most stunning waterfalls would be incomplete without mentioning Goðafoss, a gem located in the North. Goðafoss translates to "waterfall of the gods," a title rooted in a significant event in Iceland's early history.
Over a thousand years ago, Þorgeir Ljósvetningagoði, a chieftain and law speaker, embraced Christianity as his faith; he symbolically cast statues of the Norse gods he once worshipped into the waterfall. This act served as a powerful message to his followers, urging them to convert to Christianity as well.
Beyond its historical significance, Goðafoss is a beautiful natural wonder. The waterfall's distinctive horseshoe shape adds to its visual appeal, making it one of the most dramatic waterfalls in Iceland. Visitors to Goðafoss will experience the breathtaking beauty of the falls and gain a deeper understanding of the country's rich cultural and religious heritage.
Gullfoss
Gullfoss, a prominent attraction on Iceland's famed Golden Circle route, is known for its incredible power and majesty. As visitors approach the waterfall, they are greeted by the thundering roar of the Hvítá River. The river's torrential waters cascade over two distinct steps before plummeting into a dramatic depth and flowing through Gullfossgjúfur Canyon.
Originating from the meltwater of the Langjökull glacier, Gullfoss reaches its peak discharge during the summer months, as rising temperatures cause the upstream ice to melt. Despite its forceful nature, Gullfoss also offers an enchanting display of beauty. Visitors can find a moment of tranquillity by perching on one of the natural rock formations near the edge of the falls. One can observe mesmerising patterns in the swirling currents below from this vantage point.
Gullfoss serves as a testament to the raw power and captivating beauty of Iceland's landscape, making it a must-see destination for those exploring the Golden Circle.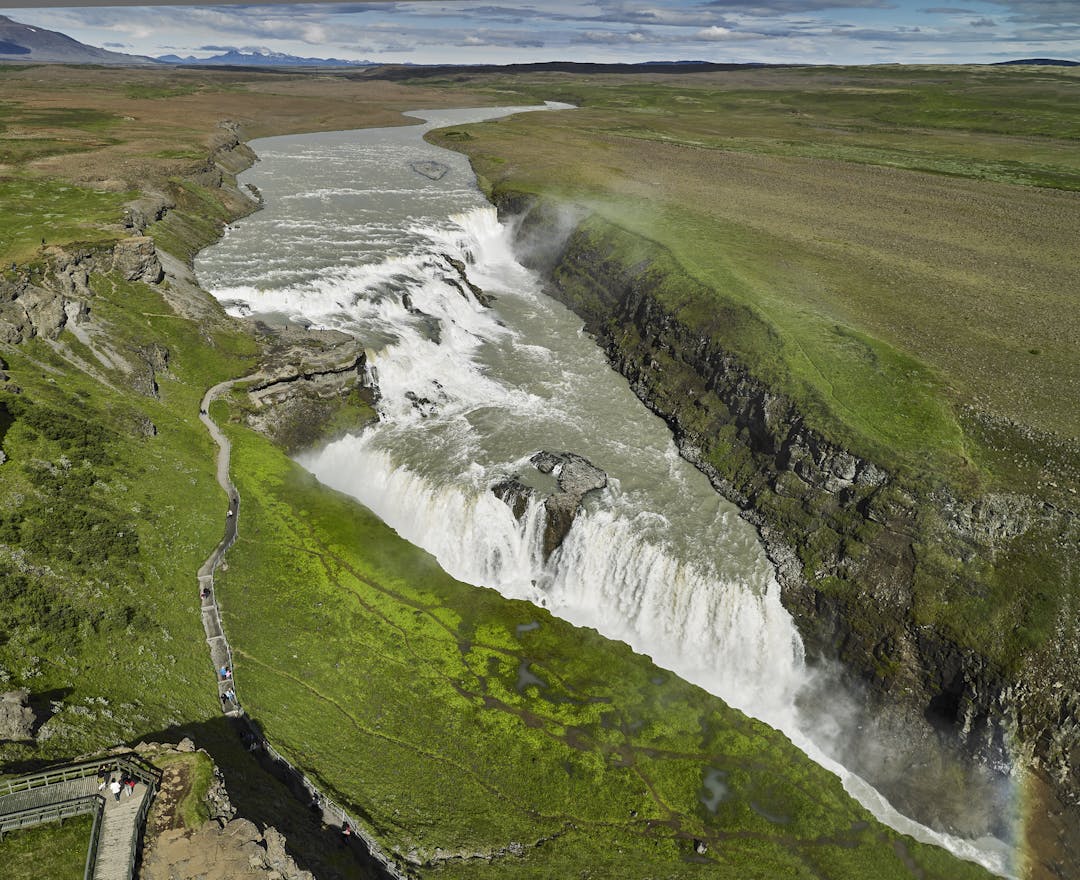 Brúarfoss
Brúarfoss is less famous than some of the waterfalls in Iceland, but it's worth checking out for its exquisite blue water. Against the white water, it really stands out. Another unique feature of Brúarfoss is its V-shaped formation, which sets it apart from the more commonly seen horseshoe-shaped waterfalls.
Though not particularly tall, Brúarfoss is undeniably one of Iceland's most beautiful waterfalls. Conveniently located near Route 37, it is only a 15-minute drive from both Geysir and Laugarvatn, making it a perfect addition to any Golden Circle self-drive adventure. To reach Brúarfoss, visitors can enjoy an hour-long hike along the scenic Bruara River, during which they will encounter two other charming waterfalls, Hlauptungufoss and Midfoss.
Brúarfoss, with its distinctive blue waters and uncommon V-shape, offers an unforgettable experience for anyone willing to venture off the beaten path and explore this enchanting corner of Iceland.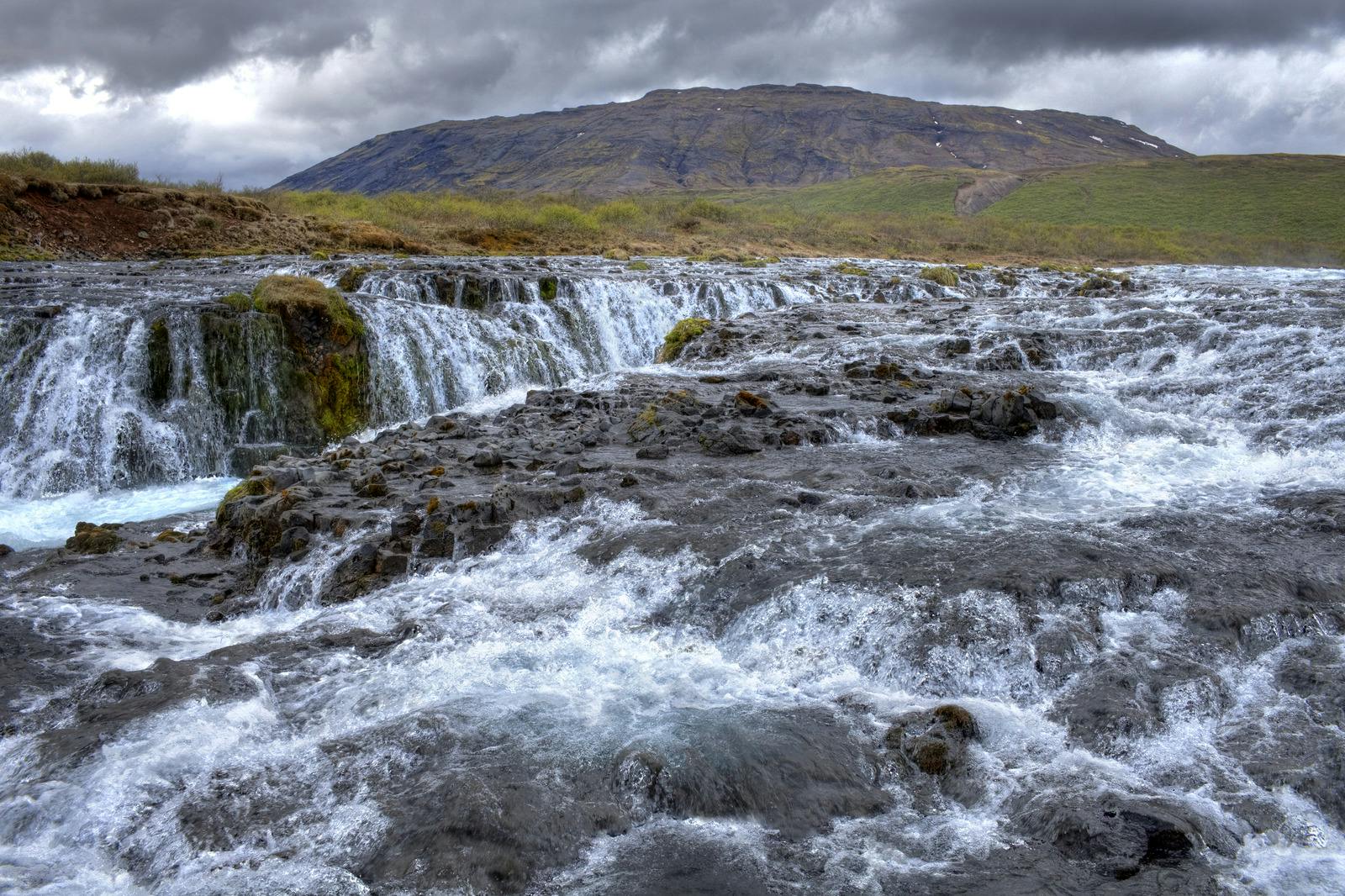 Dynjandi
Few travellers make it to Iceland's Westfjords, as it's a little off the beaten track. But those that make it this far share the same opinion about the region's biggest waterfall: it's worth the long drive to see it in real life. 
This magnificent waterfall features multiple tiers, covering a total drop of about 100 meters (328 feet). Its unique appearance, gradually widening from top to bottom, has earned it a comparison to a wedding cake.
While the waterfall is officially named Fjallfoss, the term "Dynjandi," which means "thunderous" in Icelandic, collectively refers to a series of seven cascades. Each of these individual waterfalls—Hæstahjallafoss, Strompgljúfrafoss, Göngumannfoss, Hríðsvaðsfoss, Hundafoss, and Bæjarfoss—is impressive in its own right. However, the true spectacle arises from seeing all seven cascades together, creating a breathtaking panorama.
For those seeking a unique and unforgettable experience, a visit to Dynjandi in Iceland's Westfjords promises a stunning display of nature's power and beauty that will leave a lasting impression.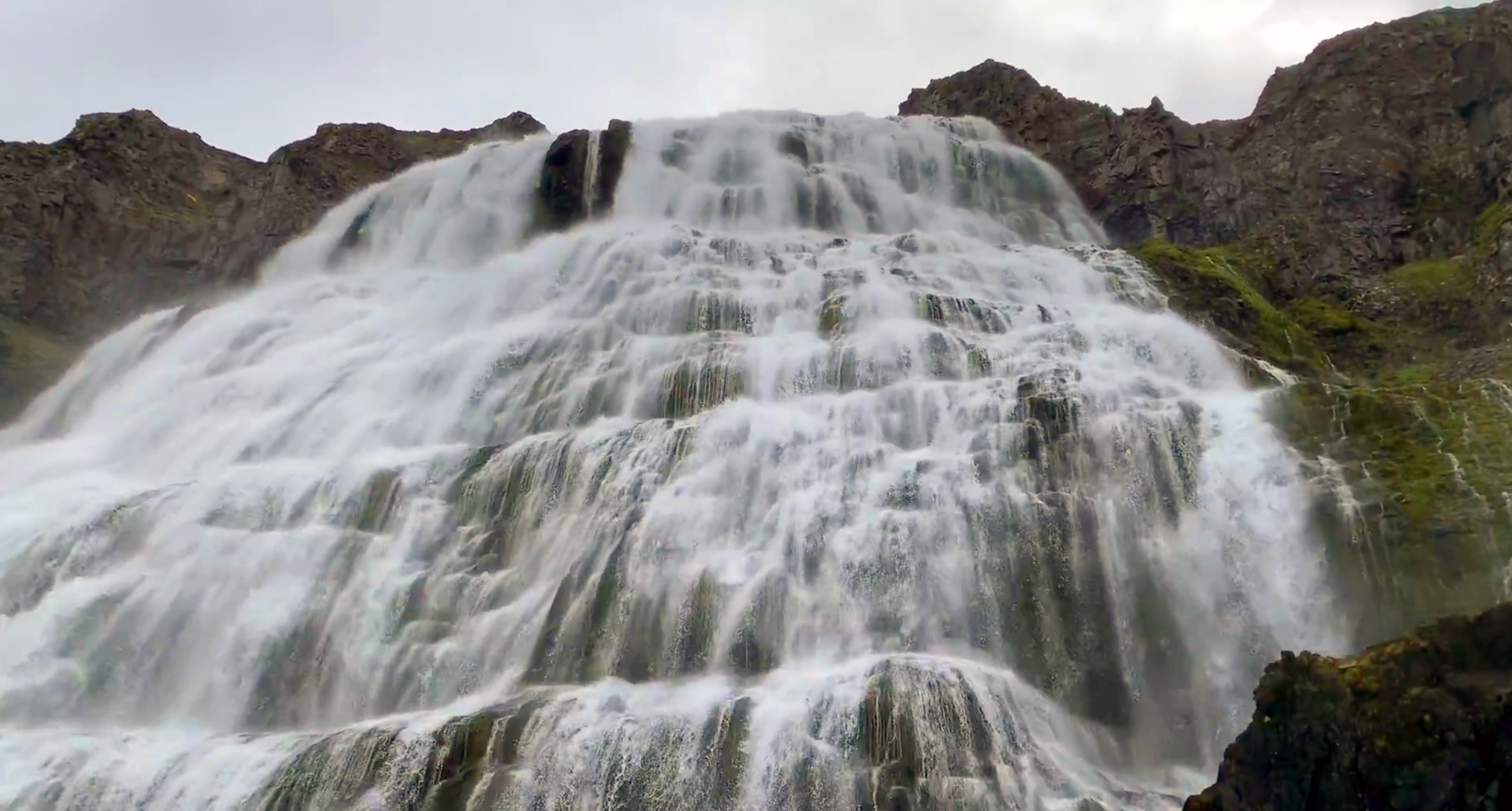 Hraunfossar
Hraunfossar is a testament to the fact that a waterfall need not be tall to make a lasting impression. This captivating natural wonder features numerous rivulets cascading over the edge of an expansive lava field. While its wide and low structure differs from Iceland's more dramatic single-drop waterfalls, Hraunfossar undeniably demands attention.
Visiting Hraunfossar in autumn offers a particularly enchanting experience as the surrounding birch trees and blueberry bushes burst into vibrant seasonal colours. The striking contrast between the vivid foliage, grey rock, and white water creates an exceptional visual treat, especially in the softer light of dawn or dusk. To fully appreciate the beauty of Hraunfossar, visitors should take a leisurely walk along the waterside trail, allowing ample time to absorb the breathtaking scenery.
Hraunfossar presents a unique, mesmerising display of nature's beauty, reminding us that the size of a waterfall is not the sole determinant of its impact and allure.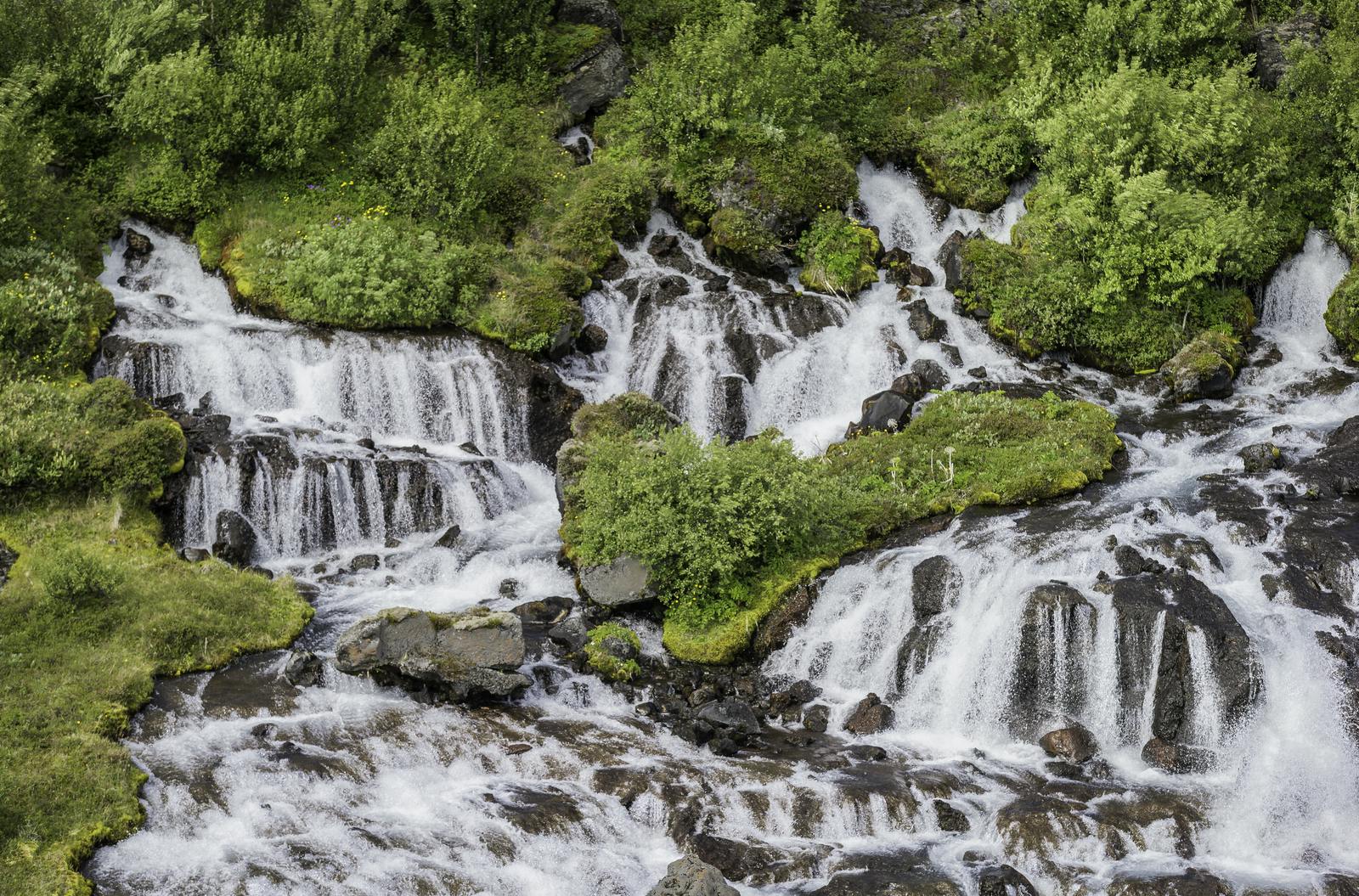 Aldeyjarfoss
Although some waterfalls in Iceland can be challenging to access, the beauty of Aldeyjarfoss makes the extra effort worthwhile. Nestled in the Highlands region of Iceland, this stunning waterfall can be reached via road F26, which, like other F roads in the country, is closed during winter.
It is during this time that Aldeyjarfoss reveals its true magnificence. The sleek basalt columns are encircled by snow and ice, contrasting with the vibrant blue water that gathers beneath the cascade. This scene epitomises a winter wonderland, offering an unforgettable experience for those willing to embark on the hike from Road 842, which remains open year-round.
Aldeyjarfoss is a testament to the incredible natural beauty that awaits those who venture off the beaten path and explore the enchanting wilderness of Iceland's Highlands.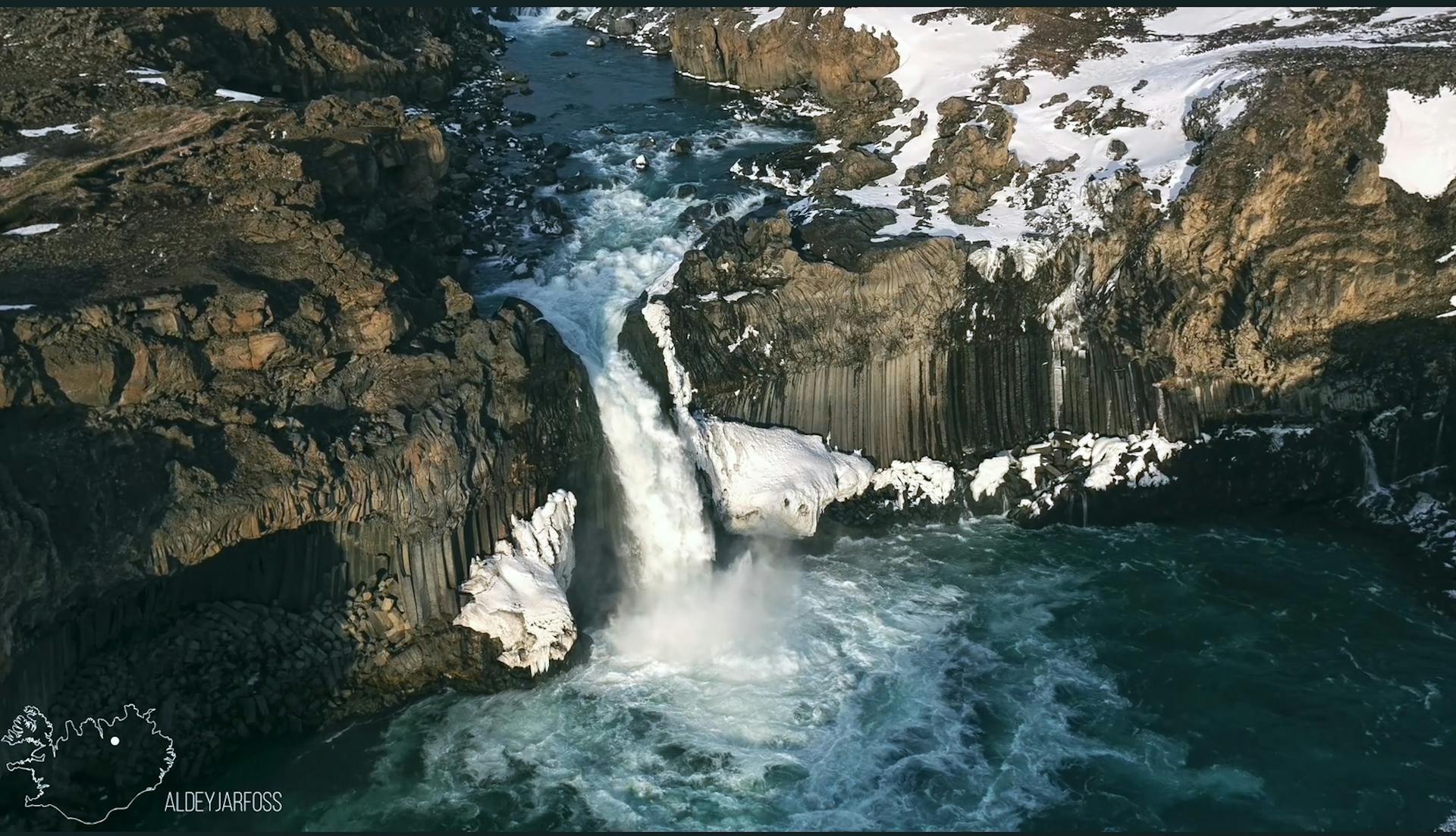 The Role of Water in Icelandic Nature
Visiting a waterfall in Iceland is a splendid way to spend your time, regardless of the season or weather conditions—even on a rainy day, as you may get wet from the waterfall's mist regardless! 
Enhance your experience by combining your visit to one or more of these captivating Icelandic waterfalls with a trip to Perlan, a unique destination where you can delve deeper into the country's natural wonders and the geological processes that led to their creation. 
Perlan's exhibits offer valuable insights into the role of water in Iceland's natural landscape, further enriching your understanding and appreciation of these awe-inspiring attractions.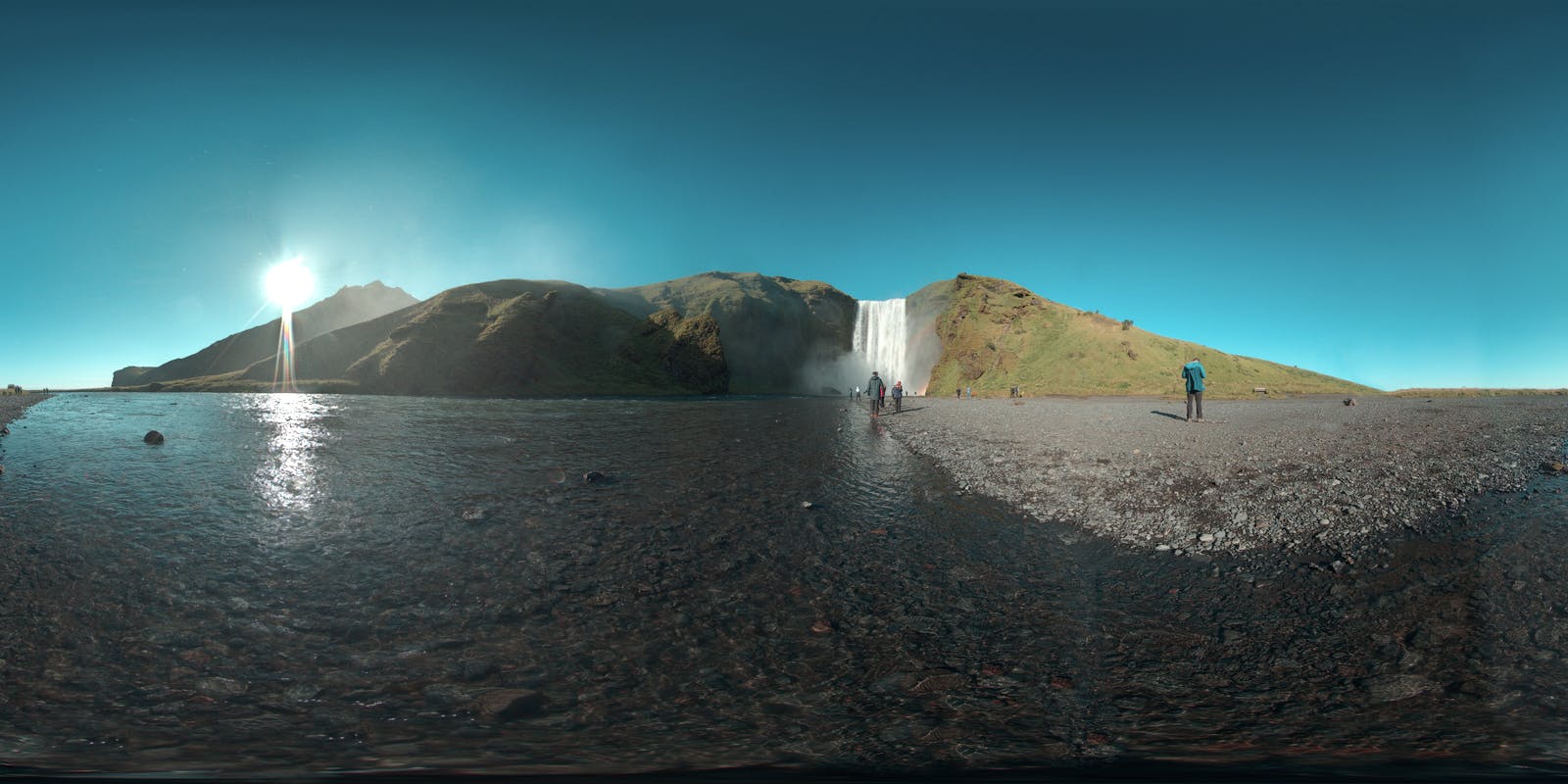 Fun Facts About the Best Waterfalls in Iceland
Skógafoss: According to local legend, a Viking settler named Þrasi Þórólfsson hid a treasure chest filled with gold behind the waterfall, and those who are lucky enough might catch a glimpse of the shimmering chest.
Seljalandsfoss: This waterfall is one of the few in the world where you can walk behind the cascading water, offering a unique perspective of the surrounding landscape from within a watery veil.
Svartifoss: The hexagonal basalt columns surrounding Svartifoss have inspired various architectural designs in Iceland, most notably the façade of the famous Hallgrímskirkja church in Reykjavik.
Kirkjufellsfoss: Kirkjufell Mountain, which is adjacent to the waterfall, is said to be the most photographed mountain in Iceland and gained worldwide fame as a filming location for the popular TV series "Game of Thrones."
Goðafoss: This waterfall played a pivotal role in Iceland's conversion to Christianity in the year 1000 when the local chieftain threw statues of Norse gods into the falls, symbolising the country's religious transformation.
Gullfoss: Gullfoss is often called the "Golden Waterfall" due to the golden hue of the water, which is a result of sediment carried by the glacial meltwater from the Langjökull glacier.
Brúarfoss: The mesmerising blue colour of the water at Brúarfoss results from the glacial meltwater filtering through the lava rocks, which removes impurities and results in the vivid turquoise hue.
Dynjandi: The name Dynjandi, which means "thunderous" in Icelandic, refers to the collective sound of all seven waterfalls that make up this majestic cascade, creating a powerful, resonating chorus.
Hraunfossar: Hraunfossar's unique formation results from water seeping through the porous lava rock, creating countless rivulets that flow over the edge, giving the appearance of water emerging from the lava field.
Aldeyjarfoss: The basalt columns surrounding Aldeyjarfoss are estimated to be around 9,000 years old, formed during a volcanic eruption that shaped the waterfall's distinct appearance.
Back to articles