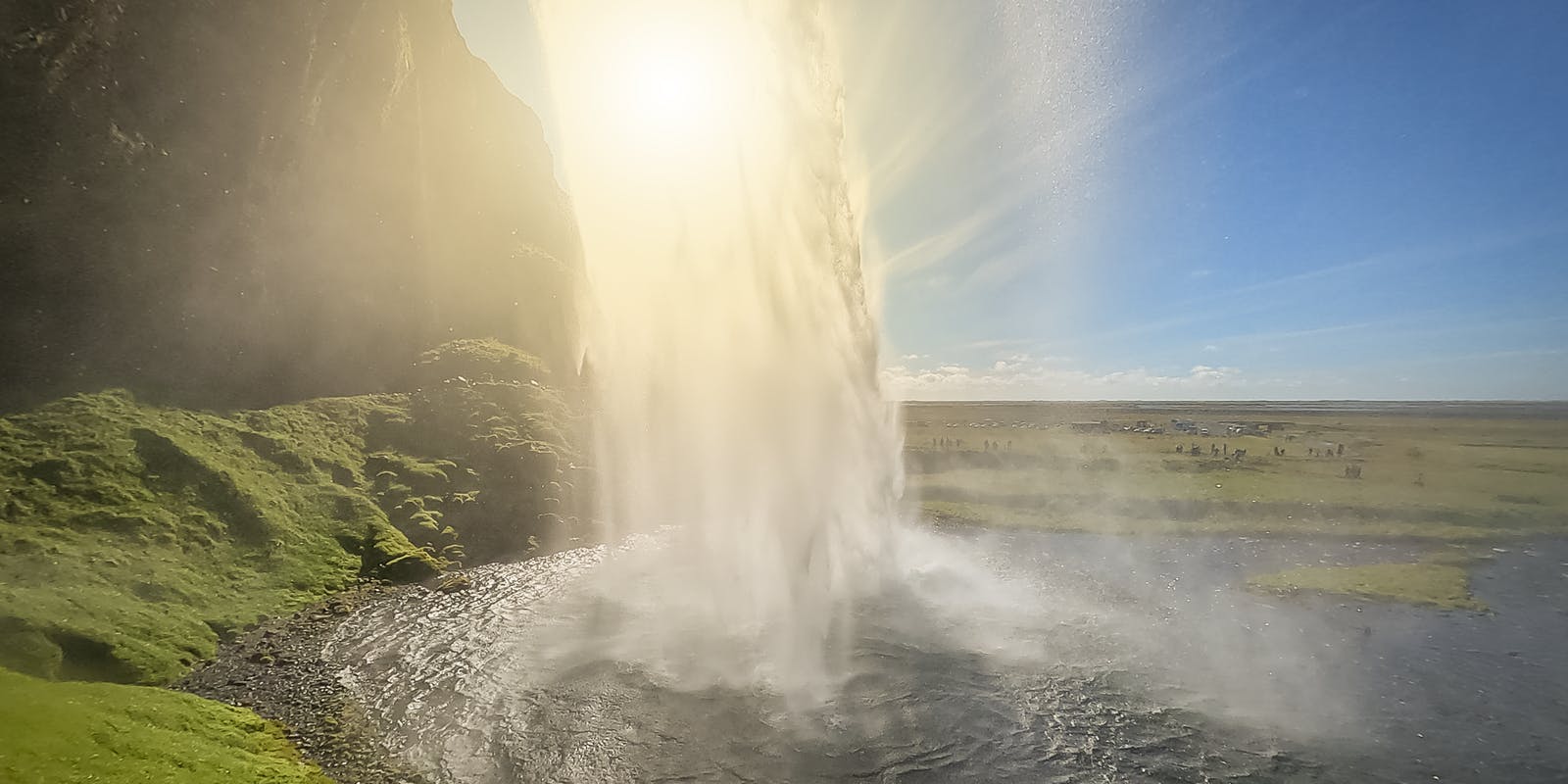 The Ultimate Guide to Seljalandsfoss Waterfall
Seljalandsfoss is one of Iceland's most iconic waterfalls. Situated along the south coast, this stunning waterfall is the result of the Seljalandsá River cascading dramatically over a cliff's edge. The river is located beneath the Eyjafjallajökull glacier, ensuring a consistent and powerful water flow.
The waterfall's impressive 60-meter (nearly 200 feet) drop culminates in a plunge pool below, where the river continues its journey. Seljalandsfoss's breathtaking beauty has earned it a reputation as a true gem of the south coast, captivating visitors worldwide.
What sets Seljalandsfoss apart from other waterfalls is the unique opportunity to stand directly behind the flowing water. An accessible path leads to a cavernous space, offering a great vantage point. On sunny days, this perspective lets you witness the enchanting sight of sunlight filtering through the falling water, casting a warm glow over the surrounding countryside. Furthermore, the waterfall's position makes it an ideal spot to experience sunsets, with the sun's rays diffused beautifully by the cascading water.
Seljalandsfoss is not only a summertime attraction but equally captivating during the colder winter months. Although the waterfall itself does not freeze, frigid temperatures cause the formation of icicles and intricate ice patterns on the surrounding rocks, adding a magical touch to the landscape. However, visitors should note that if the path behind the waterfall becomes too icy, it may be temporarily closed off for safety reasons.
The "Secret" Waterfall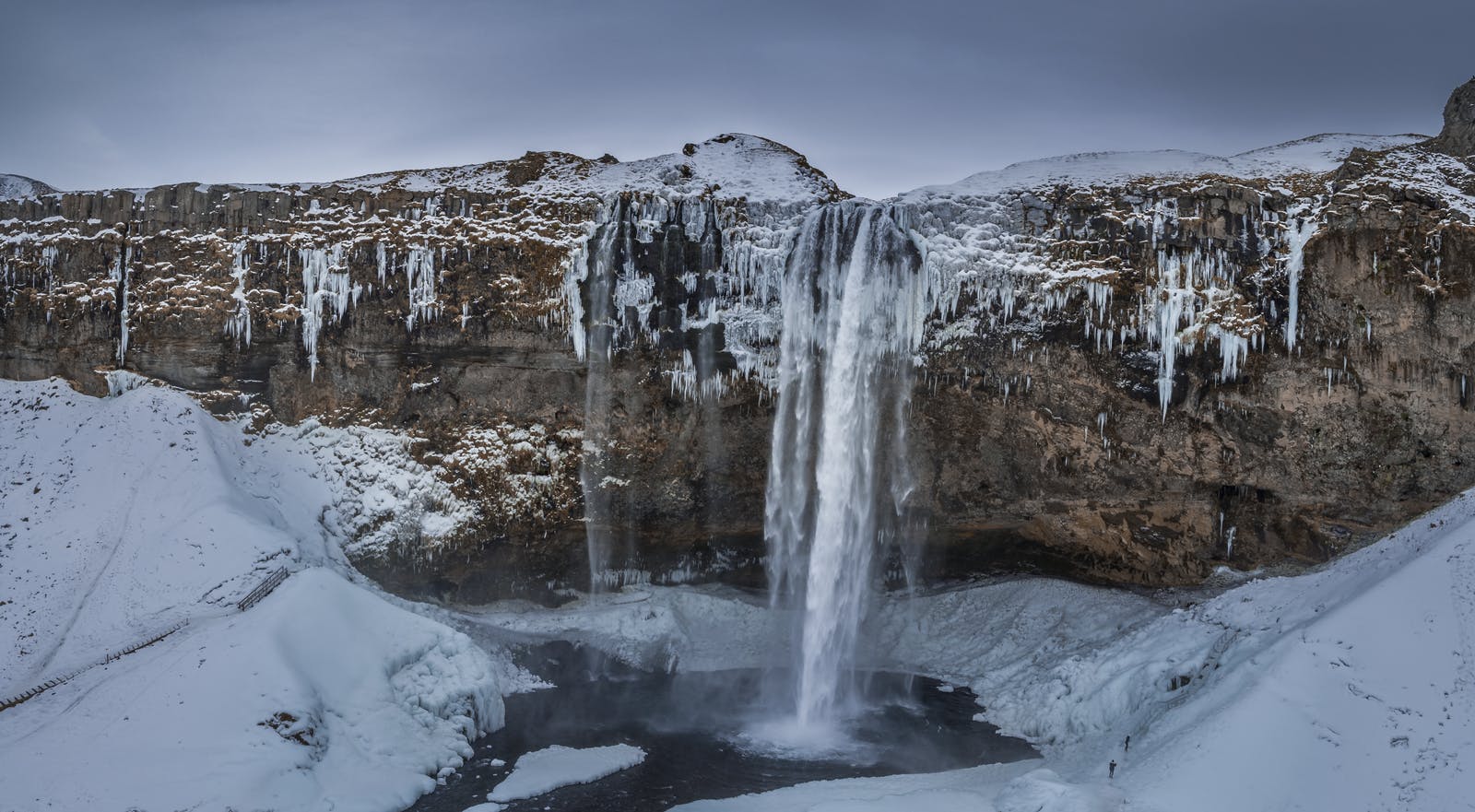 Just a few hundred meters north of the famous Seljalandsfoss lies another enchanting waterfall concealed behind a rocky crevice. This elusive cascade is often called the "secret waterfall" due to its hidden nature. However, its proper name is Gljúfrabúi, loosely translated as "one who dwells in the canyon."
To uncover the hidden beauty of Gljúfrabúi, begin by walking behind Seljalandsfoss in an anticlockwise direction. Continue following the trail inland, and in no time, you will come across a small stream. As you approach the rock face and gaze beyond the stream, you'll catch your first glimpse of the mysterious waterfall concealed on the other side.
Venturing inside the cave that houses Gljúfrabúi is an incredible experience, but be prepared to get wet. It is advisable to wear waterproof clothing and wellies to stay as dry as possible.
However, before stepping through the gap to access the waterfall, it is crucial to assess the water level for safety reasons. Only proceed if the water level is not too high, as the rocks within the cave can be wet and slippery, posing a potential hazard.
Gljúfrabúi is a breathtaking hidden treasure that offers adventure to those seeking it out. With its captivating beauty and secluded location, it is a delightful surprise for visitors exploring the natural wonders of Iceland. Always prioritize safety when venturing near waterfalls and respect the surrounding environment.
What To Wear and Bring to Seljalandsfoss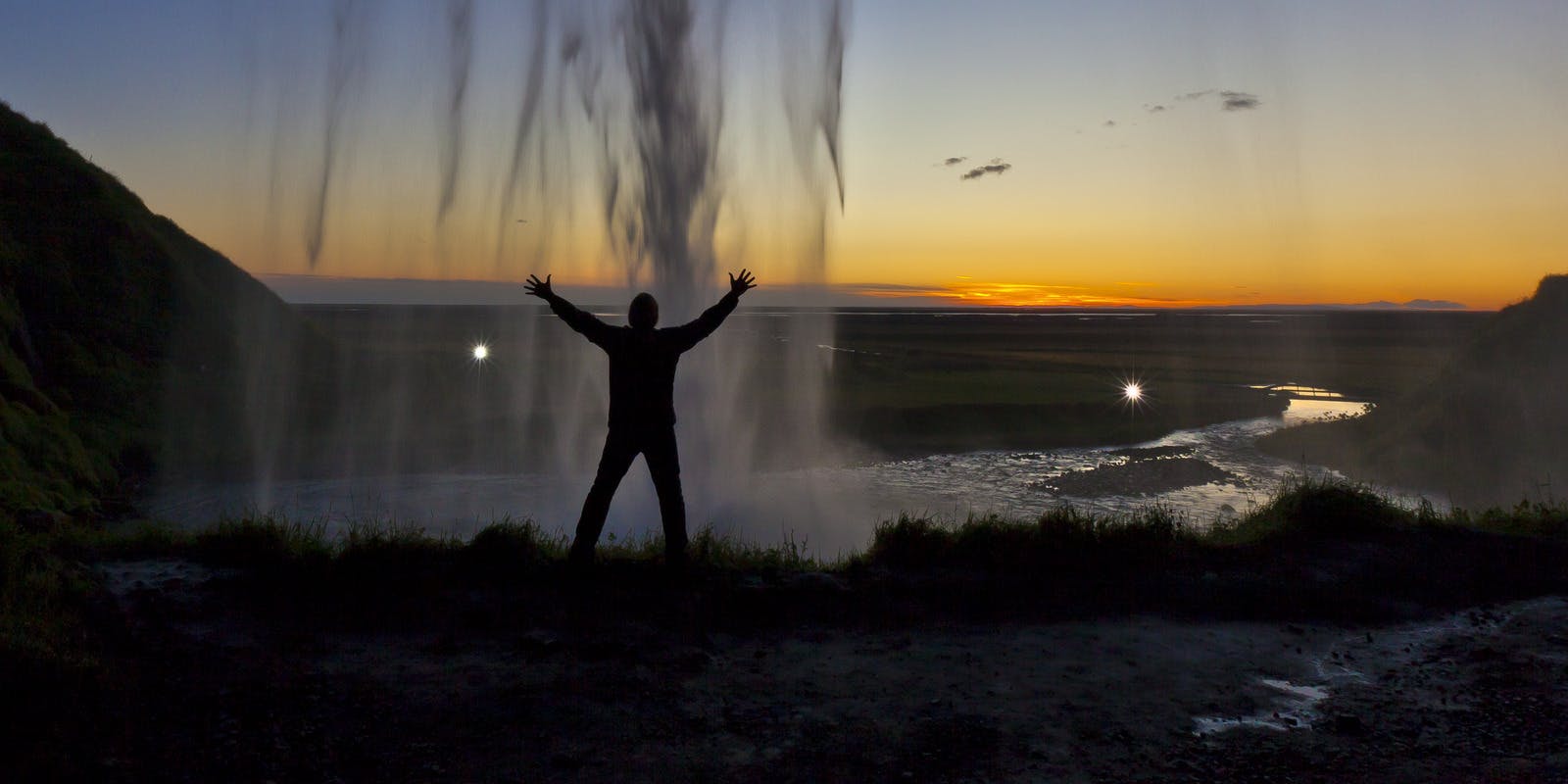 The question of what to wear and what to bring depends a lot on the time of year, the weather and what you plan to do once you get to Seljalandsfoss. 
For instance, if it's summer, the sun's shining, and you're content to take a look and snap a photo simply, then you'll be OK wearing whatever you had on in the car. If it's cold or windy – or both – you'll appreciate having more layers and a suitable jacket. 
If you plan to walk behind Seljalandsfoss, you'll need the following:
Shoes with a decent grip as the path behind the falls is a little uneven, and the rocks are often wet and slippery.
A rainproof jacket of some sort, ideally with a hood, so you don't get completely soaked by the spray as you duck under the falls.
For travellers who are keen to add on Gljúfrabúi:
If you just want to peek through the gap to see the waterfall, then dress as you would for Seljalandsfoss.
If you're keen to step through the cleft into the opening behind, you must plan your footwear and clothing to cope with standing in cold water.
Regardless of your plans, bringing a towel to dry off is helpful, especially if you intend to get close to the waterfalls. You can leave the towel in the car, as the hike from the parking area is relatively short.
Other useful items include:
a hot coffee or tea flask to warm up after your visit
a camera or smartphone
Remember that water spray can affect your device, so use a waterproof case or carry a cloth to wipe the lens frequently.
By dressing appropriately and packing essential items, you'll ensure a comfortable and memorable visit to Seljalandsfoss and Gljúfrabúi, fully immersing yourself in these Icelandic wonders' beauty.
Where Is Seljalandsfoss Waterfall?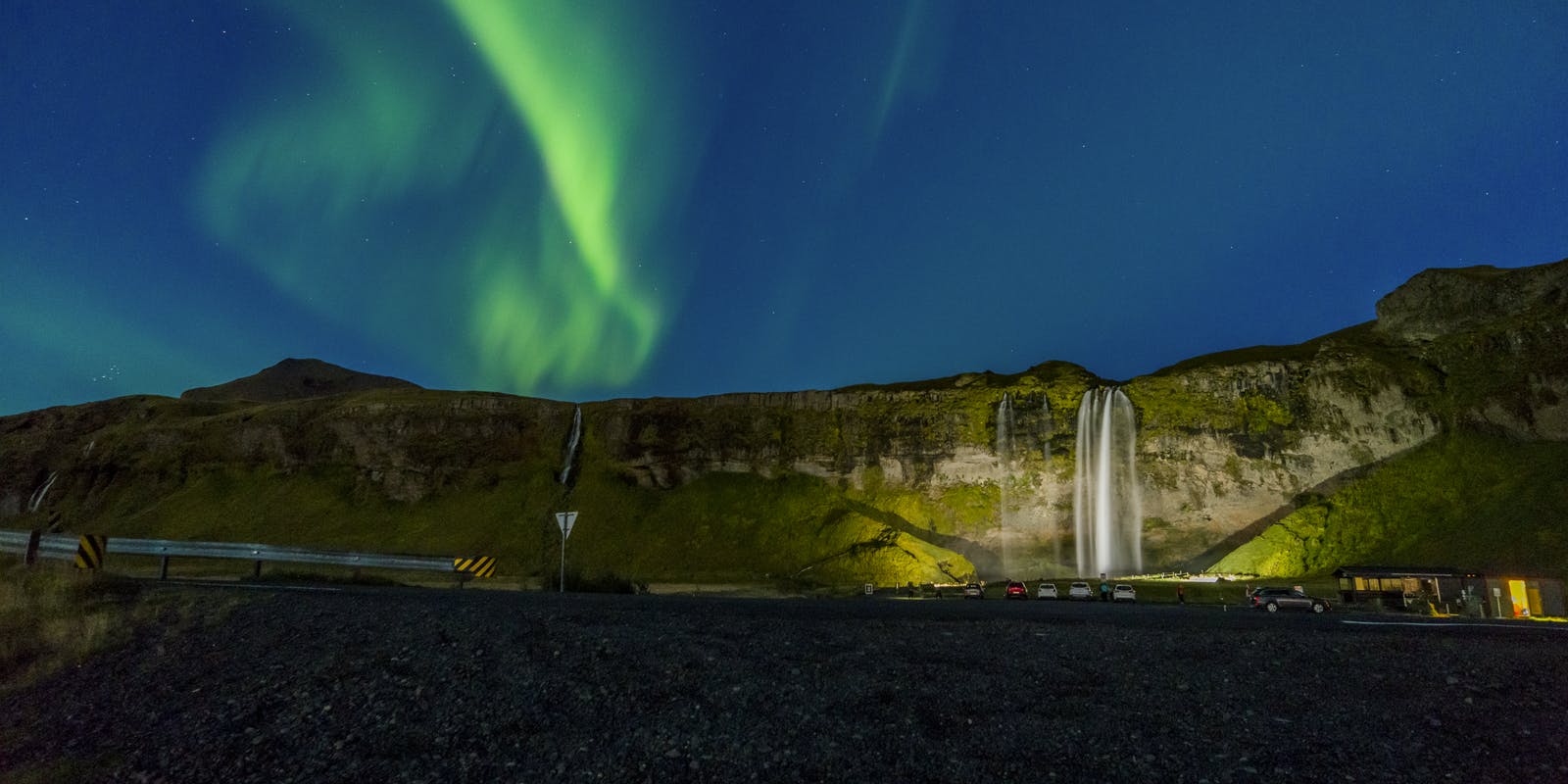 If you're wondering how far Seljalandsfoss waterfall is from Reykjavik, it's about 130 km(80 miles). Under normal driving conditions, you can reach Seljalandsfoss in less than two hours, making it a feasible day trip from the capital.
Many visitors combine their visit to Seljalandsfoss with a stop at Skógafoss, another stunning waterfall just a 20-minute drive further east along Route 1. The proximity of both waterfalls to the famous Ring Road makes them popular destinations for travellers on longer road trips, often continuing eastward to explore the village of Vík and other attractions along Iceland's scenic southern coast.
Visiting Seljalandsfoss and its neighbouring waterfalls is a rewarding experience, offering a chance to witness firsthand the natural beauty of Iceland. Whether as a day trip from Reykjavik or as part of a more extensive journey, Seljalandsfoss and the surrounding area will leave a lasting impression.
How To Get to Seljalandsfoss Waterfall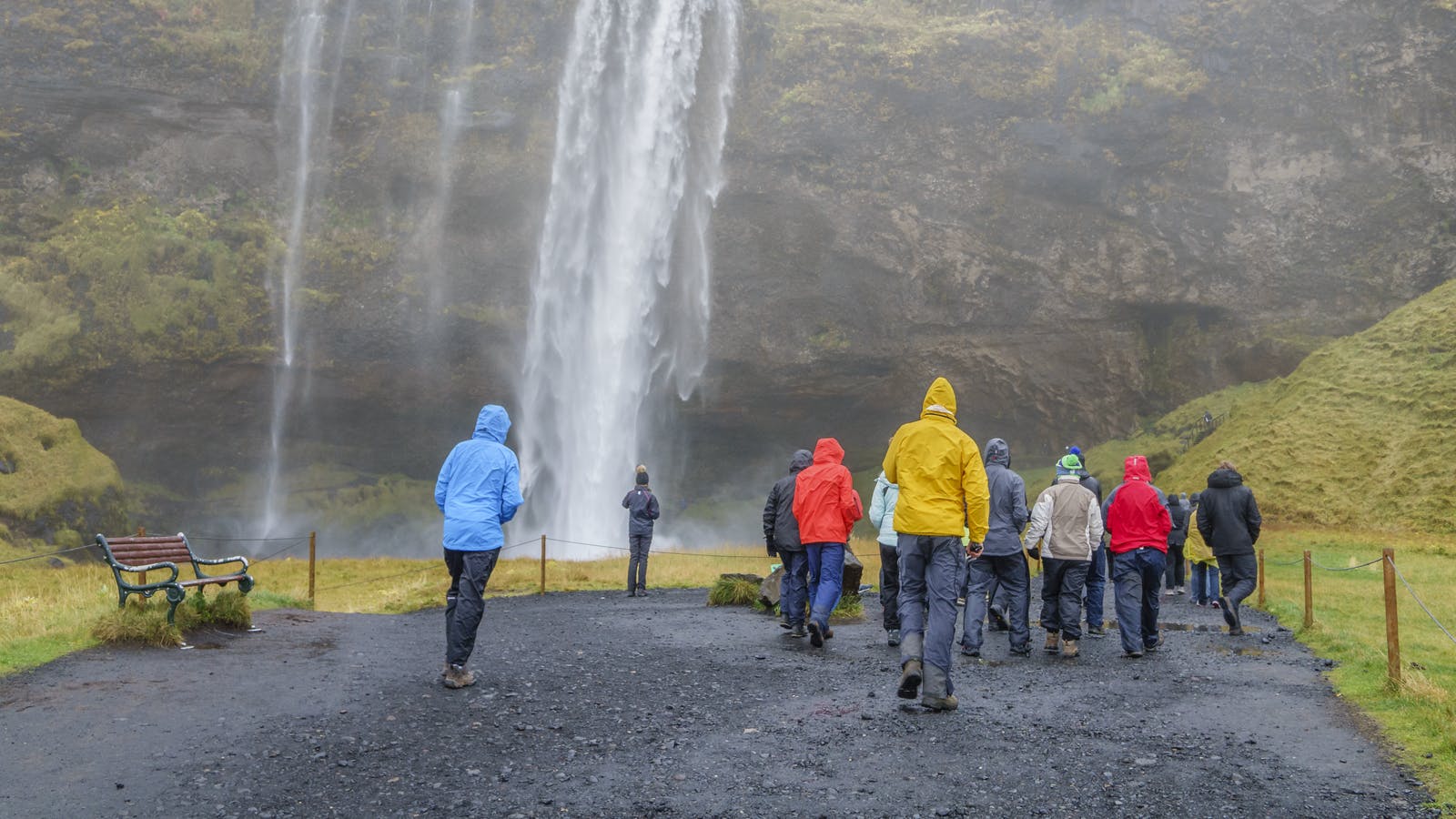 If you're eager to visit Seljalandsfoss waterfall, here is a step-by-step guide to help you get there from Reykjavik:
Begin in Reykjavik city centre and take Route 49, a dual carriageway, heading out of the city. Follow the signs for Route 1.
At the main junction of Route 49 and Route 1, head south on the Ring Road (marked 1s) following the signs for Vik and Hveragerði.
Continue on this road, passing through Hveragerði. You'll then cross the Ölfusá River and proceed through the centre of Selfoss.
Keep driving east along the Ring Road, with your next landmarks being the towns of Hella and Hvolsvöllur. At this point, you'll be approximately 20 kilometres (12 miles) from Seljalandsfoss.
As you get closer to Seljalandsfoss, you'll cross a bridge over the River Markarfljót. Shortly after the bridge, watch for a sign indicating Route 249 and Þórsmork, and make a left turn.
Seljalandsfoss waterfall will be visible just ahead on the right-hand side of the road.
By following these directions, you'll easily navigate your way from Reykjavik to the stunning Seljalandsfoss waterfall. Prepare for a memorable experience as you witness one of Iceland's most iconic natural wonders.
Is There a Charge To See Seljalandsfoss or for Parking?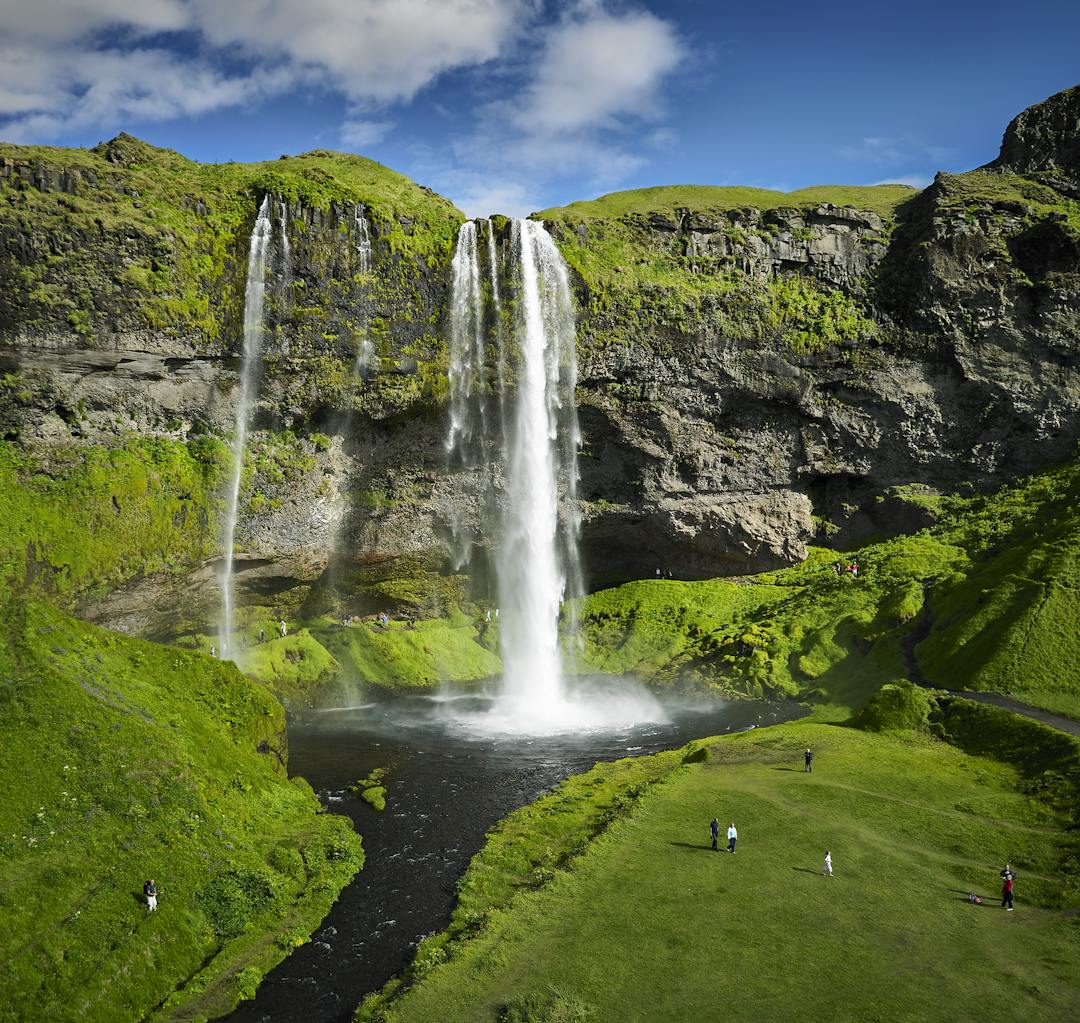 When planning a visit to Seljalandsfoss, it's essential to consider the costs involved, particularly concerning parking. In 2017, a parking fee was implemented at Seljalandsfoss to help fund the site's maintenance and upkeep. Currently, visitors can expect to pay 800 ISK (approximately $6) for parking, which is a flat rate regardless of the duration of your stay.
However, accessing and viewing the waterfall itself is entirely free of charge. Considering the minimal parking fee and the unlimited time you can spend admiring one of Iceland's most remarkable natural wonders, it's undoubtedly a great value for visitors. The funds collected from parking contribute to the ongoing preservation of this breathtaking site, ensuring future generations can enjoy its beauty as well.
Preparing for Your Seljalandsfoss Visit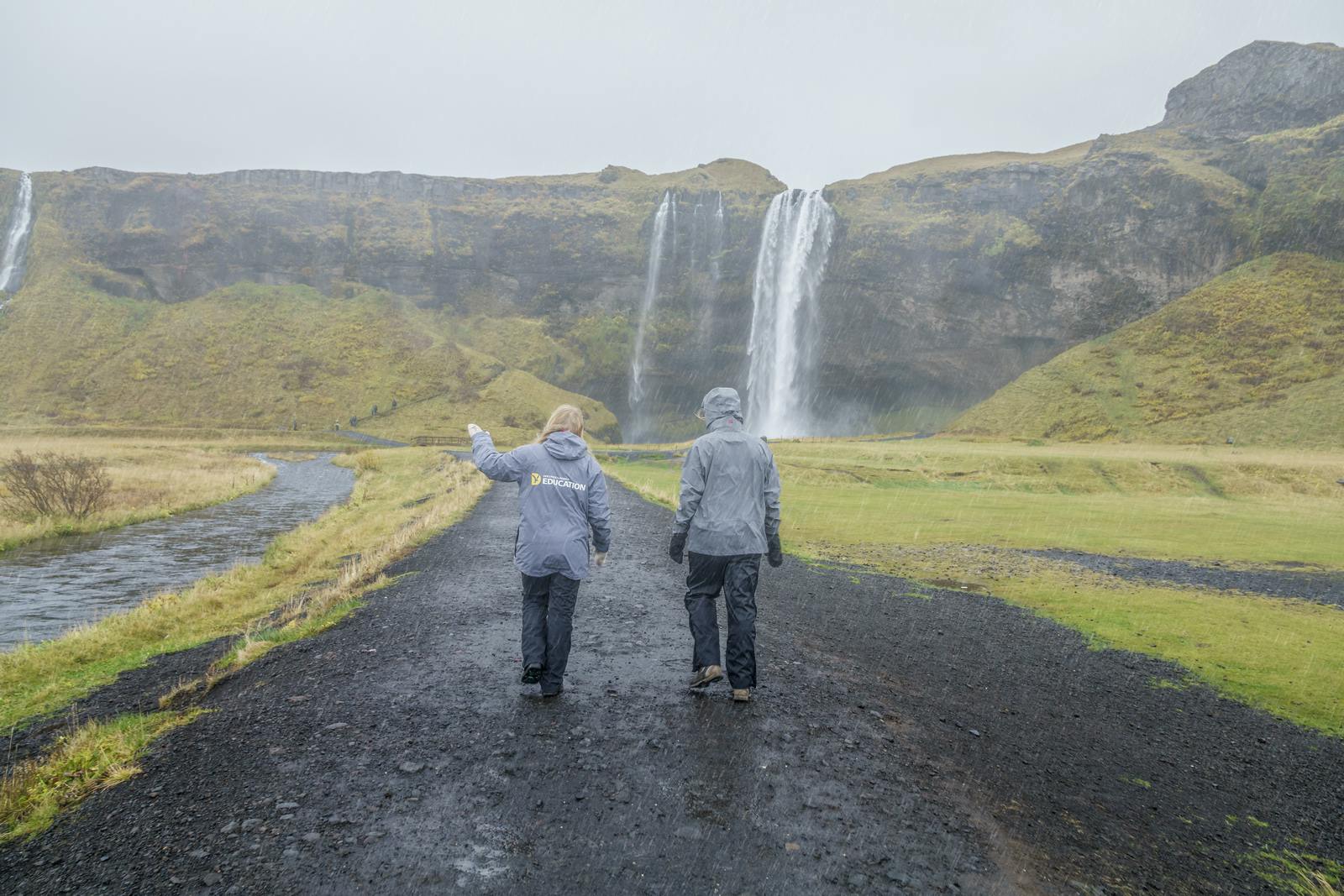 Before embarking on your journey to Seljalandsfoss, consider visiting Perlan in Reykjavik. This unique attraction houses multiple floors of intriguing exhibitions that provide valuable insights into the various natural forces that have shaped Iceland's landscape. These exhibits cover a range of topics, including fluvial, glacial, and tectonic processes, and highlight the importance of water as a precious resource in the country.
By exploring Perlan's informative displays, you'll gain a deeper understanding of the geological and environmental factors that have contributed to the formation of Iceland's natural wonders, such as Seljalandsfoss. This knowledge will enrich your experience as you explore the waterfall and other attractions throughout Iceland, fostering a greater appreciation for the country's incredible landscapes and the delicate balance of its ecosystems.
Seljalandsfoss FAQ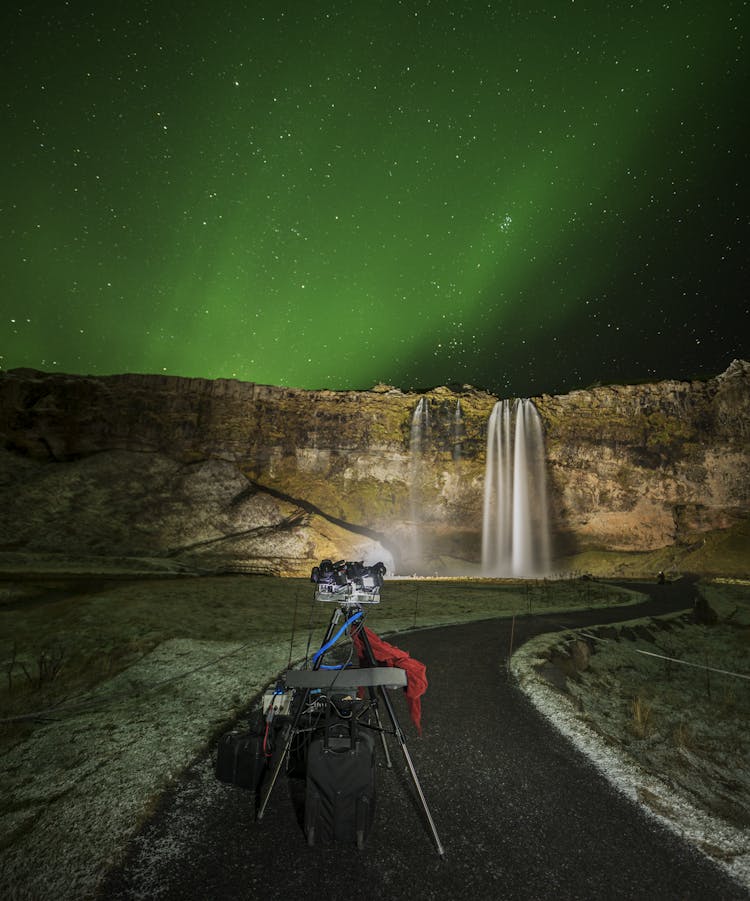 Where is Seljalandsfoss waterfall located?
Seljalandsfoss is in South Iceland, approximately 130 kilometres (80 miles) from Reykjavik, the capital city.
Is there a parking fee at Seljalandsfoss?
Yes, there is a parking fee of 800 ISK (around $6), which is a flat rate regardless of your length of stay.
Can you walk behind Seljalandsfoss waterfall?
Yes, you can walk behind the waterfall but wear shoes with good grip and a waterproof jacket to protect yourself from the spray.
What is the "secret" waterfall near Seljalandsfoss?
The "secret" waterfall is called Gljúfrabúi, located just a few hundred meters north of Seljalandsfoss, hidden behind a rock cleft.
Back to articles