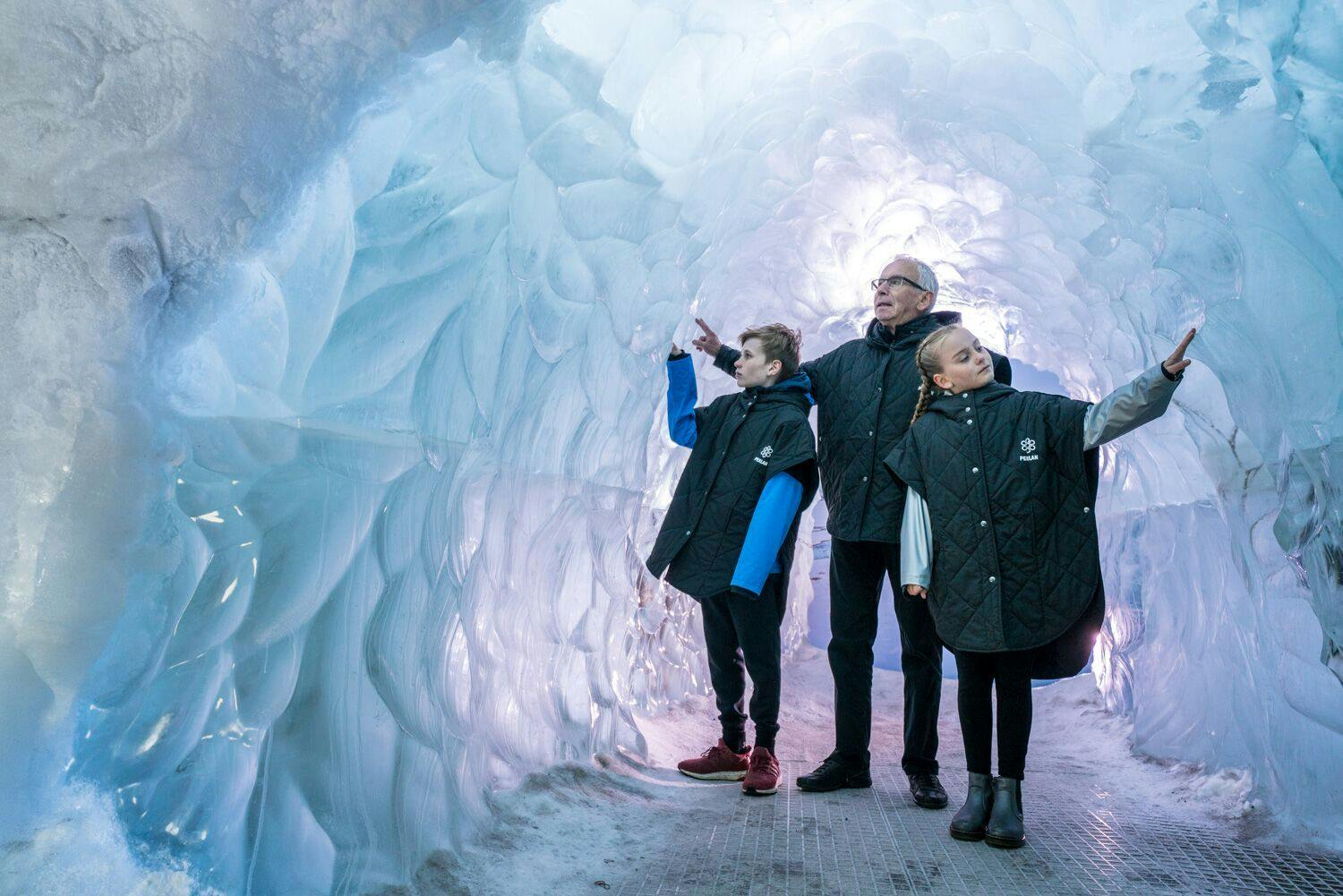 The Top Ice Caves in Iceland
Ice caves in Iceland are amongst its most impressive sights in Iceland. The largest are huge glittering caverns of translucent blue ice, accessible only in winter. Year round, visitors can step inside sturdier ice caves whose walls tend to be white in appearance, often streaked black or grey with volcanic ash. 
The closest ice cave to Reykjavik
1. Langjökull ice cave 
Langjökull is home to another ice cave that can be visited year-round. It's the closest ice cave to Reykjavik and it's manmade. Seeing a gap in the market for tourists who couldn't visit the seasonal caves, the team behind this initiative set about boring a tunnel through the glacier. Despite the engineering headache it created, they knew they had to access their cave high up, to mitigate against the warmer summer temperatures. Visitors are ferried up to the tunnel entrance in a modified eight-wheel drive truck which is capable of tackling the steep gradient and rugged terrain. From there, you can hike on foot into the glacier. When you reach the blue ice, it's a magical sight.
Ice caves further afield   
2. Katla Ice Caves, Kötlujökull/Mýrdalsjökull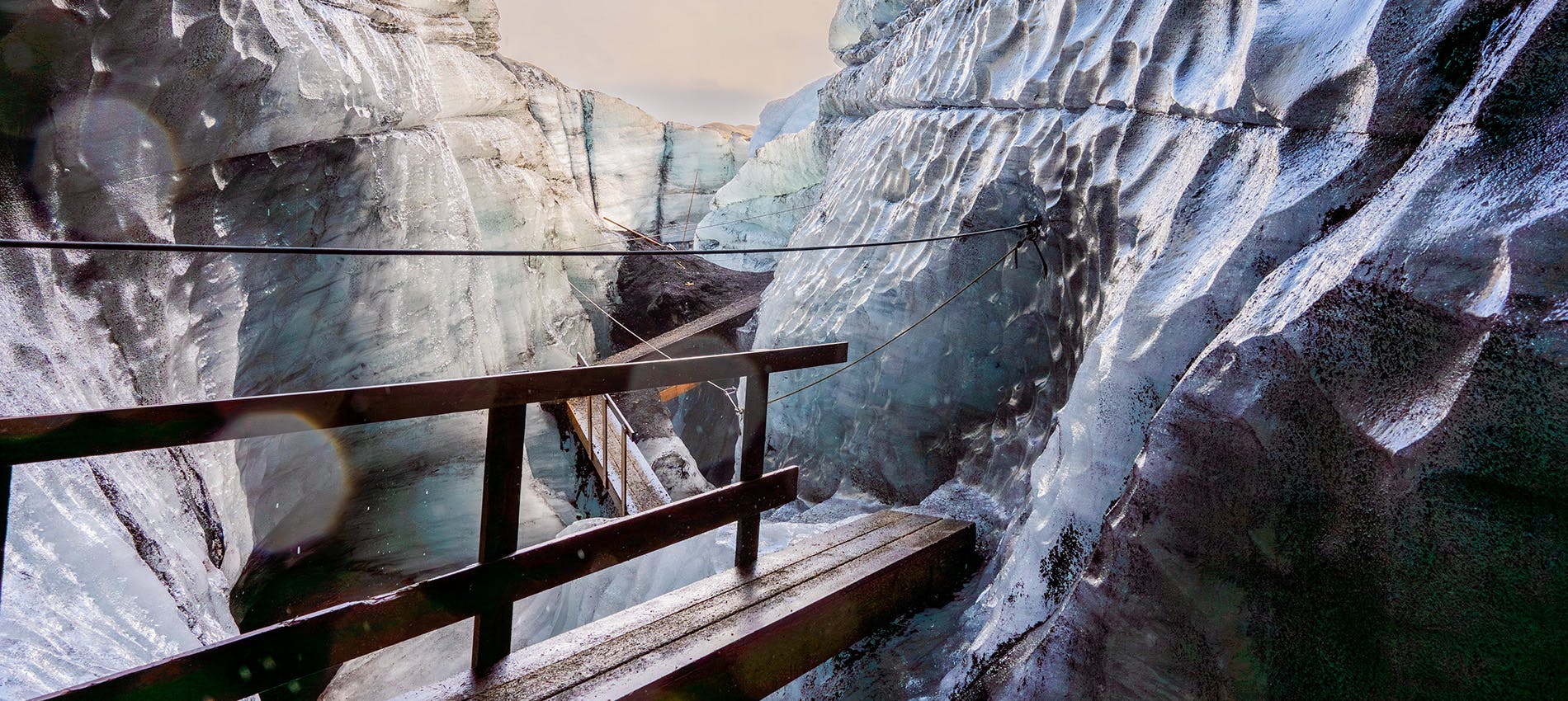 These glaciers cover the active volcano Katla, which last erupted in 1918. You'll find them beneath Kötlujökull, which is an outlet glacier of Mýrdalsjökull. The Katla ice caves can be visited throughout the year, but as with any ice cave, only with a guide as safety is paramount and these are constantly changing landforms. As you set off on your hike to the ice cave what you'll immediately notice is how grey – almost monochrome, even – the landscape looks. That's because the ice has been layered with volcanic ash (tephra) and these striations give the area a moody quality. The tephra layers within the ice create a dramatic contrast against the white of the glacier, making it a photographer's dream.
3. Crystal Ice Cave, Vatnajökull
If someone shows you a picture of a massive blue cavern, chances are it's a glacier cave. Iceland is partially covered by one of Europe's largest glaciers, Vatnajökull. Hidden under its surface are myriad caves hollowed out by subglacial rivers and meltwater streams. One exceptionally large cave was dubbed Crystal Cave. But even the biggest ice cave leads a precarious existence and this fragile landform is no longer accessible to the public. 
4. Sapphire Ice Cave, Breiðamerkurjökull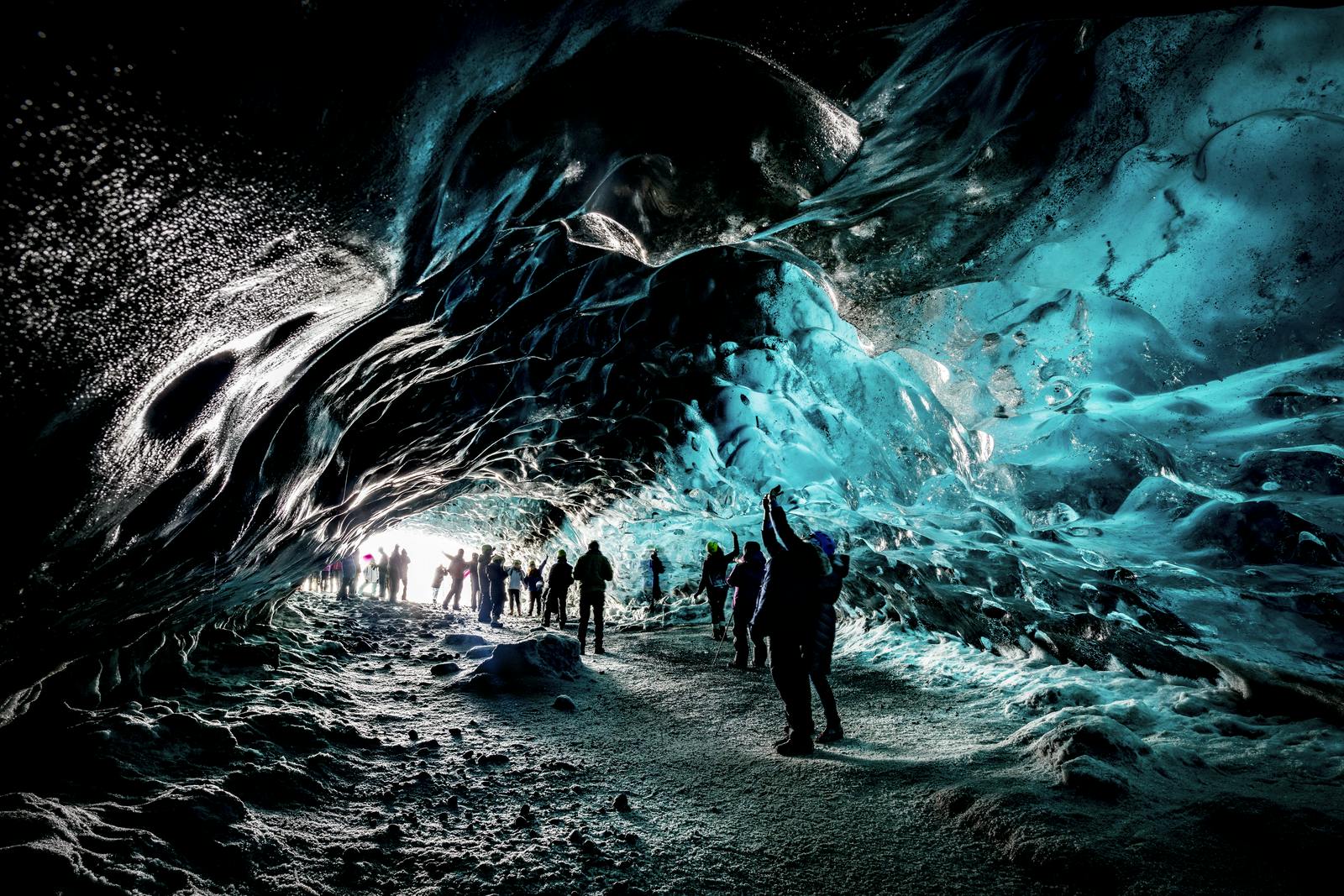 Another nearby cave, similar in appearance, called Sapphire Cave, is as close as you'll get – while it lasts, of course. It's located fairly close to the glacier's edge at the south eastern side of Breiðamerkurjökull, an outlet glacier of Vatnajökull. It's accessed via a hike that departs from Jökulsárlón Glacial Lagoon. 
5. Aurora Ice Cave, Vatnajökull 
This ice cave is another that can be reached from Jökulsárlón Glacial Lagoon. On clear winter nights, the Aurora Borealis dances across the night sky. This magical natural phenomenon throws ribbons of green, purple and even blue across the heavens. Step inside this cavern and it's as though they're visible inside too, as light plays off the ice. Tours depart from the lagoon in a specially designed truck that can cope with the steep and challenging terrain. Guides will kit you out with the equipment you need to explore this dazzling subterranean world. 
6. Skaftafell's Ice Caves including Blue Dragon Ice Cave
These ice caves can be found in Skaftafell, part of the Vatnajökull National Park. Here, ice caves lurk under several outlet glaciers, including Skaftafellsjökull, Svínafellsjökull and Falljökull. These caves are off-limits during the summer months, when temperatures rise, causing the meltwater to swell. In winter, however, hikers equipped with crampons, harness, helmet and an ice axe can tackle glacial ridges and plunging crevasses to reach them.
One of the most remote ice caves in the Skaftafell area is located under Skeiðarárjökull and you'll need to take a short helicopter flight to reach it. Local guides named it the Blue Dragon Ice Cave, as the dimpled walls resemble a dragon's scales. Unlike the mythical creature, however, this ice cave is real, though the cost of getting there means it's only visited by a privileged few.
Ice cave in Reykjavik 
7. Perlan, Reykjavik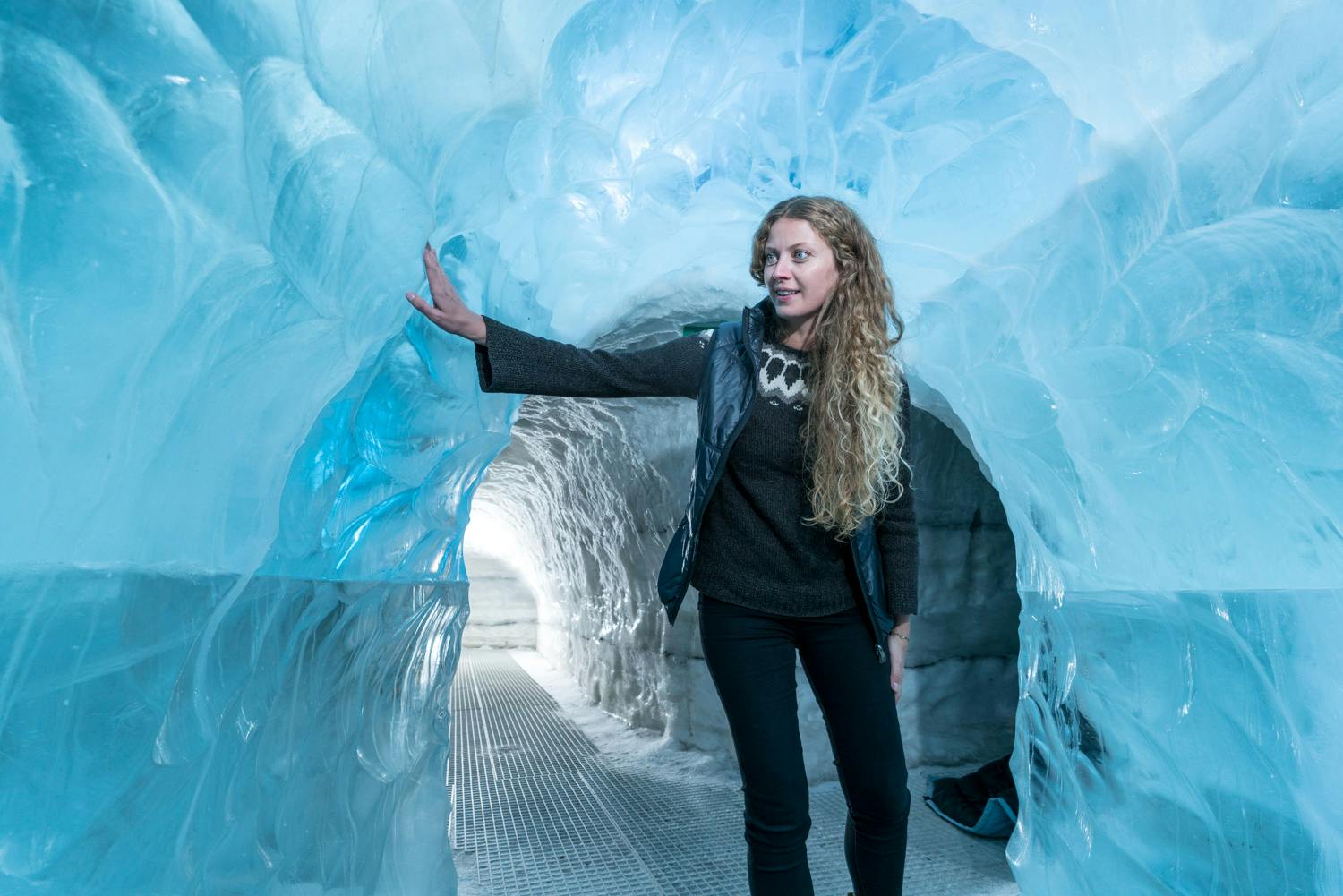 Perlan in Reykjavik features an impressive ice cave of its own, enabling more people to visit an ice cave. This indoor exhibit forms a wider piece that explains how glaciers are formed. For the price of a ticket, you can step inside an ice tunnel. Feel the chill in the air as you touch the freezing walls. It's hard to believe you haven't even left Reykjavik. If you can, it's worth travelling a little further afield to these, the top ice caves in Iceland.  
By the time you read this, another ice cave in Iceland may have collapsed or been discovered. Nothing is certain. Access varies from day to day as weather conditions can alter the landscape and environment. Local guides stay abreast of these developments, which is why it's so important never to go it alone. But even though you'll need to splurge on a tour, once you've set foot inside the ice cave you'll be glad you spent the money.
Back to articles