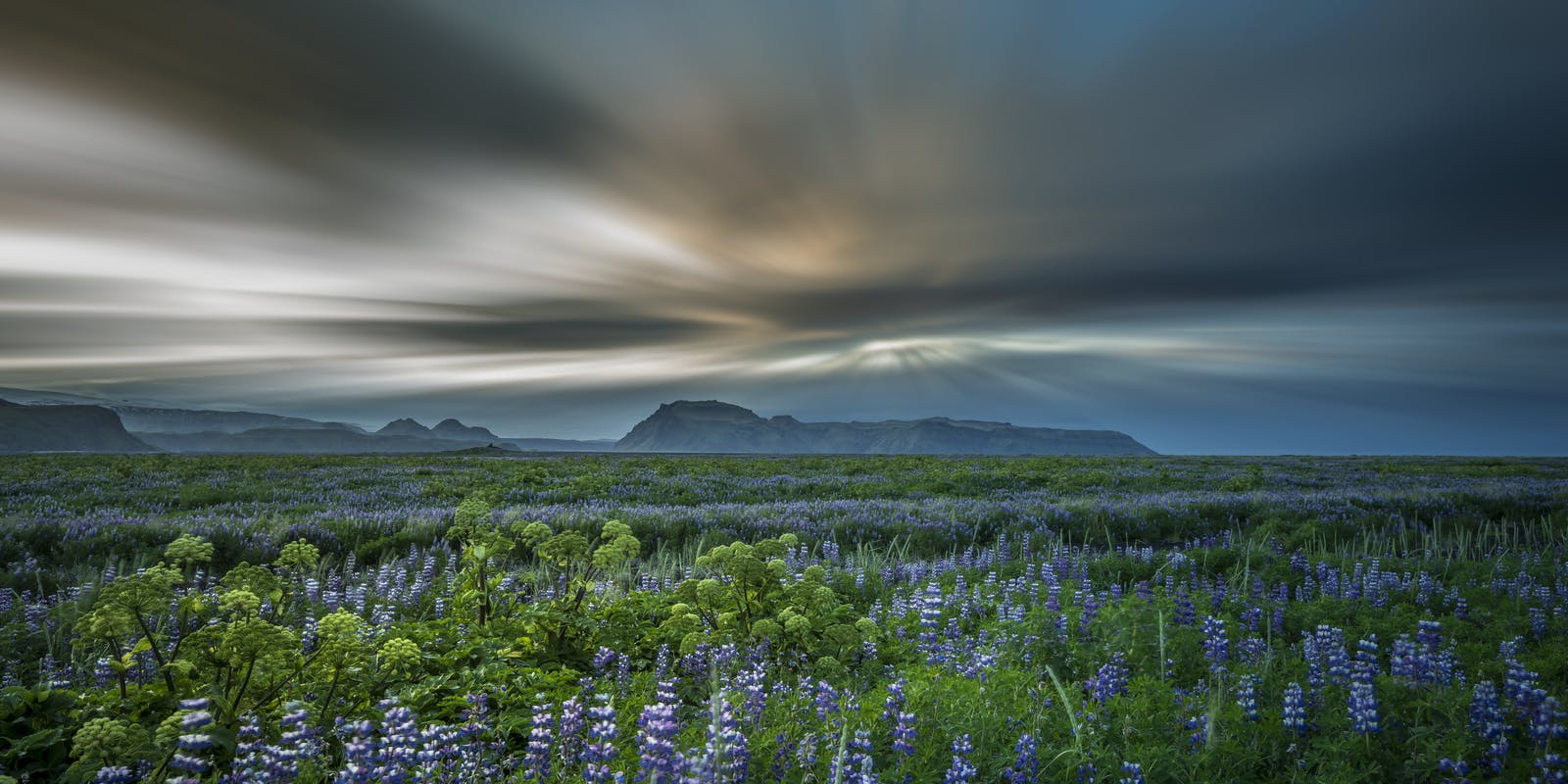 Guide to Katla Volcano in Iceland
Katla is a massive subglacial volcano located under the mighty Mýrdalsjökull Glacier. While more minor volcano eruptions have not broken the ice, it's been more than 100 years since Katla's last major eruption. 
What Type of Volcano Is Katla?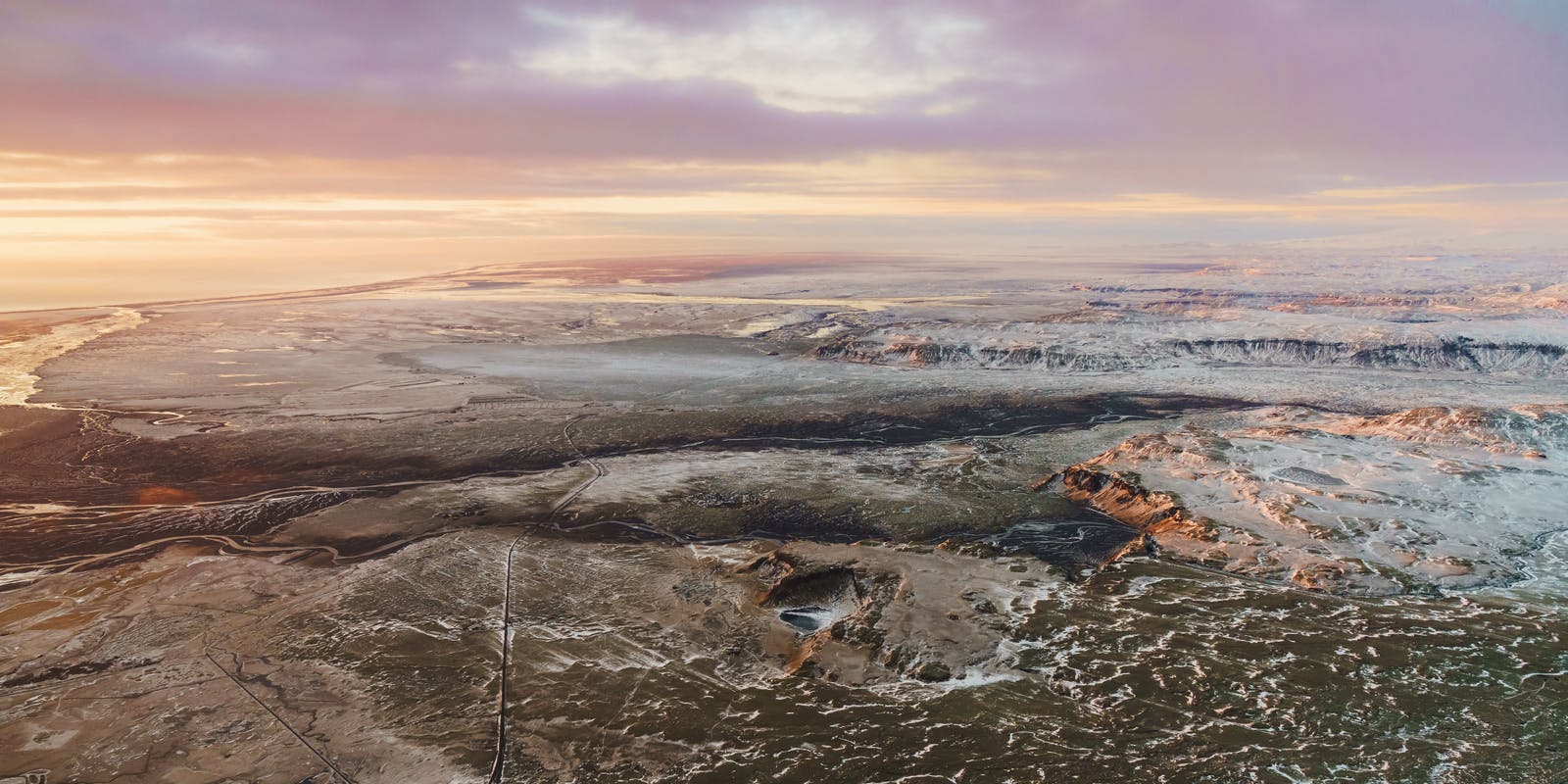 Katla is a subglacial volcano, one of the largest volcanoes in Iceland, that sits under Iceland's fourth largest ice cap, Mýrdalsjökull glacier. 
Where Is Katla Located?
Katla is located right in the centre of the South Coast of Iceland, east of Eyjafjallajökull glacier and west of the town of Kirkjubæjarklaustur. It's about 93 miles from the capital city of Reykjavík. Katla is considered the centre of the southern volcanic system in Iceland, and it's located close to the village of Vík. 
What Is the Katla Geopark?
The Katla Geopark is an area of 7,545 sq mi, which is 9.3 percent of the total area of Iceland. Glaciers, volcanoes, mountains, rivers, waterfalls, and miles of lava fields are within the geopark. Visitors can enjoy hiking, caving, angling, horse riding, glacier walking, and ice climbing.
When Has Katla Erupted Throughout History?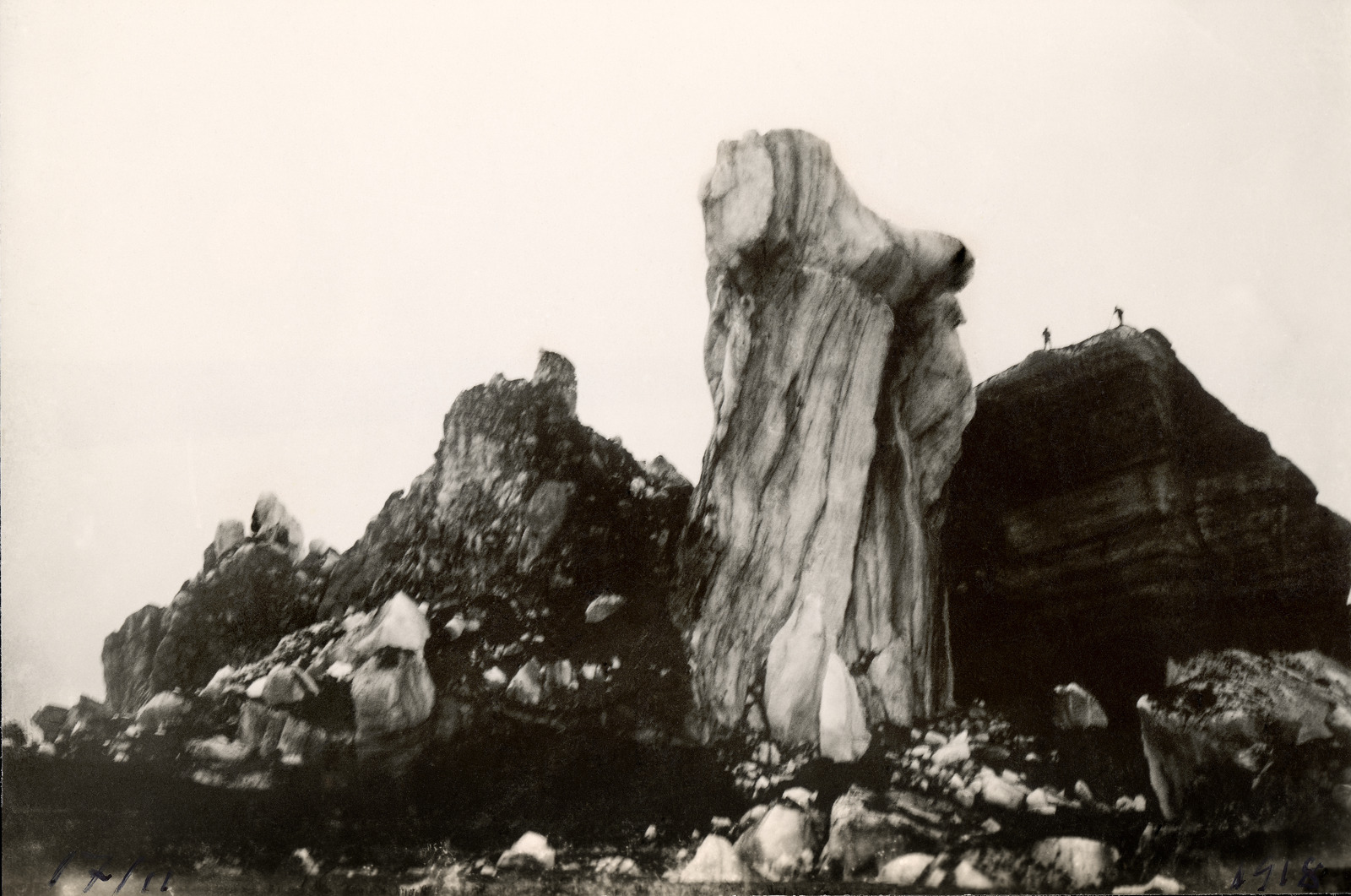 There have been 20 documented eruptions of Katla between the years 930 and 1918. These eruptions have happened every 20 to 90 years, and scientists say that Katla is long overdue for an eruption. While there have been small eruptions that didn't break the ice between 1955, 1999, and 2011, it has not been more than 100 years since Katla's last major eruption.
Katla's previous eruptions have had a Volcanic Explosivity Index (VEI) of between 4 to 6 on a scale of 0 to 8. To compare, the 2010 eruption at Eyjafjallajökull, which shut down air traffic across Europe, had a VEI of 4. 
How To Get to Katla
Driving from Reykjavík to Katla takes approximately 3 hours on the Ring Road along the South Coast. To visit Katla up close is challenging and shouldn't be attempted without an experienced guide and a lot of planning. 
Some tours drive by Katla along the way to Vík, and there are guided tours to the Katla ice cave. Guides have the proper vehicle to reach the area and the necessary experience to explore safely. 
Since it can be tricky to get to Katla, we recommend experiencing earthquakes and volcanoes at Perlan, Reykjavík. Immerse yourself in their Force of Nature Exhibition.
Is Katla Volcano Active?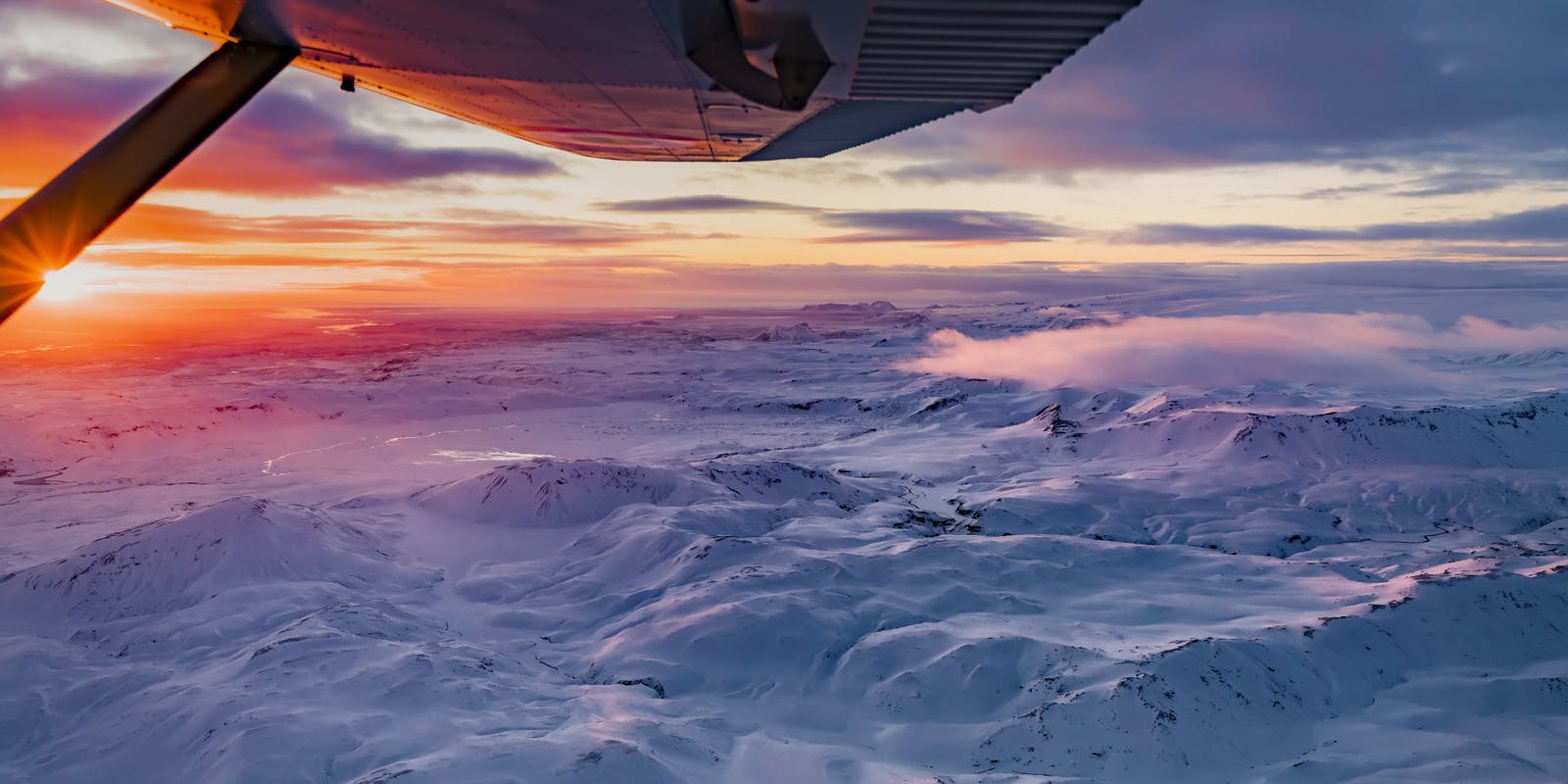 Katla is an active volcano, but there's no need to be concerned about an eruption on ice cave tours as Iceland's volcanoes are monitored for activity. If Katla is stirring, there will be warnings, and tours will be suspended in advance. Katla last erupted in 1918; since 920 AD, only 20 eruptions have been recorded. Even though Katla is an active volcano, it does not mean it is expected to erupt tomorrow. Scientists monitor Icelandic volcanoes very closely. 
With advanced technology, you can experience the adrenaline rush of an earthquake and the eruption of a volcano in a safe, controlled environment at Perlan's Force of Nature Exhibit.
Katla ice cave
The Katla ice cave is located on the south coast of Iceland, on one of Iceland's most active volcanoes. The ice cave can be visited year-round on guided tours to the Kötlujökull glacier. The inside of the Katla ice cave is blue and black; the black is ash from volcanic eruptions. The ice cave is less than 1 hour from the village of Vík and is a popular attraction for tourists looking for an adventurous outdoor activity. Experienced glacier guides lead the tours. 
Can I go to the Katla ice cave on my own?
Never attempt to walk on a glacier without an experienced glacier guide. They are trained to keep travellers safe and provide the necessary caving equipment and a suitable vehicle to reach the cave. Participants must wear proper hiking shoes and waterproof and warm clothing to explore the ice cave safely and comfortably.
Katla Volcano FAQ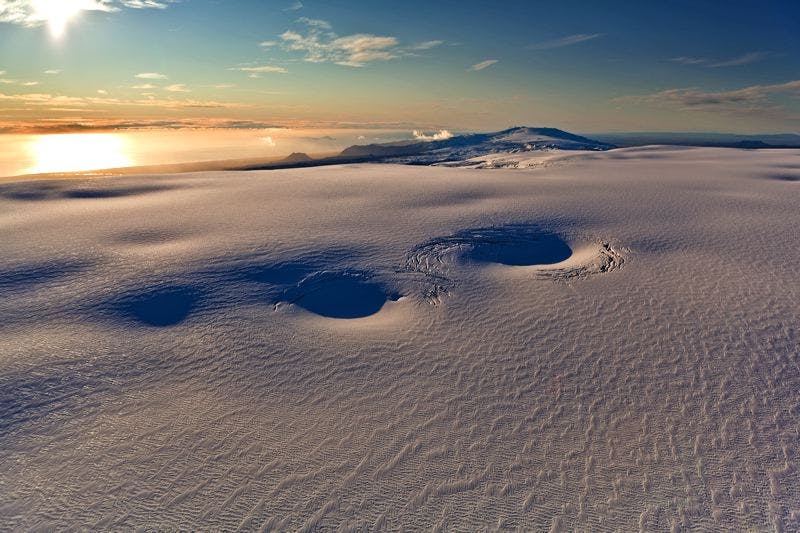 What would happen if the Katla volcano erupted?
If Katla erupted, the fallout could be an incredible flood that is comparable to the combined average discharge of the Nile, Amazon, and Mississippi rivers. The glacial ice cap would melt, sparking a massive surge. There are warning systems in place, and people would be alerted to evacuate the area at the first signs of a significant eruption. 
A particular concern would be paid to the small village of Vík, which sits directly in the flood's path. The town has put measures in place to direct the floodwater away from the village, but it is still possible for catastrophic damage to occur. 
How often does Katla erupt?
Katla has typically erupted every 20-80 years; however, it has been more than 100 years since its last major eruption. Geologists are waiting for signs of a big one. 
How many people died in the 1918 Katla eruption?
There were no recorded deaths in the 1918 eruption of Katla. It has been said that a group of farmers herding sheep had a close call, but they escaped in time. 
Is Katla safe to visit?
There are ways to visit Katla safely; the most common is a guided Katla ice cave tour. A glacier guide leads groups to explore the massive ice cave that is open to the public year-round. Never attempt to walk on a glacier without a trained guide, as some sinkholes and crevices could lead to serious injury. 
What attractions are near Katla?
Katla is visible when touring parts of the South Coast of Iceland. Some nearby attractions include the glaciers Mýrdalsjökull, Eyjafjallajökull, and Sólheimajökull; the waterfalls Skógafoss, Seljalandsfoss, and Gljúfrabúi, the black sand beach of Reynisfjara and the village of Vík.
Back to articles