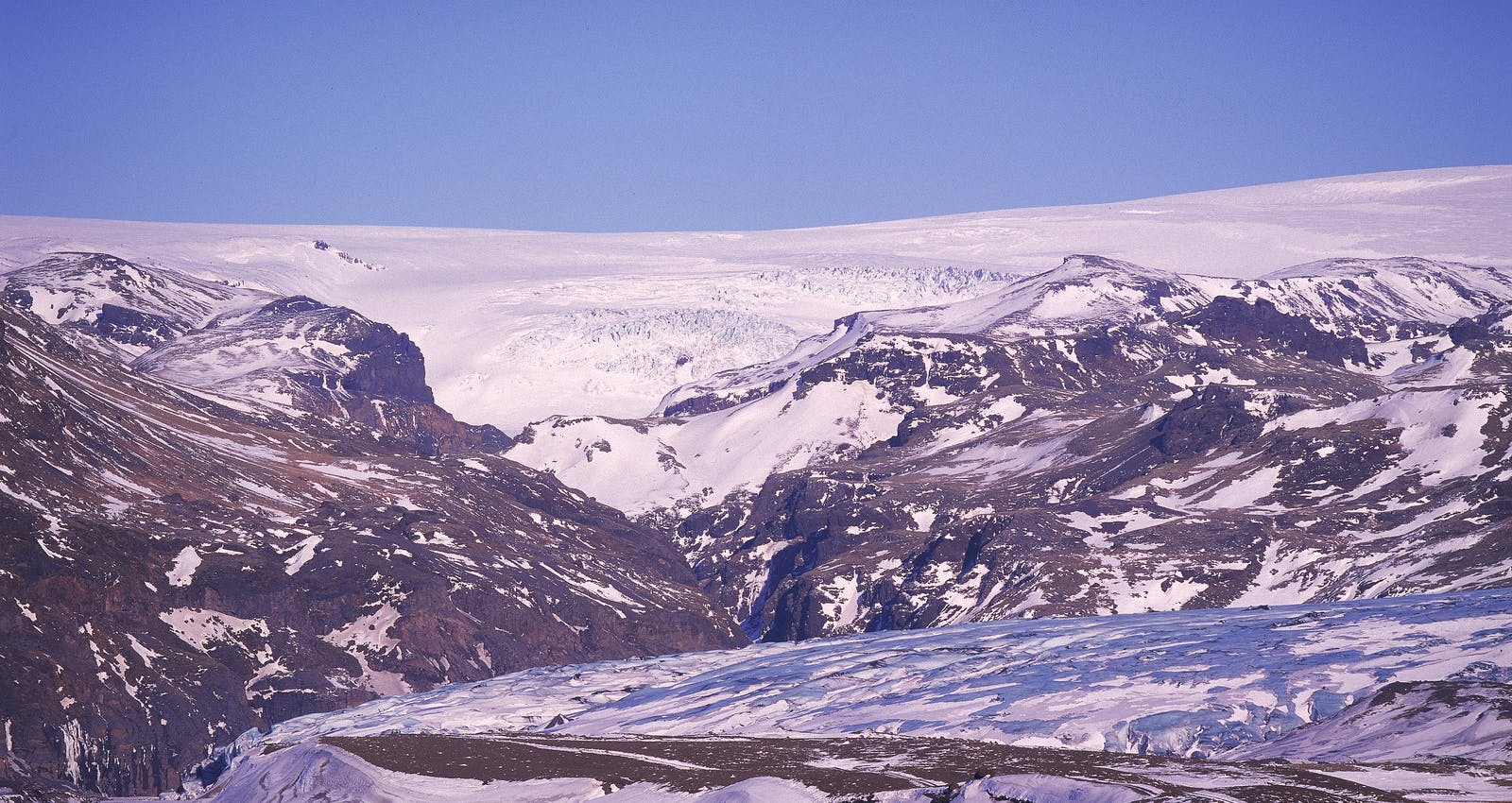 Guide to Sólheimajökull
Sólheimajökull is a glacier located in southern Iceland; it is one of the many outlet glaciers of the larger Mýrdalsjökull ice cap, which covers the active volcano Katla. Sólheimajökull is accessible and is a popular destination for guided glacier hiking and ice cave tours.
Where is Sólheimajökull Located?
Sólheimajökull is located within the Katla Geopark in the southern region of Iceland. It's easily accessible from the Ring Road, making it a popular stop for travellers exploring the country's south coast. There are many guided tours that visit the area.
What is Sólheimajökull Like?
It is a glacier tongue, which is an extension of a larger glacier; it flows from the ice cap of Mýrdalsjökull and stretches into the lower valleys. Like many glaciers, Sólheimajökull has been retreating due to climate change, leaving behind dramatic and rugged landscapes marked by glacial features like crevasses, ice caves, and ice formations.
What Activities are Available on Sólheimajökull?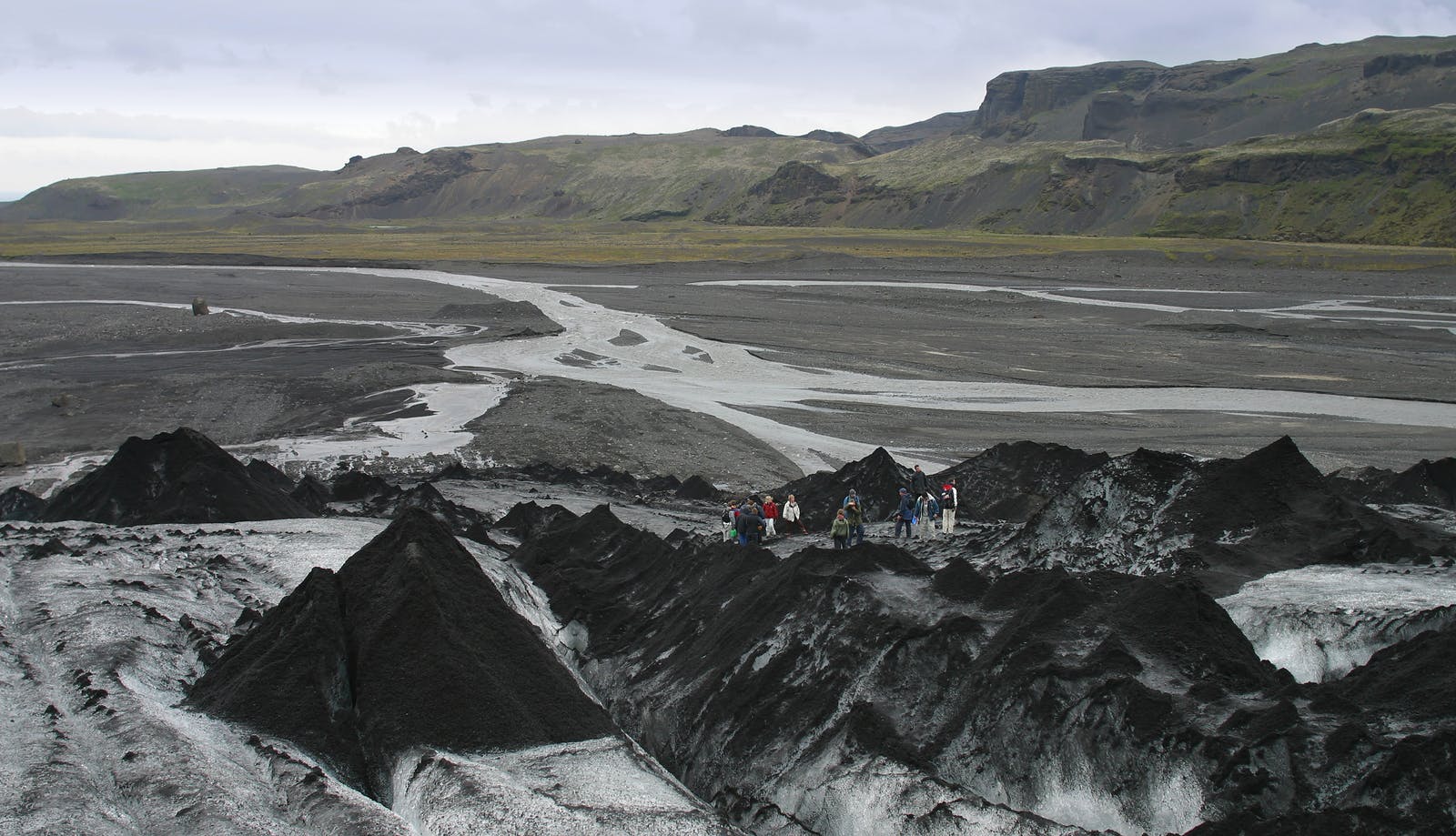 Travellers can engage in various activities, including glacier hiking and ice climbing. Glacier hiking allows visitors to explore the glacier's surface. Guided tours often provide insights into the geological and environmental aspects of the area. Ice climbing is a more adventurous option, and there are guided tours available.
What Makes Sólheimajökull Unique?
One of the most distinct features of Sólheimajökull is the ash and debris-covered ice, which results from the interaction between the glacier and the nearby Katla volcano. When Katla erupts, it can release volcanic ash, which gets deposited on the glacier's surface.
Is Sólheimajökull Accessibile?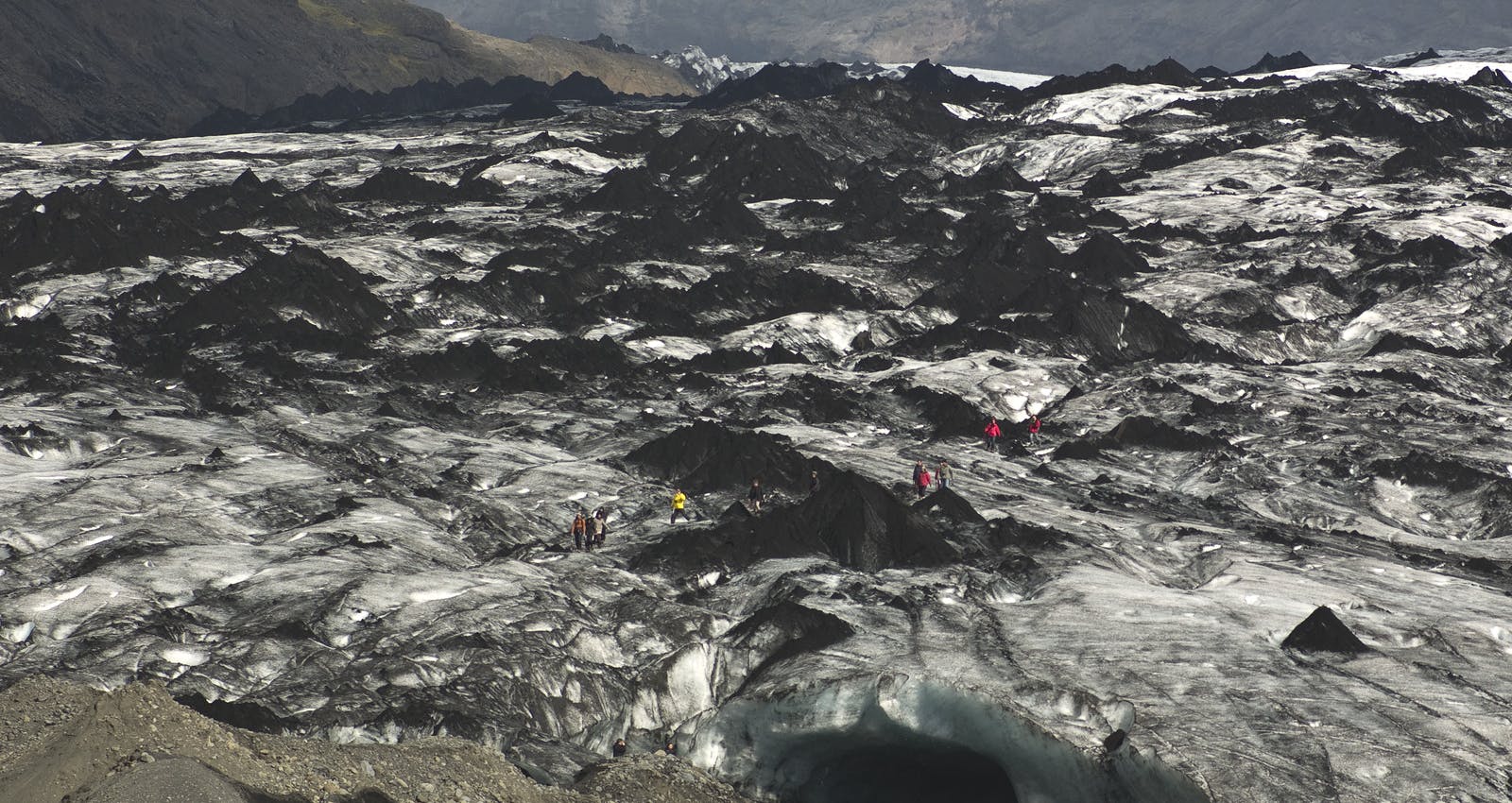 Sólheimajökull's proximity to the Ring Road makes it relatively easy to access, but it's important to note that glacier environments can be dangerous and unpredictable. Travellers are encouraged to take guided tours.
Are there Natural Ice Caves on Sólheimajökull?
Sólheimajökull ice caves are known for their gorgeous deep blue ice, which results from the dense glacier ice compressing air bubbles and allowing blue light wavelengths to spread. The light within the caves creates a mesmerising, otherworldly atmosphere, and guests can often see intricate ice formations, icicles, and crevasses inside the caves.
Where to Learn About Glaciers and Ice Caves in Reykjavík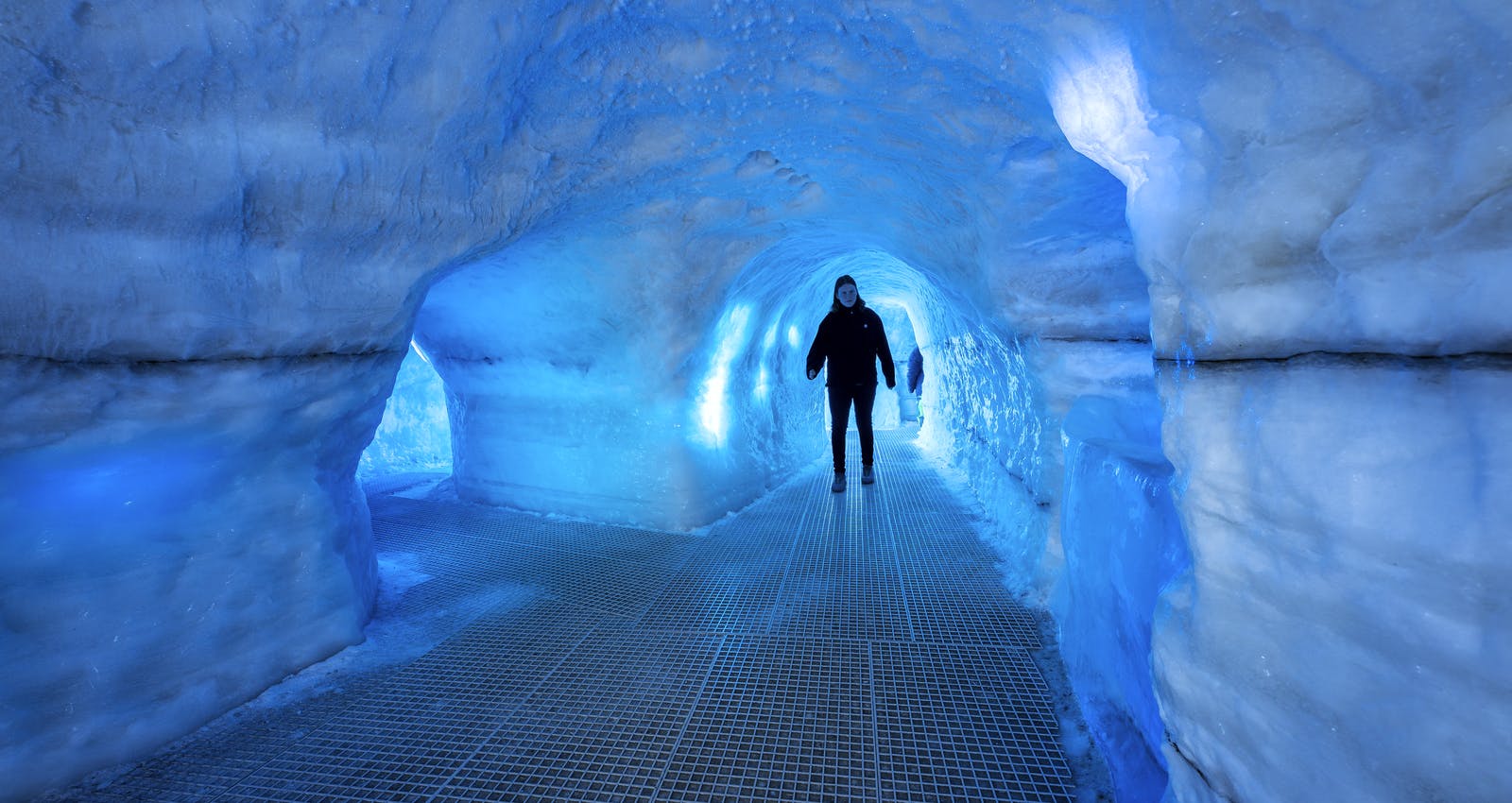 Perlan's Wonders of Iceland exhibition features an ice cave that is 100 metres long, made from more than 350 tonnes of snow from Icelandic mountains. Ice caves are a natural phenomenon that takes shape in the deep winter months within glaciers.
Meltwater streams carve these fantastic caves, and at Perlan, guests can see a real ice cave in a safe and secure environment. A visit to an ice cave is a magical experience that no one who comes to Iceland should miss, and Perlan offers year-round travellers a chance to get a sense of this unique natural phenomenon.
In addition to their natural beauty, Iceland's glaciers are significant for the environment as they are an essential source of fresh water for the island and play a vital role in regulating the island's climate.
At Perlan, guests can explore Iceland's' natural wonders through a series of exhibits and immersive presentations, including ice caves and glaciers, as well as northern lights and volcanoes.
What Attractions are Near Sólheimajökull?
Sólheimasandur
Sólheimasandur is a vast and sweeping black sand plain located along the southern coast of Iceland. It's known for its eerie and unique landscape, characterised by its flat, barren expanse of black sand. One of the most famous attractions within Sólheimasandur is the wreckage of a United States Navy DC-3 plane that crashed on the sand in 1973.
Vík

The small village of Vík is located not far from Sólheimasandur and is a convenient base for exploring the surrounding attractions. It's a picturesque town with colourful houses and a church perched on a hill.
Solheimajökull Volcano Museum
Learn about Iceland's volcanic activity, history, and geology at this museum, which provides insights into the area's unique landscapes and volcanic features.
Reynisfjara Black Sand Beach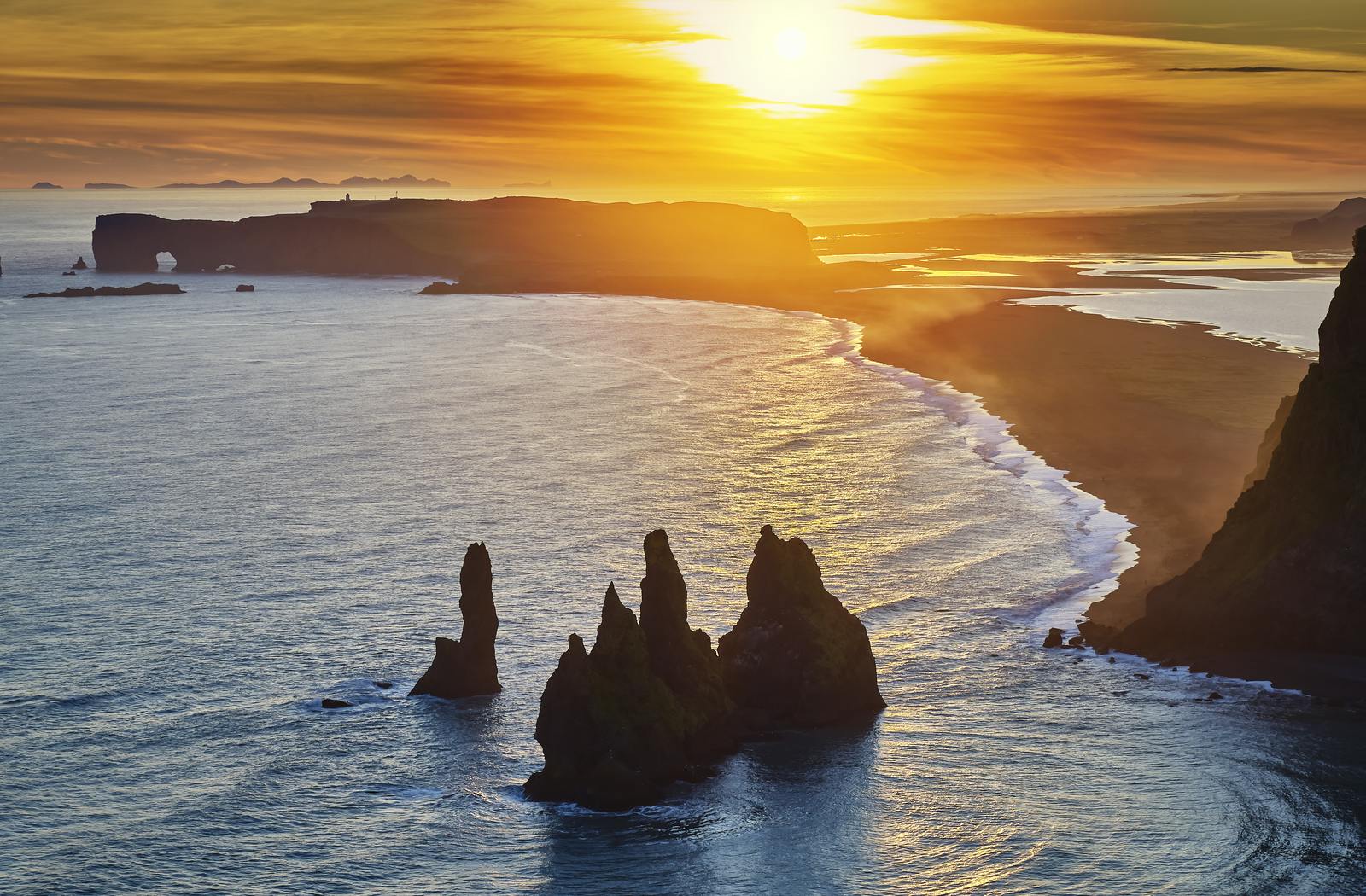 One of Iceland's most famous black sand beaches, Reynisfjara offers dramatic coastal views, basalt columns, and the Reynisdrangar sea stacks rising from the ocean. However, it's important to be cautious of the powerful waves and currents in the area.
Dyrhólaey
This cape offers panoramic views of the surrounding coastline, Reynisfjara Beach, and the ocean. It's also a popular spot for birdwatching, particularly puffins during the summer months.
Skógafoss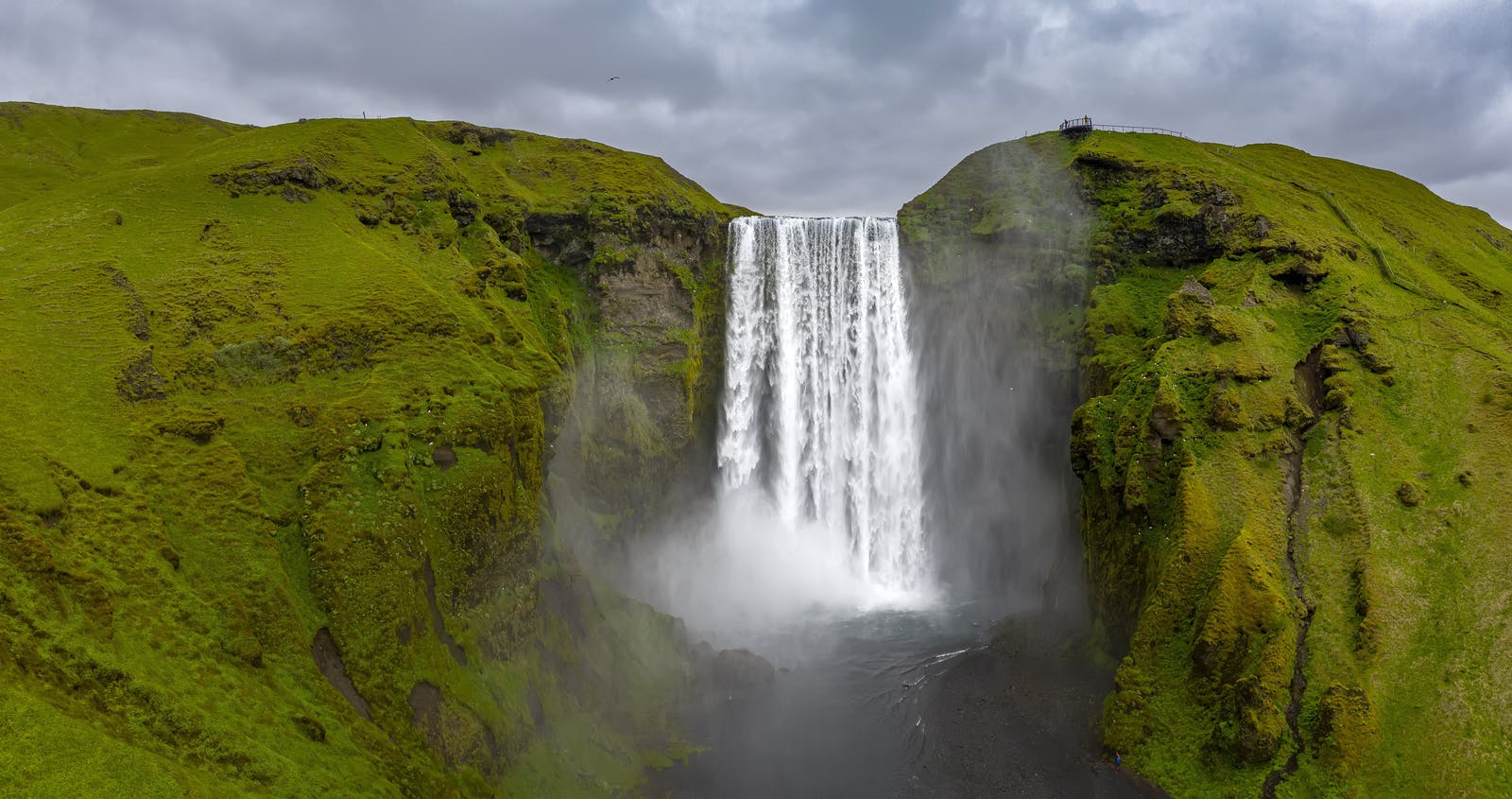 A short drive from Sólheimasandur, Skógafoss is one of Iceland's most iconic waterfalls. The waterfall drops about 60 meters and is known for its stunning beauty and the possibility of spotting rainbows on sunny days.
Seljalandsfoss
Another epic waterfall in the area, Seljalandsfoss, is unique because you can walk behind it, offering a truly immersive experience. The view behind the curtain of water is an extraordinary photo opportunity.
Gljúfrabúi
A waterfall located near Seljalandsfoss, this hidden gem offers a unique experience as you can enter a narrow gorge to view the waterfall from within.
FAQ
How do I get to Sólheimajökullr?
Renting a car is one option to reach Sólheimajökull. From Reykjavik, follow Route 1 east along the southern coast. However, taking a guided tour from Reykjavík is recommended to explore the south coast of Iceland, including Sólheimajökull. There are guided tours available that take guests out on the glacier for hiking and ice cave tours.
Can I visit Sólheimajökull without a guided tour?
It is possible to get a glimpse of Sólheimajökull when driving along the south coast of Iceland, but walking on a glacier without a trained guide is not safe. Cracks and snow-covered crevices pose a significant danger to those unfamiliar with glacier conditions. Trained guides know how to keep tourists safe.
Back to articles