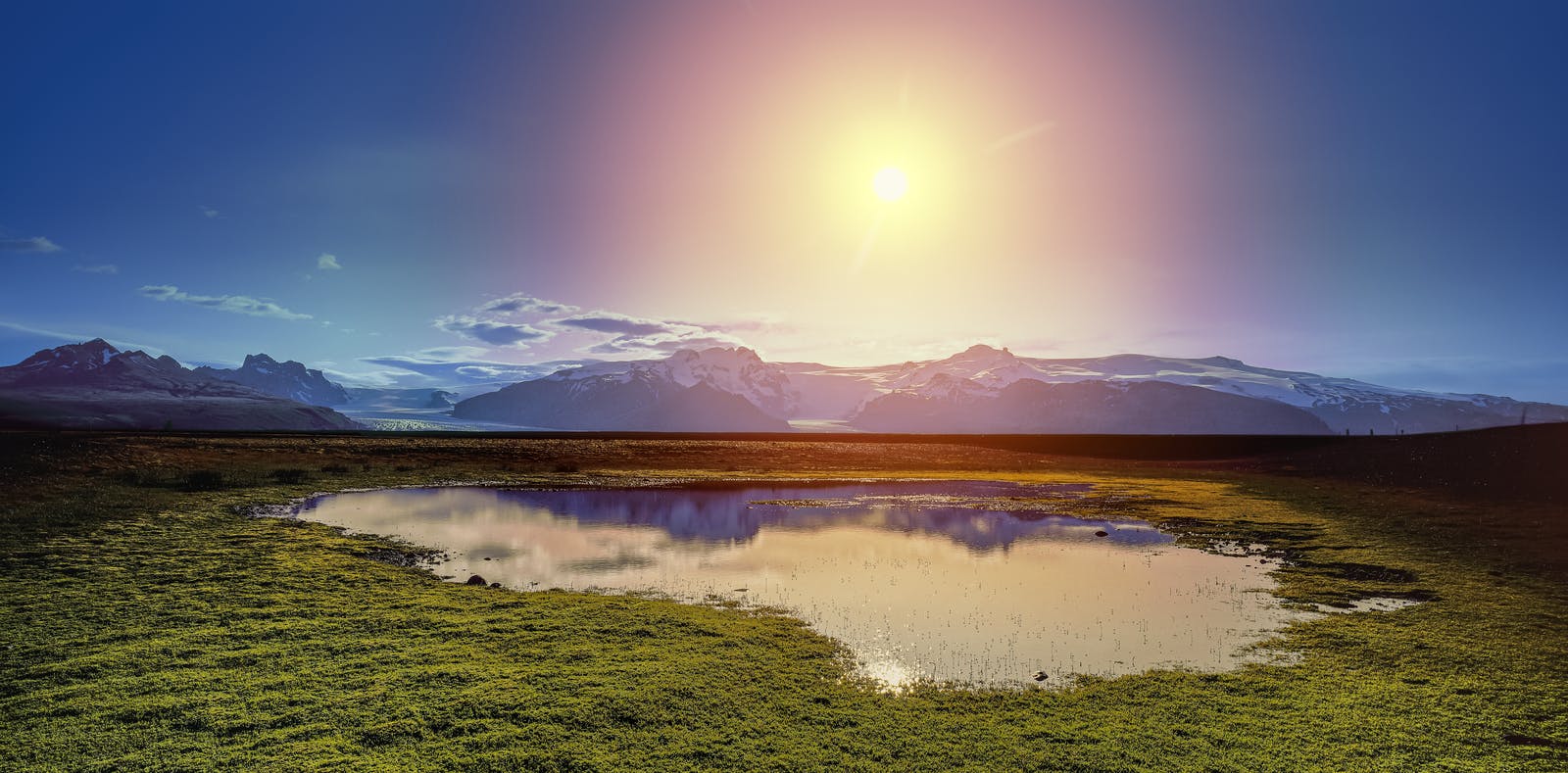 Glaciers in Iceland
Glaciers have dominated the Icelandic landscape for as long as anyone can remember, creating breathtaking scenery which wows visiting tourists.
These tongues of ice take many forms. Valley glaciers glide downhill, carving U-shaped paths, while those originating from ice caps are known as outlet glaciers. Piedmont glaciers form where ice flows onto a flat plain at a slope's base. Cirque glaciers are circular and perched on mountain slopes.
Glaciers are some of Iceland's most significant natural attractions, offering awe-inspiring experiences and breathtaking landscapes. Explore some of Iceland's most stunning glaciers that are not to be missed. The Ice Cave Exhibit at Perlan offers an authentic indoor ice cave experience for those unable to visit a glacier.
1. Vatnajökull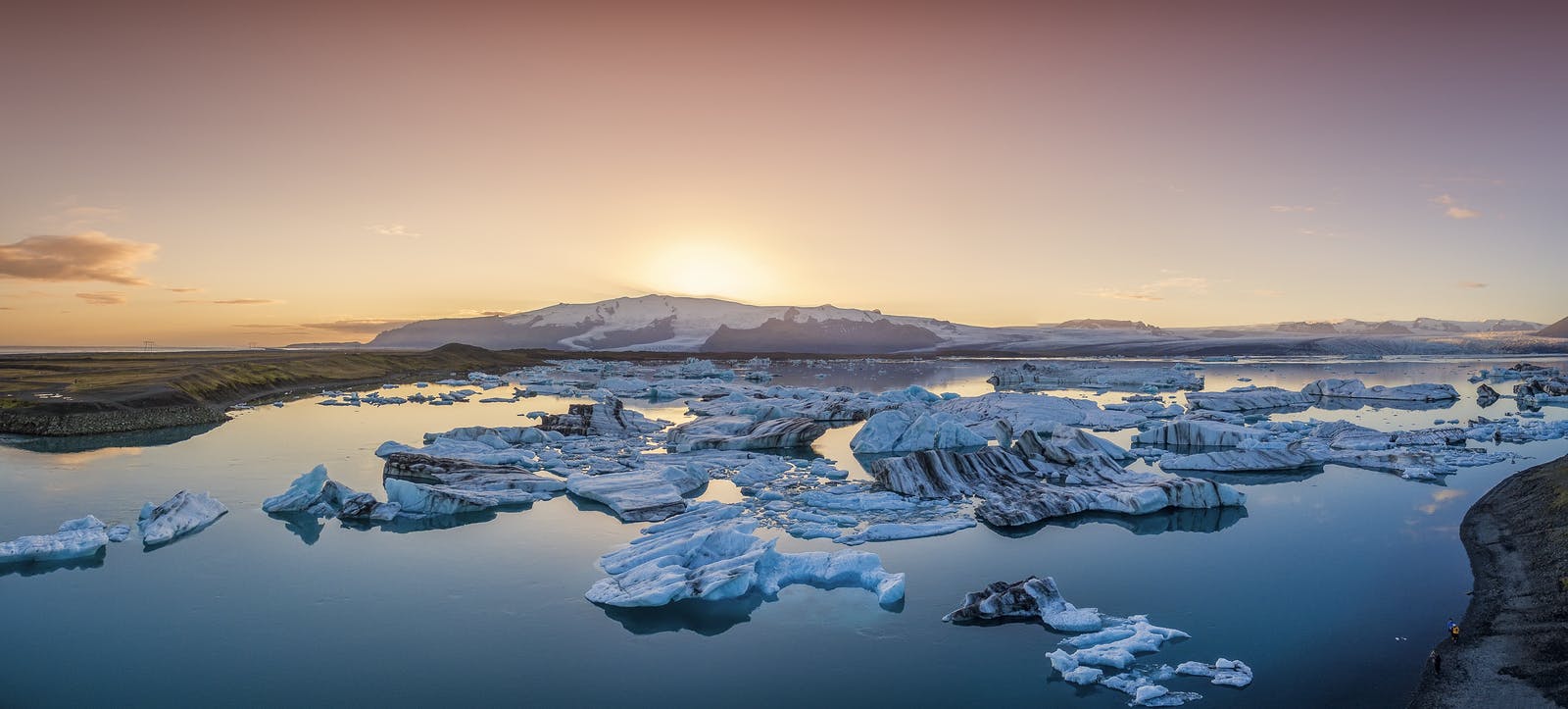 Vatnajökull is the largest glacier in Iceland and is an essential destination for visitors seeking to experience Iceland's natural wonders. Located in the southeast of Iceland, Vatnajökull covers an area of 8% of the country's total landmass and averages 400 meters thick, making it an impressive sight.
 It's a magnificent sight, and though you can easily see it from a distance, it's best experienced close up. Visitors can experience Vatnajökull's beauty up close by taking a guided hike to its sparkling ice caves or embarking on an ice-climbing adventure. Snowmobile or super jeep rides are also popular ways to explore the glacier's vast expanse. 
Additionally, the stunning Jökulsárlón Glacier Lagoon is fed by icebergs that calve from Breiðamerkurjökull, one of Vatnajökull's outlet glaciers.
2. Langjökull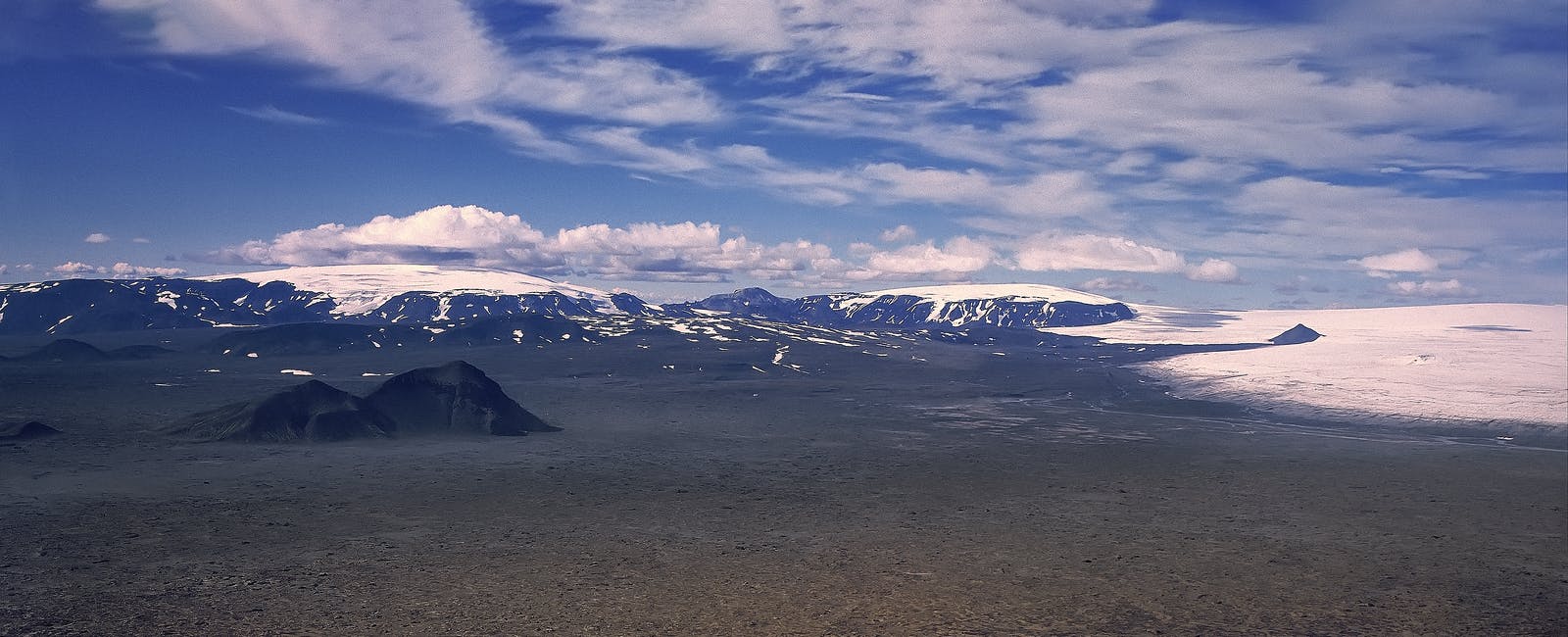 Langjökull, the country's second-largest glacier, is another must-visit destination for those exploring Iceland's glaciers. Its name, "the long glacier," reflects its extensive size spanning two volcanic systems. 
Langjökull makes a significant contribution to the Golden Circle's landscape, supplying the groundwater for Haukadalur's geysers, Þingvallavatn, Iceland's largest natural lake, and much of the water that flows down the Hvítá River and over Gullfoss waterfall. 
While snowmobiling on Langjökull is a popular activity, visitors can also explore an artificial ice cave that can be visited year-round, offering a unique and unforgettable experience.
3. Mýrdalsjökull

As you approach the town of Vík, Mýrdalsjökull is hard to miss as this spectacular glacier looms large above the town. Katla, one of Iceland's most active volcanoes, is beneath this icy expanse. 
Numerous snowmobile tours departing from Vík allow visitors to explore Mýrdalsjökull up close. The glacier is also home to ice caves which can be visited throughout the year. 
However, it is essential to enlist the help of a guide to locate these hidden gems and ensure a safe exploration experience. Mýrdalsjökull is intersected by the Fimmvörðuháls hiking trail, which provides hikers with some of the most stunning views of the icy landscape.
Additionally, Sólheimajökull, an outlet glacier of Mýrdalsjökull, offers an excellent location for ice climbing enthusiasts. This adventure sport is a popular way to experience the glacier's unique environment and challenge oneself amid Iceland's natural beauty.
4. Drangajökull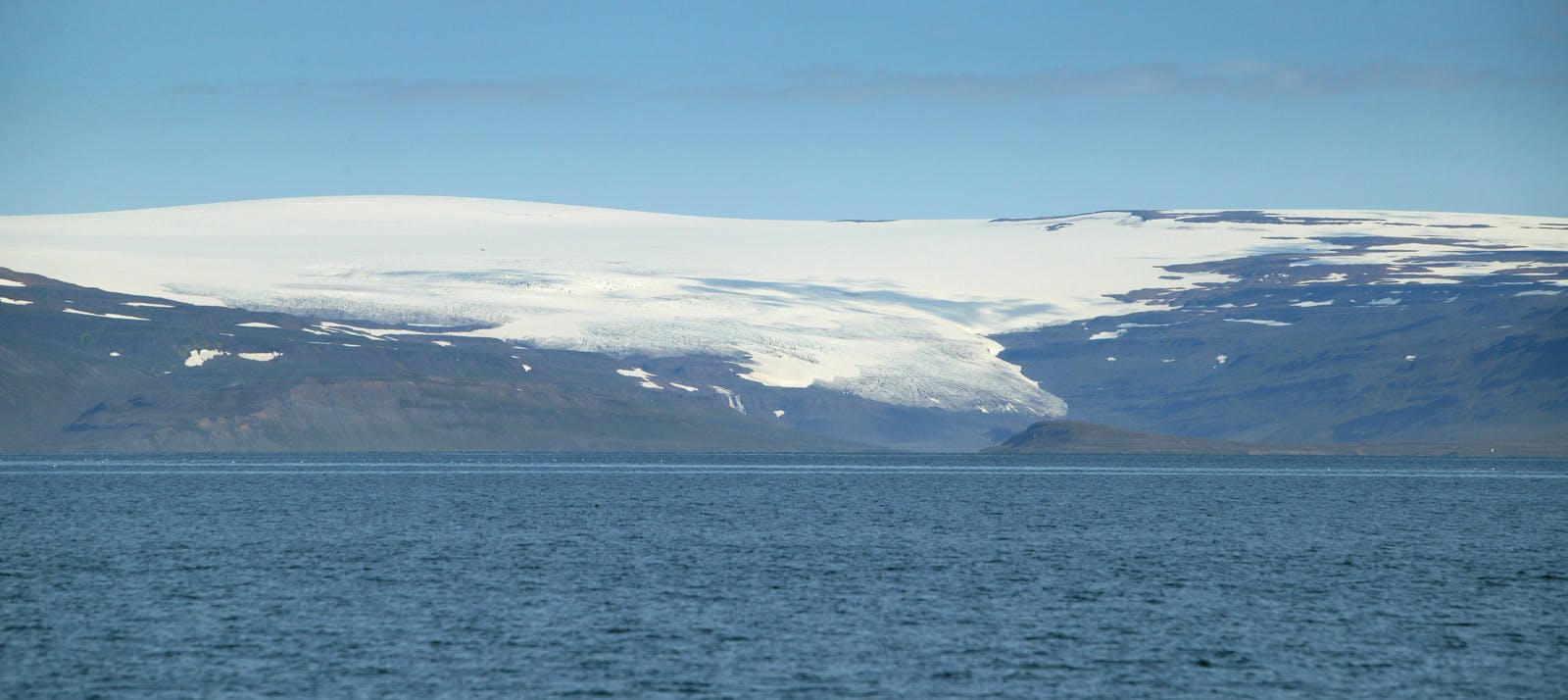 Located in the remote Westfjords region in northern Iceland, Drangajökull is the northernmost glacier in the country. It's also found at an unusually low elevation, as its highest point is just 925 metres above sea level. Yet, despite its altitude, current observations indicate that the glacier is not shrinking.
Drive along Route 635 to the Drangajökull útsýnisstaður, an hour northwest of Hólmavík. This viewpoint offers uninterrupted views of the distant glacier. You can park near the Kaldalón inlet and continue on foot to approach the ice more closely. However, it is crucial to remember that traversing the glacier's surface can be hazardous without the assistance of an experienced guide.
The Drangajökull glacier is a fascinating destination for those looking to explore the less-travelled areas of Iceland and experience the unique beauty of its northernmost ice mass.
5. Eyjafjallajökull

Eyjafjallajökull gained notoriety in 2010 when the volcano underneath it erupted suddenly, sending a giant ash cloud across Iceland and over much of Western Europe. The resultant disruption grounded flights and left many travellers temporarily stranded. As a result, Eyjafjallajökull has become a name that will not soon be forgotten.
The glacier itself isn't especially large, covering an area of about 100 square kilometres. It feeds several outlet glaciers. Among these are Steinholtsjökull and Gígjökull, which supply the water flowing over Seljalandsfoss waterfall.
Eyjafjallajökull offers a striking example of the unpredictable power of nature and serves as a reminder of the intricate connections between Iceland's volcanoes, glaciers, and landscape. Visitors to the region can marvel at the beauty and geological significance of this remarkable natural wonder.
6. Snæfellsjökull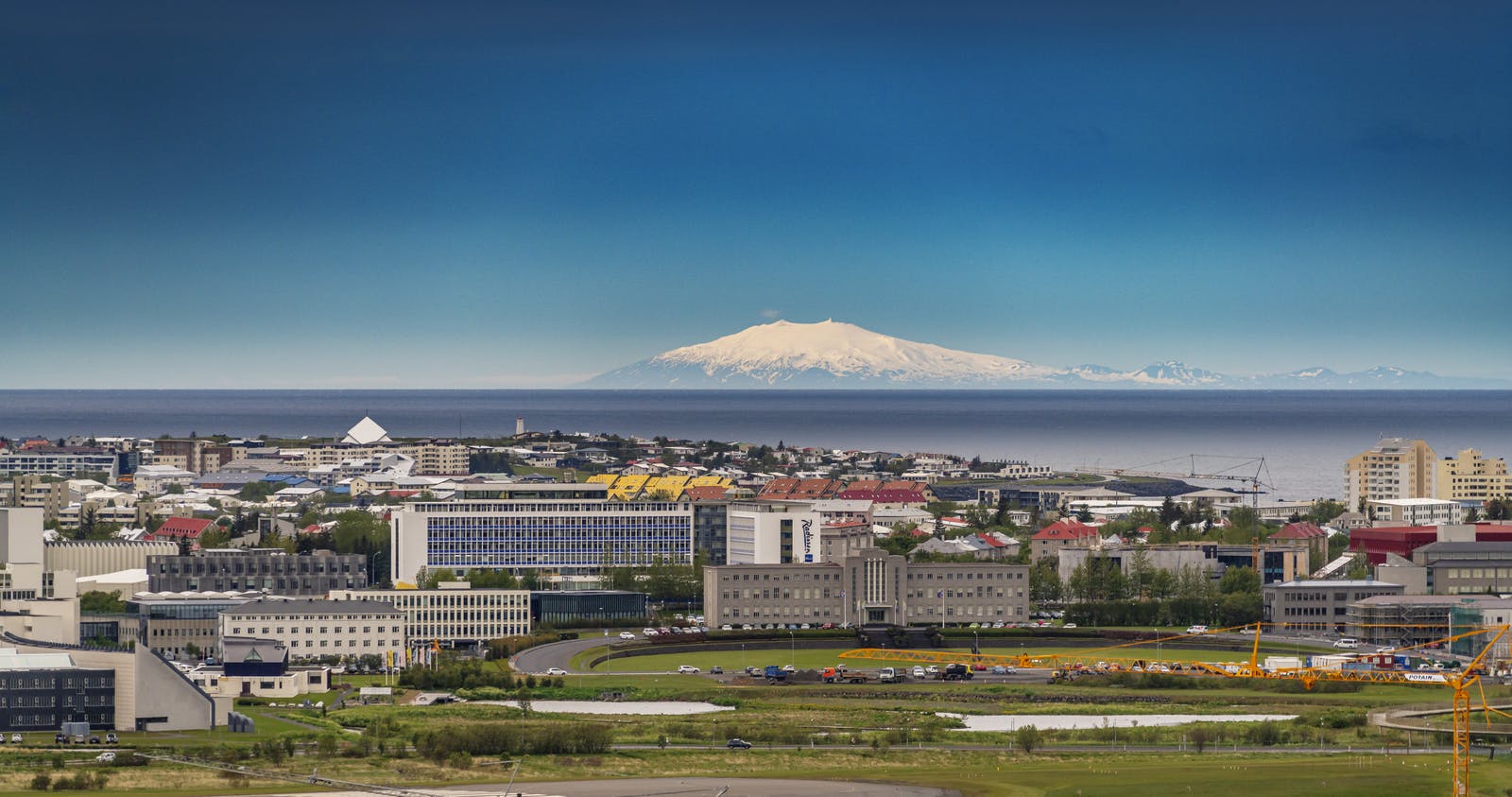 Snæfellsjökull is the glacier that covers the volcano, of the same name, at the western tip of the Snæfellsnes peninsula. While it may not be the largest glacier in Iceland, it attracts many visitors due to its cultural and historical significance. As this place inspired French novelist Jules Verne to write Journey to the Centre of the Earth. Ironically, he never visited in person. 
Today, Snæfellsjökull's popularity can be attributed to its beauty and accessibility from Reykjavik. Hikers equipped with crampons and ice axes can ascend the mountain, and those who reach the summit are rewarded with breathtaking views of the surrounding ocean. In clear weather, there is an extraordinary view over the ocean which is especially striking at sunset. 
7. Falljökull

Falljökull is a small outlet glacier of Vatnajökull, whose name means "falling glacier". It tumbles over a steep slope as a dramatic icefall, making this one of the most photogenic but also one of the most dangerous glaciers in the country. 
Ovoid moss balls litter the flat valley floor in front of the glacier. Icelanders nickname them "jökla-mýs" or glacier mice. Surrounded by mountains, this beautiful place offers an excellent opportunity for exploration on foot when accompanied by a reputable tour operator.
While visiting the area, consider exploring the nearby Storalekjargljufur and Graenafjallsgljufur canyons, which provide additional natural wonders to appreciate. Falljökull and its surroundings showcase the mesmerizing beauty of Iceland's diverse landscape, making it a must-see destination for those who appreciate nature's extraordinary power and allure.
FAQ About Glaciers in Iceland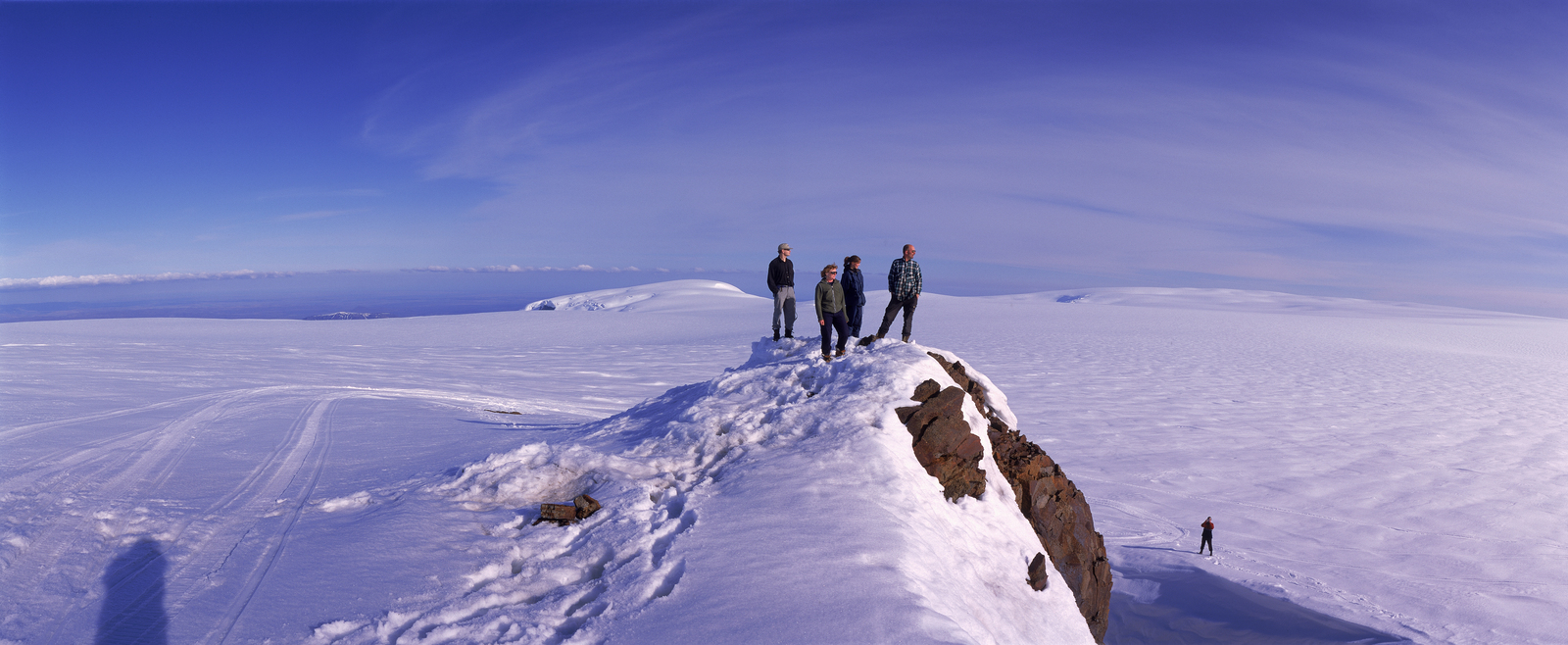 Are There Glaciers in Iceland?
Yes – the clue's in the name. Iceland is one of the best places in Europe to visit glaciers. You'll see some of the biggest from the ring road in South Iceland. Still, they are found across the country with good examples in the Westfjords, West Iceland and the central highlands as well.
How Many Glaciers Are There in Iceland?
There are 269 glaciers in Iceland which have names. In fact, a mind-boggling 11% of the country is permanently covered in ice. To be defined as a glacier, the ice has to be perennial. Though the glacier's size may shrink over the summer months, it can't disappear completely.
How Old Are Glaciers in Iceland?
According to geologists, there's evidence that ice has come and gone in Iceland for 4 to 5 million years. 
However, that doesn't mean that the glaciers you see today have been a fixture on the landscape for that long. For instance, Vatnajökull, in its present form, is probably in the region of 1000-1500 years old. However, all glaciers are in a constant state of change, as snow falls in the zone of accumulation and meltwater trickles out from the zone of ablation.   
What Is the Largest Glacier in Iceland?
Vatnajökull is the largest glacier in Iceland and provides the glaciers in the Jökulsárlón Glacier Lagoon.
What Glaciers in Iceland Are Near Reykjavik?
The nearest glacier to Reykjavik is Langjökull, but it's still far from the Icelandic capital. A little further out is Snæfellsjökull; to reach it, you're looking at around a 3-hour drive. If you'd rather not venture as far, you can visit Perlan's Glacier and Ice Cave Exhibit, which is right in the city.
Back to articles