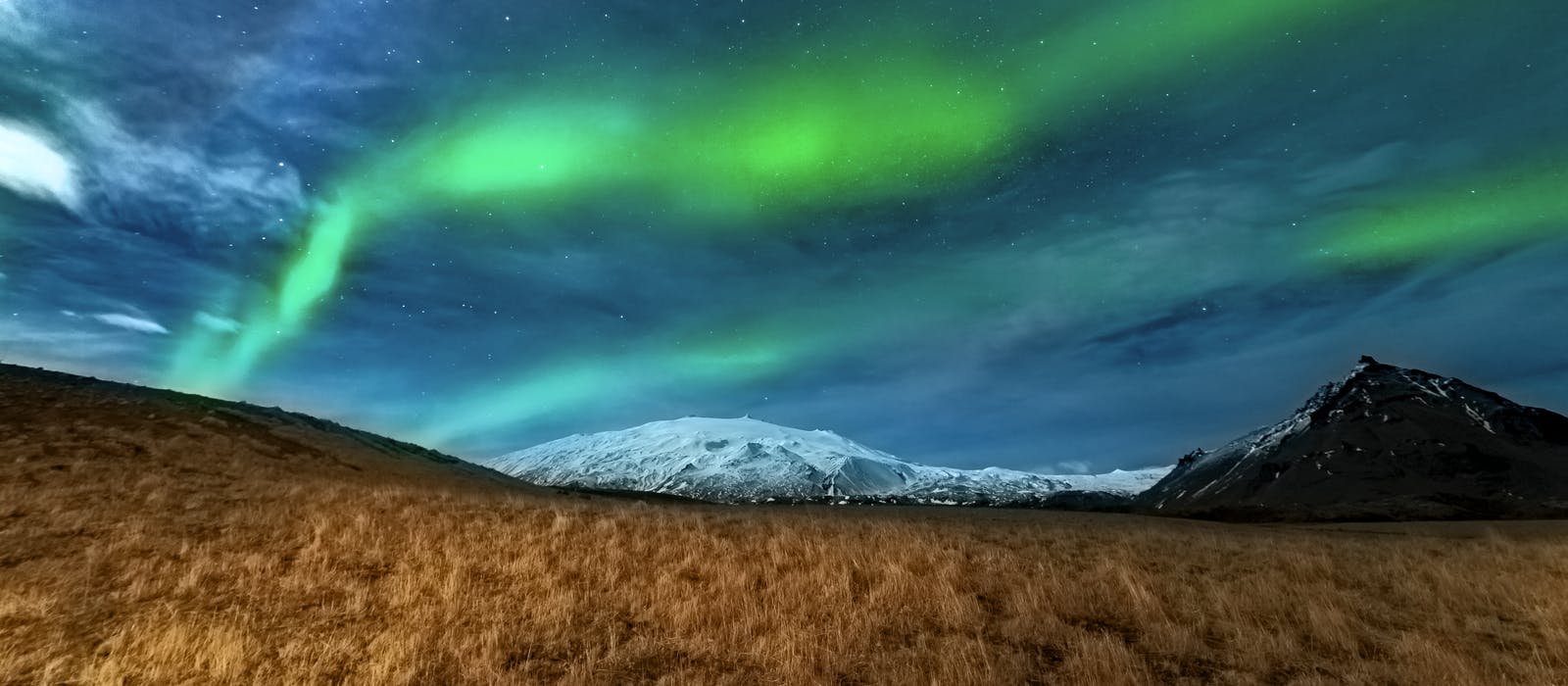 Snaefellsjokull Volcano
Snæfellsjökull is a volcano buried underneath a glacier in the centre of Snæfellsnes National Park. The volcano's peak is a whopping 1,446 metres tall, and the ice cap can be seen from Reykjavík on a clear day over Faxa Bay. 
The volcano is considered active, though the last eruption occurred 1,900 years ago. Snæfellsjökull is a popular tourist attraction for tourists and Icelanders alike for activities including glacier walking, birdwatching, hiking and ice climbing. 
Snæfellsjökull is a popular destination for travellers exploring West Iceland. There are guided tours on the volcano, including hiking and glacier walking, and many cultural attractions and interesting villages close to the volcano. 
What Type of Volcano is Snæfellsjökull?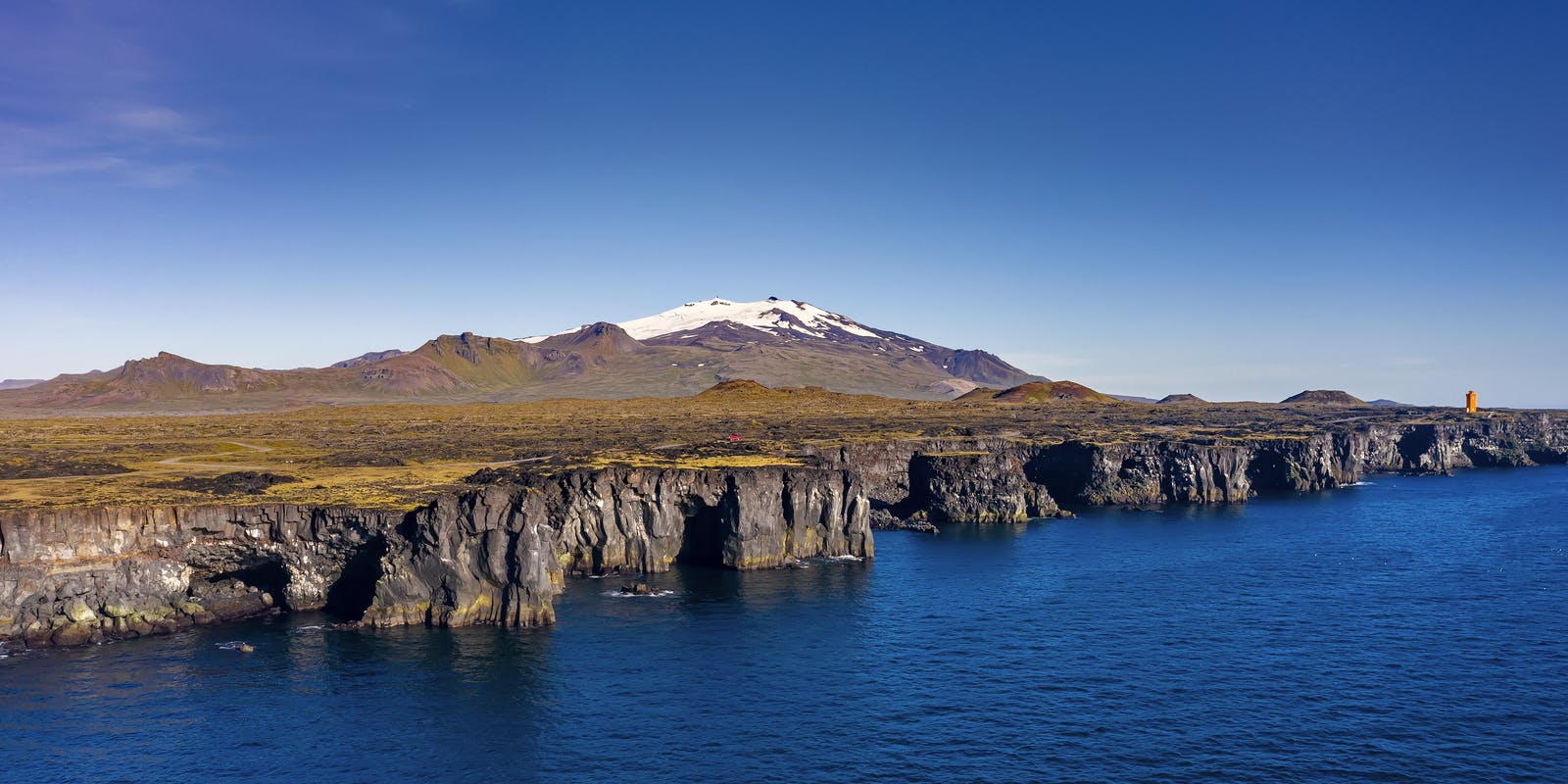 Snæfellsjökull is a stratovolcano and is the only large central volcano in this part of West Iceland. It has many pyroclastic cones on its flanks, and upper-flank craters produce intermediate to felsic materials, while lower-flank craters produce basaltic lava flows.
Is Snæfellsjökull an Active Volcano?
The volcano is considered active, though the last eruption occurred 1,900 years ago. There are no indications of an imminent eruption, and local scientists monitor volcano systems closely. 
Where is Snæfellsjökull Volcano Located?
Snæfellsjökull is located in West Iceland, on the westernmost part of the Snæfellsnes Peninsula. Many travellers access the area by a rental car or guided tours. The site is well-developed for tourism, with guesthouses, hotels, restaurants and cultural attractions nearby. 
Snæfellsjökull Volcano Eruption History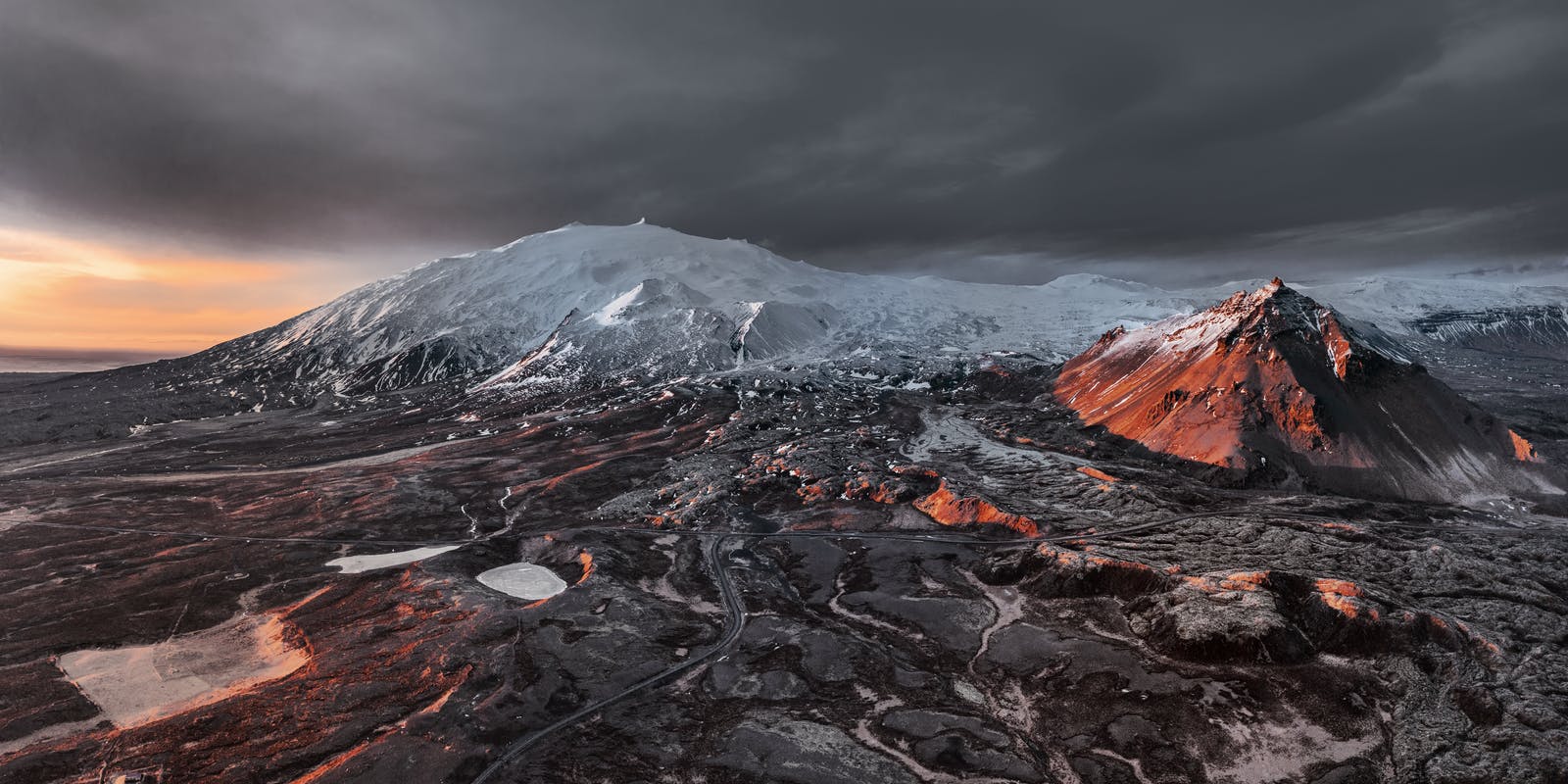 Several Holocene eruptions have originated from Snæfellsjökull's summit crater and have produced felsic material. The latest eruption took place within 150 years of 200 CE and released approximately 0.11 km3 of volcanic material, making it an enormous eruption. 
Indeed, the eruption was explosive, originated from the summit crater, and likely produced intense lava flows. There are no indications that an eruption at Snæfellsjökull is imminent. 
Literary Significance of Snæfellsjökull
Snæfellsjökull takes centre stage in the 1864 literary classic Journey to the Centre of the Earth by Jules Verne. Verne chose the summit of Snæfellsjökull as the setting of a fictional passage to a hidden underground world. 
The classic novel describes an expedition that begins at Snæfellsjökull, with the characters descending into the Earth through a volcanic opening at the glacier's summit. Verne's work popularised the idea of Snæfellsjökull as an entrance to a hidden underground world. There have been film adaptations of the novel. 
Is Snæfellsjökull Safe to Visit?
Travellers can explore the area around the volcano but should only venture onto the ice cap with a guide, as it can be dangerous. Numerous tours offer glacier hiking on Snæfellsjökull, where you can explore the majestic ice cap with a professional glacier guide trained on the conditions and know how to keep travellers safe. 
What Would Happen if Snæfellsjökull Erupted?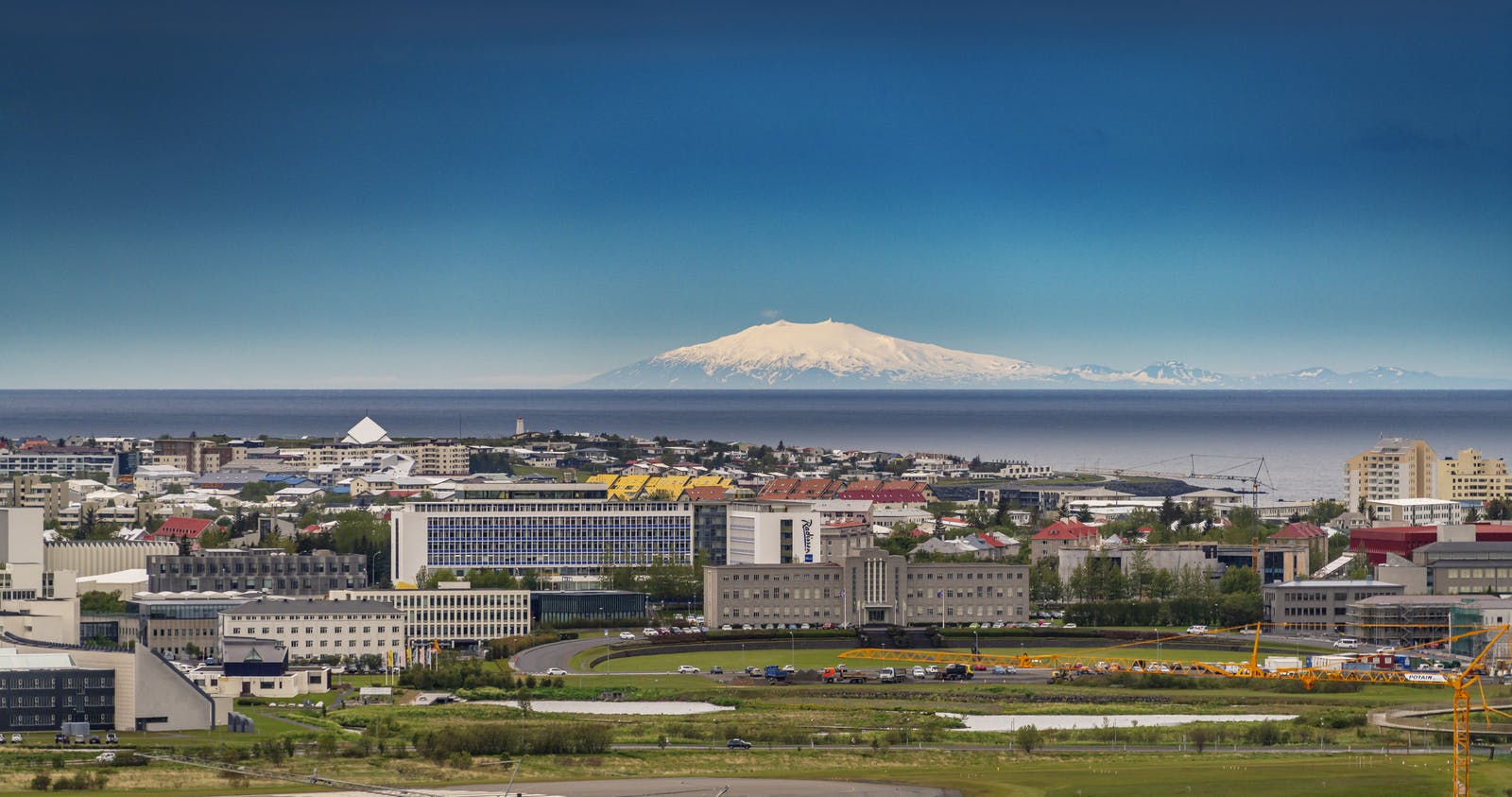 Volcano systems are monitored closely in Iceland by the Icelandic Meteorological Office. Scientists follow earthquakes and any indication of an imminent eruption. 
If an eruption is likely, warnings and alerts are issued, roads could be closed to the area, air space cleared, and tours cancelled. There is no need to feel uneasy about visiting a volcano in Iceland, as eruptions don't surprise the island. 
Which Towns are Close to Snæfellsjökull Volcano?
Snæfellsjökull is surrounded by several small villages, including Rif, Hellissandur, and Ólafsvík, which were some of the busiest fishing hubs in the country for years. Today, much of the area around Snæfellsjökull thrives due to tourism. Travellers from around the world love to explore the area surrounding Snæfellsjökull. 
FAQ

Can I experience volcanoes in Reykjavík?
Perlan's Forces of Nature exhibition allows guests to feel the power of volcanoes, earthquakes, and geothermal energy that powers the island. Guests will learn that volcanoes form when heat and pressure build up beneath the Earth's surface. The Earth's weak points tend to be along fault lines where tectonic plates converge or diverge, as in Iceland's case.
Perlan's exhibition shows that volcanic activity in Iceland is so diverse that researchers typically speak of "volcanic systems" rather than individual volcanoes. The island has 30 active volcanic systems, each with many types of volcanoes.
What is the Perlan lava show?
An exhibition at Perlan focuses on the volcanic eruption that began in Geldingadalir in March 2021. The eruption, only 30 km from Reykjavík, was the first volcanic eruption in this area in over 800 years, making it a historic event for the people of Iceland and the scientific community. At Perlan, guests can experience the Geldingardalir eruption in a mighty volcano show.
How far is Snæfellsjökull volcano from Reykjavík?
The volcano is about 190 kilometres from Reykjavík, and the drive takes about 2.5 hours. From Reykjavík, travellers should take Route 1 north through the town of Borgarnes and then turn left onto Route 54. Continue heading west on Route 54 across the peninsula for about 98 kilometres, connecting to Route 574. Drive west on Route 574 for about 35 kilometres, and on the right-hand side, you'll find the road leading up to the volcano, and signs are posted up to a parking lot. 
How to pronounce Snæfellsjökull?
The correct pronunciation of "Snæfellsjökull" is approximately "Sny-fetls-yo-kutl" (IPA: [ˈsnaɪfɛlsˌjœːkʏtl]).
Safety information
Before heading out on a hike, make sure to check the weather and road conditions. Iceland's weather can be unpredictable, and you must be prepared for outdoor activities. Make sure you are dressed for the weather, have food and water for the hike, sturdy hiking boots and a charged mobile phone. 
Back to articles