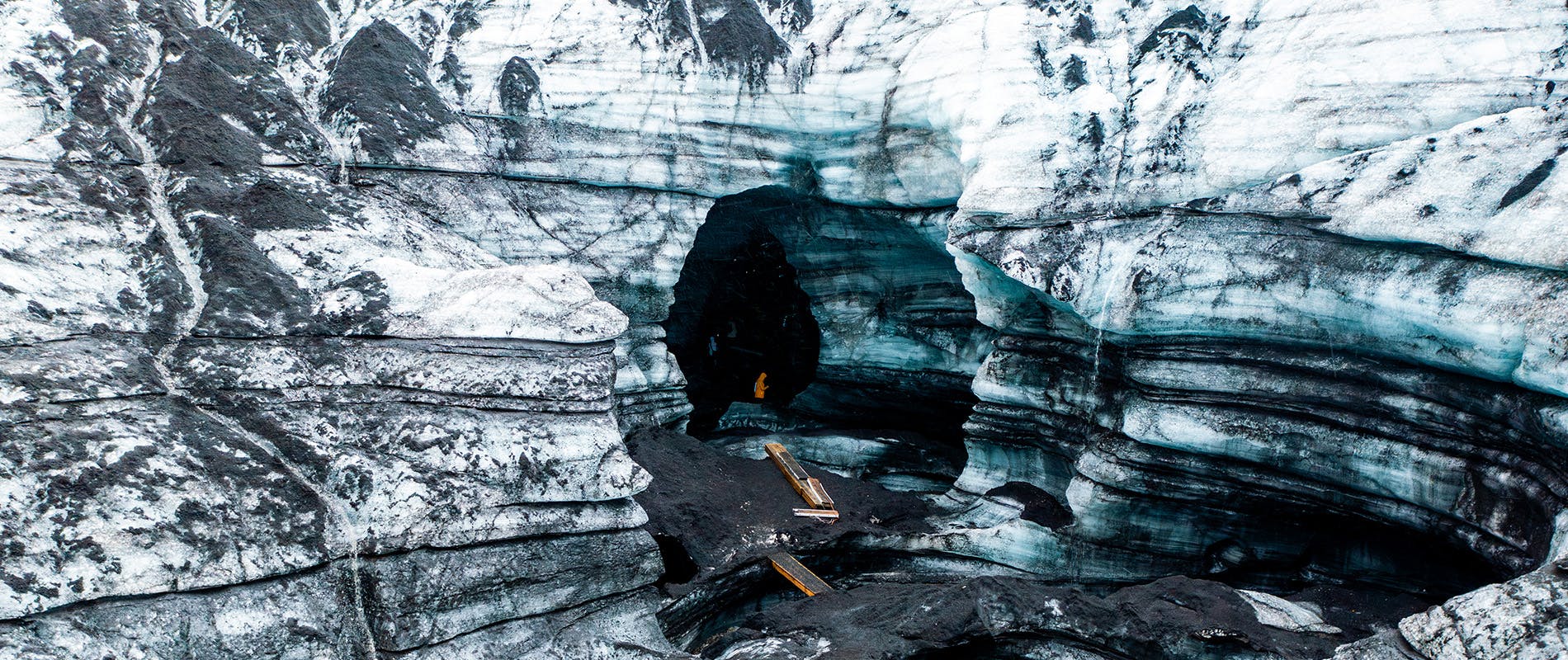 A Complete Guide to the Katla Ice Cave
The Katla ice cave is located on the south coast of Iceland, on one of Iceland's most active volcanoes. The ice cave can be visited year-round in the Kötlujökull glacier. The inside of the cave is blue and black; the black is ash from volcanic eruptions. The ice cave is less than 1-hour from the village of Vík and is a popular attraction for tourists travelling along the south coast.
How do ice caves form?
Natural ice caves form when the water underneath a glacier freezes, creating new ice caves every year. Once inside an ice cave, you can see the different colours of the ice and run your fingers along the shapes and crevices. 
Where is the Katla ice cave located?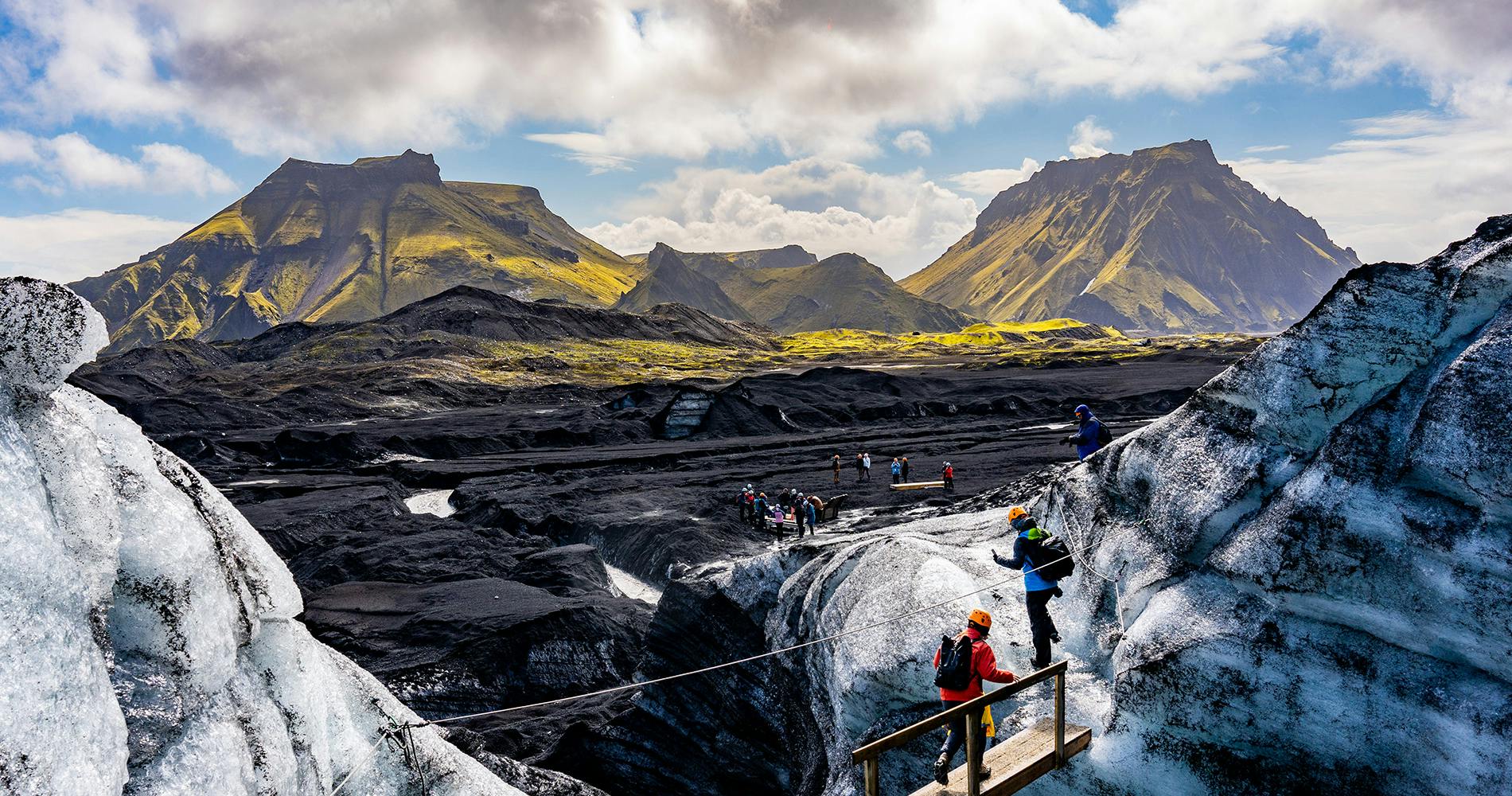 The Katla ice cave was named after the volcano under the Kötlujökull glacier, where the ice cave is located. Kötlujökull is an offshoot of the immense Mýrdalsjökull glacier, which is Iceland's 4th largest glacier. Katla ice cave tours depart from Reykjavík or the small town of Vík, a 2.5-hour drive from Reykjavík. The ice cave is underground in the glacier and requires a hike and descent with a trained glacier guide leading the way. 
What makes the Katla ice cave special?
Most natural ice caves can only be accessed during deep winter, but Katla is a year-round destination. It is one of the few ice caves in Iceland that can be visited any month of the year, so if you visit in the summer, this is the ice cave to see. 
Is the Katla volcano active?
Katla is an active volcano, but there's no need to be concerned about an eruption on ice cave tours as Iceland's volcanoes are monitored for activity. If Katla is stirring, there will be warnings, and tours will be suspended in advance. Katla last erupted in 1918; since 920 AD, only 20 eruptions have been recorded. 
What can I expect from a Katla ice cave tour?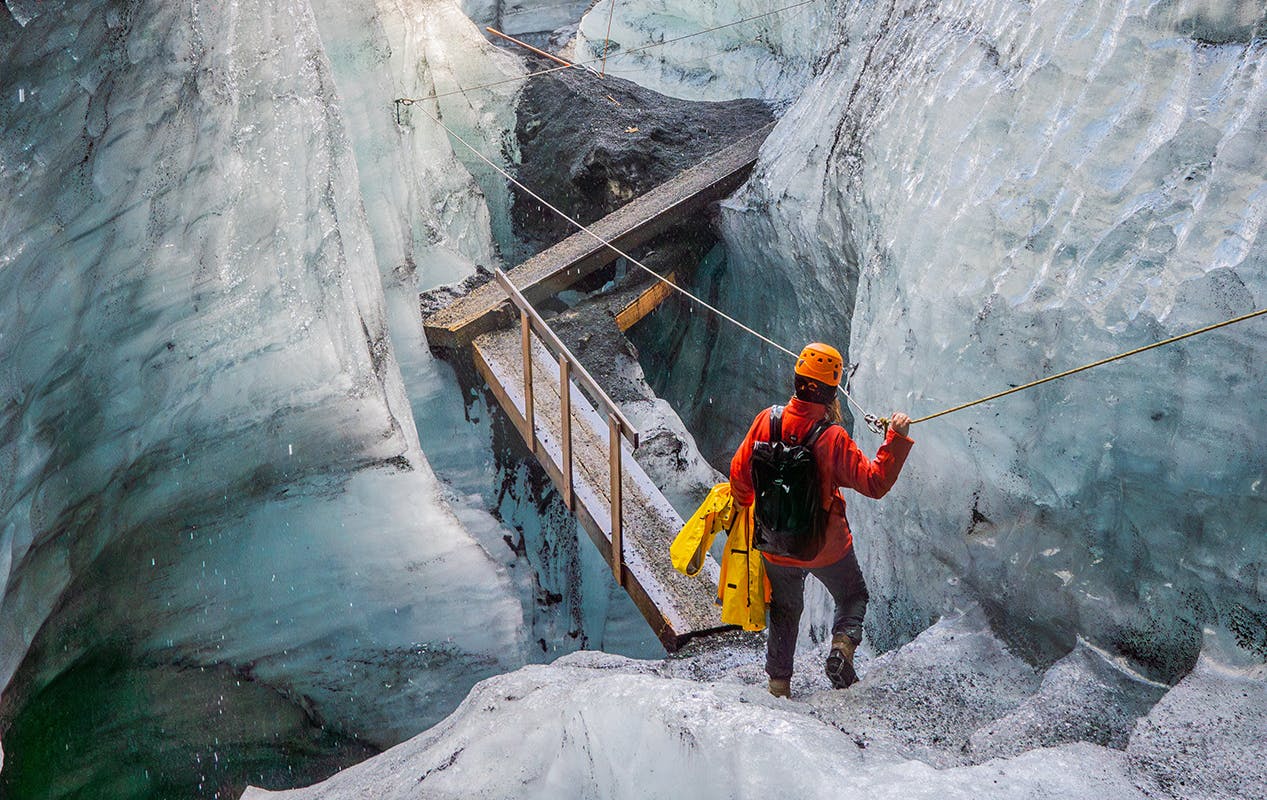 Typical visits to the Katla ice cave take about 3 hours from the pick-up time in Vík. Your glacier guide will give you a safety and equipment briefing and provide the group with crampons to attach to your hiking boots.
After the briefing, you will take a short hike on the glacier to the ice cave entrance. Once inside, you can explore the ice cave's oldest part, the clear blue ice. It's incredible to experience this natural occurrence in Iceland, to get close to the actual ice in Iceland, and feel the power of the glacier.
Safety information
A guided tour is the only way to get to the Katla ice cave. Only experienced glacier guides lead tours because they are familiar with safety protocols and the inner workings of the glacier. They have been trained on the landscape and how to keep travellers safe. 
Also, keep in mind that tours provide the necessary caving equipment and a suitable vehicle to reach the cave. Participants must wear proper hiking shoes and waterproof and warm clothing to explore the ice cave safely and comfortably.
Can you drive to Katla ice cave?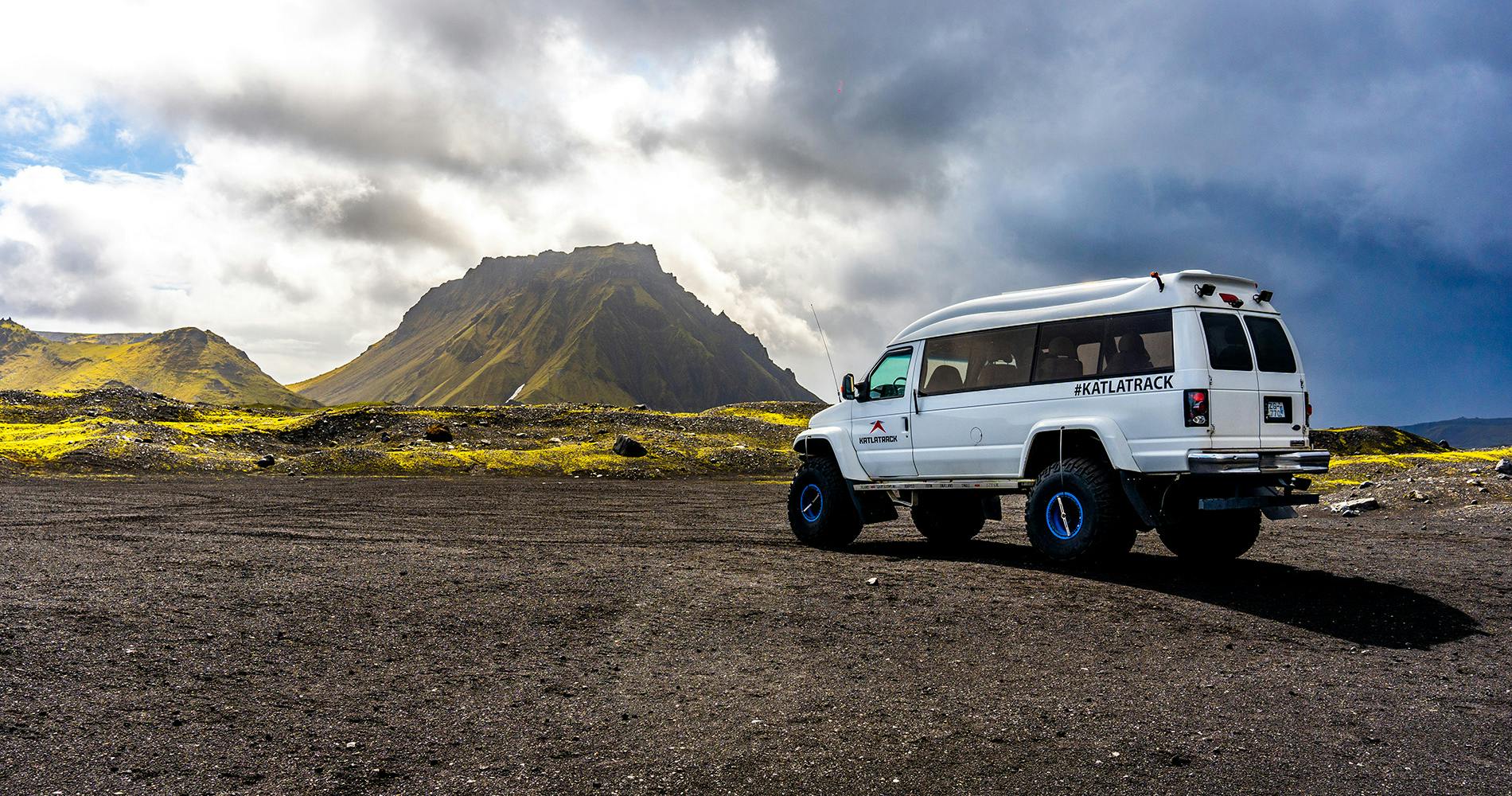 Driving to Katla ice cave is only safe in a special all-terrain 4×4 vehicle that is equipped to operate on glaciers. These super jeeps have rugged tires and adequate suspension and can be driven over sand, snow, ice, and rocky terrain. These vehicles are only operated by tour companies. Typical rental cars are not designed to handle this kind of terrain. 
What to wear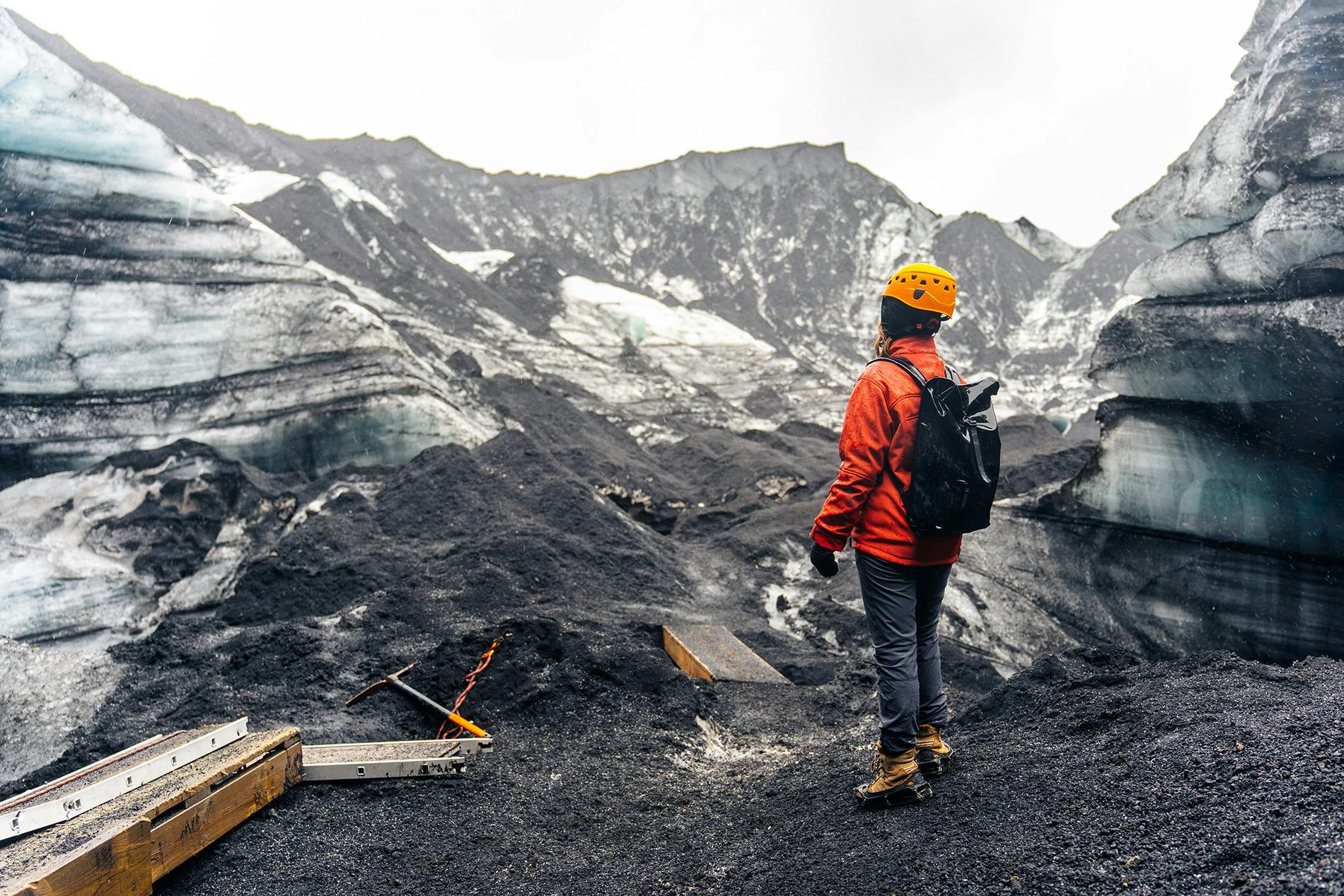 It's crucial to dress appropriately for glacier activities. Keep in mind that it's better to have extra layers that you can take off instead of not having enough warm clothing. It is recommended that you have the following:
Warm clothes 
Thermals
Waterproof outdoor clothing 
Hiking boots 
Gloves and hat
FAQ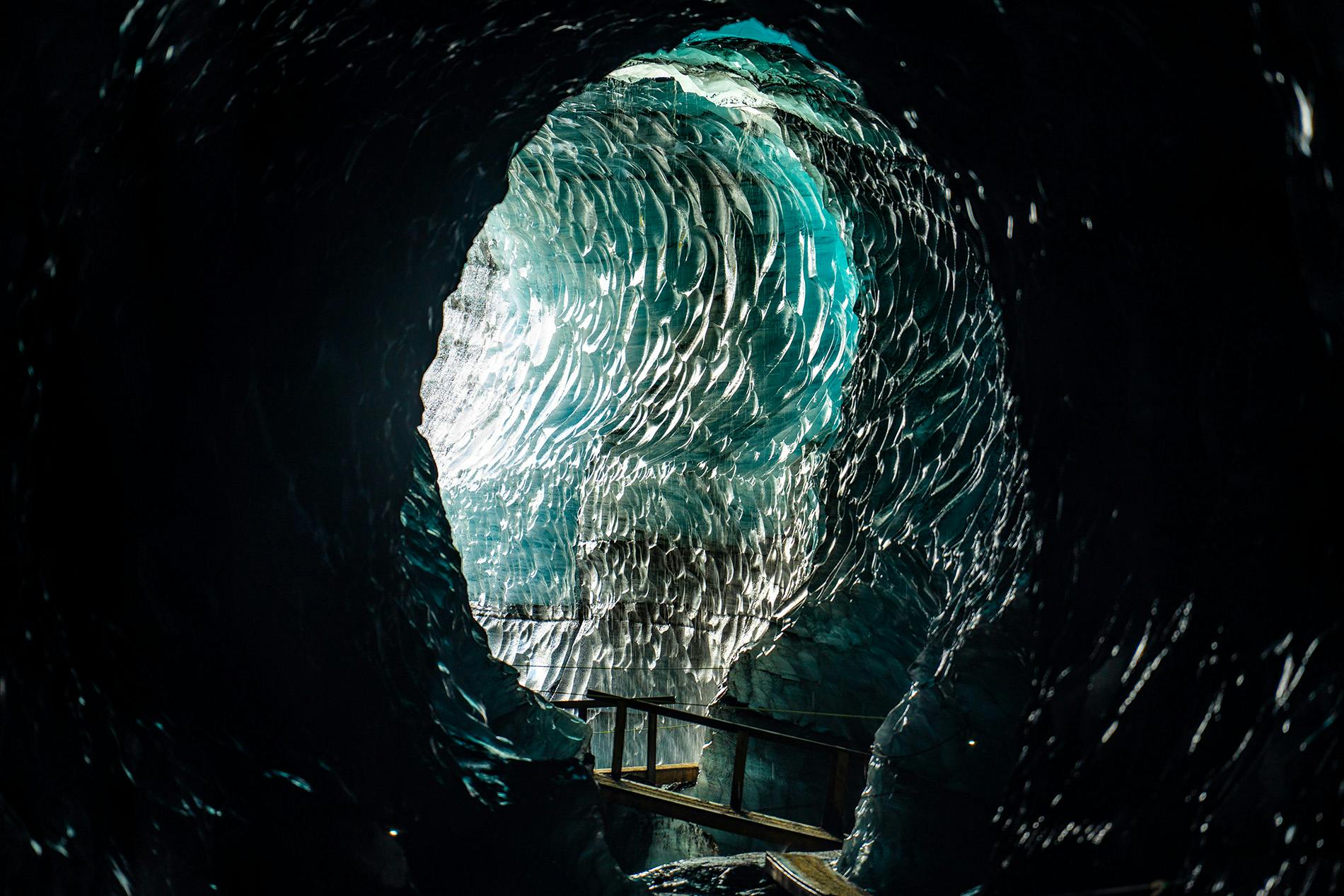 Is Katla ice cave worth it?
Many travellers want to visit a natural ice cave on their Iceland vacation. It's a great way to connect with Iceland's raw landscape and unique geology. Tourists can opt to take Katla ice cave tours departing from Reykjavík or Vík. For many, it is a highlight of their holiday.
Can you go to the Katla ice cave without a guide?
No, it is not  advisable to visit the Katla ice cave independently as it is too dangerous. The only safe method is by joining a guided tour. With this option, not only will you receive suitable equipment, but also a safety briefing to prepare you for the trip. Plus, you'll have the added benefit of a knowledgeable guide leading the way.
Which is the best ice cave tour in Iceland?
This is subjective. There are numerous ways to experience ice caves in Iceland, including the Katla ice cave, ice caves in Langjökull Glacier, and the Into the Glacier tour in West Iceland.
Travellers can visit Perlan in Reykjavík to experience a manmade ice tunnel in the capital city. The Perlan ice cave is 100 meters long and was built with over 350 tons of snow from the Blue Mountains. As visitors wander through the ice cave, they experience a glacial environment in a safe and informative way.
Is Katla ice cave manmade?
No, the Katla ice cave is a natural structure formed in the glacier. The manmade ice tunnel in a glacier can be found at Langjökull Glacier in West Iceland. It is the Into the Glacier tour.
Back to articles