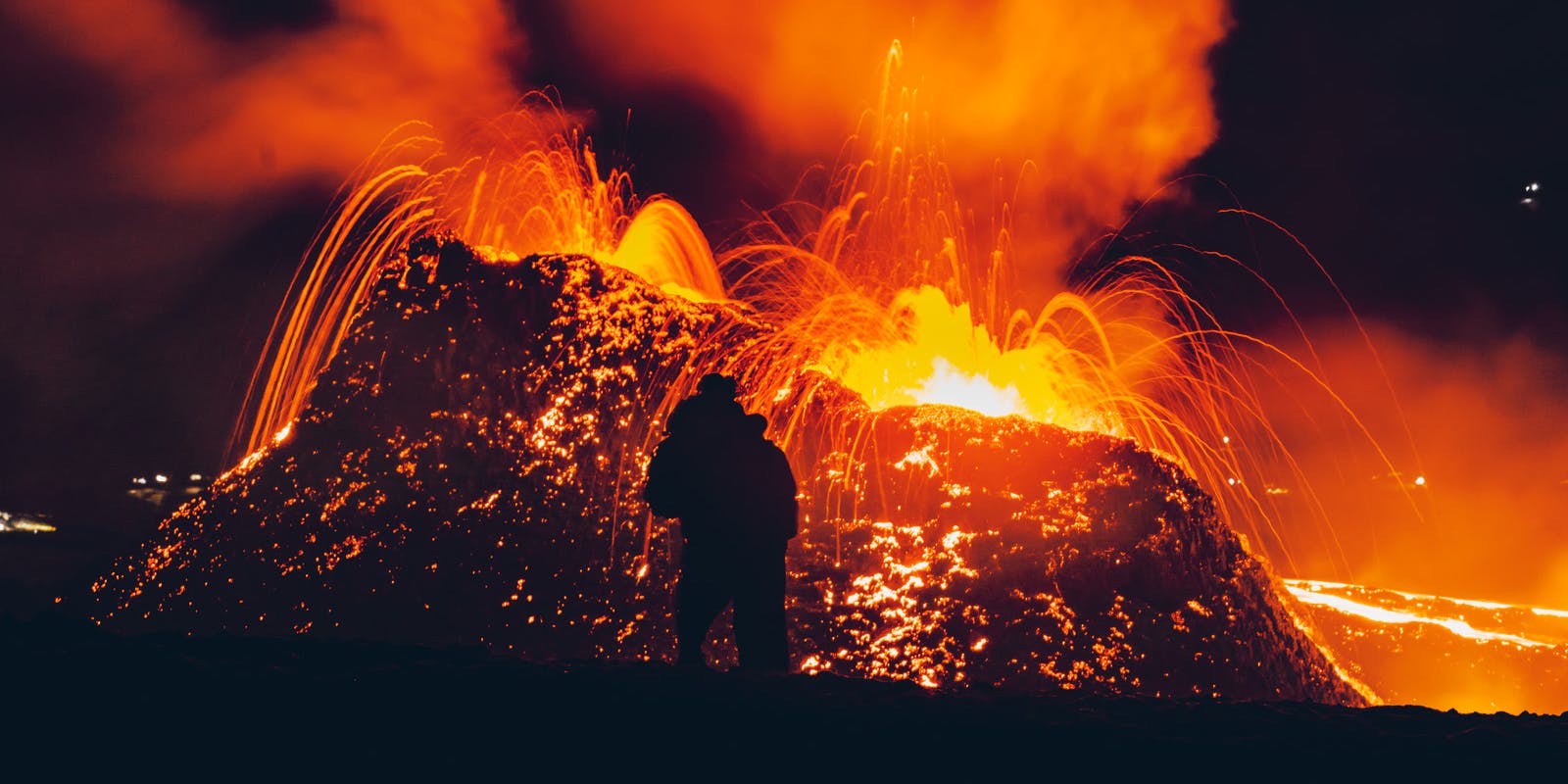 Hiking Volcanoes in Iceland
Hiking Iceland's volcanoes is a popular activity with visitors to the country. As the Land of Fire and Ice, it's almost a rite of passage during your trip to tick off something that symbolises each of these. These are your options if you're keen to do an Iceland volcano hike.
The Fagradalsfjall Hike
The idea of hiking to one of Iceland's volcanoes took hold in 2021 with the unexpected but headline-grabbing eruption of Fagradalsfjall in Reykjanes. Suddenly there was this incredible opportunity to walk up onto a ridge and watch an active volcano as rivers of lava flowed down its flanks. Even better, the volcano was barely any distance from Keflavik Airport. 
Fagradalsfjall captured the world's attention as we watched safely, knowing that lives and property were unlikely to be adversely affected. Many months later, that fascination still grips many would-be visitors keen to do an Iceland volcano hike during their trip. 
How Difficult Is the Hike to the Volcano in Iceland?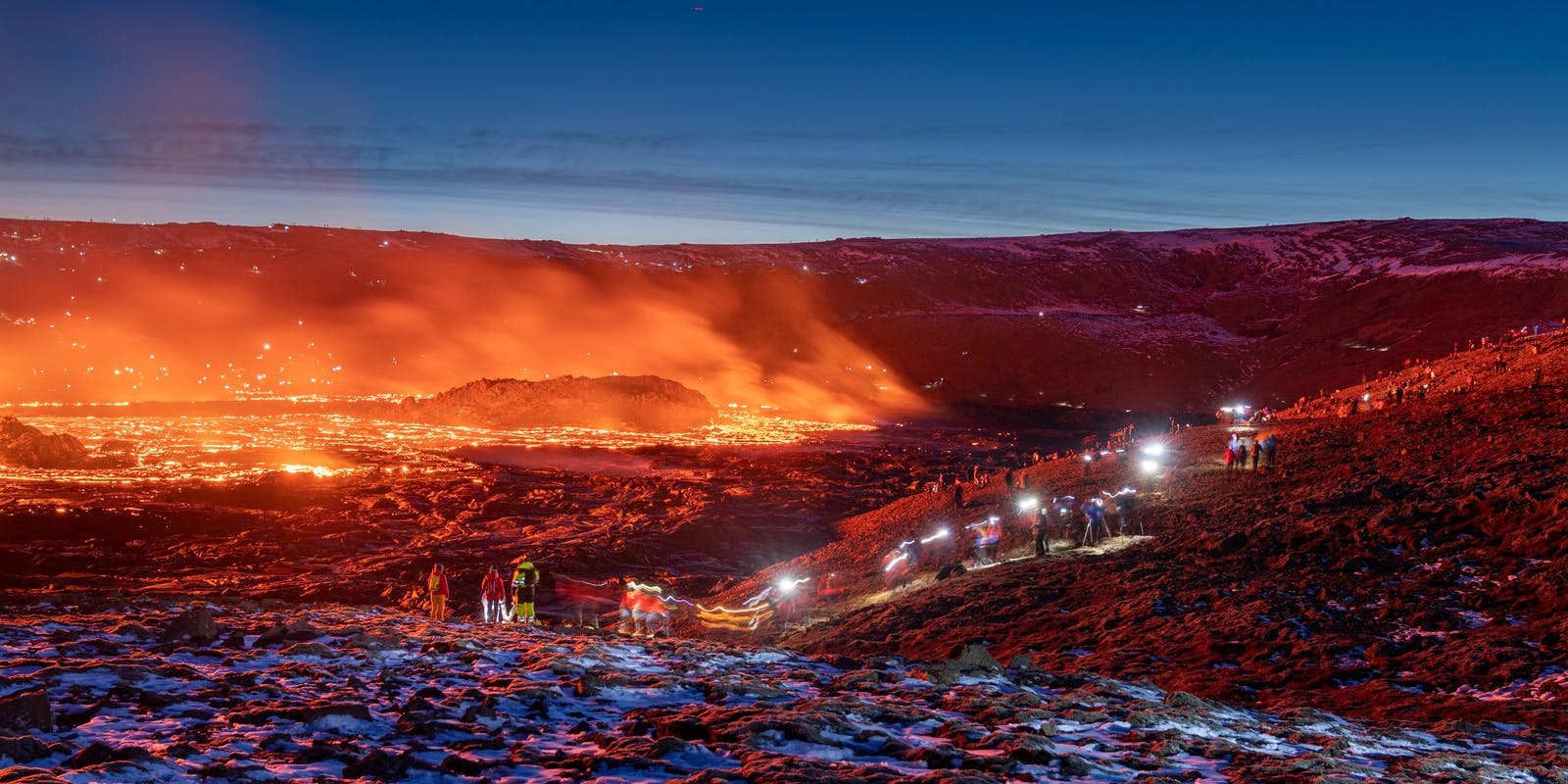 First, let's mention the Icelandic weather. Regardless of your level of fitness, no hike in Iceland should be undertaken lightly. Always take into account weather conditions, time of day, and the hiker's experience and fitness level.
The terrain can be uneven and rocky, and there can be steep sections to climb, so proper hiking shoes or boots are recommended. It's also important to bring enough water and snacks, as there are no facilities along the way. While the hike can be challenging, it is manageable for most people with some hiking experience and a moderate fitness level.
How Long Is the Hike to the Volcano in Iceland?
The hike can take around 1.5 to 2 hours each way and covers a distance of approximately 4 kilometres (2.5 miles), with an elevation gain of roughly 200 meters (656 feet).
Fagradalsfjalls Trails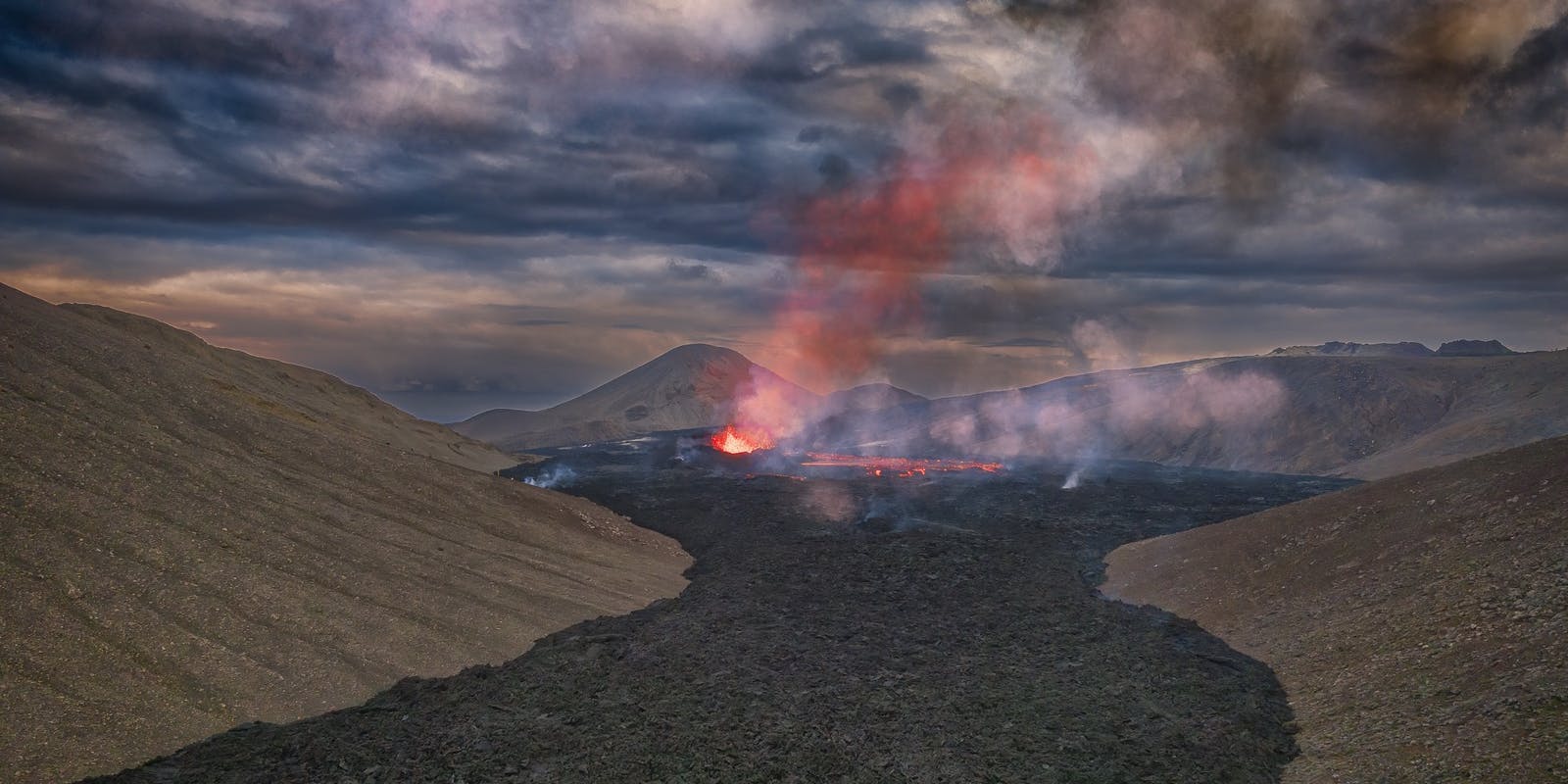 During the eruption's initial phase in 2021, the lava flowed out along a valley called Geldingadalir, southwest of the crater. It flowed downhill, eventually reaching another valley – called Nátthagi. In 2022, the lava flowed out of the volcano in a different direction, this time northeast towards Meradalir. All of these lava flows are considered part of the Fagradalsfjall volcano.
There are several routes to the eruption site. The current path (referred to on maps of the area as Path A) is about 7km long each way, gaining about 300 metres of height along the way. In that sense, it's a fairly challenging hike and certainly not classed as easy. 
The ground in places is rocky and characterised by loose gravel, scree and spongy moss – not a well-graded, level path. It's likely to take most averagely fit hikers around two or three hours to get up there and, around the same, coming back down again. There's also a Path B, but that's even more difficult, so most people don't use that route.
However, that's not the complete picture, as there are shorter trails which also lead to where the lava is. For instance, Path C has two branches, one to Langihryggur, which is 4km each way, and the other to Nátthagi, which is only 2km each way. This last one takes you to the edge of the lava field, so if that's enough to satisfy your curiosity, that's the easiest option. 
Other Volcano Hikes in Iceland
The hike to the Fagradalsfjall eruption site isn't the only volcano hike you can do in Iceland, of course. Here are a few you can do:
Hiking Eldfell

Located in the Westman Islands, this volcano erupted in 1973, forcing the evacuation of the local population and covering everything in a thick layer of ash. Today, it's possible to see one of the houses buried by the volcano as it has been painstakingly uncovered. Still, you'll also want to hike over the lava flows themselves. 
They are a rich reddish-terracotta colour, in stark contrast to the palette of greys, browns and greens that you find elsewhere in the area. Hiking to the top takes only around fifteen minutes, with a great view over the coastline and the town of Heimaey below as a reward for minimal effort. 
Hiking Eyjafjallajökull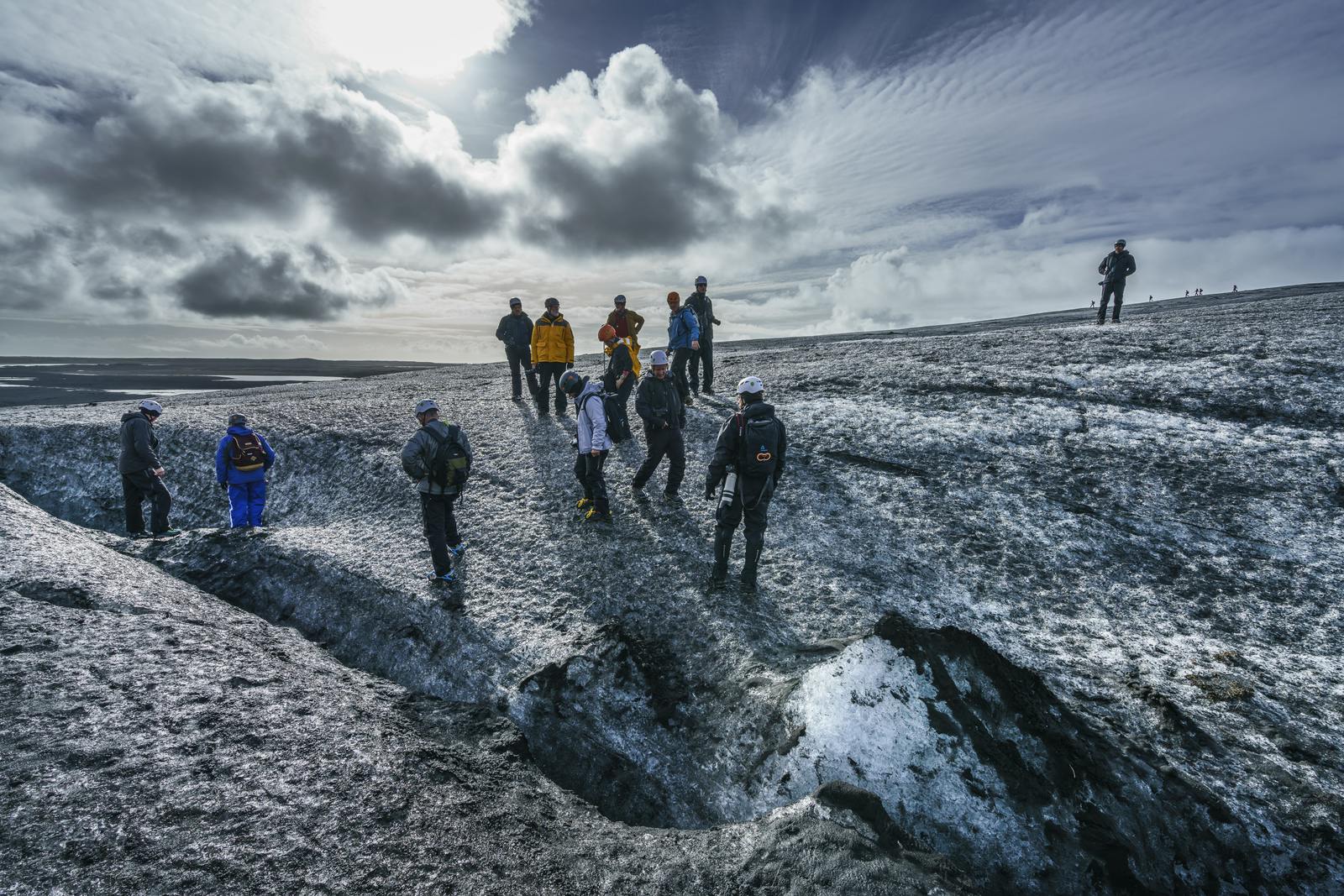 Another great Iceland volcano hike is to Eyjafjallajökull, which was the volcano that sent a massive cloud of ash up into the atmosphere in 2010 and caused all that disruption to flights across Western Europe. It's been quiet ever since, so you can hike up to get a closer look at this infamous landform. 
The name Eyjafjallajökull means "Island Mountain Glacier", which gives you a clue to the terrain you'd be hiking over. The gravel trail is steep initially and takes around 2 to 3 hours to reach the glacier's base. From there, you need ropes, harnesses and crampons to hike over the ice to the summit, but your tour company will provide those. 
Hiking Katla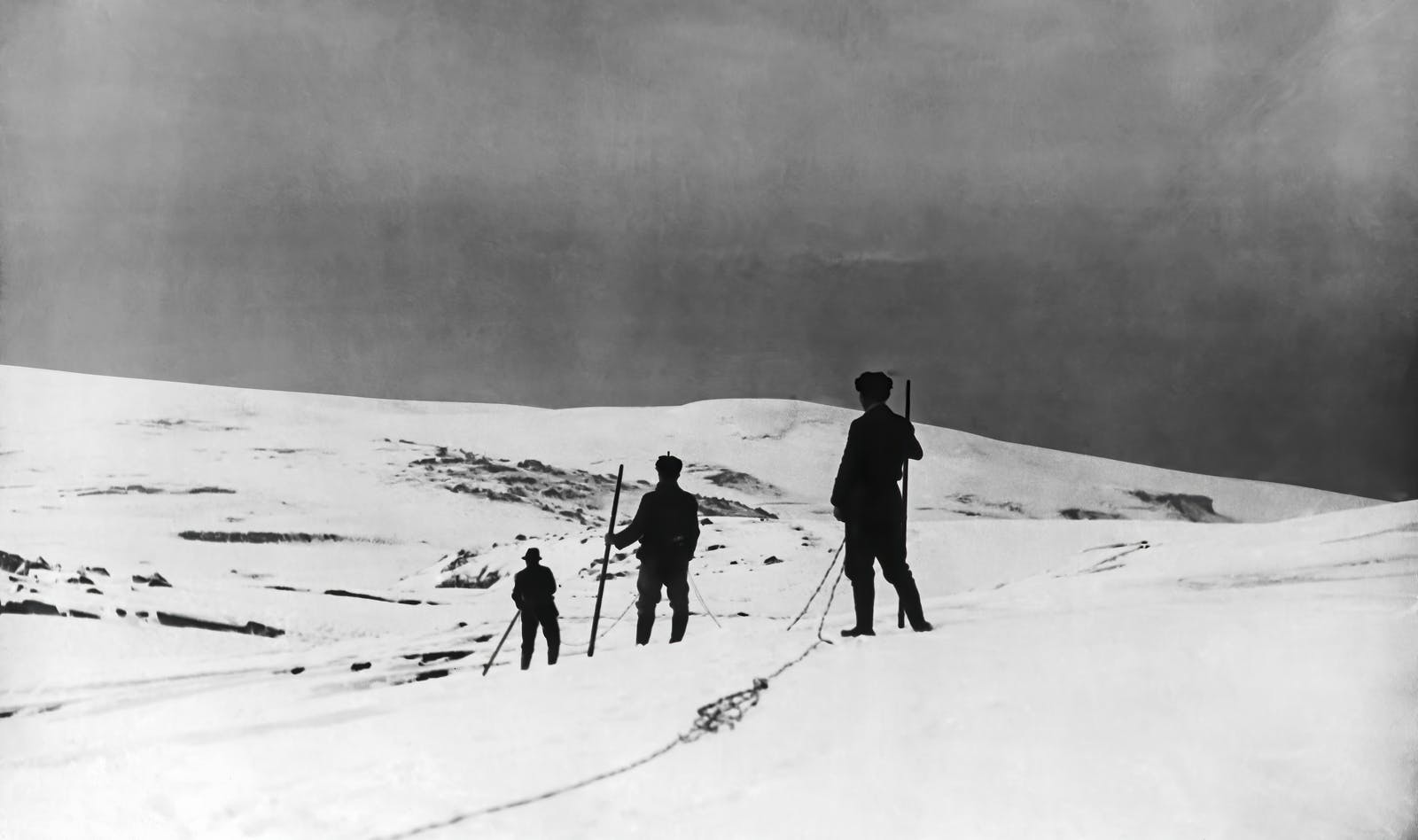 Throughout history, Katla's been more dangerous than Eyjafjallajökull, so perhaps it's fitting that one of the most scenic routes to hike is more challenging too. Guided hikes lead up to the volcano's summit – which is also under a glacier, this time Mýrdalsjökull. 
There is a challenging path that leads up onto the glacier from Seljalandsfoss, but a more manageable option is to start from Skógafoss and follow the Fimmvörðuháls Trail. This is no stroll in the park either: a 12-hour hike that gets you to the summit.   
Hiking Snæfellsjökull

This volcano hike can be found in one of Iceland's national parks, and the views over the peninsula and the Atlantic Ocean are magnificent – ample reward for hiking up there. There's an elevation gain of about 760 metres; you'll hike over moraine and sometimes snow. 
It's not the easiest hike, taking climbers anywhere from five to twelve hours to reach the summit, depending on conditions, and you'll need a guide. But at least it's not too far from Reykjavik when you're ready to drive back.    
Volcano in Reykjavík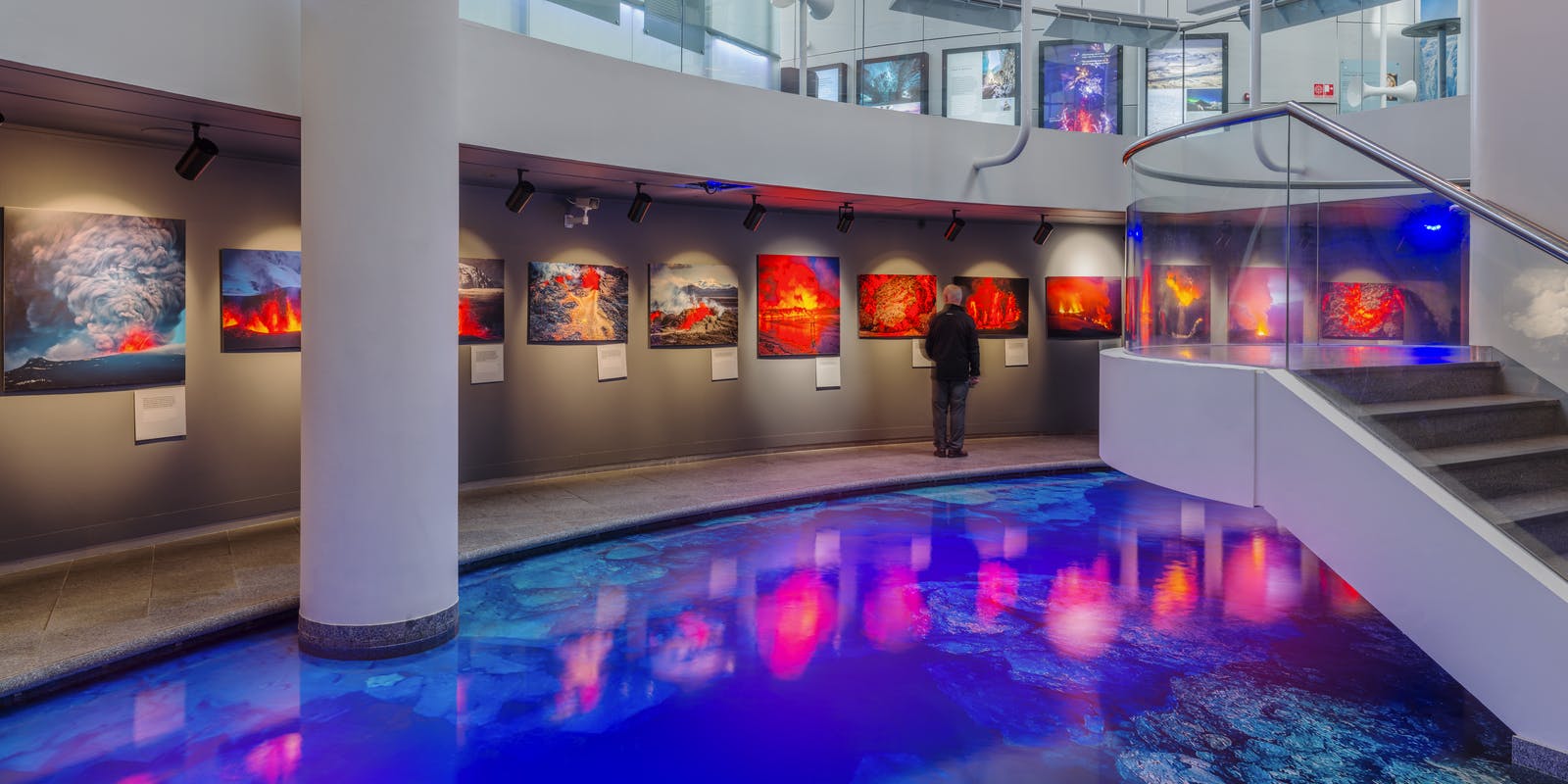 If your short on time or weather conditions don't allow you to hike a volcano, visit Perlan for an interactive and immersive experience. Experience a simulated volcanic eruption, and learn about the science behind earthquakes and volcanic activity.
You'll find plenty of information about the country's volcanoes and volcanic systems, plenty of helpful facts about tectonic and geothermal processes, incredible images and videos of volcanic eruptions and an insight into that breathtaking Fagradalsfjall eruption. 
Back to articles