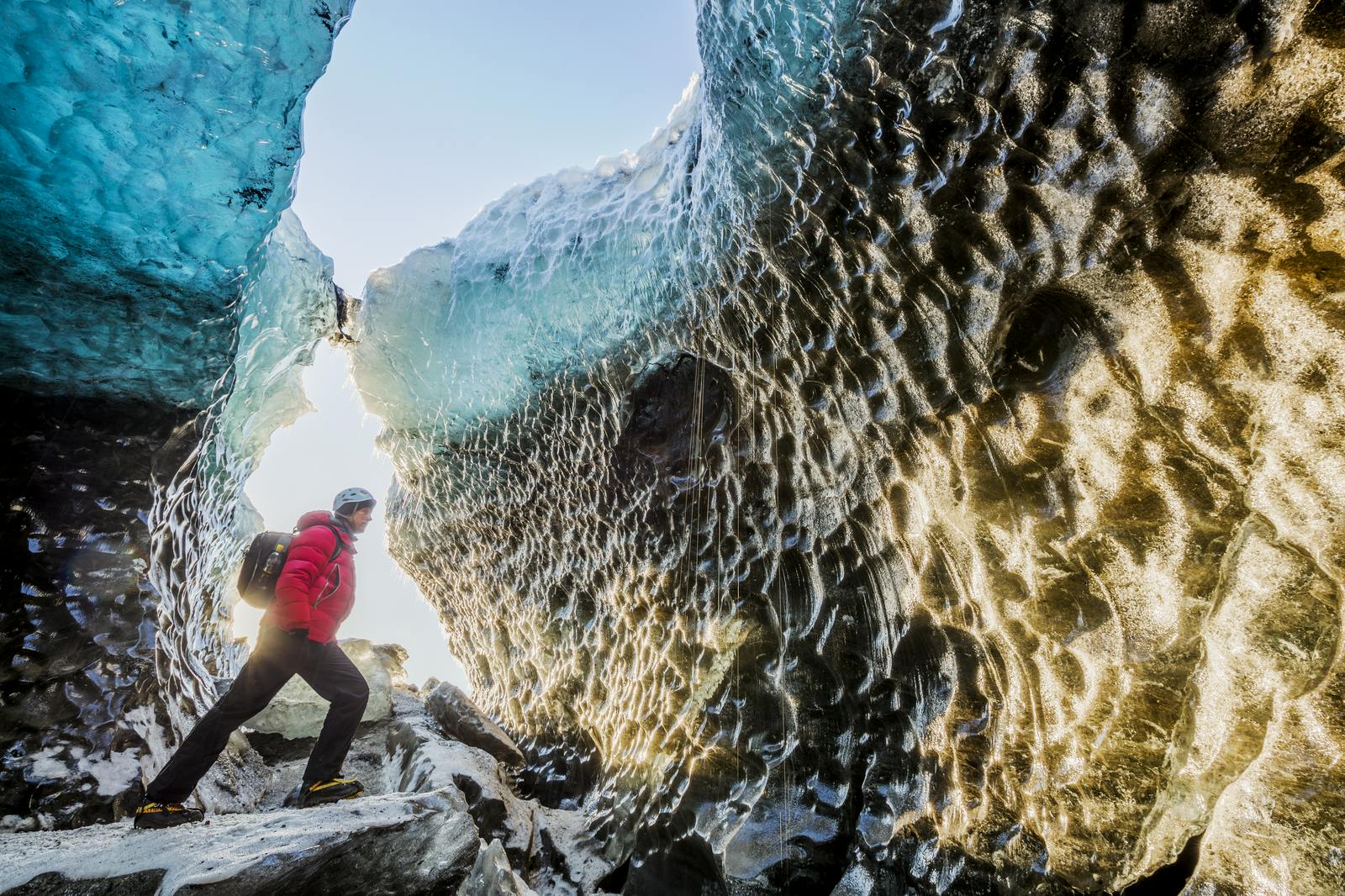 What To Wear and Bring on a Glacier Hike in Iceland
Iceland's glaciers are beautiful from a distance but close up, the detail of this glorious environment is revealed. Take a look at the Glacier Exhibit at Perlan to get an idea of what to expect, though the best way to explore properly is to visit on foot in person. A glacier hike will be a highlight of your trip. By slowing down the pace, you can fully appreciate the colours, textures and scale of these amazing slabs of ice. If you're keen to do just that, you might be wondering what gear you need to bring with you. Read our handy guide about what to wear and bring on a glacier hike and you'll be fully prepared.

What to wear
Essential clothing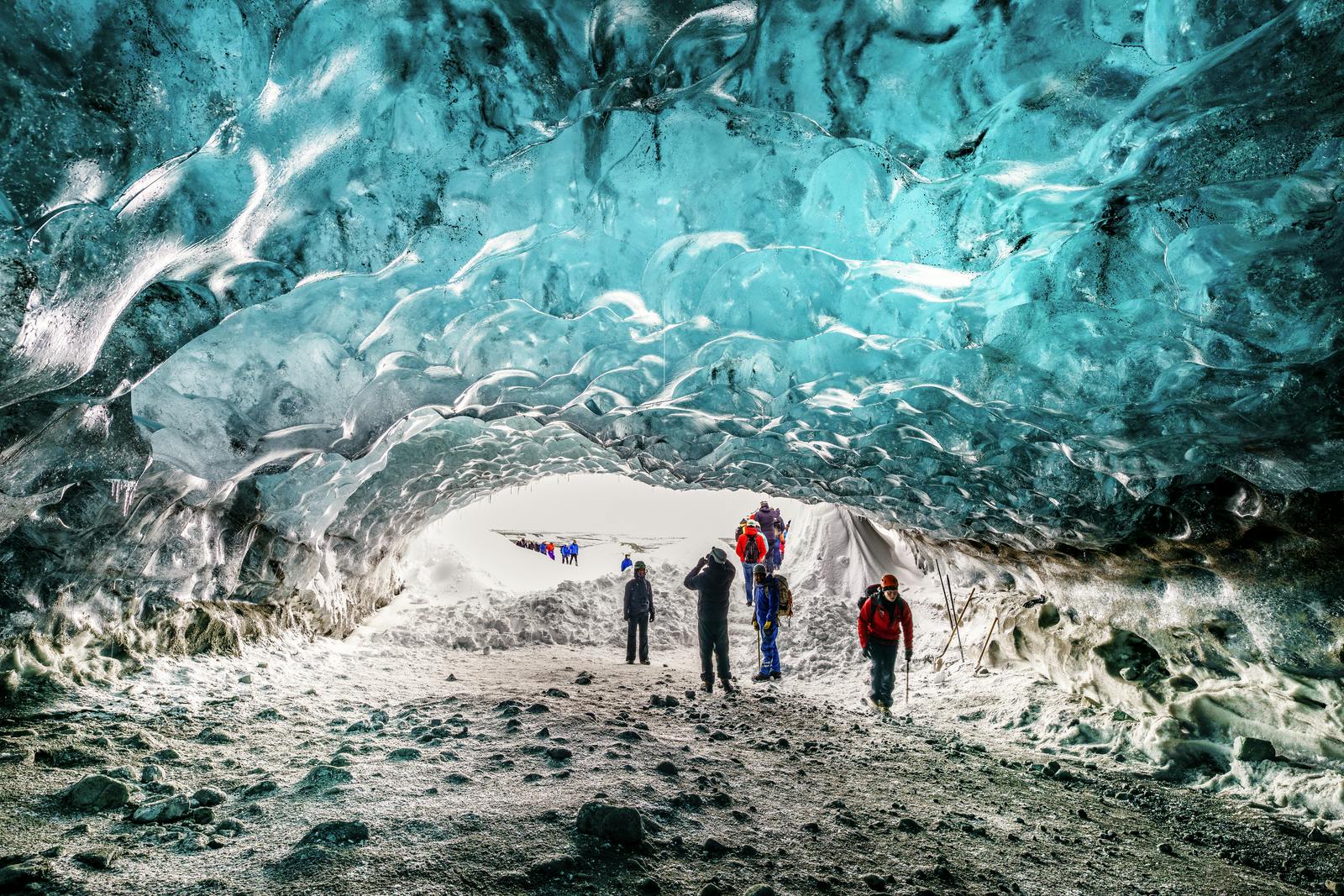 The key to being comfortable when you're hiking up on a glacier is staying warm but not at the expense of your own mobility. Stating the obvious, all that ice makes the air temperature colder. That's even the case in summer, the season that's most likely to catch you unawares. You'll be glad of a good base layer, ideally one made of merino wool. Not only does it trap heat, it also wicks away moisture and you won't feel the cold sweat on your skin. In winter, many people swear by fleece leggings. 
Before heading up onto a glacier you'll need to think about the wind as well as the temperature, as the wind chill factor makes the temperature feel colder than it actually is. Carry a few layers that can go above your base layer so that you can regulate your temperature if you need to add something. In summer, if the sun comes out while you're up on the glacier and you start to feel a bit hot, you can always take off a fleece and pop it in your day pack. However, if it clouds over (and remember the weather in Iceland is changeable even in June, July and August) you'll be glad of the extra warmth. 
Outer layers should be waterproof and windproof. There are lots of clothing manufacturers that specialise in outdoor gear. Take a look at the notes and see what kind of performance you can expect. Also, don't forget your extremities: a warm hat, a scarf or snood and a pair of gloves are a must too. If you're travelling in your own rental car, it's worth leaving a spare set of clothes in the car in case you need to change when you come off the glacier.
At this point, it's worth remembering that a glacier's no place for denim. If you're heading up onto a glacier, check the weather forecast and make sure that if there's even the smallest chance of rain you're dressed appropriately. That means no jeans – because it's so thick, once denim gets wet, it stays wet – and trust us, there's nothing good about being in damp trousers. Instead, put on something made from a quick-dry fabric and you'll be much more comfortable.
Footwear
Hiking on a glacier can be more challenging than hiking over other areas of the countryside. It's really important to have suitable footwear. Ankle support is a must. As your ankle is supported, you'll help prevent twists and sprains. You definitely don't want to be stuck up on the glacier after such an accident, so prevention is the best option. At the very least you're going to want to wear sturdy, leather hiking boots; some hikers prefer rigid glacier boots. Regardless, try to wear them in a bit before you leave home to reduce the risk of blisters. Cushion your feet with soft socks that reach above the top of your boots. Wool is often preferable to synthetic fibres for the same principle we discussed for those base layers: it wicks away moisture if your feet sweat.
What to wear on a glacier hike in Iceland
Merino Wool base layer
Layers of wool & fleece
Waterproof & windproof outer layers
Hat, scarf & gloves
Extra clothes for after hike
Hiking boots with ankle support
What to bring
Specialist gear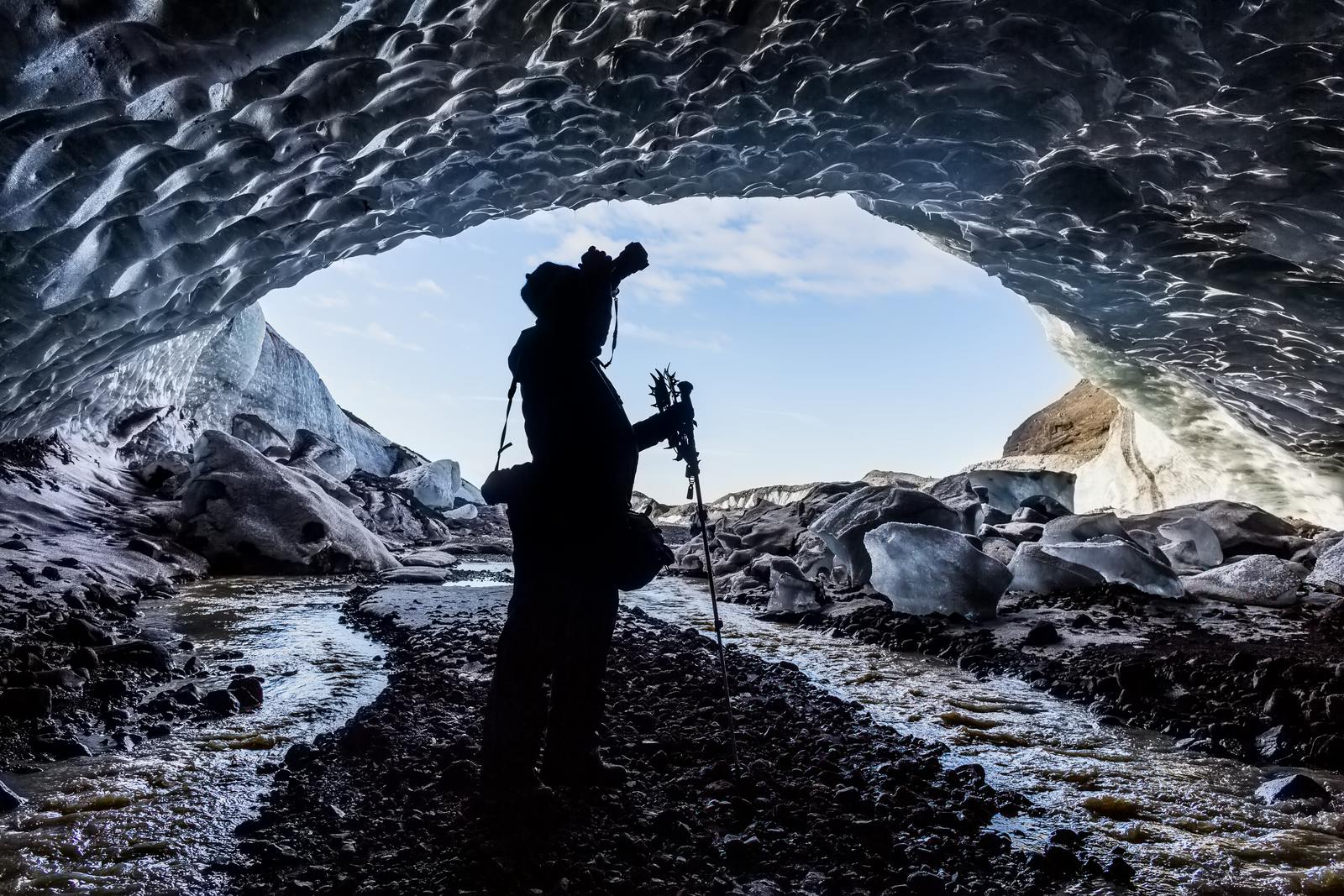 Though each person may carry their own, your tour operator will provide a few items of essential specialist equipment. For instance, if you've booked a Zodiac trip out onto Jökulsárlón glacial lagoon or a snowmobiling tour, you'll be issued with thick overalls that go over your own clothes. They're designed to cope with extreme weather, so you might find that with all that extra padding they take a bit of getting used to. 
For glacier hikes, each member of the hiking group will be issued with crampons which are useful for safe transit across the glacier. These are metal chains with spikes that dig into the ice to afford you more grip on slippery surfaces so you don't skid or fall. They fit over the sole of your hiking boots; if these have a deep tread it's sometimes easier to get the crampons to remain in place. 
You'll also be given a helmet, so that if you fall, it gives your head some protection. You'll probably have anticipated that for a snowmobile ride, but even on foot it might be necessary – such as when you're ducking inside an ice cave or might be at risk of falling down a scree slope. Lastly, you may need a harness or be asked to carry an ice axe. If the terrain is less challenging, the guide may carry one instead for use when necessary. 
Safety's paramount
As a tourist in Iceland, you'll be accompanied by a local guide while you're up on the glacier. No one should ever be up there alone and ideally there'll be at least three of you. Snowfalls can conceal deep crevasses and weather can deteriorate rapidly, so you won't want to be up there without someone who knows the glacier well. They'll be carrying most of the specialist equipment so that the whole party can stay safe. This safety gear should include harnesses each with a carabiner clip, rope (essential for travelling over crevassed areas) and avalanche rescue equipment that comprises at least a shovel, probe and beacon. 
What should go in your own backpack?
Carry a small daypack up onto the glacier so you can carry a few essentials. If you're likely to be in charge of navigating, a compass or GPS is needed. You may also wish to carry a small first aid kit. You'll need snacks for boosting your energy levels and a water bottle. It's a good idea to think about the sun; up on the ice, the glare can be problematic, even in winter. Pack ski goggles or good quality sunglasses, as well as some moisturising lip balm and some sun cream. Hiking poles may also be helpful as they help you kept your balance. Finally, of course, you'll be glad of a camera to record just how jaw-droppingly beautiful the glacier is as you show the pictures to those who weren't lucky enough to join you. 
What to bring on a glacier hike in Iceland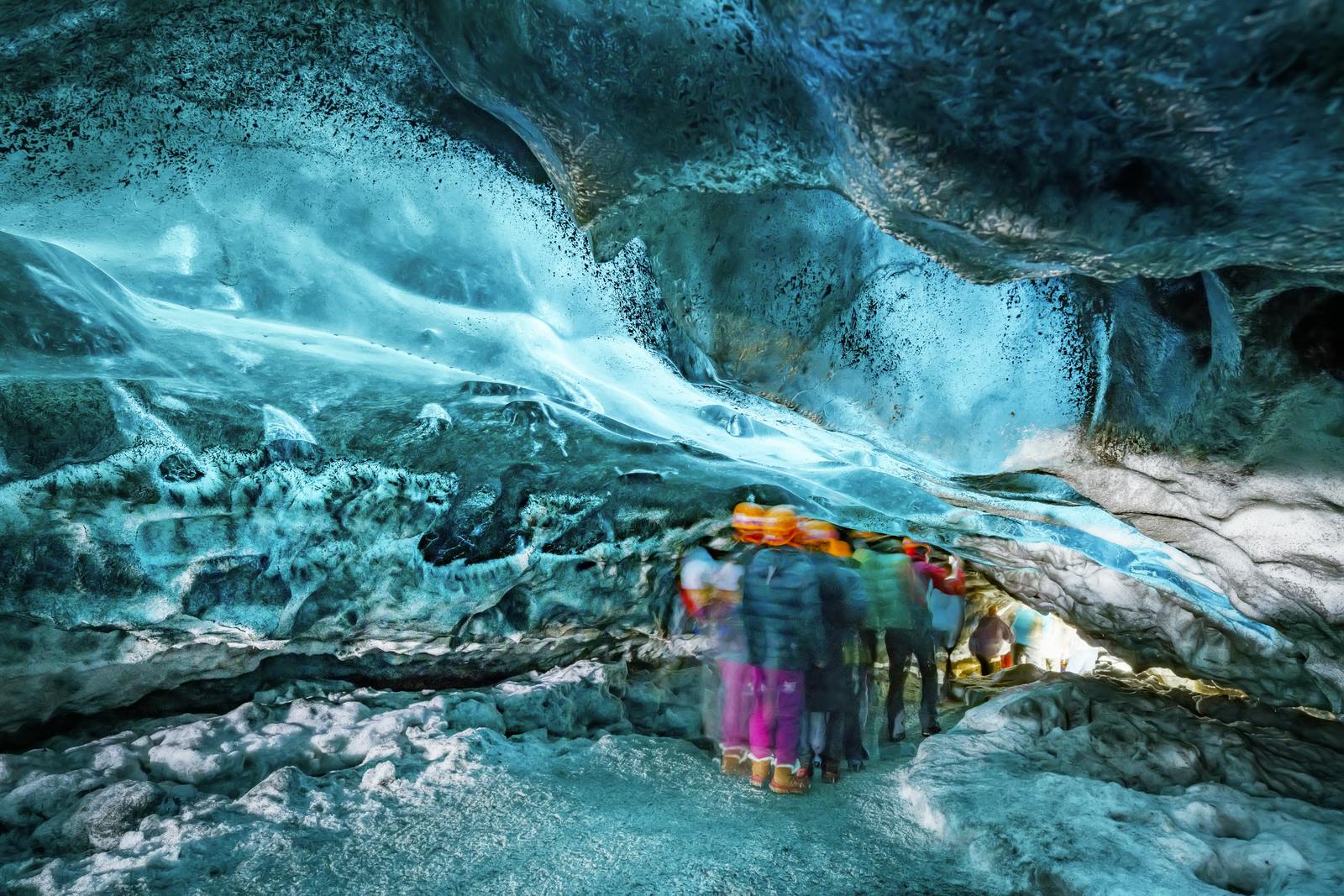 Backpack
Water
Snacks 
Sunglasses or ski goggles
Sunscreen
Camera
The guide will have the specialist examples

Prepare correctly, because what to wear and bring on a glacier hike is crucial to ensuring this can be a memorable part of your trip for the right reasons. And remember, if you want to find out more about Iceland's majestic and beautiful glaciers without having to get kitted out, you can visit the Glacier Exhibit in Perlan without leaving Reykjavik. 
Back to articles