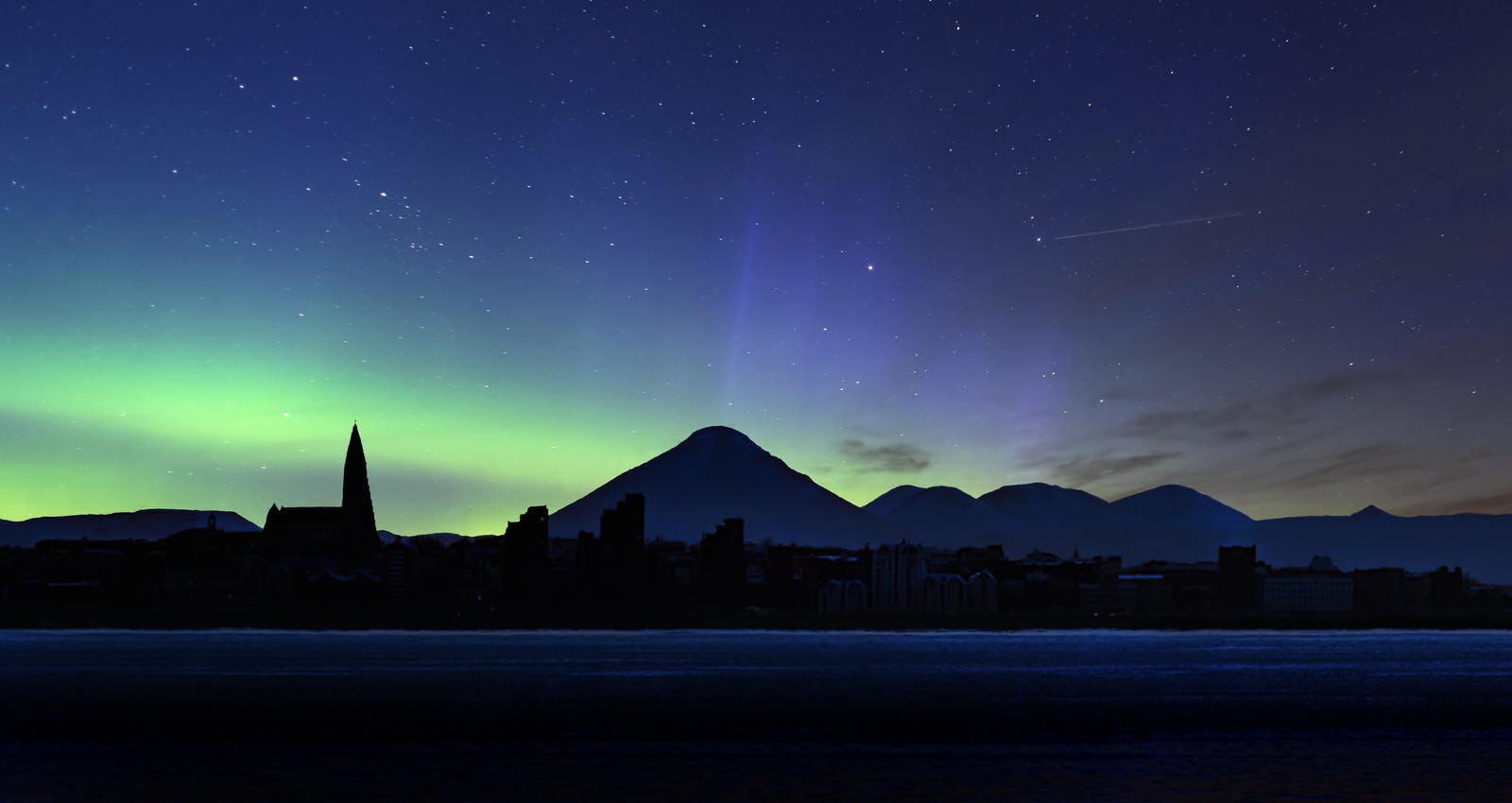 Top Tips for Experiencing the Northern Lights With Kids
The Aurora Borealis is a phenomenon caused by solar winds, which blow electronic particles into molecules of atmospheric gases, causing an emission of bright light. The best time to see northern lights is from September to March, and there are forecasts predicting visibility on the national weather website (www.vedur.is). When the forecast is favourable, it's best to drive (or take a tour bus) to a dark area and look up. 
What are the colours of the Northern Lights?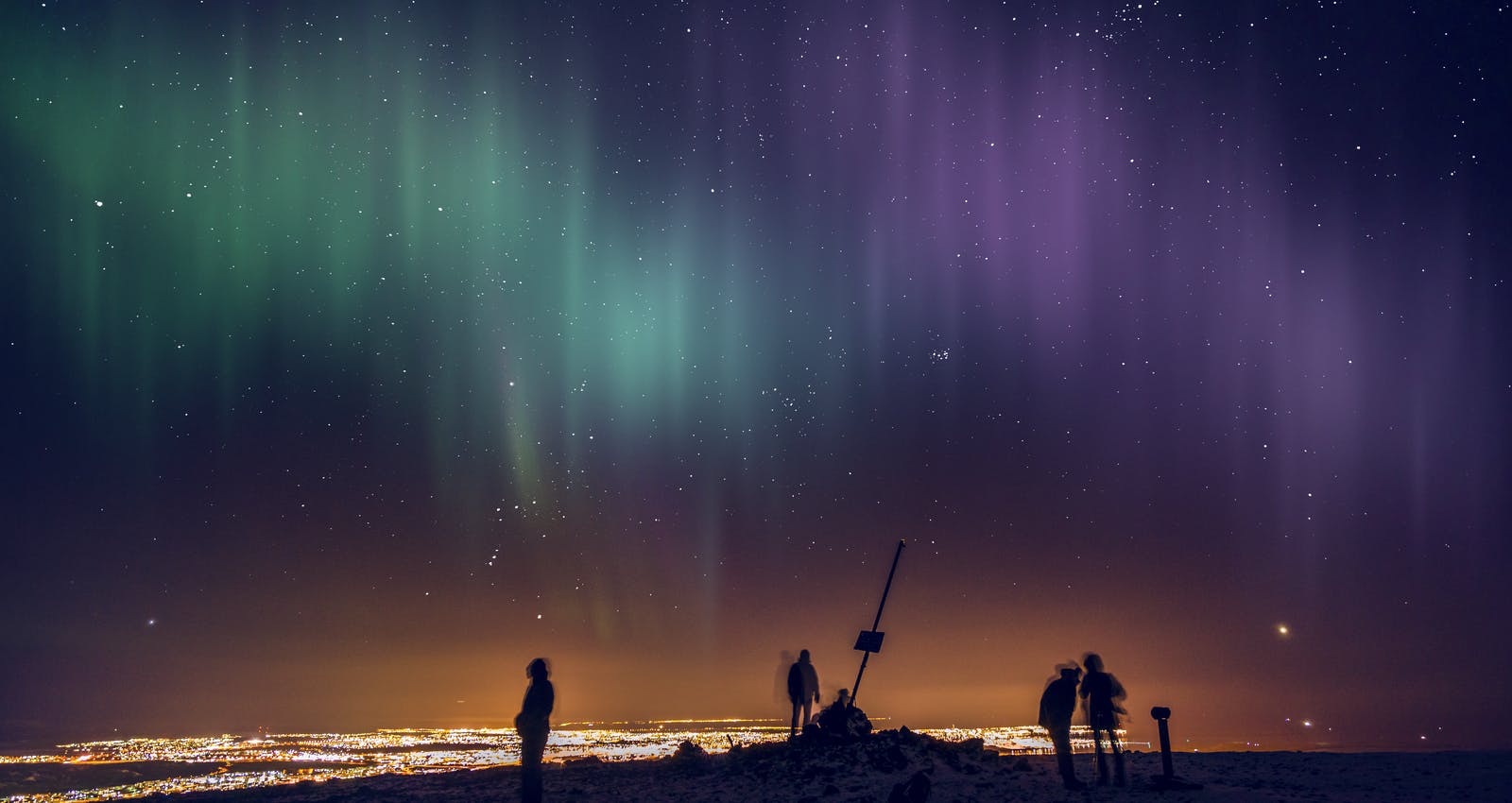 The most common colour of the northern lights is green, but it's also possible to see yellow, blue, red, pink, and purple hues. The exact colours and their intensity can vary depending on the energy and speed of the incoming charged particles, the altitude at which the collisions occur, and the types of gases involved in the interactions.
When is the Best Time of Year to See Northern Lights in Iceland?
Any month in winter is an excellent time to see the northern lights, but it comes down to luck. The skies must be clear and dark for the lights to be visible. As you get closer to Iceland's midwinter, the nights get longer, and the aurora is easier to see. The conditions have to be right. 
It's possible to see the northern lights from late August to early April, but it's best to visit between early September and mid-March. The night skies will be much darker, improving your chances. If you want an excellent shot at a sighting, travel to Iceland as close to midwinter as possible. 
Best Locations to Witness the Northern Lights with Kids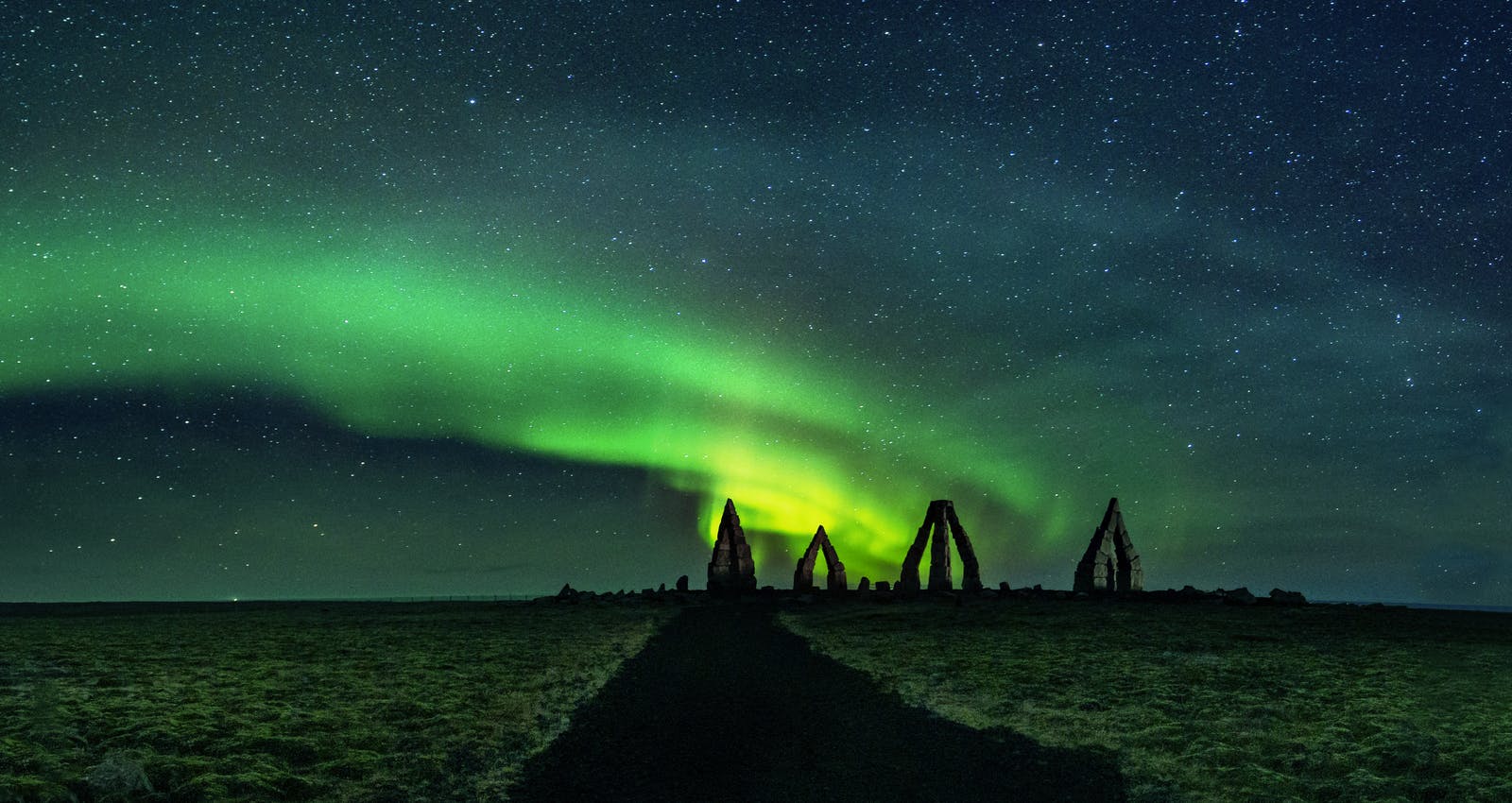 Northern lights can usually be seen between 60 and 75 degrees of latitude, which covers not only Iceland, Norway, Finland, Sweden, Greenland, Russia, the US state of Alaska and parts of Canada. However, it is possible for auroras to be seen in northern US states and northern England and Scotland, although it's not common. 
Iceland is a kid-friendly destination as there are many attractions and tours suitable for children of all ages. In addition to northern lights hunting, the winter offers glacier hikes, snowmobile rides and ice cave tours. 
Dressing Children for a Northern Lights Search
It's important to remember that hunting the northern lights can be a waiting game. Expect to spend a long period of time outside, not moving, looking up at the sky. Since you will be standing out in the cold night, choosing the proper clothing for you and your children is essential. 
Iceland can be a wet and windy country, so a windproof and waterproof outer layer is a must. Underneath, you should be warmly insulated with a wool sweater or thick fleece. Also, bring along a hat, gloves and scarf. Lastly, waterproof boots and warm socks are vital as the ground could have snow. 
How Can I Increase my Chances of Seeing Northern Lights in Iceland?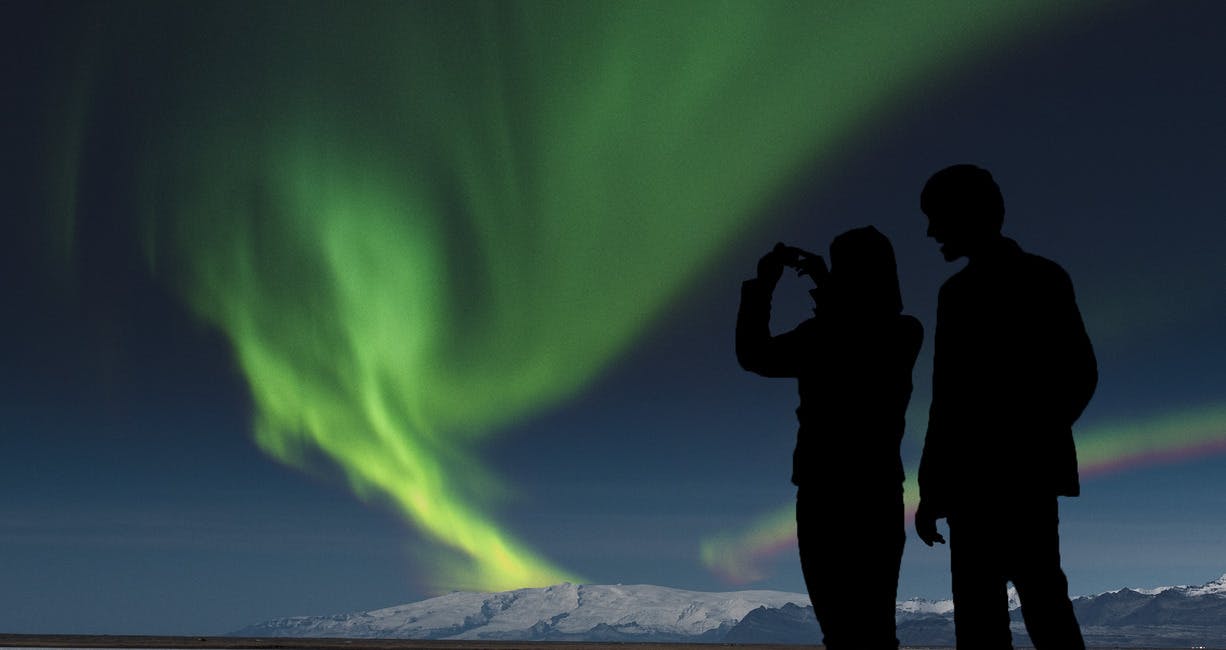 The conditions must be favourable, with no cloud cover and intense solar activity. If the forecast is good, it is essential to be far from artificial light sources, such as street lamps; you want to be near open spaces.
Tips for Parents
Waiting for the northern lights to appear can be a waiting game, and managing expectations for children is essential. A magic switch doesn't make auroras dance and flicker in the sky. To ensure comfort, it's advisable to bring along thermal flasks, hand warmers, and portable seats while you wait. Also, it's recommended to adjust sleep schedules for your children, encourage naps and keep a flexible itinerary. 
Where Can I Learn About Northern Lights in Reykjavík?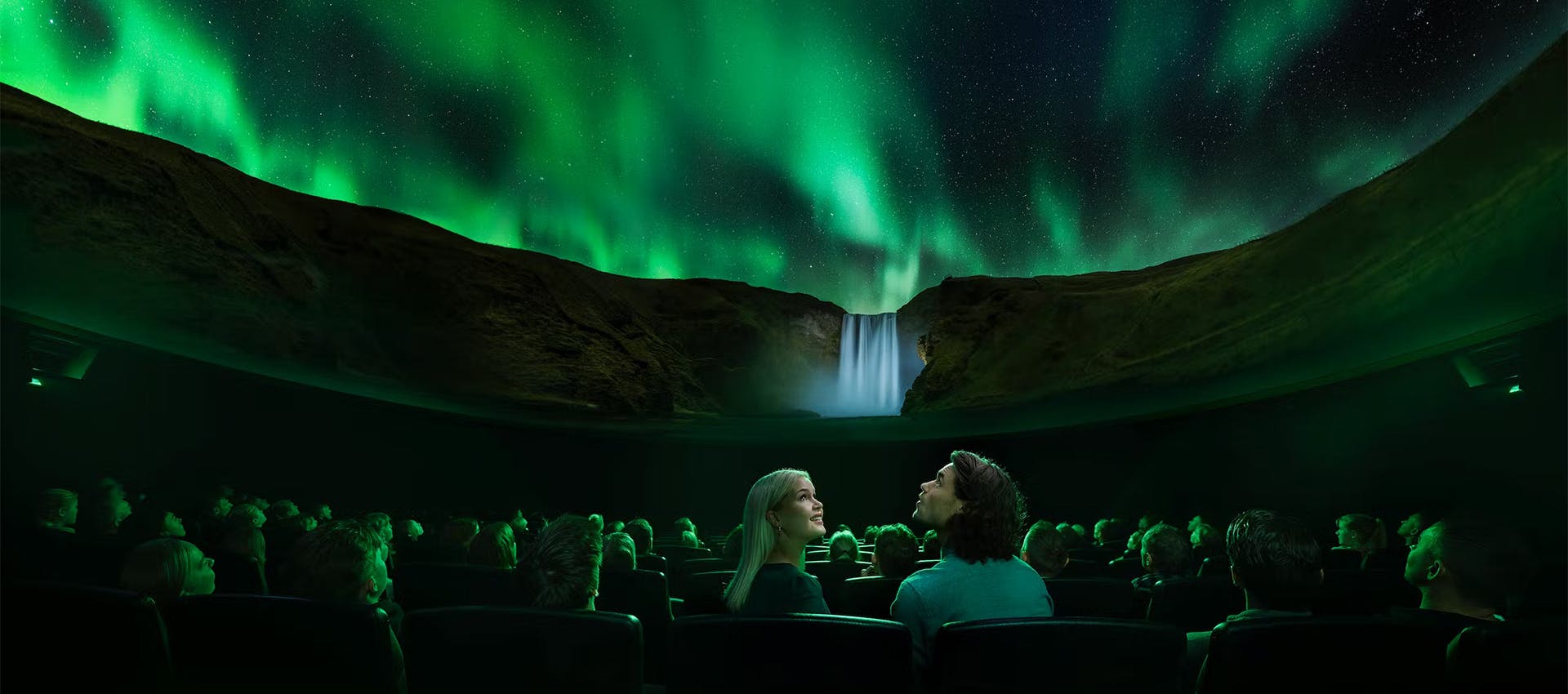 Perlan's Northern Lights Show, Áróra, is a breathtaking film about northern lights. The film includes many stories, combining science and art to create a unique experience for guests. At Perlan, you can learn how northern lights form, hear fascinating tales about them and see fantastic displays. In Icelandic nature and outer space, the northern lights virtually dance around you.
Perlan is home to Iceland's only planetarium and uses a state-of-the-art 8K projection system and surround sound system to bring you the full spectrum of the magical story of the northern lights.
FAQ
How to see the northern lights in Reykjavík
You must avoid primary artificial light sources to improve your chances of seeing auroras. This is pretty easy to achieve since most of Iceland is open and sparsely populated. Tour guides know where to go without cloud cover, giving travellers the best chance of seeing auroras. 
Is a Northern Lights tour worth it for children?
The northern lights attract tourists from around the world to get a glimpse of the dazzling lights, a bucket-list activity for many. Tours give you the best shot at seeing the Aurora Borealis as tour guides closely monitor the aurora forecast and drive to the best locations with the least light pollution and cloud cover. If your children are interested in the natural phenomenon, they will likely be interested in attending a tour.
Back to articles