Kerlingarfjöll
The Kerlingarfjöll mountain range reveals all the details of a matured caldera, including geothermal hot spots and volcanic formations. In short, this is a geology buff's dream. The towering peaks were created by eruptions from a large caldera lying under the mountains; while the caldera is still considered active, it has been silent for tens of thousands of years. Travellers will see sharp slopes and towering mountain peaks flecked with ice, leading into a hotbed of raw geothermal activity. 
What Attractions are Close to Kerlingafjöll?
Hveravellir Nature Reserve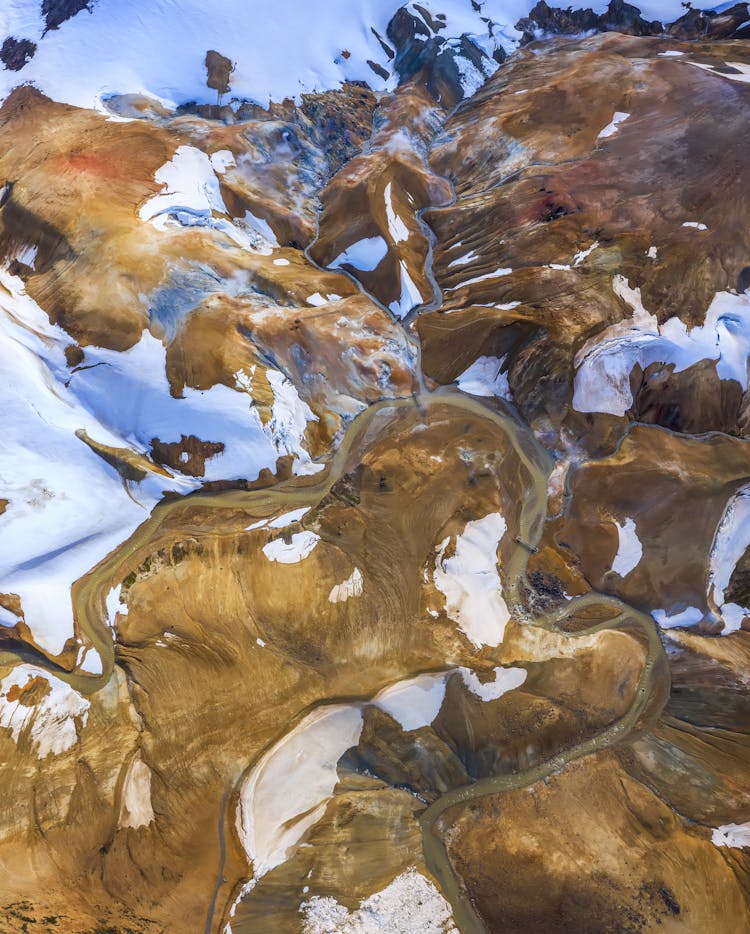 The Hveravellir Nature Reserve is one of Europe's last great wilderness spots. It's about 90 kilometres north of Gullfoss on Route F35. Hveravellir is a natural geothermal hot spot with smoking fumaroles and bubbling water holes, and it's a unique experience to see geothermal energy at work. It's also a popular place to hike.
Langjökull Glacier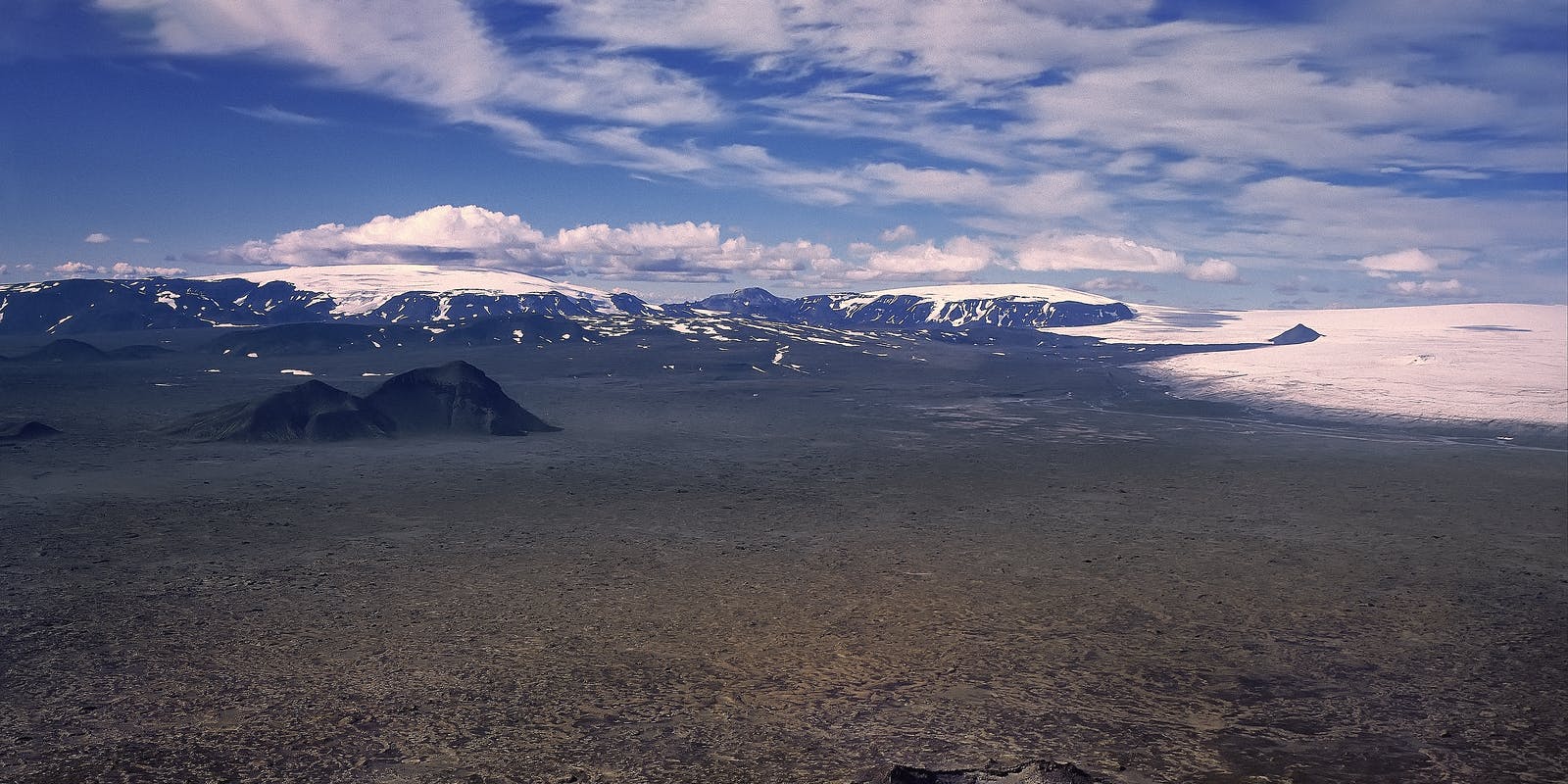 At 952 square kilometres, Langjökull is the second-largest ice cap in Iceland after Vatnajökull. The ice is quite thick, up to 580 meters deep, and the highest point of the ice cap is about 1,450 metres above sea level. The rocky terrain and snowy patches are vast and haunting.
Hofsjökull Glacier
Hofsjökull is the third-largest glacier in Iceland after Vatnajökull and Langjökull. It is situated in the western highlands, north of Kerlingarfjöll and covers an area of 925 square kilometres, reaching 1,765 meters at the top. It's vast and ruggedly beautiful. 
Kerlingarfjöll Hiking Opportunities
Kerlingarfjöll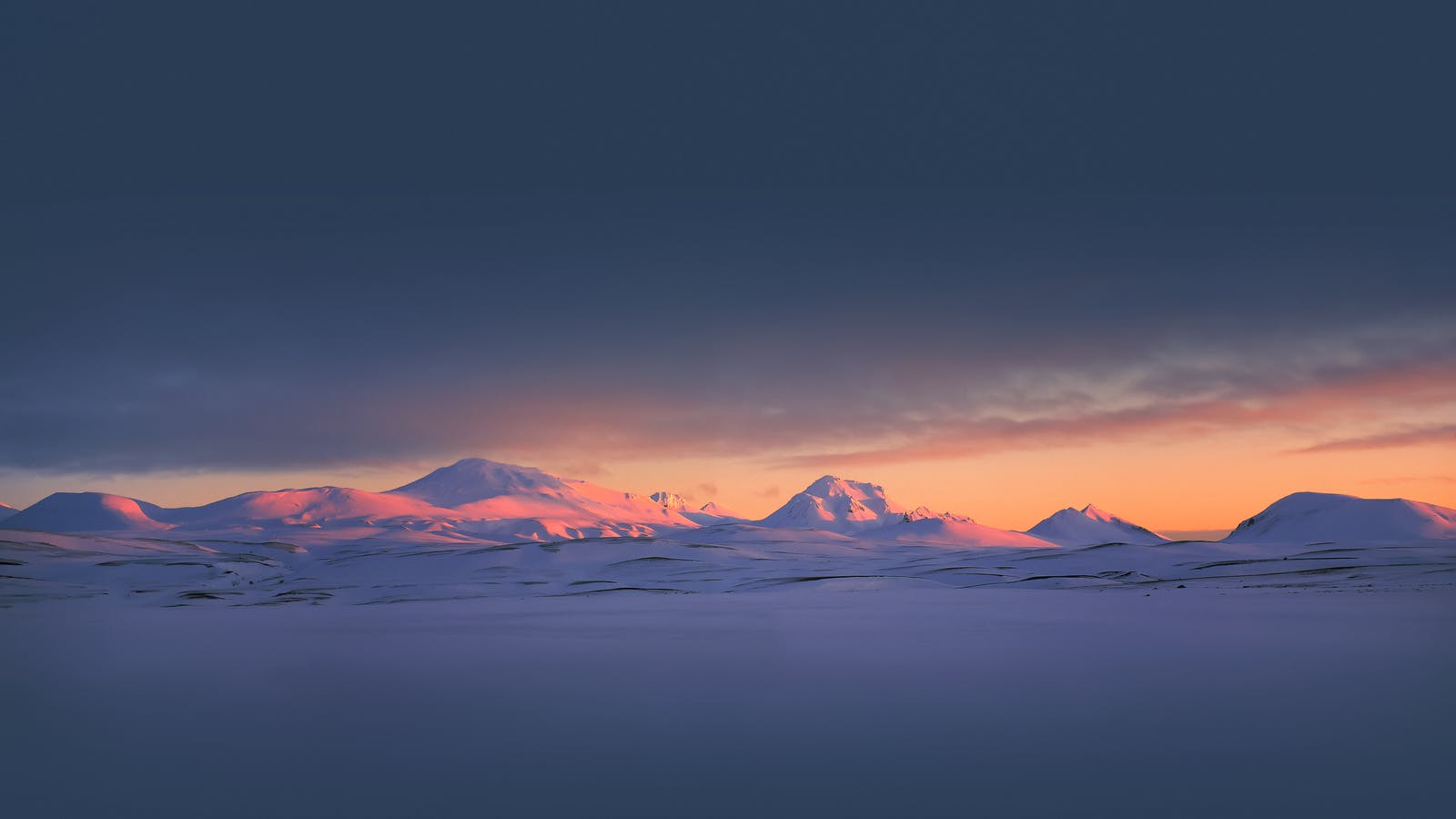 Start at the car park called Kastali and continue to 1,432 meters Mount Lodmundur, then to the highest peak of Kerlingarfjöll, Mount Snækollur, at 1,460 meters. The trail is rocky, with quite a few slopes, but the payoff is the gorgeous views of the barren landscape below and the mountains in the distance. It's one of the best overviews of the highlands. This is a 7-kilometre hike in a loop, which takes about six hours.
Ásgarðsá River Hike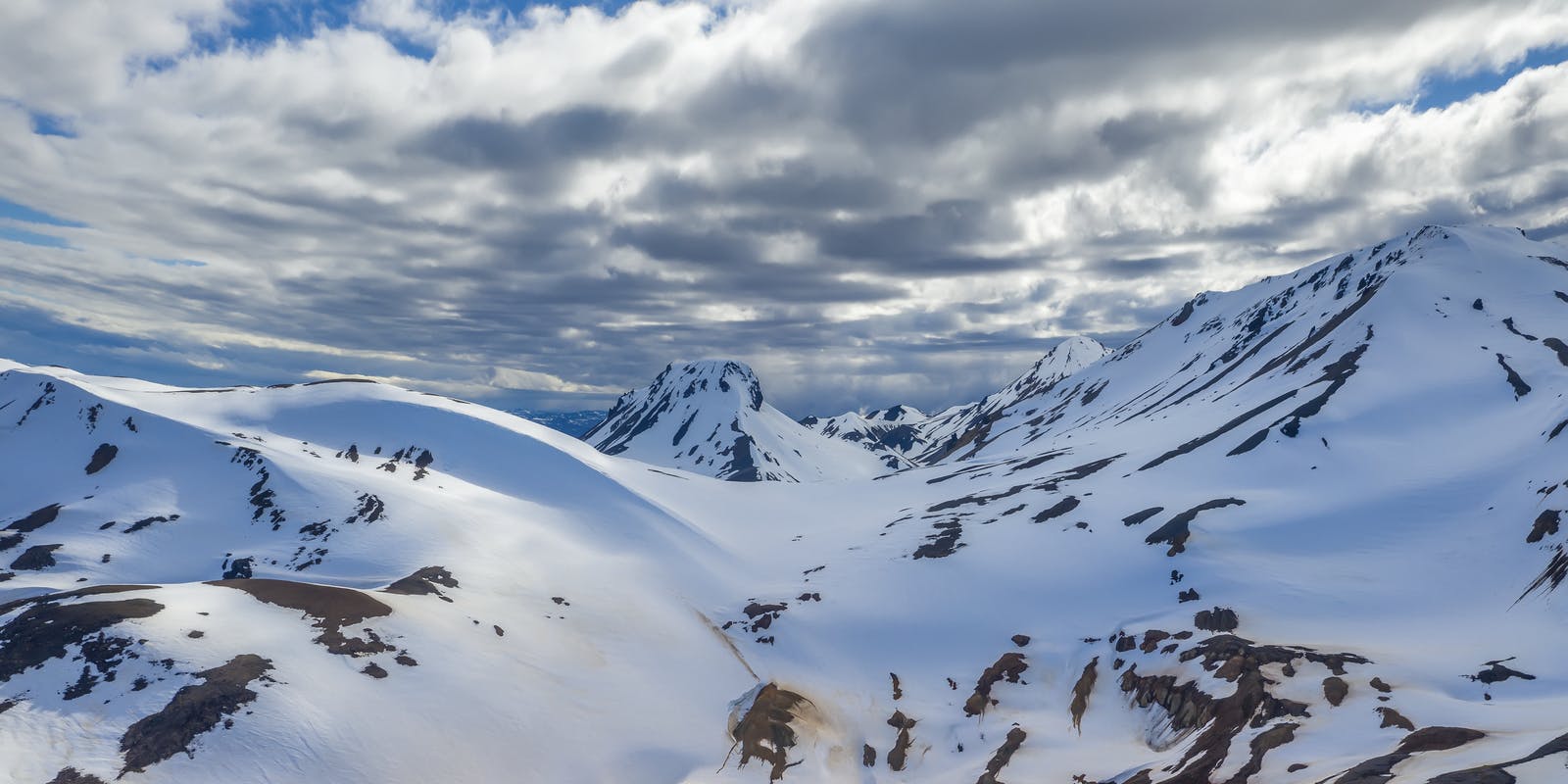 Start at the Keis car park toward the bottom of Hveradalir, where you follow the Ásgarðsá River for 4.5 kilometres. Being so close to the river, you will see vegetation, which is a rare sight in much of the highlands. During the hike, there will be points where you have to cross water, so dress accordingly. Hikers will pass hills and geothermal hot spots as the river twists and turns. Overall, it's a five-hour hike and moderately difficult.
Hverdalir Hike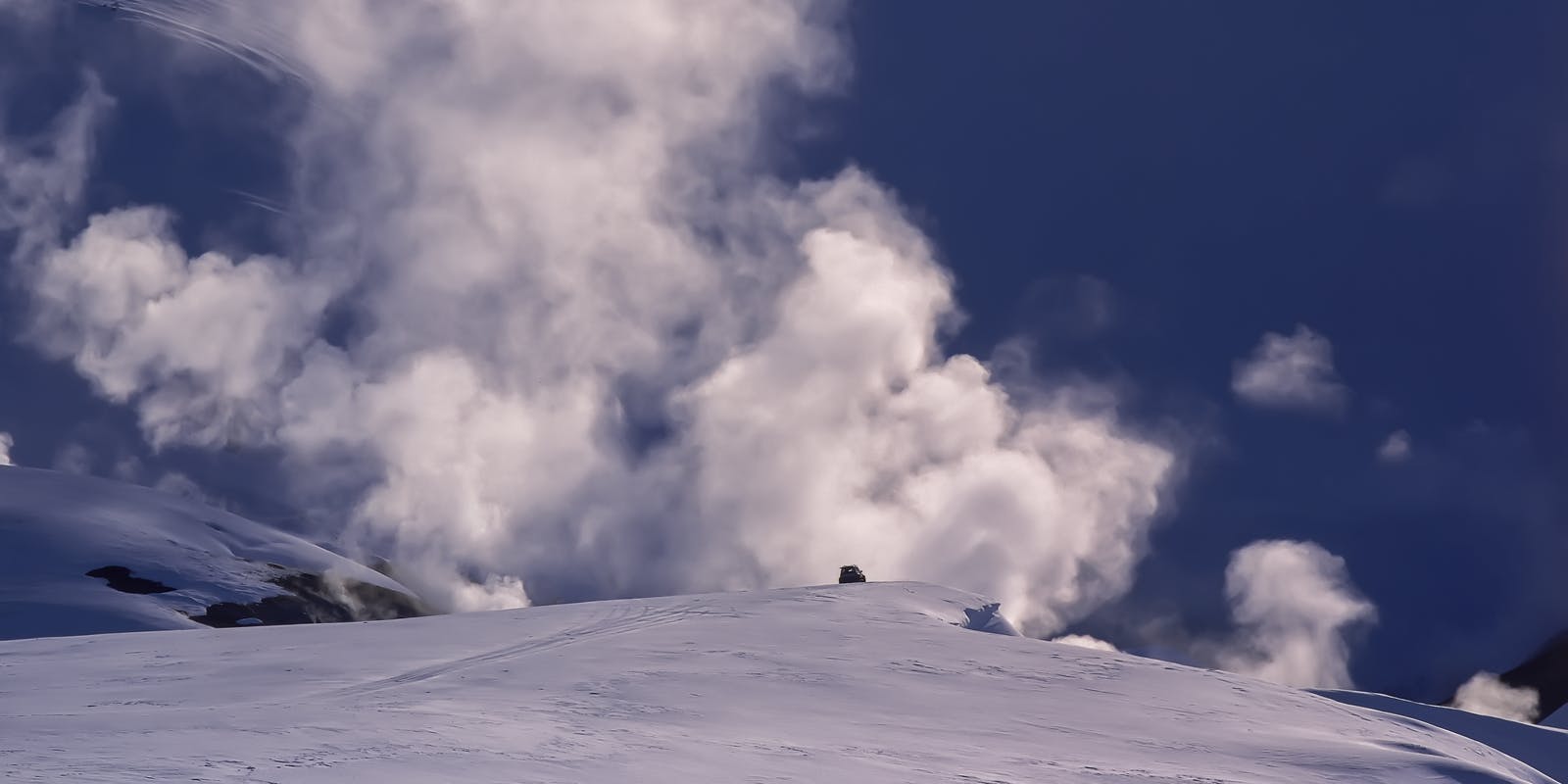 A moderate hike begins at the car park by Neðri-Hveradalir. It takes you through the geothermal area of Hveradalir, where ice and fire meet. The route is a 3-kilometre loop and takes about three hours. Hikers will view the stark white glacial landscape and see the steam rise from the ground near the numerous hot springs. Muted colours of brown and black in a desert-like landscape give way to pockets of stark white snow in some regions and lush green vegetation in others. You'll want to stop and take in the views every few meters; everything seems to warrant a photo.
How to Get to Kerlingarfjöll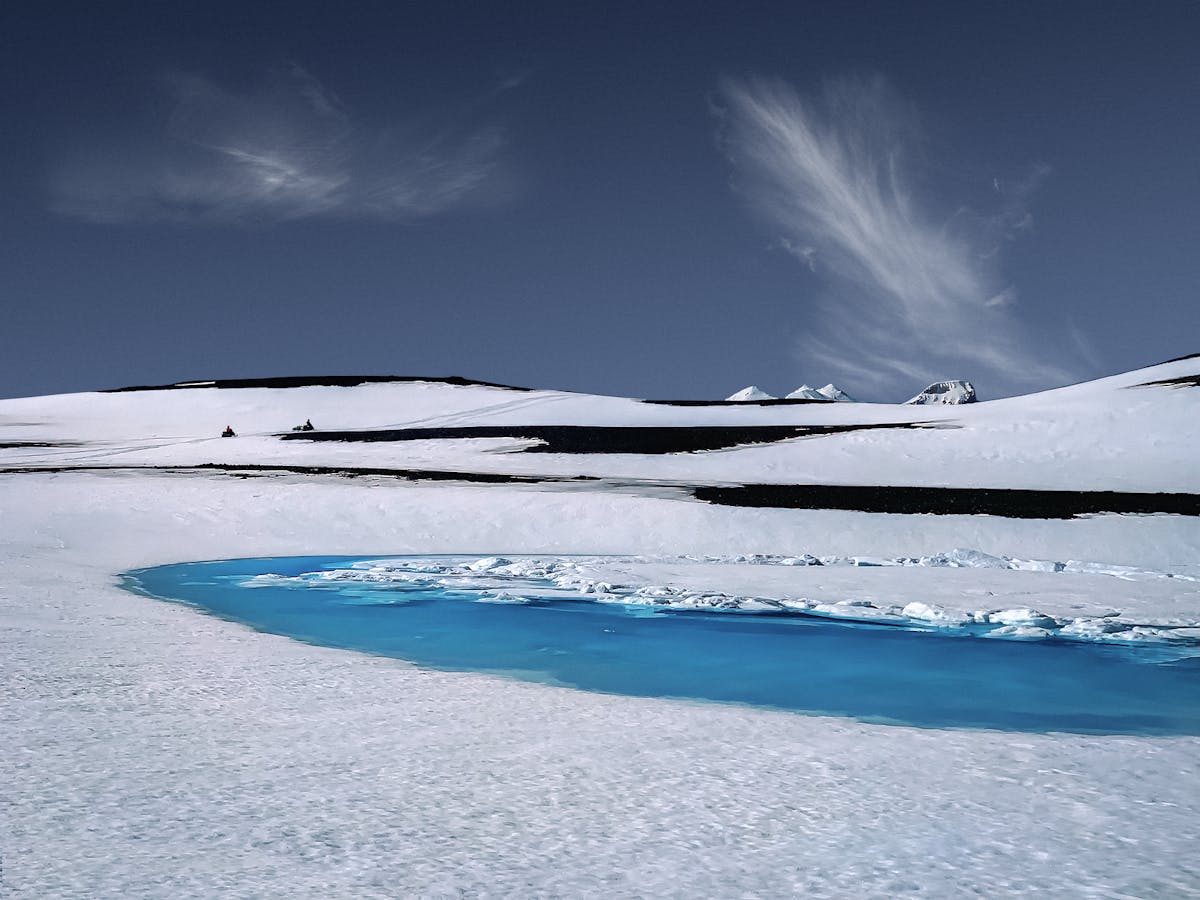 To get to Kerlingarfjöll from Gullfoss, drive north on F35. For 15 kilometres, the road is asphalt, and the remaining 38-kilometre section is gravel.
Driving in the Highlands
Route F26 is not for the faint of heart. It cannot be emphasised enough that you must have a proper vehicle to navigate this road—an F-road-approved four-wheel drive. Weather is cruel to this road, and there are rivers to ford, large uneven sections, gravel, and potholes. 
The 200-kilometre route roams from Mount Hekla in the south to the glorious waterfall Goðafoss in the north. The route is not a year-round destination, and the road typically opens at the end of June. It could open later if the region had a particularly harsh winter with a lot of snowfall. 
To check road closures and the opening date, visit the Icelandic Road and Coastal Administration website (www.road.is).
Tours to the Highlands
Several companies provide bus transportation and guided tours of the Icelandic highlands. Remember that these are typically summer tours and must be booked far in advance. 
What Makes the Highlands Special

Dramatic and wild, Iceland's uninhabited interior is home to an otherworldly landscape that must be seen to be believed. It's cut by endless wind and marked by vast expanses of ice and desert. This is the island's most distinctive and unforgiving landscape, complete with lava fields and volcanoes. 
The isolation seems romantic to some, especially travellers seeking a relatively tourist-free area. If you are an avid hiker, informed and prepared, and looking to explore something different in Iceland, this region may be for you.
Safety Information
Navigating the highlands should not be taken lightly. The roads are rough, the wind is punishing, and the weather can be unpredictable—it can snow any day of the year. Pay close attention to road closures, and if a road calls for a super Jeep (a huge Jeep with gigantic tires outfitted to handle rough terrain), heed the warning. You will likely damage your rental vehicle if you attempt the ride in a smaller car or city SUV. 
If you plan to hike, wear appropriate windproof clothing, bring adequate water and food, and alert people of your trip itinerary. You can and should register your trip at www.safetravel.is. Bring maps, a GPS device, and a compass, and know where all the emergency huts are located. You should be prepared for anything and never underestimate Iceland's weather. If you find yourself in an emergency, Iceland's emergency number is 112.
Kerlingarfjöll FAQ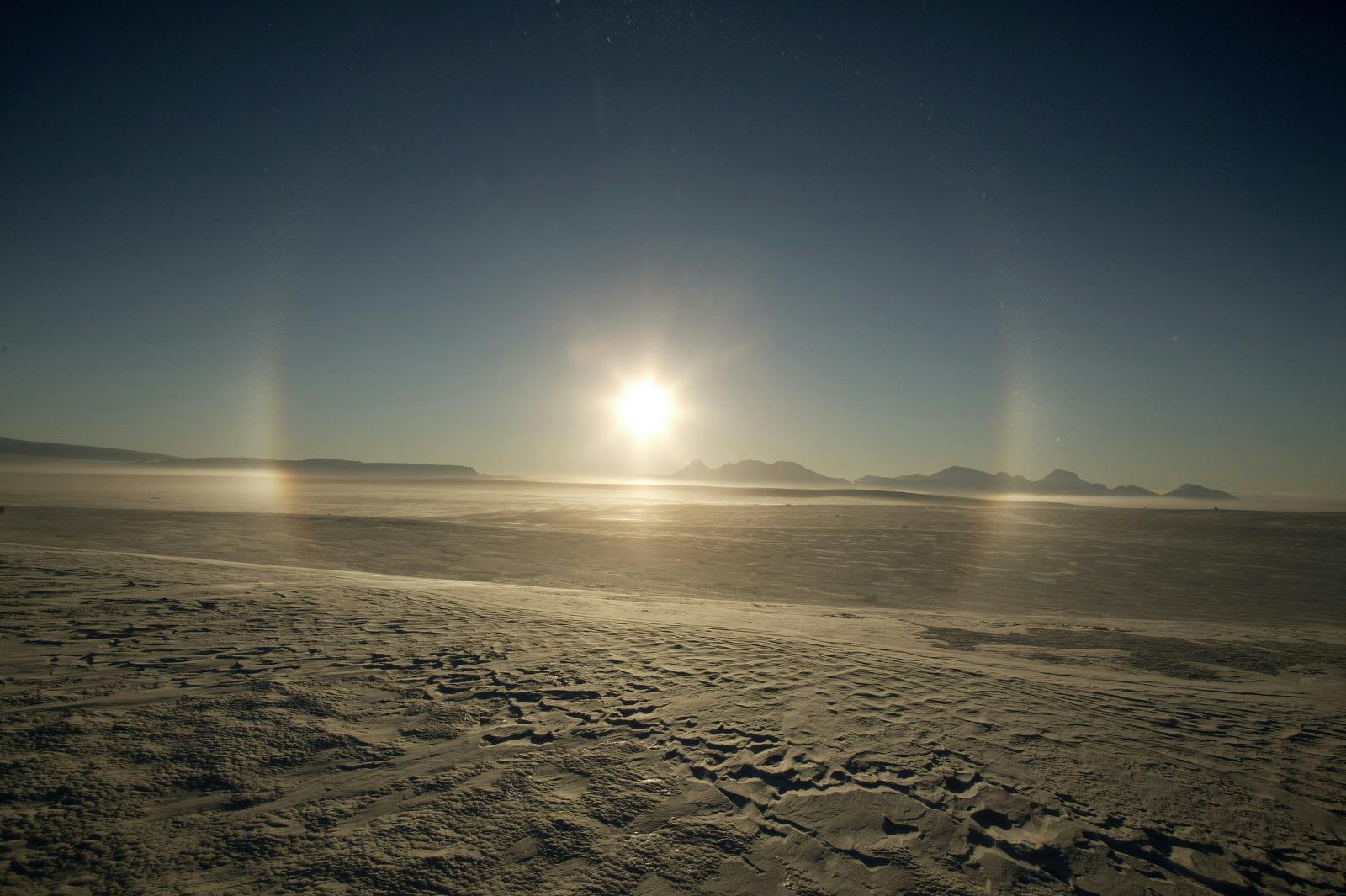 Can I learn about Kerlingafjöll and Icelandic geology in Reykjavík?
Perlan's Forces of Nature exhibition allows guests to feel the power of volcanoes, earthquakes, and geothermal energy that powers the island. Guests will learn that volcanoes form when heat and pressure build up beneath the earth's surface. The earth's weak points tend to be along fault lines where tectonic plates converge or diverge, as in Iceland's case.
Perlan also features exhibitions focusing on ice caves, glaciers, lakes, rocks, the ocean, northern lights, and wildlife. Learning about Iceland's unique geology without venturing into the wild and remote highlands is a fantastic opportunity. 
What Does Kerlingafjöll Translate to?
Kerlingarfjöll means Women's Mountains in English. 
Back to articles