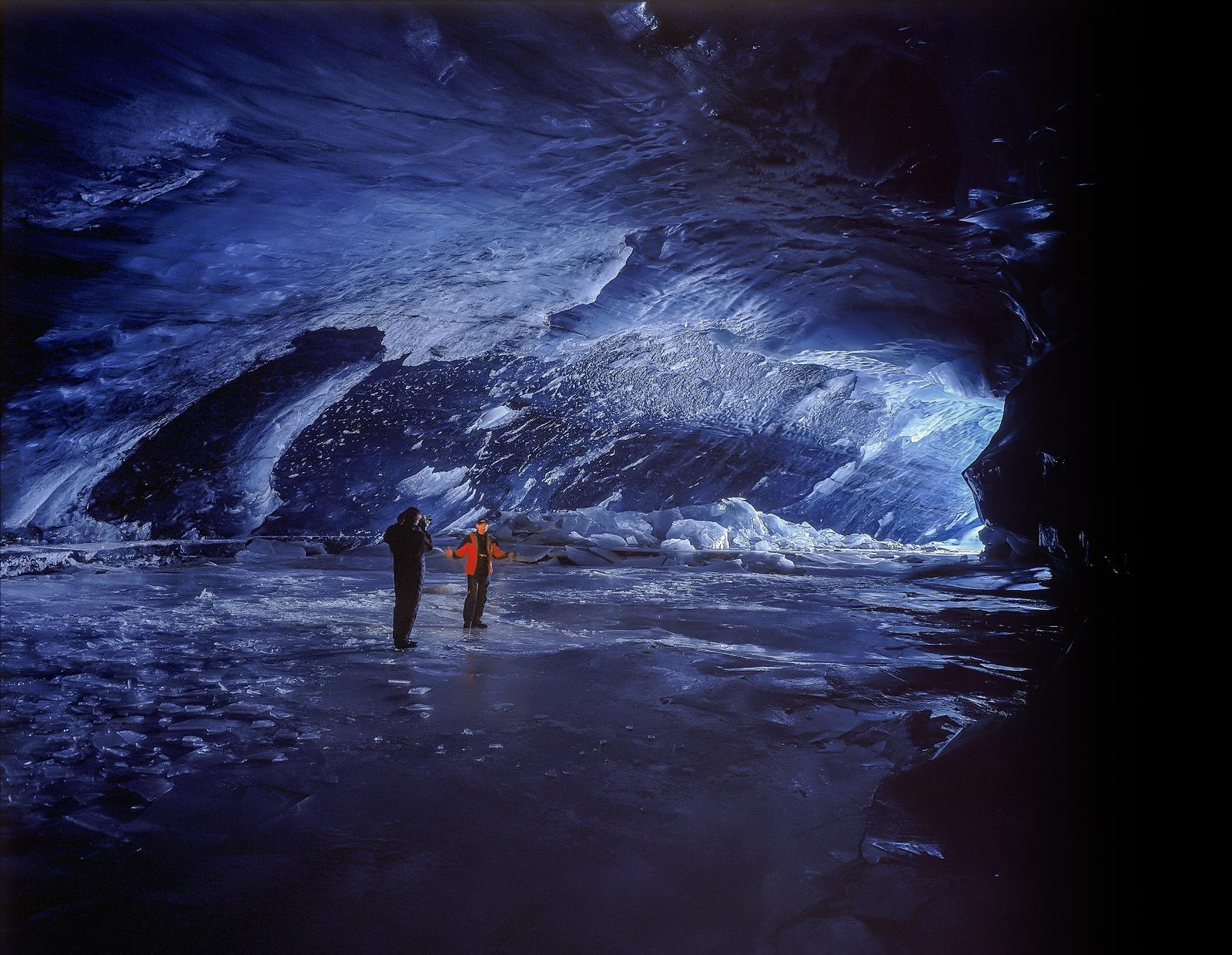 Ice Caves From Reykjavik
Ice caves are one of Iceland's most dazzling natural sights. Found under the country's glaciers, some of them are accessible and so an ice hike to get a closer look is something you should consider putting on your Iceland bucket list. You'll need to travel beyond Reykjavik to get a closer look at an ice cave under one of Iceland's glaciers, but if you can spare the time it's worth doing. If not, why not take the easy route and experience Perlan's manmade ice cave in Reykjavik? 
Ice caves are breathtaking places. They form when water percolates through cracks and crevasses in a glacier, carving an underground cavern. Under the weight of the glacier above, the ice is compacted and appears blue. Water trickling down the sides can give rise to a dimpled effect which only adds to the ice cave's glittering beauty. As you stand inside the cave and look up, the ice that's above your head is incredibly thick and centuries old, which only adds to the sense of wonder.
How do you get to an ice cave from Reykjavik?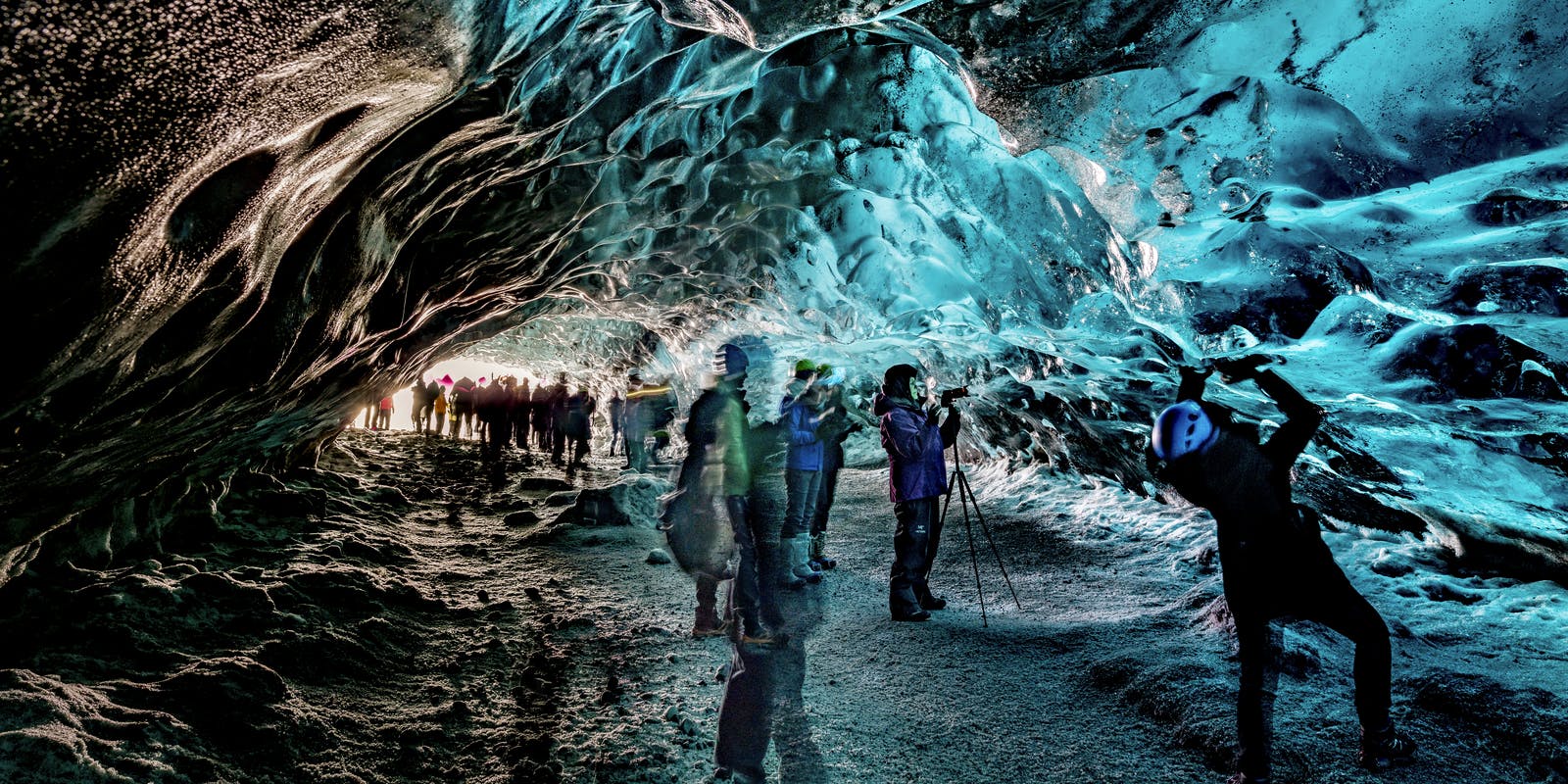 You'll need to commit to travelling well beyond Reykjavik to tour one of Iceland's natural ice caves. The closest ice caves to Reykjavik that's formed naturally lie underneath Mýrdalsjökull. They are safe to venture inside year-round so long as you're with an experienced guide. Such people are abreast of current conditions and have a much clearer picture of whether it's risky to set foot inside or not.
The best place to arrange a trip to Mýrdalsjökull's ice caves is from the town of Vík, as several tour operators are based there. You can drive yourself from Reykjavik to Vík in about two hours or they can pick you up. You'll meet your guide and then hop in a super jeep which is better equipped to get you up onto the glacier than any rental car, even a 4x4. 
From there, you'll travel the rest of the way on foot, over icy or gravelly paths. You'll don crampons over your walking boots to give you extra grip and buckle up a helmet to protect your head should you take a tumble. Dress for warmth, especially in winter when the wind chill factor makes it feel colder in exposed areas. Breathable layers that can be easily added or taken off are advisable, as is a decent pair of gloves. And don't forget your camera!
What about those impressive seasonal caves?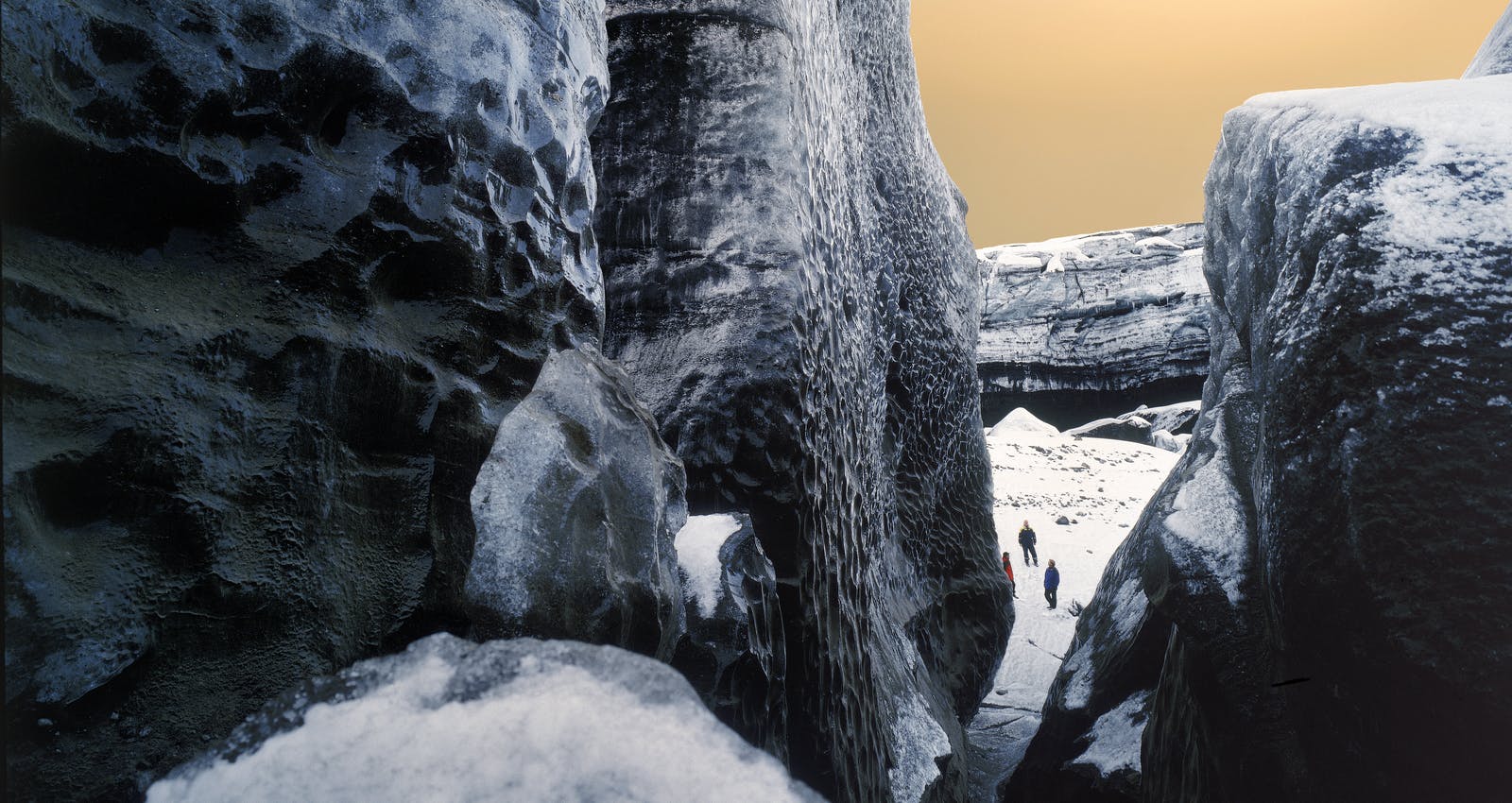 In winter, approximately from November to March, it's possible to visit the larger ice caverns beneath Vatnajökull. The precise nature and location of these varies each year as summer temperatures alter their location, shape and form. Melting leads to redesigns and collapses – this subterranean landscape isn't the same two years running. 
If you've heard of the Crystal Cave then you'll know the sort of thing we mean. Again, you'll need a guide as it's too dangerous to enter these always-changing caves without an expert local who knows the landscape like the back of their hand. However, you're looking at a significantly longer drive from Reykjavik, and so by the time you factor in the time you'll need for the actual visit, you'll appreciate why this needs an overnight stay. Potentially, this could eat up a big chunk of your holiday.  
The closest ice cave to Reykjavik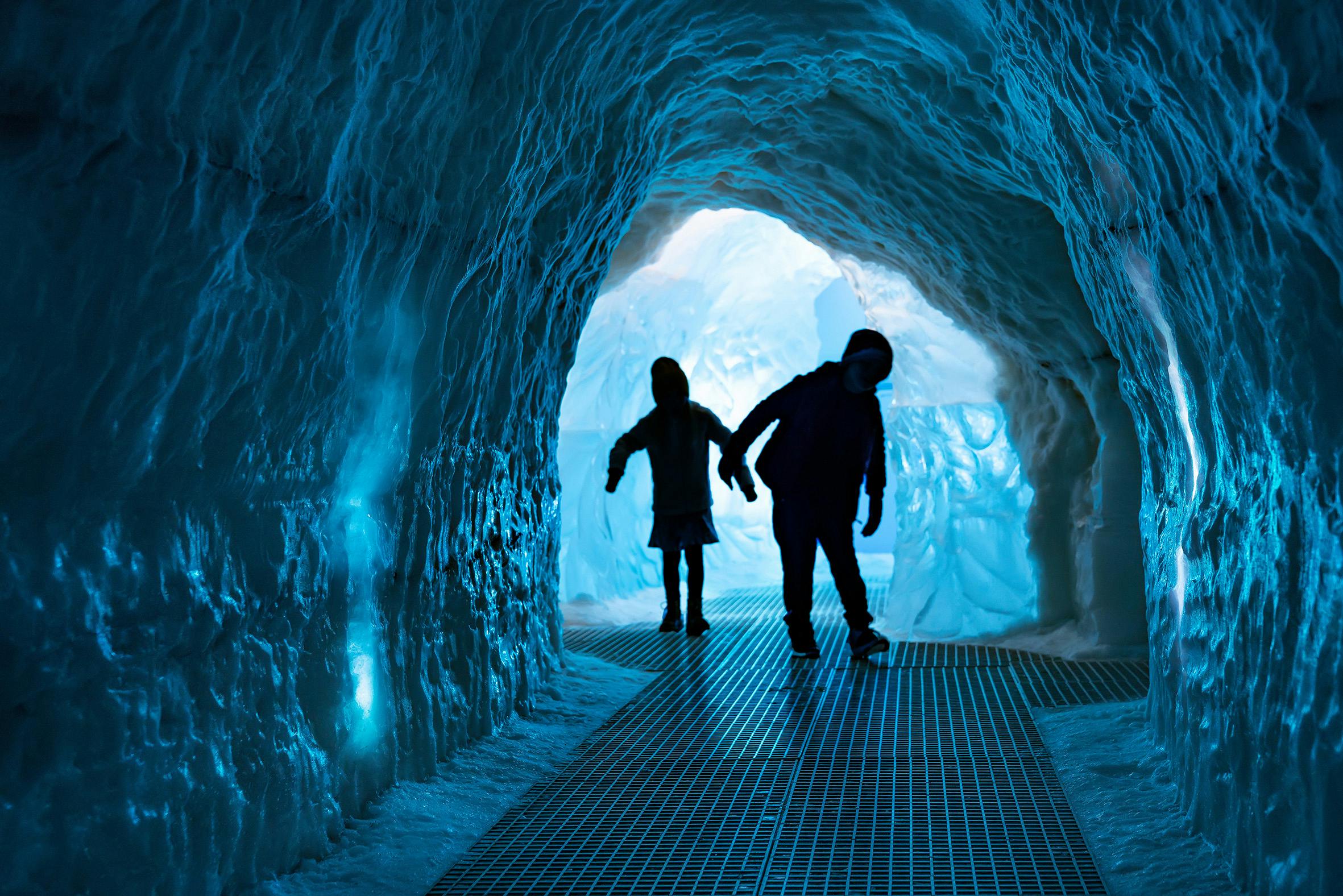 But what if you are based in Reykjavik and either can't or don't want to travel too far from the city? You might not be keen to drive long distances during the Icelandic winter, or be short on time, preferring to stick to the Icelandic capital as much as possible. Practically speaking, that rules out the Mýrdalsjökull and Vatnajökull ice caves as they're just too far away. 
So does that mean you have to miss out? Fortunately not, as there's a manmade ice cave right in the city at Perlan. It forms part of the Ice Caves and Glacier exhibit. Visitors can walk through a pioneering 100 metre long ice cave made out of 350 tons of snow and kept at a temperature of between  -15 and -10°C.
Touch it and you'll feel the chill – yep, it's real ice. Unlike those ice caves under Iceland's glaciers, getting here doesn't involve a sometimes challenging hike, which is another bonus. Next to it you'll find a fascinating exhibition about glaciers where visitors are treated to a 360° view from above Vatnajökull.
Into the Glacier's ice cave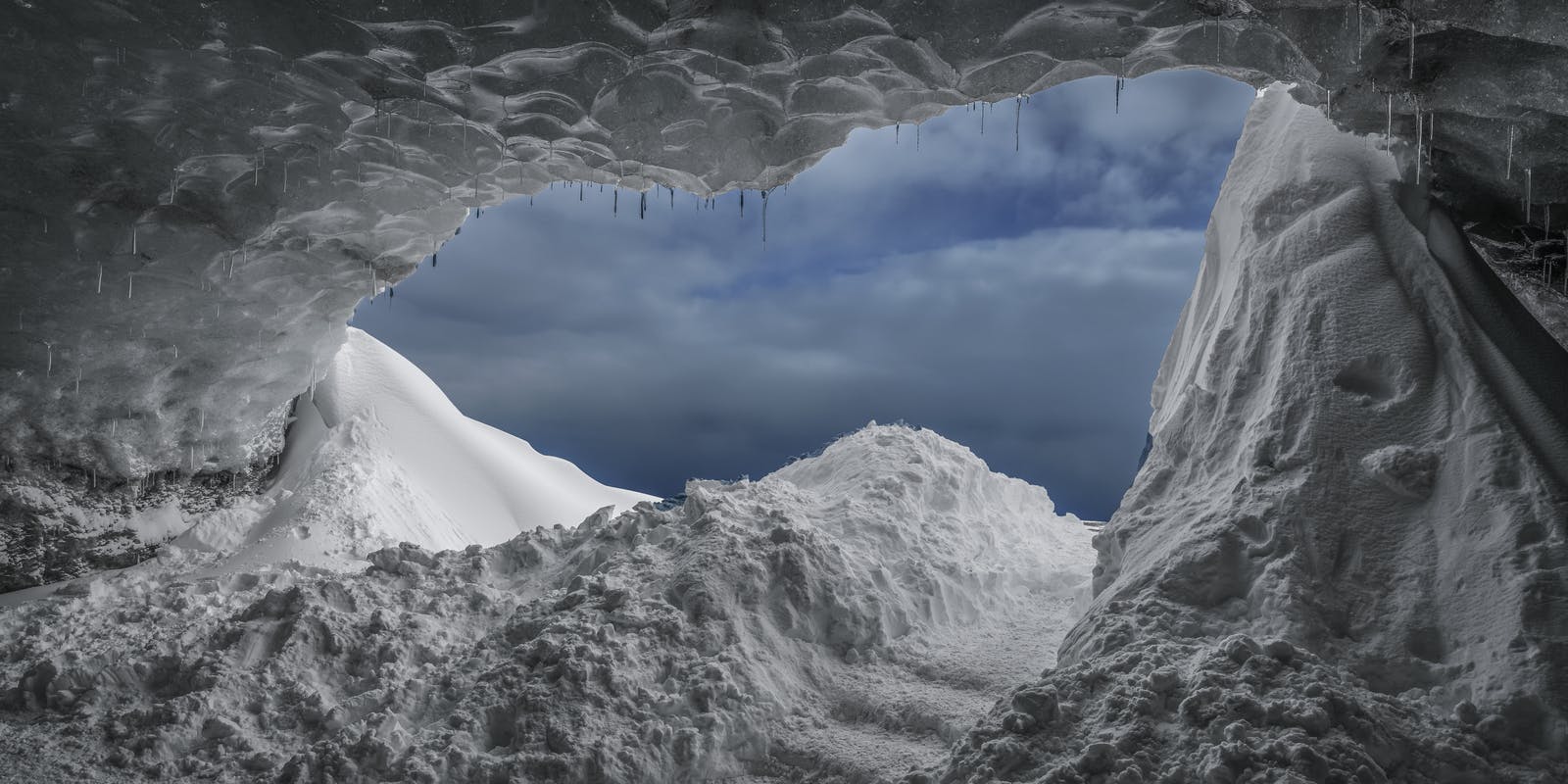 If a visit to Perlan has given you a taste for an ice cave adventure, you might also want to consider an excursion to Langjökull. This glacier, whose name translates to "Long Glacier" is home to another impressive ice cave. It is the closest ice cave to Reykjavik that you'll encounter outdoors. 
A team of engineers drilled an artificial tunnel through the glacier which leads to a fabulous blue ice cave. Its position high on the glacier means it's far less vulnerable to warmer summer temperatures than it would be if it was situated lower down. That means tours can safely operate throughout the year, utilising a giant modified truck to get up onto the glacier. 
Whichever ice cave you choose to visit, you'll be in awe of nature – it will certainly be a long-lasting memory of your trip.
Back to articles