Guide to Falljökull
Falljökull is a vast glacier in southeastern Iceland known for its spectacular ice formations, large crevasses, and proximity to popular attractions in scenic south Iceland. 
What Kind of Glacier is Falljökull?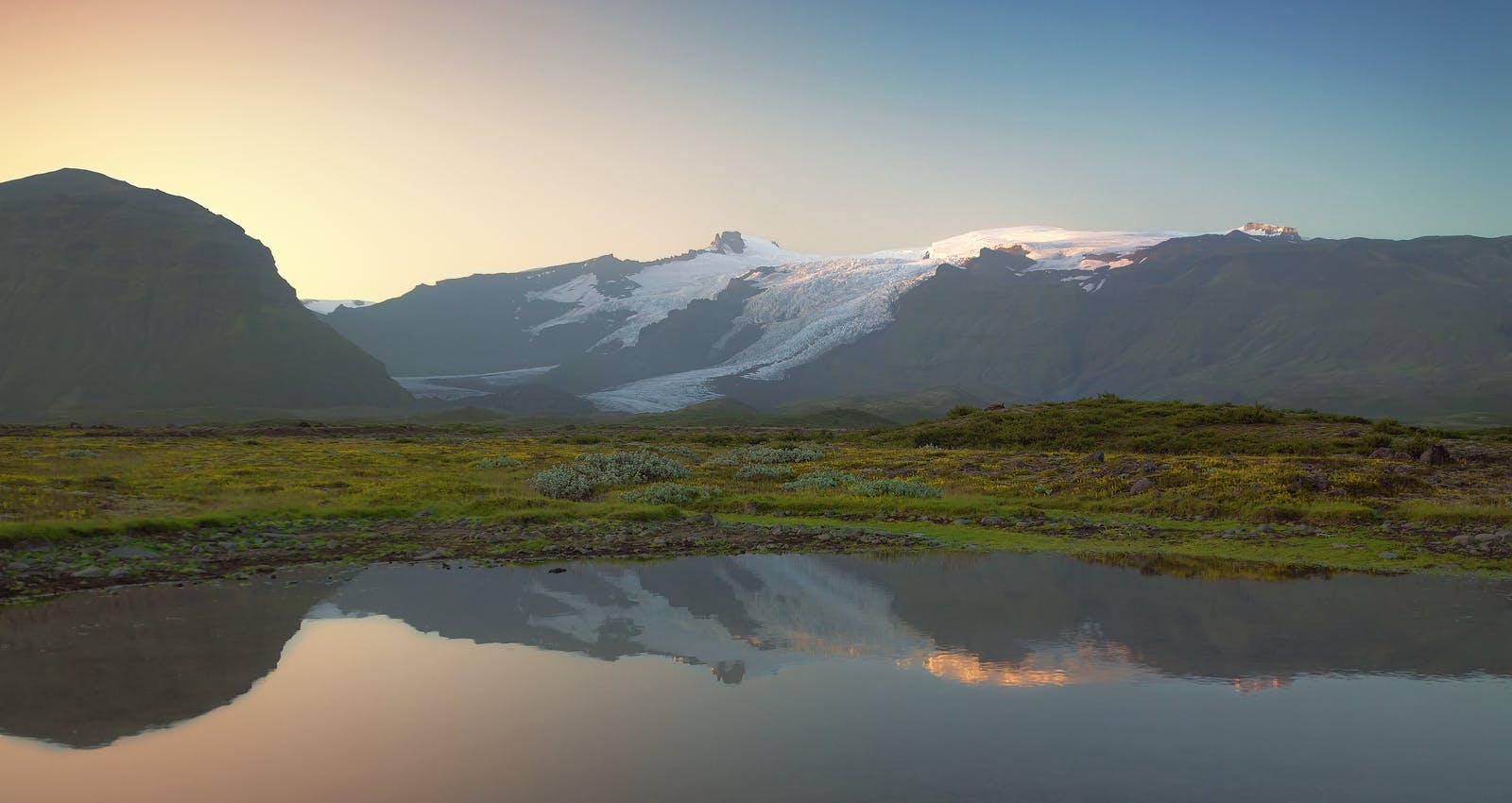 Falljökull is a glacier tongue that branches off from the main Vatnajökull glacier. The Vatnajökull glacier complex covers a vast area, including various glacier tongues, ice caps, and stunning ice formations.
Where is Falljökull Located?
Falljökull is found within the vast Vatnajökull National Park; it's part of the immense Vatnajökull glacier, the largest glacier in Europe.
How was Falljökull Formed?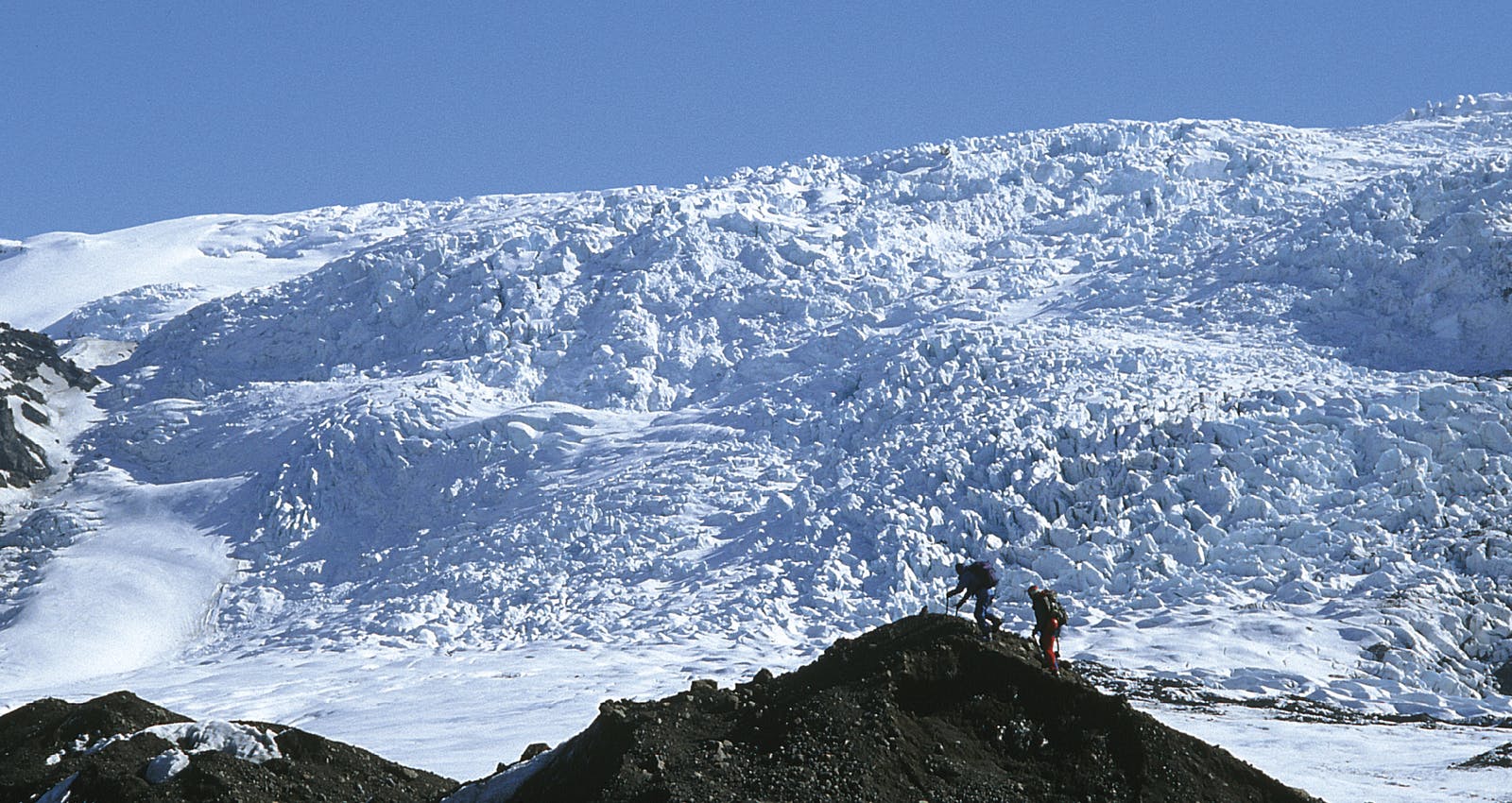 Falljökull was formed by the accumulation of snow over time. In fact, the weight of the snow compacts the layers below, creating ice; over time, this ice flows down, forming the glacier's features. Falljökull is sometimes referred to as the Svínafellsjökull glacier tongue. 
Activities and Adventures Near Falljökull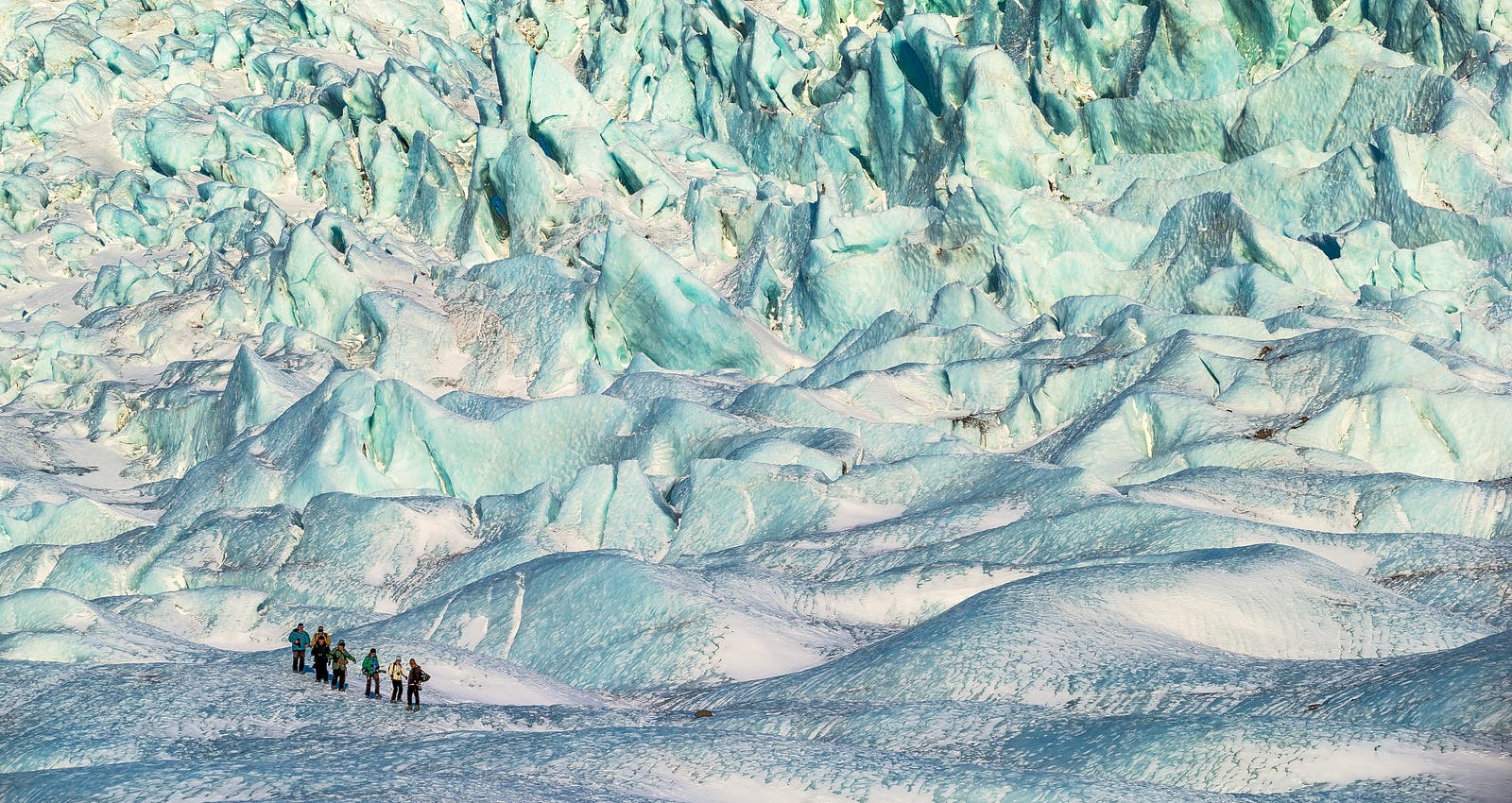 Natural Ice Caves
The Vatnajökull region, including Falljökull, is known for its fascinating and beautiful ice caves within the glacier. These natural formations are accessible during winter and provide a surreal and captivating experience. There are guided tours available that transport you to an ice cave with an expert guide. 
Glacier Hiking
Falljökull is a popular destination for glacier hiking; travellers can join guided tours that provide the necessary equipment and expertise to safely explore the glacier's surface, ice formations, and crevasses. Please remember to never walk on a glacier without a guide, as the conditions can be unsafe. Glacier guides are trained for the unique situations on a glacier. 
Attractions Near Falljökull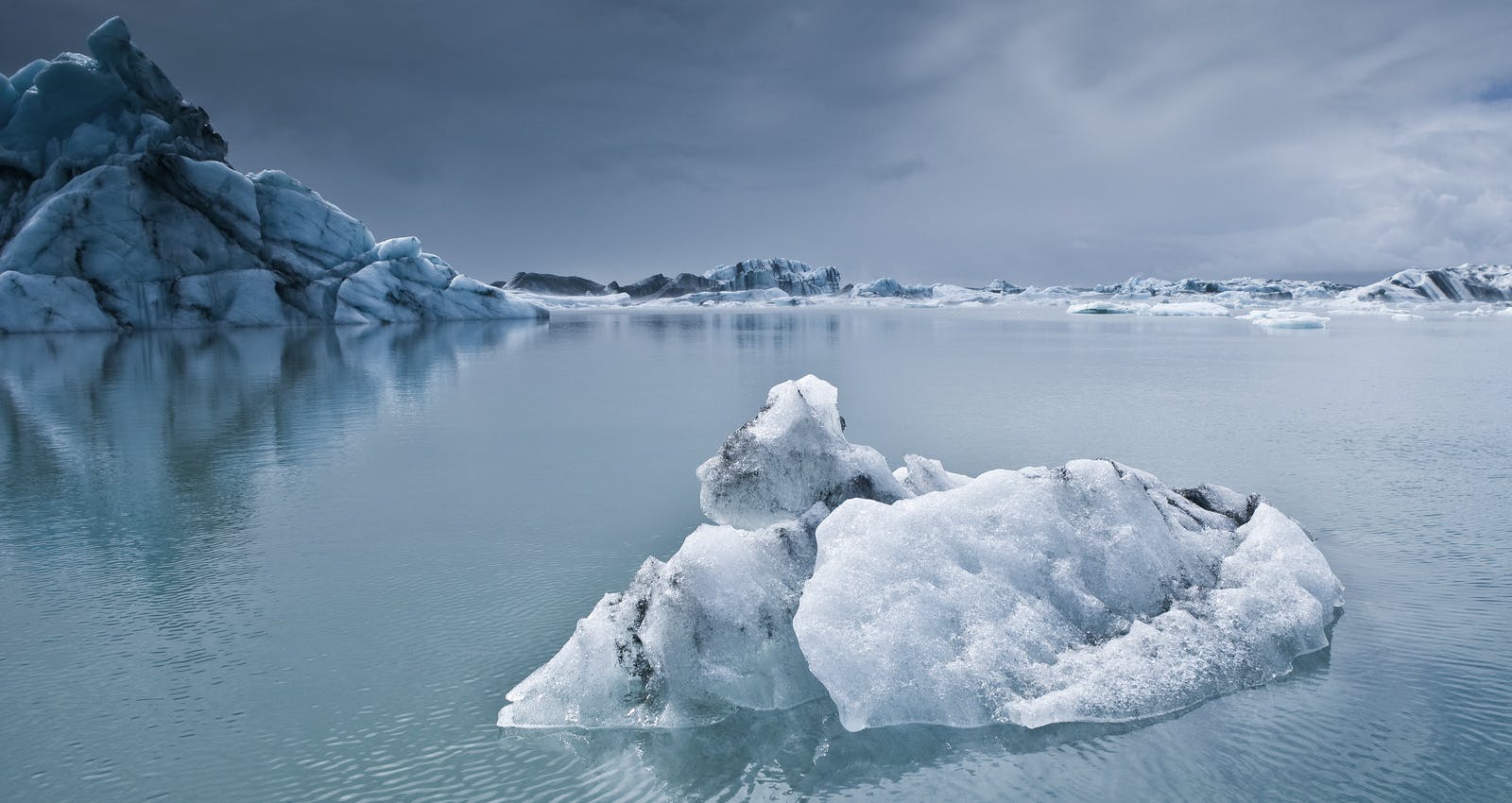 Svartifoss
The Svartifoss waterfall is near Falljökull and is known for its striking basalt column formations. It's a popular hiking destination, offering a picturesque view of the waterfall framed by unique rock columns.
Jökulsárlón Glacier Lagoon
The Vatnajökull glacier complex includes several glacier lagoons, including the famous Jökulsárlón Glacier Lagoon, where meltwater collects and forms beautiful blue pools surrounded by towering icebergs.
Diamond Beach
Next to Jökulsárlón Glacier Lagoon, the Diamond Beach features icebergs that have washed ashore on the black volcanic sands, creating a visually striking contrast and a stunning photography location. The ice glitters on the black sands, resembling diamonds. 
Vatnajökull National Park
Falljökull is within Vatnajökull National Park, which covers various landscapes, including glaciers, volcanoes, and highland areas. Travellers flock to the site to hike, photograph nature, and enjoy the beautiful landscape. 
Where to Learn About Glaciers and Ice Caves in Reykjavík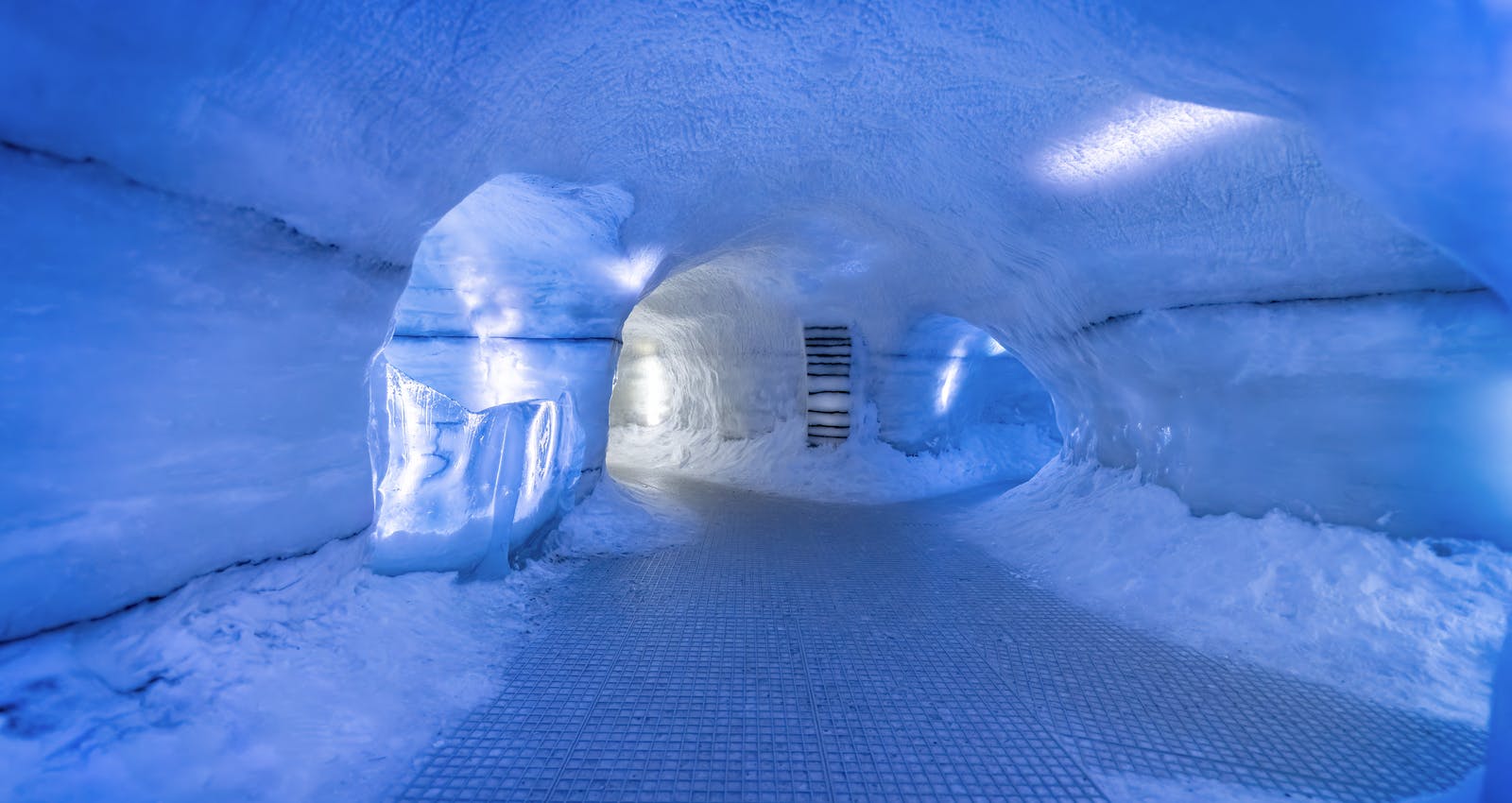 Perlan's' Wonders of Iceland exhibition features an ice cave that is 100 metres long, made from more than 350 tonnes of snow from Icelandic mountains. Ice caves are a natural phenomenon that takes shape in the deep winter months within glaciers. 
Meltwater streams carve these fantastic caves, and at Perlan, guests can see a real ice cave in a safe and secure environment. A visit to an ice cave is a magical experience that no one who comes to Iceland should miss, and Perlan offers year-round travellers a chance to get a sense of this unique natural phenomenon. 
In addition to their natural beauty, Iceland's glaciers are significant for the environment as they are an important source of fresh water for the island and play a vital role in regulating the island's climate.
At Perlan, guests can explore Iceland's' natural wonders through a series of exhibits and immersive presentations, including ice caves and glaciers, as well as northern lights and volcanoes. 
FAQ
What is the largest glacier in Iceland?
Iceland is home to some of the largest glaciers in Europe. The most well-known glaciers are Vatnajökull, Langjökull, and Hofsjökull. Vatnajökull is the largest glacier, not only in Iceland but in Europe by volume.
Back to articles