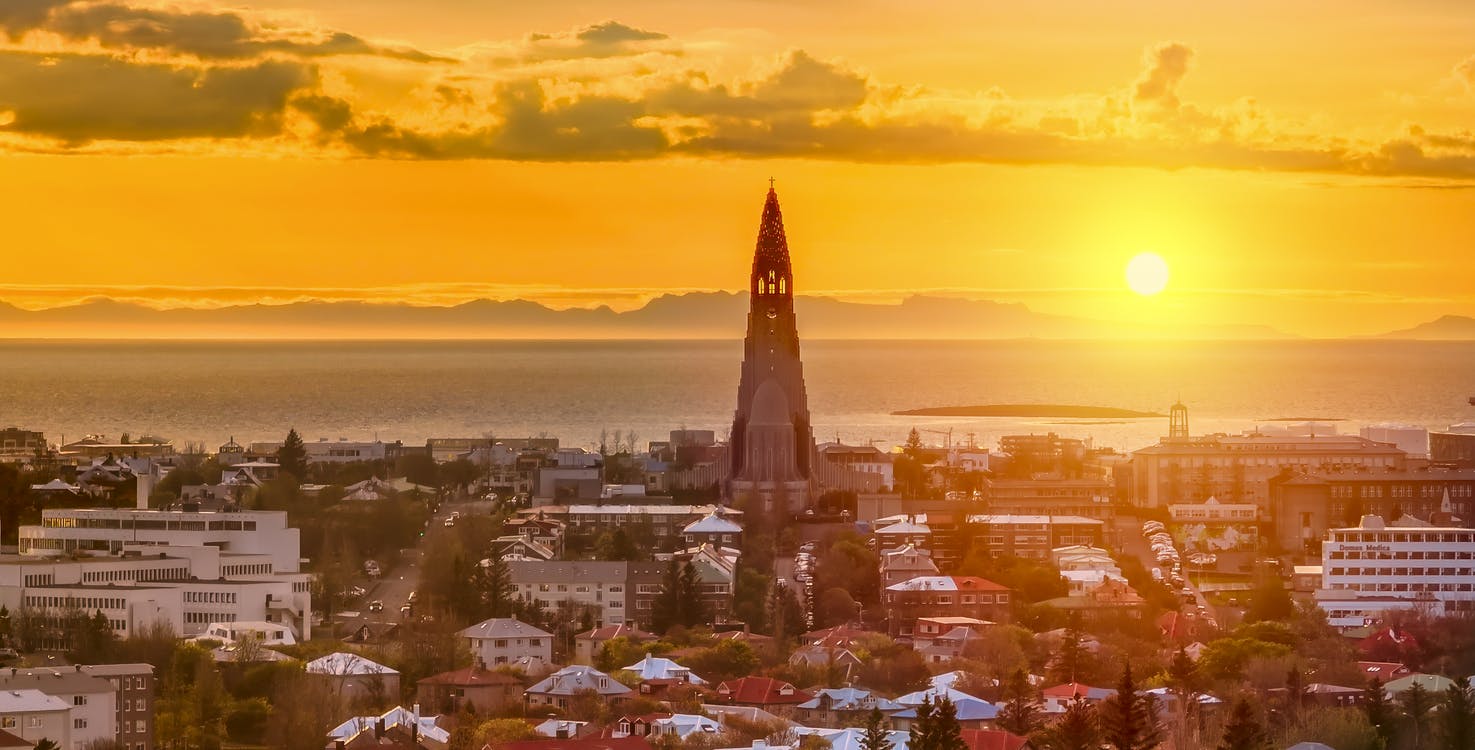 The Most Beautiful Churches in Reykjavík
Across the globe, religious architecture serves to create places where people can celebrate life and their place in the world. Through grandeur and ornate design, churches reflect the Christian desire to honour God.
Such sacred places are a focal point where communities come together to worship and support each other. Their striking architecture and rich history make them equally fascinating for visitors.
Iceland's many churches are eclectic in appearance but remarkable for many and varied reasons. When you come to visit, why not explore some of these places of worship? We would argue they are some of the most beautiful churches in Reykjavik.
1. Hallgrímskirkja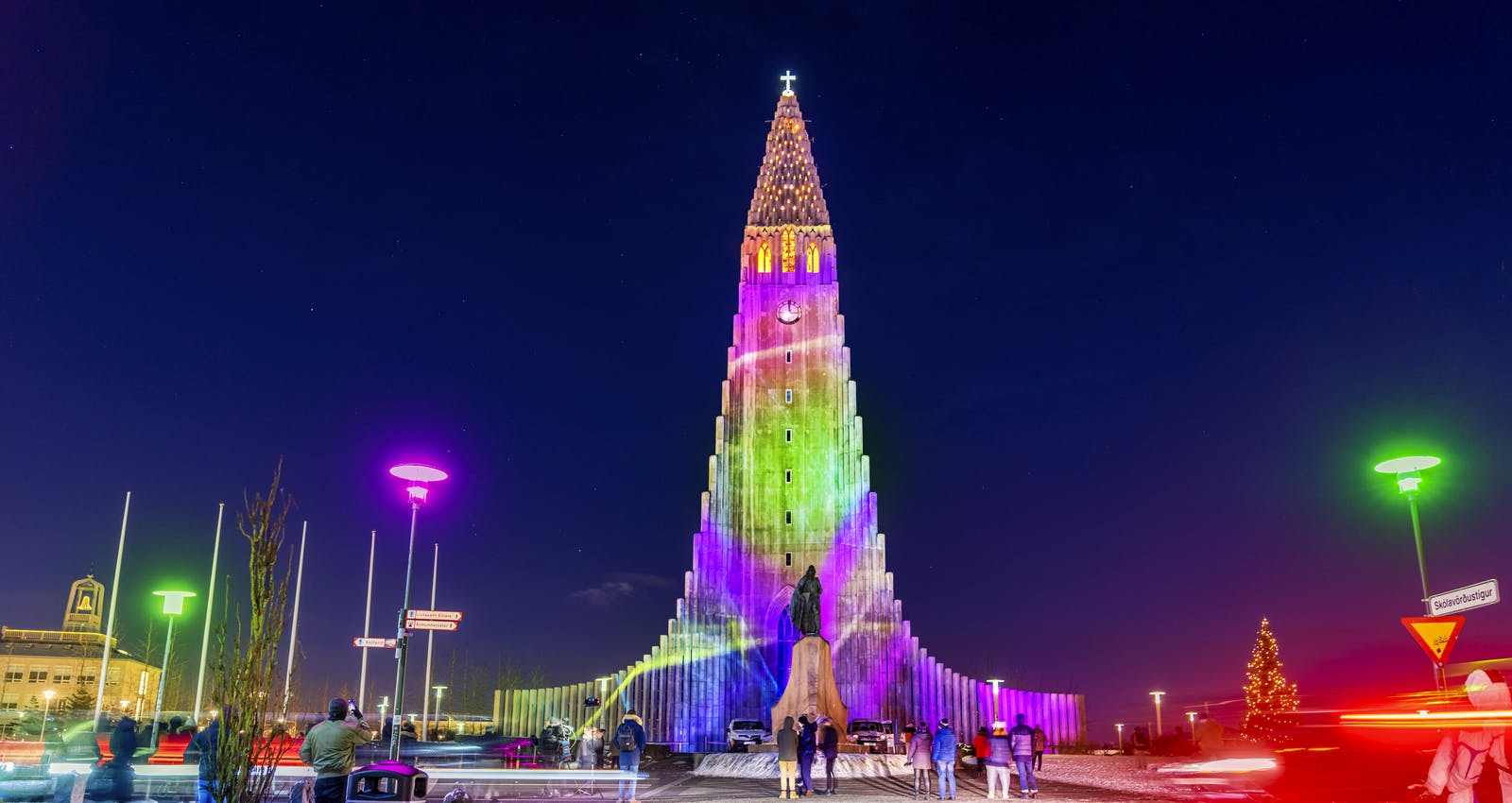 Hallgrímskirkja stands as an emblematic structure in Iceland, drawing its design cues from the country's rugged natural scenery. The creative mind behind this architectural marvel, Guðjón Samúelsson, took inspiration from the geometric shapes of basalt columns that can be seen at landmarks like the Svartifoss waterfall.
The tower of Hallgrímskirkja soars to 73 meters, serving as a beacon that can be seen from afar. Visitors are encouraged to ascend to the tower's summit via elevator, where they are rewarded with sweeping vistas of Reykjavík and its surroundings. From this vantage point, the distinctive silhouette of Perlan is unmistakable on the horizon.
2. Reykjavik Cathedral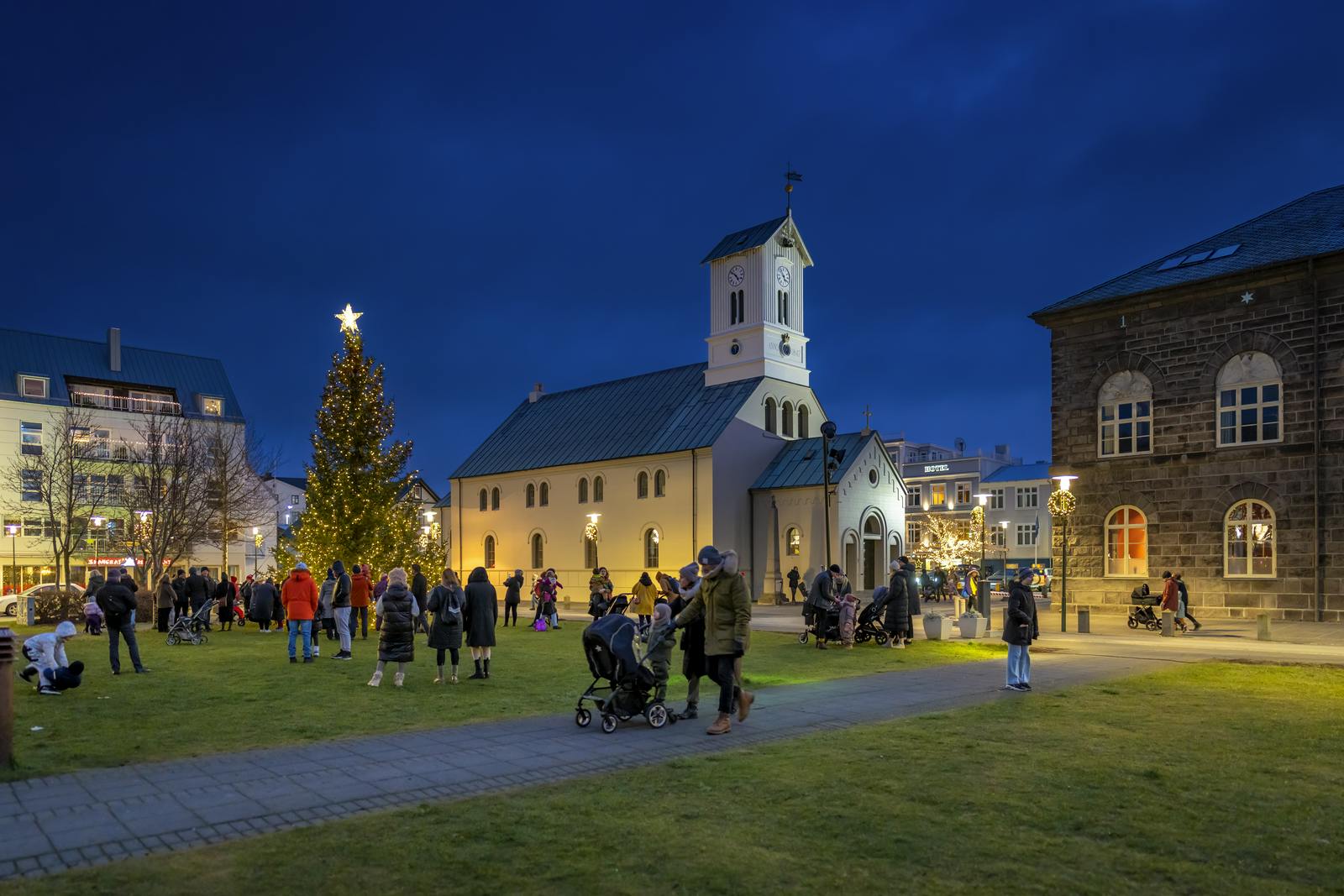 A short distance away lies the Dómkirkjan í Reykjavík, or Reykjavik Cathedral. Despite the grandeur of Hallgrímskirkja, it's this cathedral that officially holds the city's ecclesiastical seat. The original church occupied this site in the late 1700s, but the structure as it stands today was erected in 1847.
Positioned across from Iceland's parliament house, Alþingishúsið, the cathedral has a unique role in national affairs. It hosts a special service conducted by the Bishop of Iceland at the commencement of each parliamentary term, followed by a procession led by the dean to usher in the newly elected officials for their legislative session.
3. Cathedral of Christ the King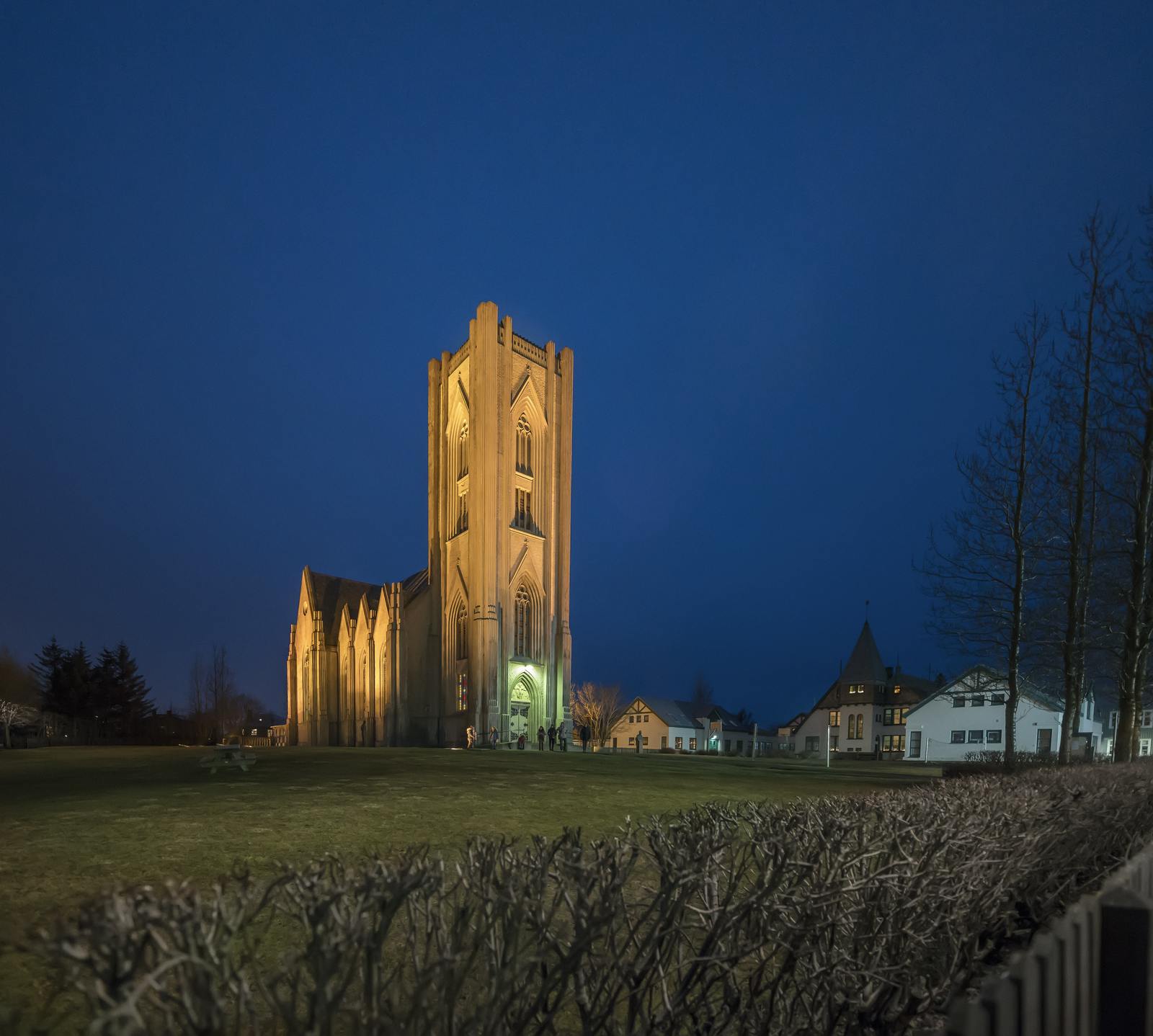 Reykjavik's Catholics also refer to their cathedral as Landakotskirkja and Kristskirkja. This imposing building was designed by Guðjón Samúelsson but is older than his more famous work.
The neo-Gothic cathedral is relatively unusual in that it doesn't have a spire. At the time it was built, it was the largest church in Iceland. The stonework frames the windows in a way that draws the eye up towards heaven, graceful and majestic just as it should be.
4. Háteigskirkja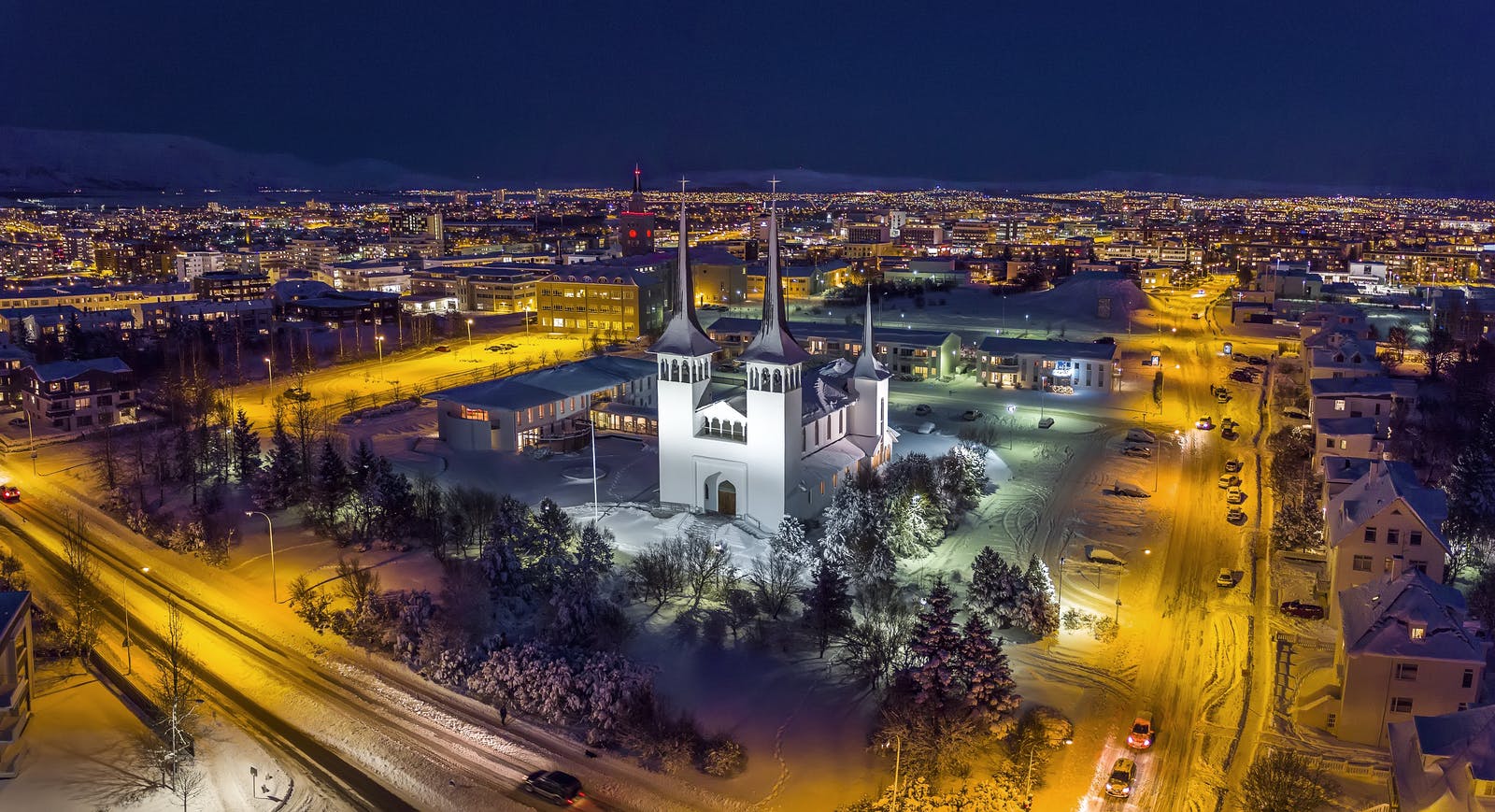 Look out over Reykjavik from the viewing deck at Perlan. It isn't only Hallgrímskirkja and the city's cathedrals that grab your attention. There's another church, which boasts elegant twin spires both to the front and the back.
The architect Halldór H. Jónsson was the man responsible for giving us this beautiful church. It's so in keeping with its surroundings that it's hard to believe Háteigskirkja did not exist until the mid-20th century, taking shape between 1957 and 1965.
5. Fríkirkjan í Reykjavík

Fríkirkjan í Reykjavík perches on the edge of Tjörnin. This is a Lutheran free church. Those who founded it intended to create a church with a more liberal approach to theology that could be free from state influence.
It is one of the most beautiful churches in Reykjavik, particularly when its pretty spire is reflected in the water of the lake. The design is unusual: corrugated white sides, a tower that morphs into an octagonal shape and a fabulous green bell tower and roof.
6. Áskirkja and Langholtskirkja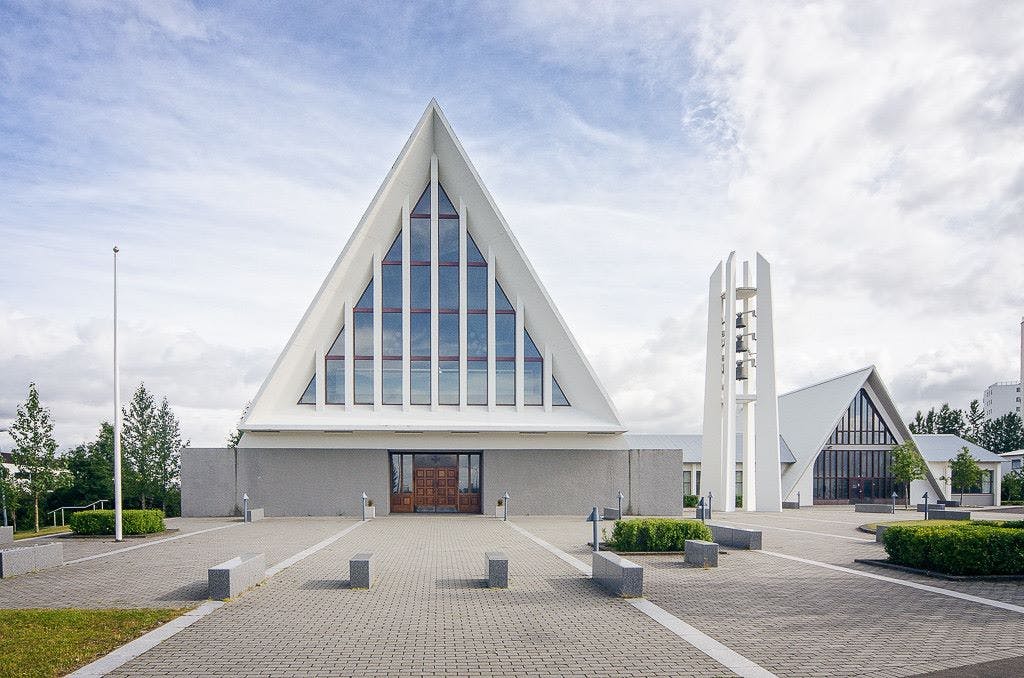 Modern churches sometimes lack the splendour of their older counterparts but it would be foolish to write them off simply because they are newer additions. In Áskirkja and Langholtskirkja, however, Reykjavik demonstrates that bold design can also be attractive.
While the sweeping lines of Áskirkja's spire are a simpler nod to Hallgrímskirkja, Langholtskirkja's dramatic triangular shape proves that standing out from a crowd works beautifully too.
Explore Reykjavík's Churches

In exploring Reykjavík's churches, we find a city that interweaves the threads of tradition and modernity into its spiritual fabric. From the soaring heights of Hallgrímskirkja to the neo-Gothic charm of the Cathedral of Christ the King, each structure tells a story of cultural identity and architectural ambition.
The unique silhouettes of Áskirkja and Langholtskirkja prove that innovation in design can coexist with the city's ancient spirit. These churches are not just places of worship but also markers of time, reflecting the evolution of a people and their enduring reverence for the sacred.
Whether they are steeped in history or shaped by contemporary hands, Reykjavík's churches remain beacons of beauty and serenity amidst the bustling capital, inviting all who wander through this northern city to pause, reflect, and perhaps find a moment of peace in their grandeur.
To truly appreciate Reykjavik's churches, it's a good idea to look across at the city. Why not visit Perlan and head outside onto its rooftop observation deck? Its elevated position on Öskjuhlíð hill means you'll be perfectly positioned to see how many of these great churches you can pick out on the Reykjavik skyline.
Back to articles