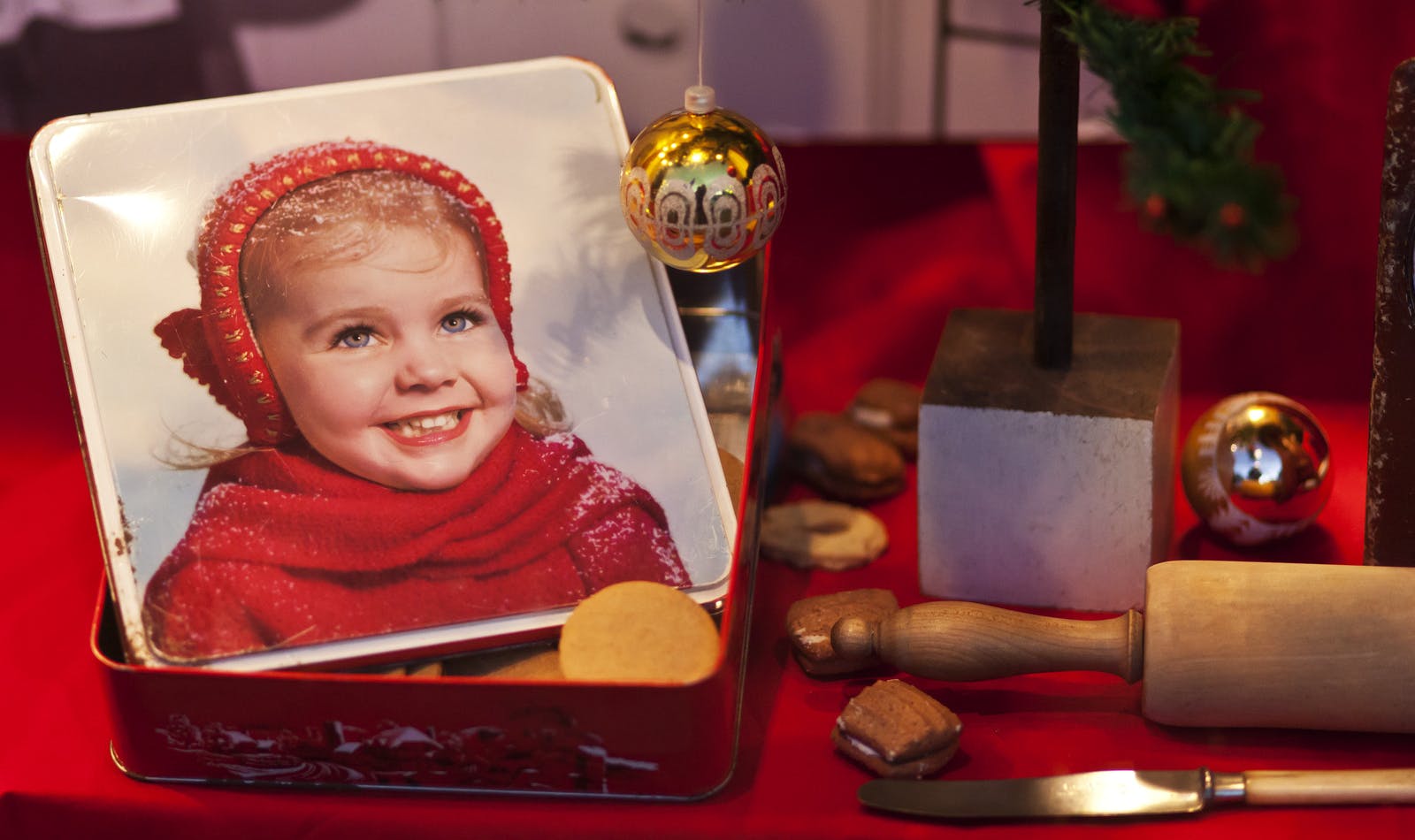 Iceland's Christmas Food Traditions
Christmas, wherever it's celebrated, is a time for traditions and rituals. Of course, that means that the food we eat at that time of year has meaning and significance. Iceland's no different, and during this special period, across the country, families and friends come together to enjoy special meals and seasonal treats. 
If you're keen to learn more about Iceland's Christmas food traditions, then we have all the information you need. From what to serve for your main Christmas meal – and when – to the kinds of sweet treats you might expect to be offered, these are the traditional foods that make a Christmas truly Icelandic. 
Kæst Skata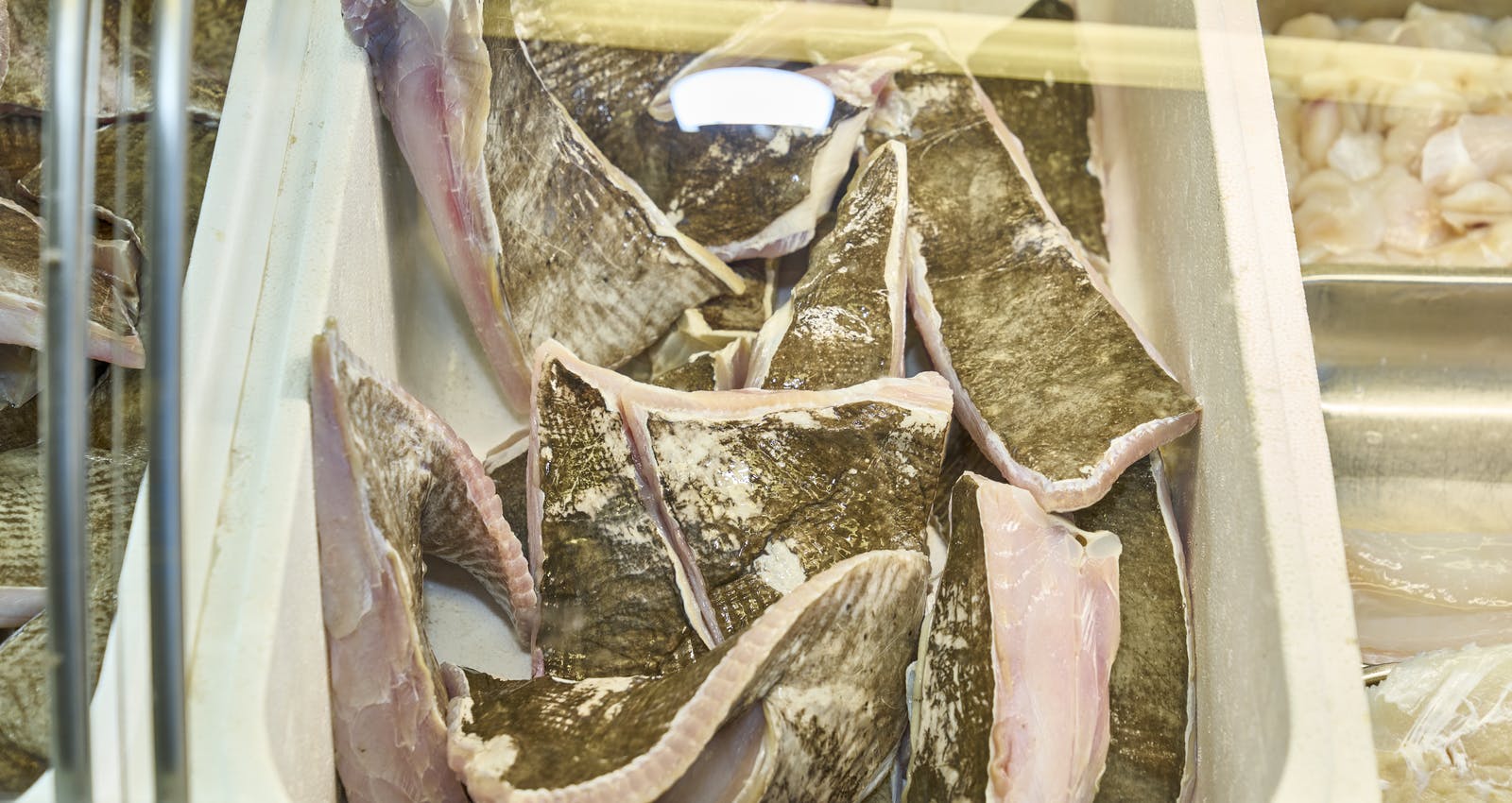 Christmas – and, with it, Iceland's Christmas food traditions - begins a day earlier than in many other European countries. That's because Icelanders celebrate Saint Þorlákur's Day on December 23rd. The name references Iceland's patron saint, Þorlákur Þórhallsson. 
In the past, people would eat kæst skata (fermented skate) for dinner on this important day. Typically, the dish comprises fish, rye bread and potatoes. Though the custom is dying out, some Icelanders still enjoy sticking with tradition. 
However, there's a reason why not everyone wants to do so. Because it's fermented, the fish has a strong smell, and there's a whiff of ammonia in the air where it's prepared. It's no surprise, therefore, that some Icelanders prefer to go and eat it in a restaurant rather than have to deal with the odour in their own home.
Smoked Lamb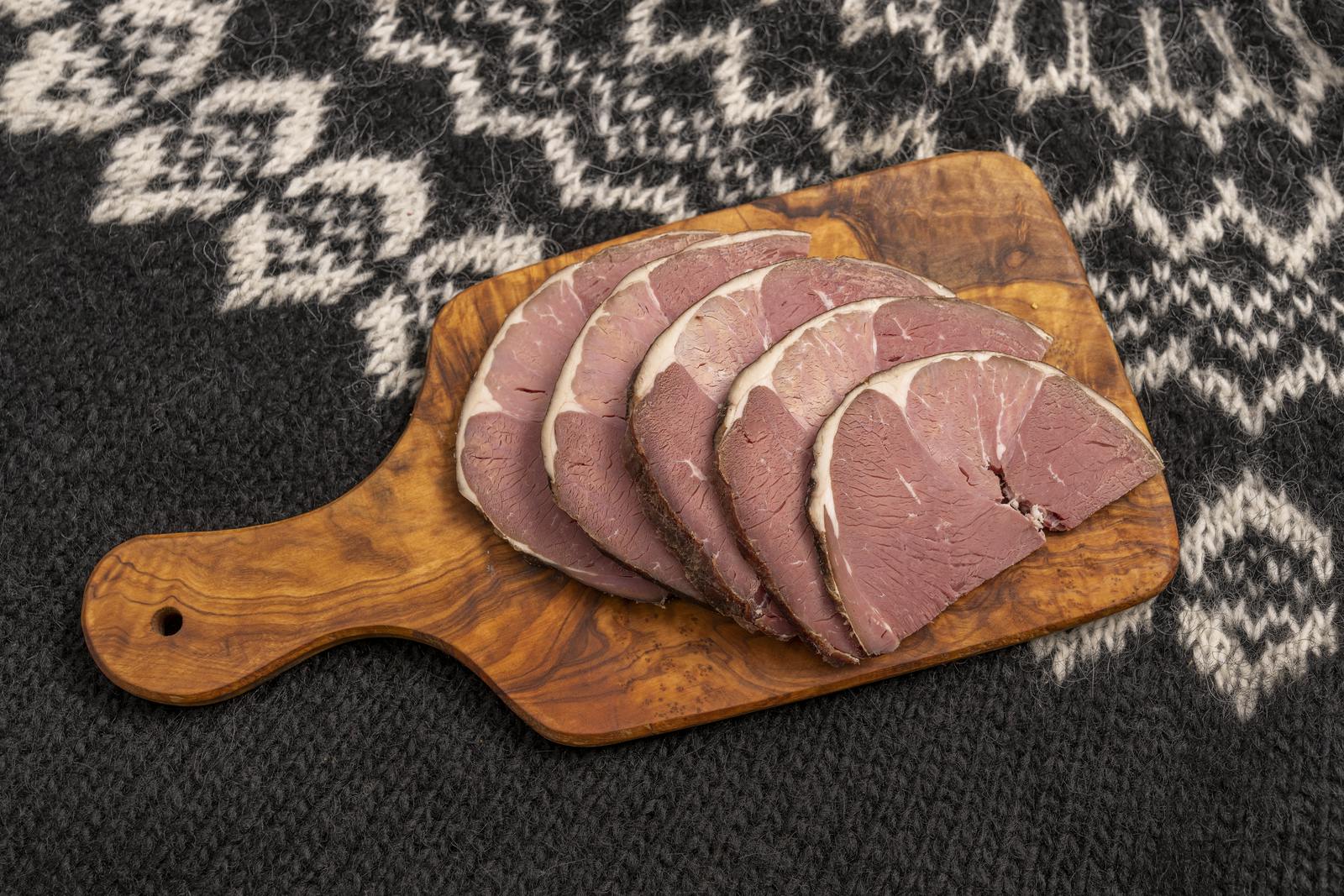 Turkey fans might have a bit of a shock if they plan an Icelandic Christmas. The bird that's so important to Brits and Americans is not the roast that's typical here – it's lamb. Christmas kicks off on December 24th, known here as Aðfangadagur. People pull out all the stops and prepare a huge feast.
The meal starts with fish, which might be marinated herrings or salmon. But the main event is the meat, which is most often smoked lamb called hangikjöt. In the old days, before everyone had refrigerators in their homes, smoking meat was a tried and tested method of preserving it. Sheep dung was often used as a source of fuel as it was widely available. 
Icelanders serve their smoked meat – usually the leg of lamb – with red cabbage and potatoes covered in a white potato sauce called up stuff. There's also likely to be bread of some kind, perhaps rye bread or even laufabrauð.
Laufabrauð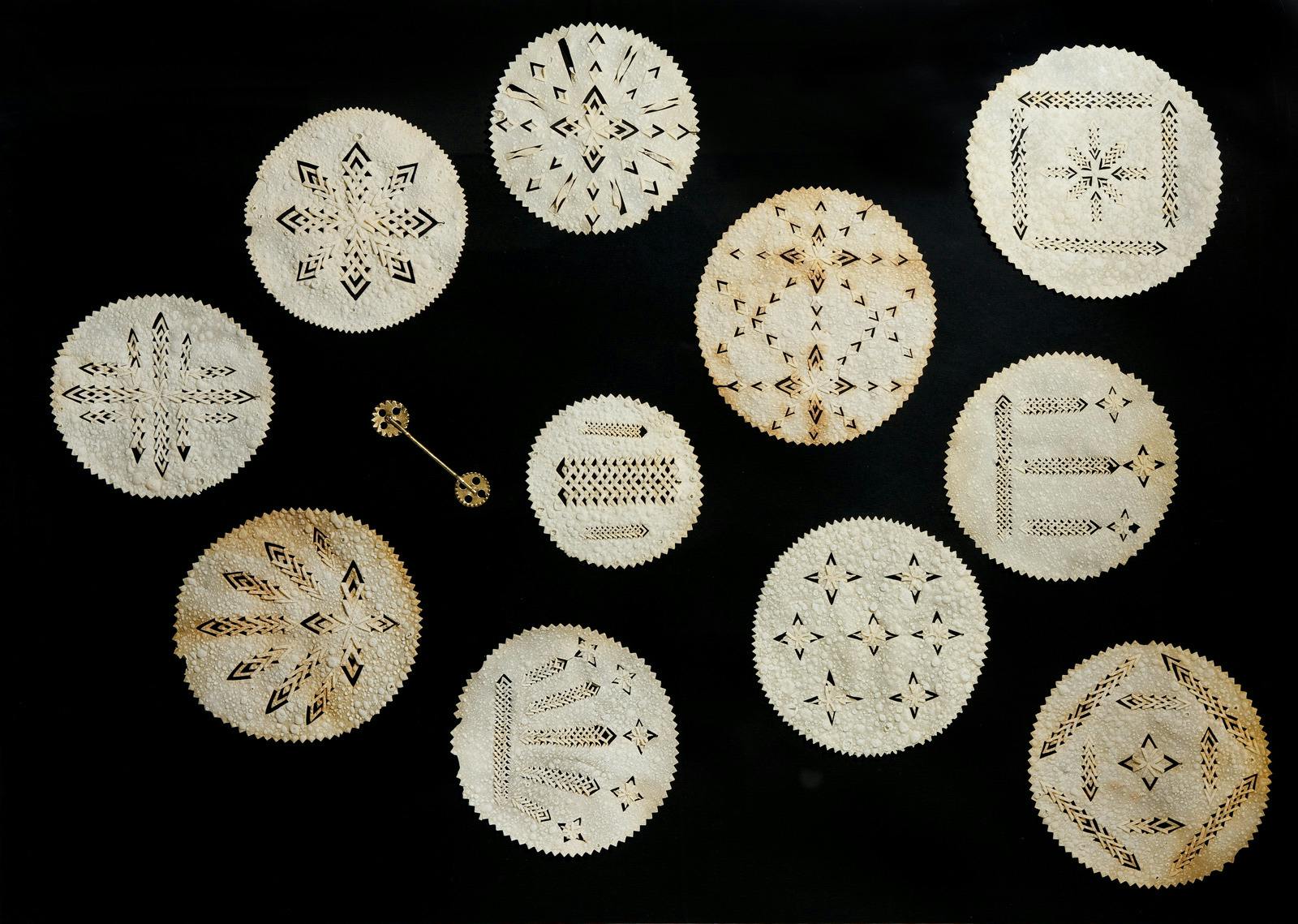 These wafer-thin circles of dough are sometimes referred to as snowflake bread, though the direct translation of the name is leaf bread. Making this home-cooked treat is part of the Christmas ritual for many Icelandic households.
Laufabrauð dough is rolled out as thinly as possible. If you can't read a book through it, the dough's too thick! Next, using a knife, people cut an intricate pattern into the dough. It's painstaking work and, strictly speaking, shouldn't be rushed.
Unlike bread, laufabrauð is not baked in the oven. Instead, they are fried in hot oil, and before they have time to harden, they are flattened with a special wooden board known as a laufabrauðshlemmur. You eat them once they have cooled down and spread with a thick layer of butter. 
Jólasmákökur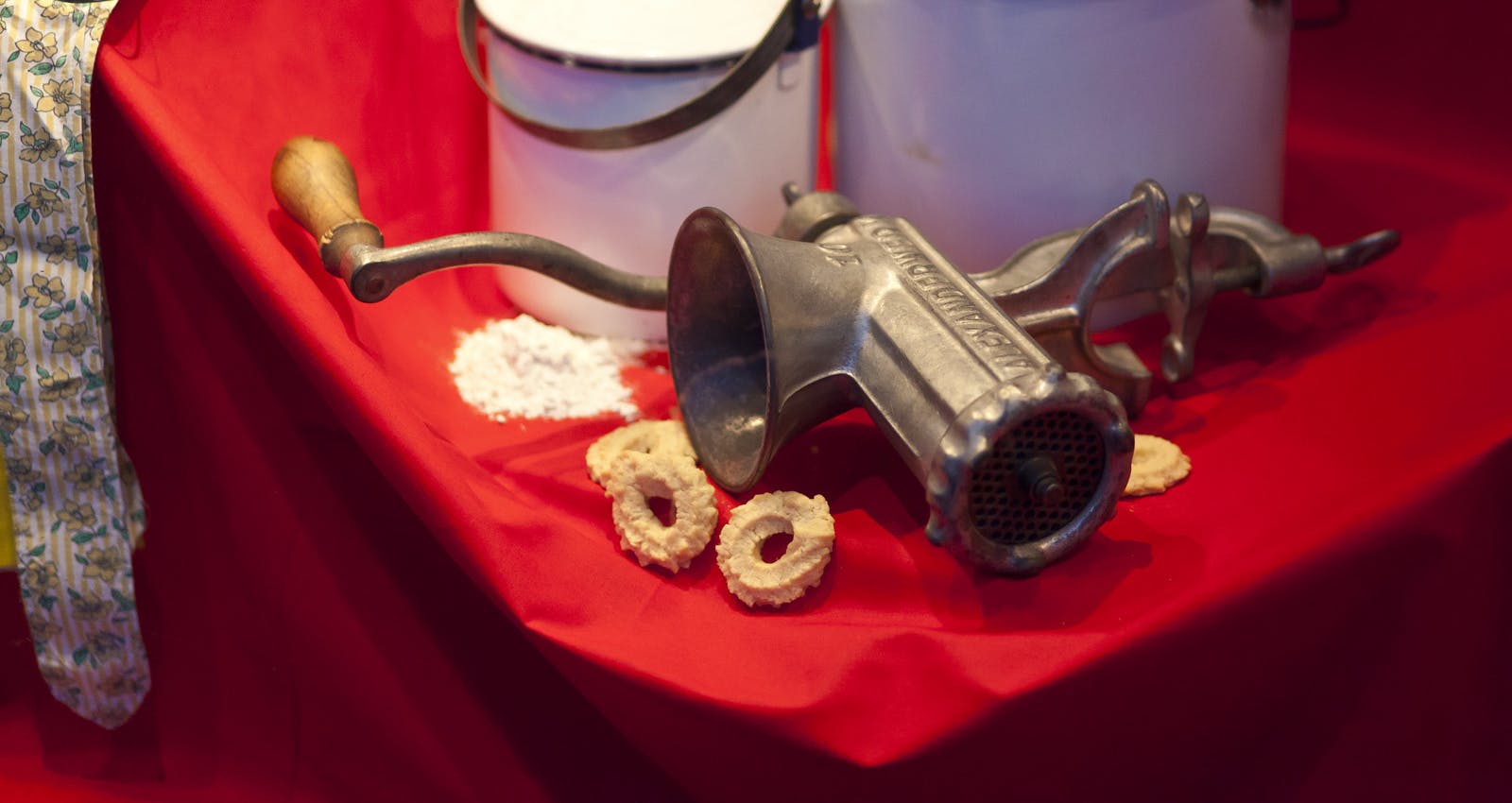 Those of you with a sweet tooth will be pleased to learn that Icelanders enjoy Christmas cookies, which they call jólasmákökur. You can make these oven-baked gingerbread biscuits from scratch, but it's also possible to buy the dough already made, so all you have to do is roll it out.
The use of molasses makes these gingerbread cookies quite dark in colour, which makes them look great when covered with white icing and other festive-inspired decorations. Bakers use Christmas-themed cookie cutters, so you might see tree shapes or snowflake designs.
Jólasmákökur can also come in different flavours. Popular variations include chocolate chip and jam-filled cookies. Which you choose is down to personal preference, but if you want to follow Iceland's Christmas food traditions most closely, then opt for the gingerbread variety.
Riz à L'amande
Jólasmákökur aren't the only sweet things Icelanders eat during the Christmas period. The country's Danish heritage means that you might eat a bowl of riz à l'amande. This is rice pudding which has been cooled, sweetened and mixed with whipped cream. Icelanders call it hrísmjólk and sometimes eat it with redcurrant, raspberry or even caramel sauce. 
A simpler version is almond porridge, which is eaten year-round but also at Christmas. On the supermarket shelves, look out for grjónagrautur, which is its local name. Both are quite substantial, so some families serve it up during a separate meal rather than end up too full. 
Whichever recipe you use, this is part of an Icelandic Christmas food tradition that everyone loves because there's a chance you might get a present. A whole almond is placed inside for someone to find while they are eating it, and they're the lucky recipient. Who knows, it could be you!
If reading this has you yearning for Christmas dinner in Iceland, then book a trip for next December. Be sure to come to Perlan, where you will find various types of Icelandic meals.
Back to articles