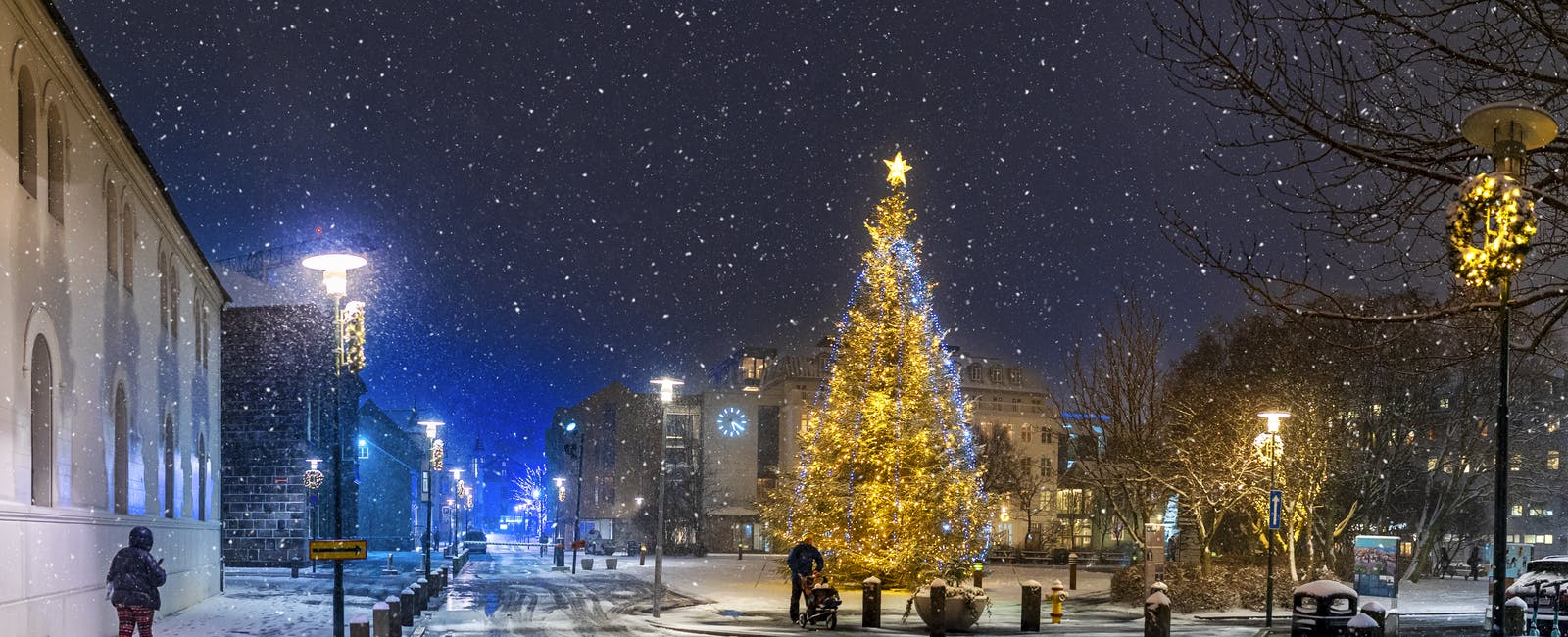 Christmas in Reykjavik
What does a Reykjavik Christmas look like? If you love spending the festive season away from home, a cute European capital close to the Arctic is a good bet. 
During the Christmas season, Reykjavik transforms into a magical winter wonderland with an array of seasonal activities to indulge in. From ice skating on frozen ponds to exploring the Christmas markets adorned with twinkling fairy lights, there's an abundance of ways to immerse yourself in the local holiday spirit.
Imagine waking up on Christmas morning to a soft blanket of snow covering the city, transforming it into a pristine white landscape. The city's quaint architecture, decked with festive lights, adds to the dreamlike setting. And if you're lucky, you might witness the Northern Lights painting the sky with its ethereal hues. This surreal display is a common sight during the winter months in Reykjavik, and it could add an extra layer of magic to your Christmas celebrations.
So how does one spend Christmas in Reykjavik? Start by indulging in local traditions, like attending a midnight mass at the iconic Hallgrímskirkja church or enjoying a festive meal with traditional Icelandic Christmas delicacies. For the more adventurous, consider a guided tour to hunt for the Northern Lights or a visit to the nearby geothermal pools for a relaxing dip amidst the snow.
A Christmas in Reykjavik offers a blend of traditional festivities, natural beauty, and unique cultural experiences that make the holiday season special. This is a place where Christmas isn't just a day but a season of joyous celebrations and enchanting experiences.
1. Countdown With the Yule Lads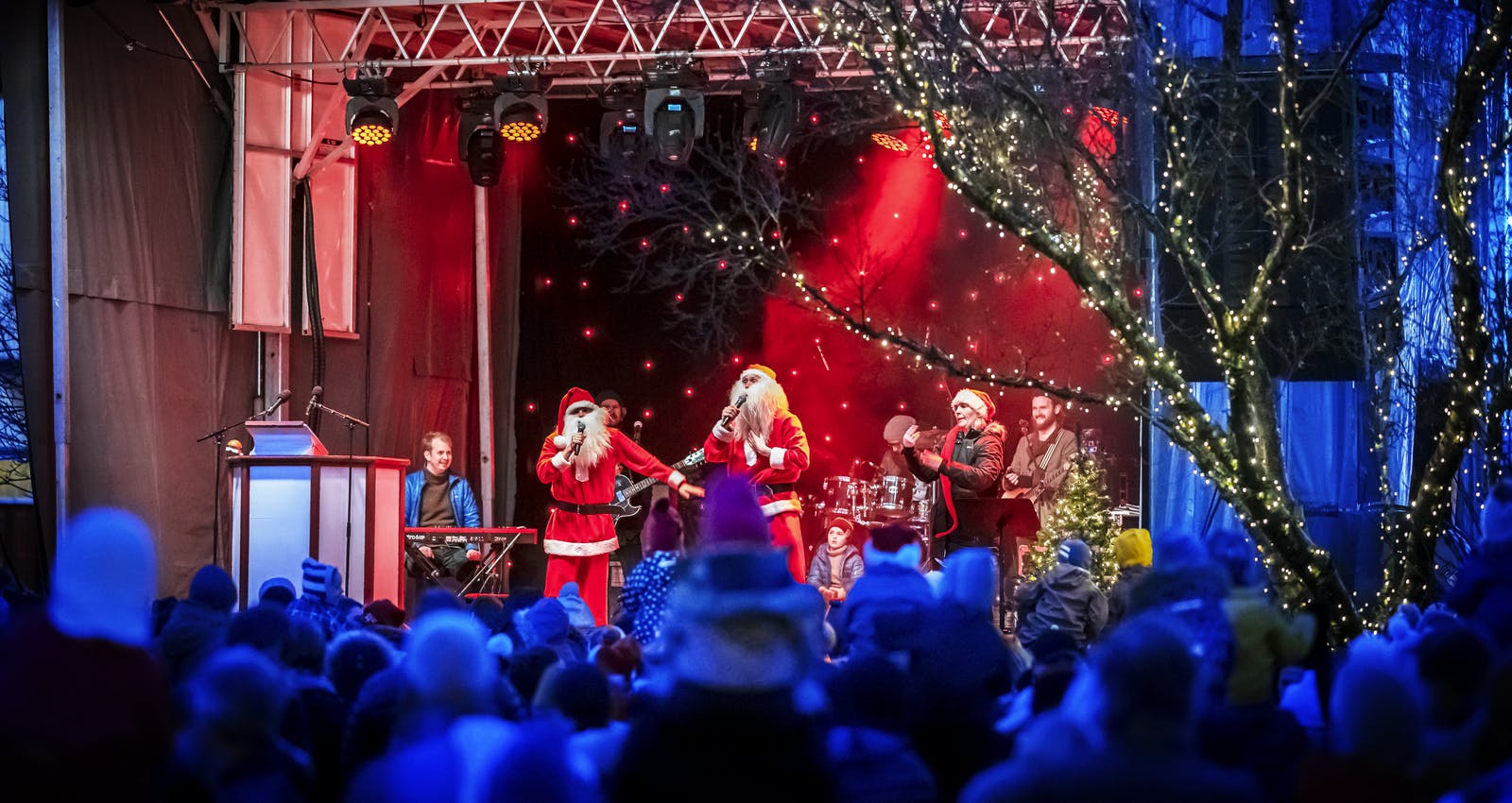 An authentic Christmas experience in Reykjavik would be incomplete without partaking in the amusing escapades of the Yule Lads. Rooted in Icelandic folklore, the Yule Lads are a group of thirteen mischievous figures who are integral to the country's Christmas traditions. These characters, each with unique quirks, have a penchant for stirring up a bit of harmless havoc.
The antics of the Yule Lads begin thirteen days before Christmas Eve and last until the 6th of January. Here is a description of each Yule Lad in the order which they arrive:
Stekkjastaur ( Sheep-Cote Clod)
Arrival Date: 12th December
Description: He tries to suckle yews in farmer's sheep sheds.
Giljagaur ( Gully Gawk)
Arrival Date: 13th December
Description: He steals foam from buckets of cow milk.
Stúfur ( Stubby)
Arrival Date: 14th December
Description: He's short and steals food from frying pans.
Þvörusleikir ( Spoon-Licker)
Arrival Date: 15th December
Description: He licks spoons
Pottaskefill (Pot-Scraper)
Arrival Date: 16th December
Description: He steals leftovers from pots.
Askasleikir ( Bowl-Licker)
Arrival Date: 17th December
Description: He hides under beds waiting for someone to put down their 'askur' (a type of bowl), which he then steals.
Hurðaskellir (Door-Slammer
Arrival Date: 18th December
Description: He likes to slam doors, especially during the night.
Skyrgámur ( Skyr-Gobbler)
Arrival Date: 19th December
Description: He has a great affinity for 'skyr' (an Icelandic type of yogurt).
Bjúgnakrækir ( Sausage-Swiper)
Arrival Date: 20th December
Description: He loves to steal sausages.
Gluggagægir (Window-Peeper)
Arrival Date: 21st December
Description: He looks through windows in search of things to steal.
Gáttaþefur ( Doorway-Sniffer)
Arrival Date: 22nd December
Description: He has a large nose and an acute sense of smell which he uses to locate 'laufabrauð' (leaf bread).
Ketkrókur (Meat-Hook)
Arrival Date: 23rd December
Description: He uses a hook to steal meat.
Kertasníkir ( Candle-Stealer)
Arrival Date: 24th December
Description: He follows children to steal their candles, which were once made of tallow and thus edible.
If you're visiting Reykjavik with your children during the Christmas season, this could be an intriguing tradition to introduce to them. It not only adds an element of suspense and enjoyment to the holiday season but also encourages good behaviour throughout the year. In essence, the Yule Lads offer a unique blend of folklore, fun, and a lesson in behaviour that adds a distinctive Icelandic touch to the Christmas celebrations.
2. Witness the Tradition of the Oslo Tree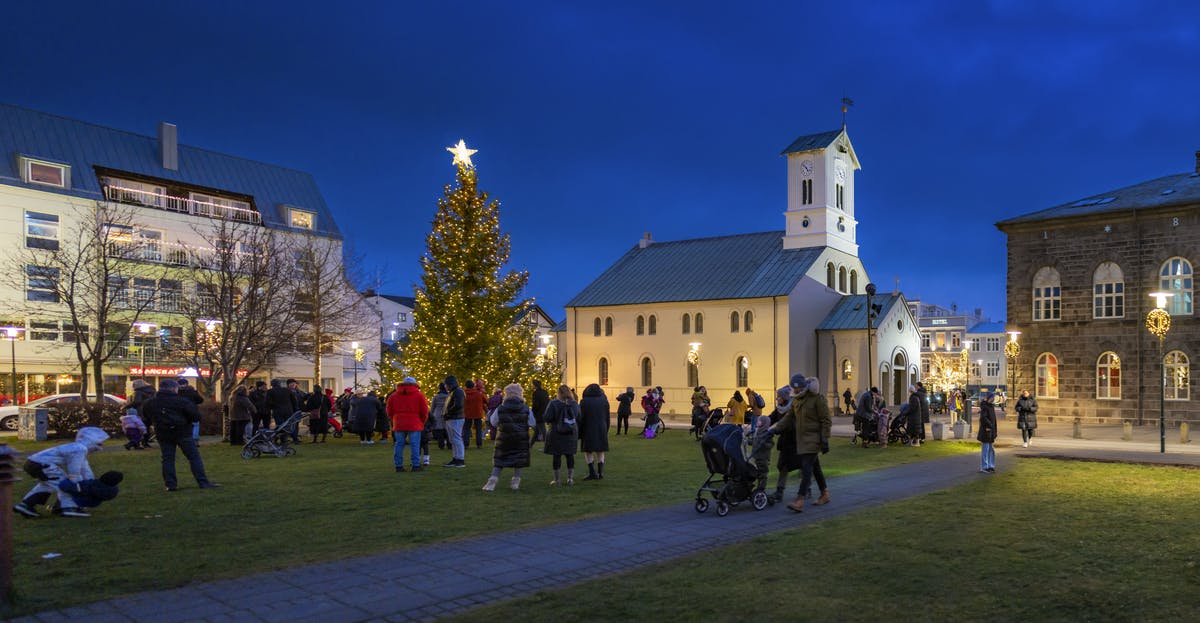 One of Reykjavik's most significant and enduring Christmas traditions is the annual presentation of a Christmas tree by the Norwegian government - a tradition known as the Oslo tree. This act of goodwill has been occurring annually since 1951. It symbolizes the close ties and camaraderie shared between Norway and Iceland.
In the past, a tree was cut from a forest in Norway and transported to Iceland. However, in recent years, the tree has been from Heiðmörk forest, located just outside Reykjavik. This forest area is under Norwegian ownership, thereby maintaining the tradition's original spirit.
Following its selection and felling, the tree is erected in Austurvöllur Square, located in the heart of Reykjavik. A grand lighting ceremony is held on the first Sunday of Advent, which usually falls in late November or early December. This event draws large crowds and serves as the official commencement of the Christmas season in Reykjavik.
As you stroll through downtown Reykjavik during the festive season, you'll notice many smaller Christmas trees and myriad street decorations that add to the city's festive atmosphere. Given the city's northern location, the onset of darkness is early, allowing ample time to admire the sparkling lights and decorations.
Be sure not to miss Skólavörðustígur Street, renowned for its captivating Christmas displays. Another must-visit is Laugavegur, a beautifully decorated street with stores ideal for those last-minute Christmas shopping trips. In essence, the tradition of the Oslo tree and the city's numerous Christmas displays create an enchanting holiday atmosphere unique to Reykjavik.
3. Visit a Reykjavik Christmas market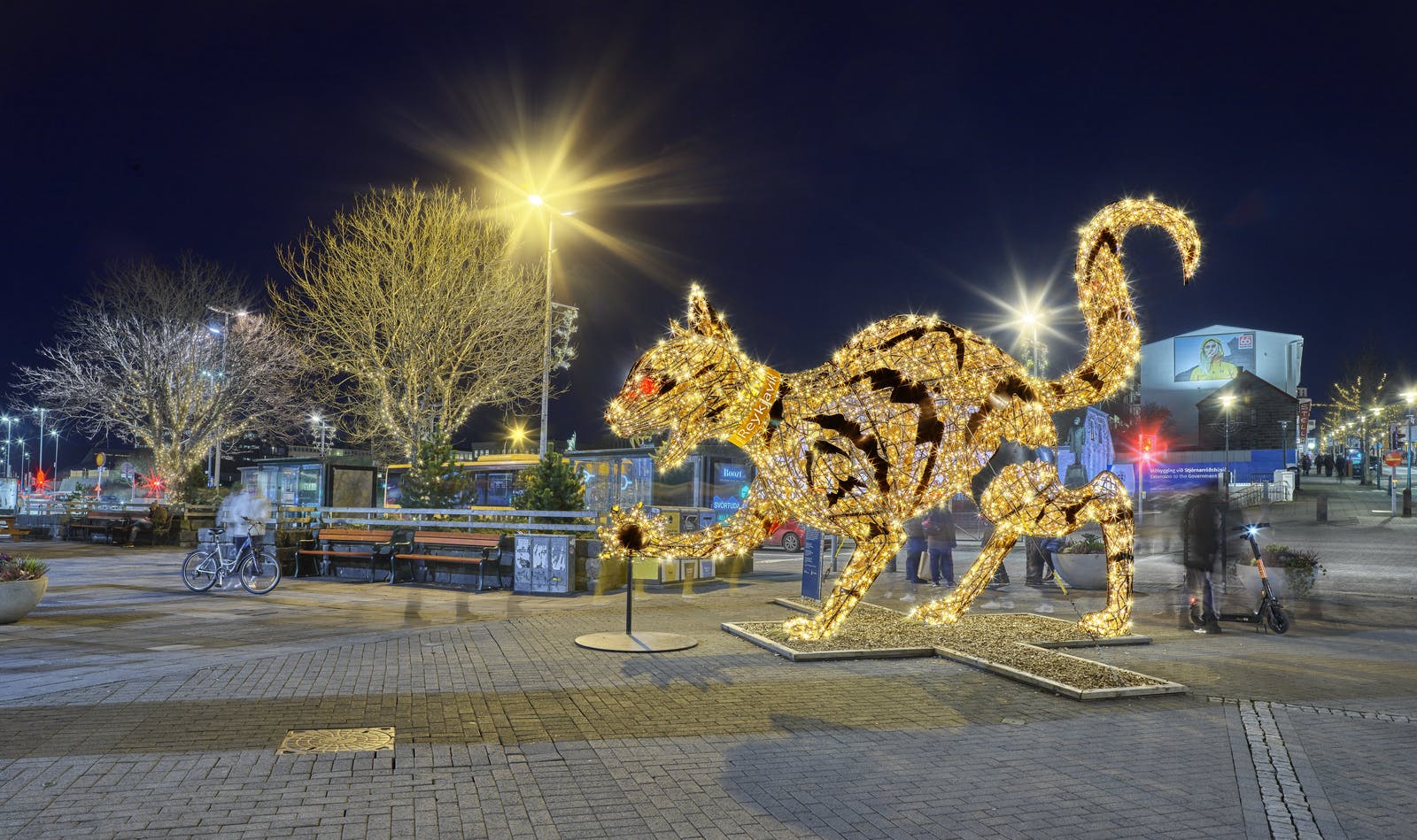 While Christmas markets may not have originated in Iceland, they've found a comfortable home in Reykjavik, which has become an integral part of the city's festive tradition. Throughout the city, these markets add a layer of holiday magic, offering a delightful mix of local crafts, food, entertainment, and cultural experiences.
You can start your Christmas market adventure at Heiðmörk forest, where residents often come to pick their Christmas trees. This forest transforms into a festive hub, with arts and crafts stalls, live music, and storytelling sessions around a warm bonfire, all combining to create an unforgettable yuletide atmosphere.
In the city centre, you'll find the Christmas market at Ingólfstorg. This quaint square comes alive under hundreds of fairy lights. You'll find a popular outdoor ice rink alongside the market stalls selling local crafts and goods. The shopping, lights, and ice skating makes this market a beloved destination for families.
However, the area's crown jewel of Christmas markets is in the neighbouring town of Hafnarfjörður. This market goes above and beyond in terms of seasonal celebrations, making it an absolute must-visit. Vendors in cosy wooden cabins offer an array of souvenirs and culinary delights, from traditional Icelandic delicacies to international holiday treats.
And to add an extra dash of excitement, the mischievous Yule Lads often make appearances at this Christmas village, adding their unique brand of fun and mayhem to the festivities. Whether you're shopping for unique gifts, savouring local flavours, or simply soaking in the festive spirit, the Christmas markets of Reykjavik offer an enchanting and uniquely Icelandic holiday experience.
4. Enjoy Christmas dinner with a view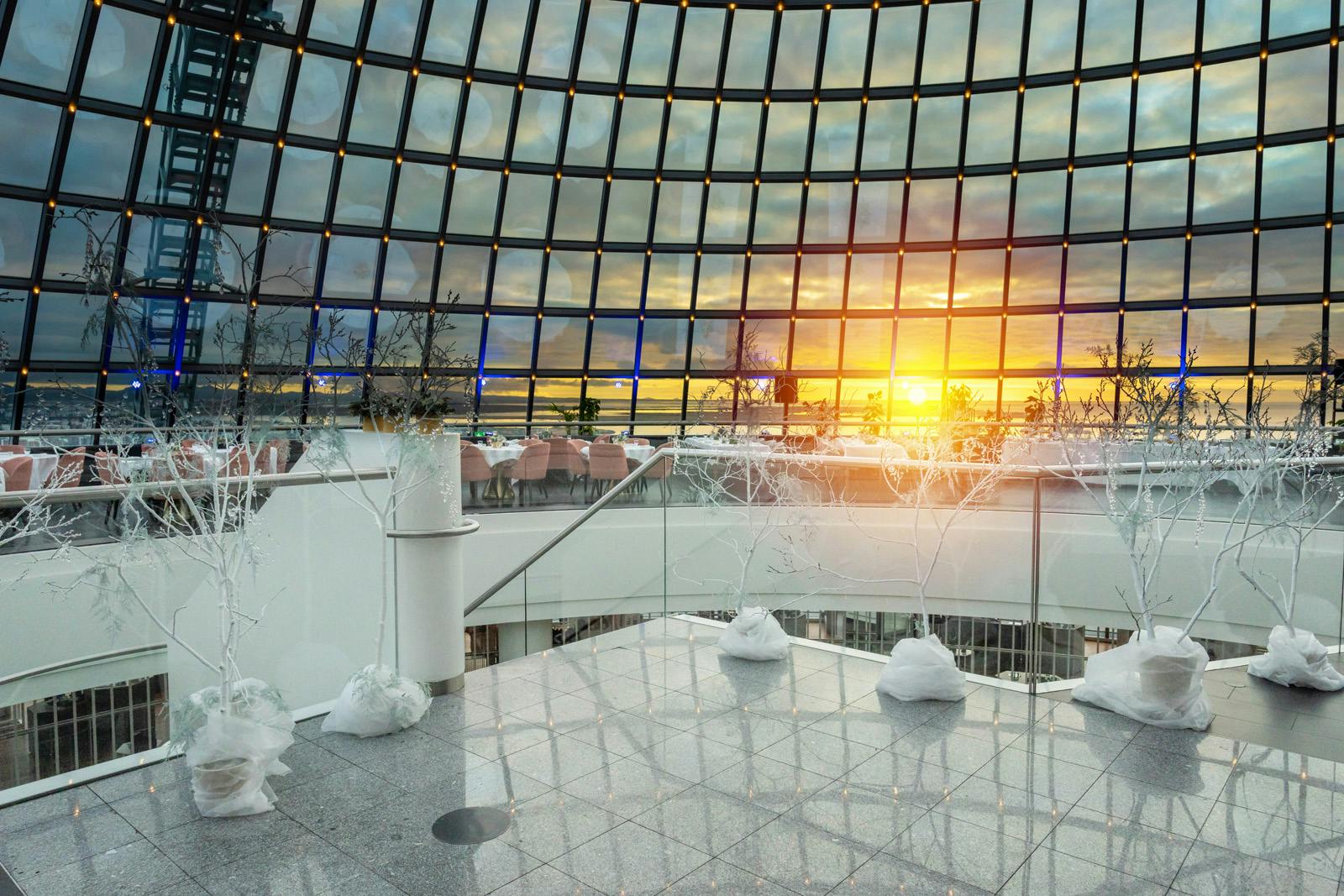 Though there are plenty of places where you can enjoy Christmas dinner in Reykjavik, there's one location that stands out as a remarkable dining experience with an extraordinary view. This place is Perlan, a unique venue offering a panoramic view of Reykjavik's cityscape, adding charm to your festive meal. 
Nestled beneath Perlan's distinctive glass dome is its esteemed restaurant, a setting that offers guests a 360-degree panorama of the city and beyond. This view is breathtaking in the winter, when a blanket of snow covers the rooftops of the city and the surrounding mountains, transforming the landscape into a serene winter wonderland.
Dining at Perlan goes beyond simply enjoying a meal; it's an experience that combines culinary delights with stunning visual aesthetics. If you're looking for a Christmas buffet in Reykjavik, very few places can rival the offering at Perlan. Here, you can indulge in an array of beloved Christmas dishes and have the opportunity to try some new ones.
After all, the Christmas season is about indulgence and creating special memories. And what better way to do so than by enjoying a sumptuous meal at one of Reykjavik's most iconic landmarks? By choosing to dine at Perlan, you're not just treating yourself to a festive feast but also to an unforgettable Christmas experience marked by extraordinary views and a unique ambience.
5. Plan Your Christmas Activities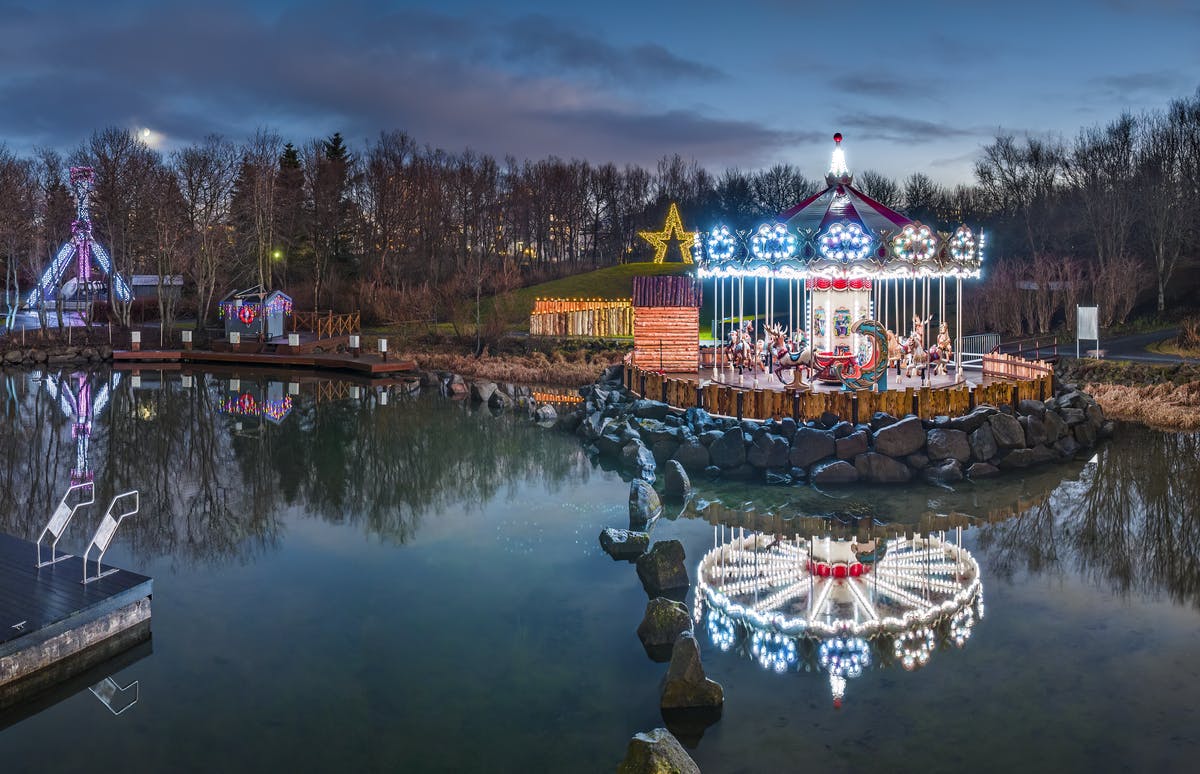 Suppose you're considering spending your winter holiday in Reykjavik. In that case, it's important to carefully plan your activities to make the most of your stay. While the daylight hours in December are limited - a feature that, paradoxically, adds to the city's winter charm - there's no shortage of indoor attractions to explore, regardless of the outside light conditions.
Contrary to what you might expect, particularly if you're accustomed to everything closing during the holiday season in your hometown, some museums in Reykjavik remain open even on Christmas Day, and others welcome visitors on Boxing Day. With thoughtful planning, you can keep your holiday itinerary full and engaging.
One venue that ensures a wealth of experiences throughout the festive period is Perlan. This iconic landmark hosts a range of fascinating exhibits that promise to captivate your interest and ignite your imagination, irrespective of the time of day or the outside weather.
Inside Perlan, you can embark on an exciting adventure into an ice cave, experience the drama of volcanic eruptions through captivating footage, marvel at a virtual cliff bustling with seabirds, and gaze at the mesmerizing Northern Lights in Perlan's state-of-the-art planetarium.
Indeed, a winter city break in Reykjavik is about more than admiring the snowy landscapes or hunting for the Northern Lights. It also offers ample opportunities to delve into the city's rich culture and history, interact with its unique natural phenomena, and enjoy the warm indoor hospitality that Icelanders are renowned for. Planning your Christmas activities in Reykjavik means preparing for an immersive experience filled with wonder, learning, and unforgettable memories.
Christmas in Reykjavik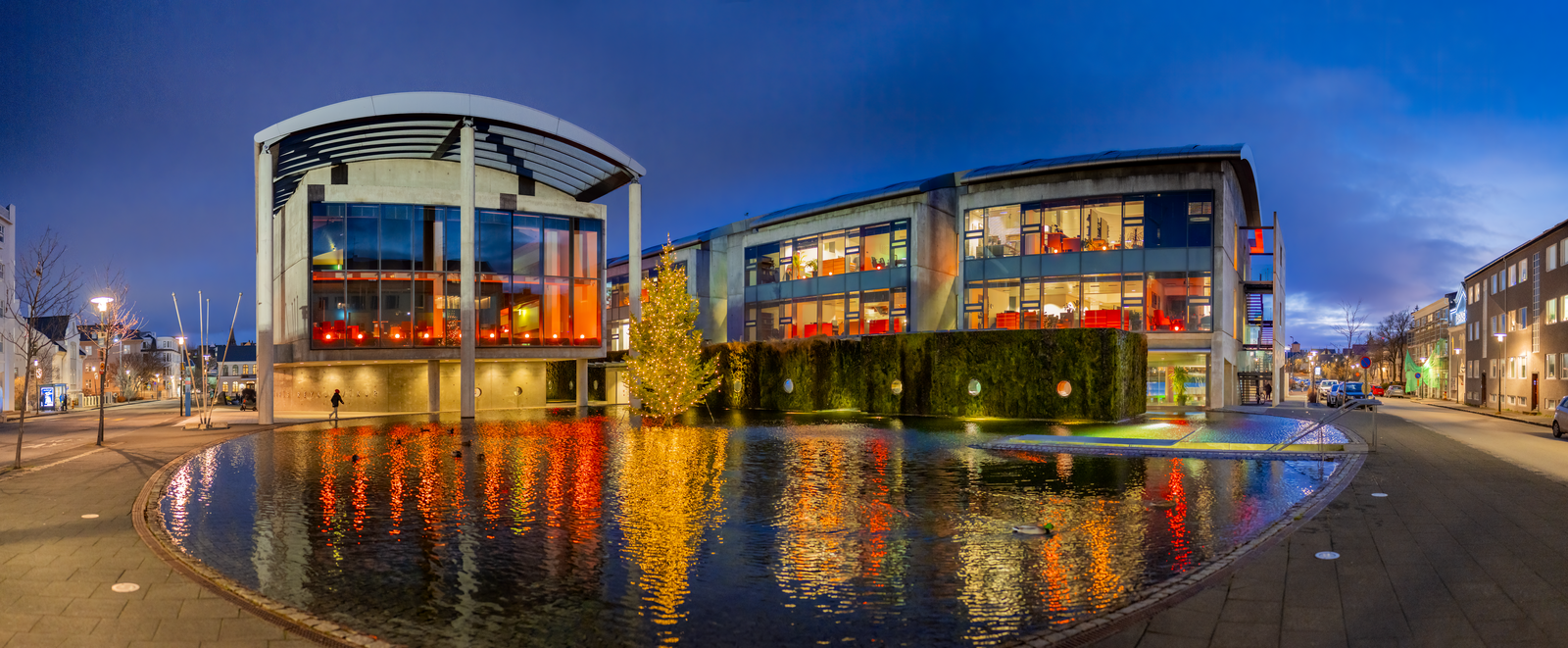 A Christmas in Reykjavik can be tailored to fit any preference, whether you seek a relaxed, cosy experience or a dynamic, activity-filled holiday. The city is dotted with welcoming cafés that exude warmth and charm, perfect for those quiet moments of relaxation. Conversely, suppose you're in the mood for some lively entertainment. In that case, Reykjavik is renowned for its vibrant nightlife, offering plenty of options for fun and socializing.
Accommodation options are diverse and plentiful, ranging from quaint, homey lodgings to luxurious hotels. Therefore, the question isn't so much whether to celebrate Christmas in Reykjavik, but why haven't you made your reservations yet?
Experiencing Christmas in Reykjavik can offer a unique, enchanting, and unforgettable holiday. It's an opportunity to immerse yourself in a different culture's festive traditions, set against breathtaking landscapes and the Northern Lights. With its rich mix of activities, attractions, and experiences, a Reykjavik Christmas may be the most memorable festive season you've ever experienced.
Back to articles